My three-year old's occupational therapist prescribed rucking as heavy work to positively channel his sensory seeking behavior. Let me tell you how we got there.

It's Just A Phase, Right?
My youngest son has always been a little different than other kids. And I've gotten to know many children over the years working as a camp counselor, babysitter, teacher, coach, and now, as a mom of three.
Ryan plays harder, gets dirtier, and climbs higher than most kids he is around including his older siblings and friends. We have special locks on the doors at home to prevent him from escaping (again). This is not all a bad thing. In fact, we'd like to argue the contrary. He's an active kid who loves being outside. We all know and love them – you may have a child like this or, chances are, you were one yourself. Jason and I speculated that Ryan's intense behavior was due to his "wild child" personality, being "all boy", his birth order, being terribly two and then a threenager…lots of theories and conventional wisdom.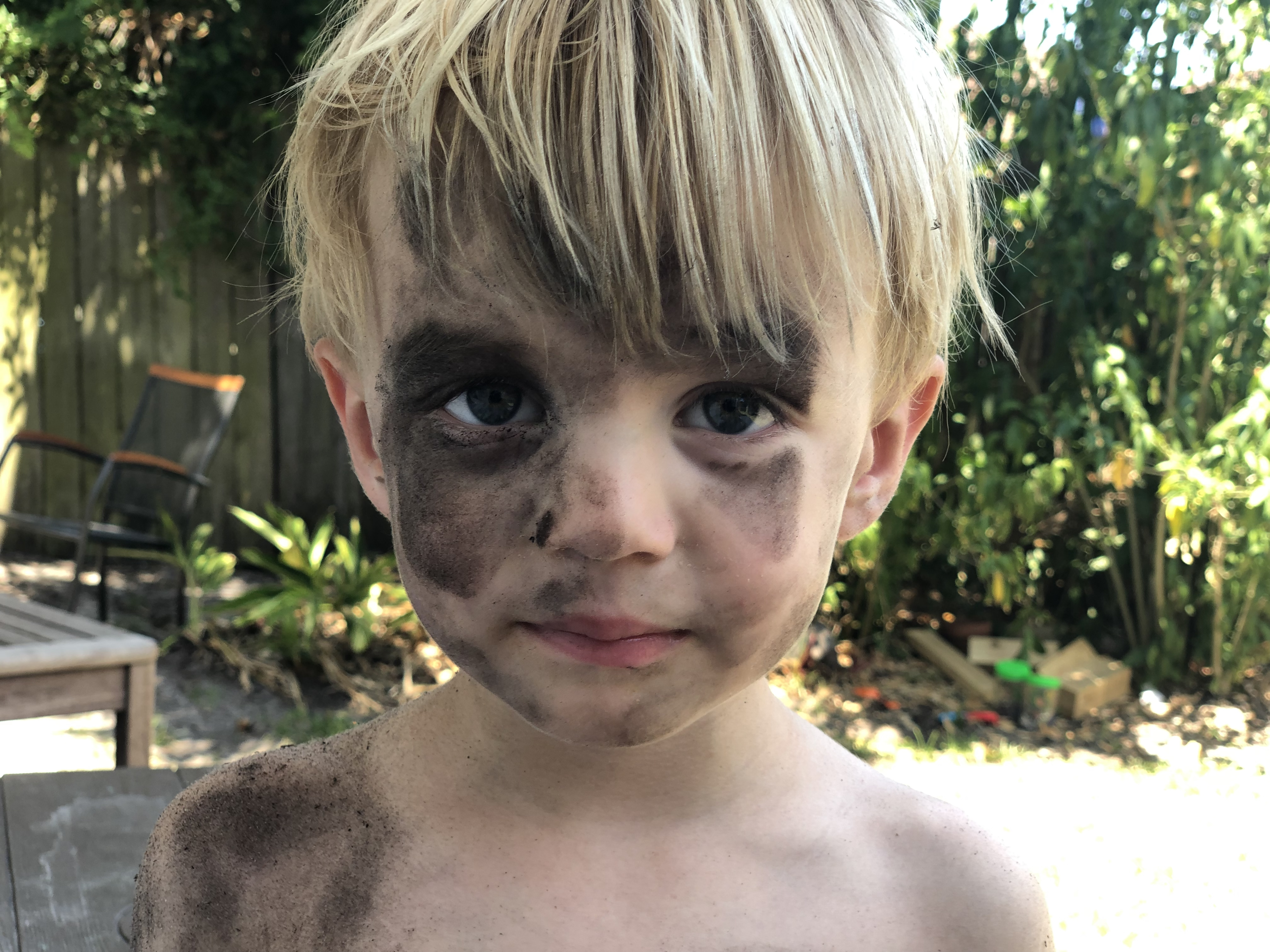 Time passed by and I noticed it was taking longer for Ryan to meet certain childhood developmental milestones and his behavior was starting to disrupt our lives:
He was biting and scratching a lot at school and home.
At mealtimes, he rarely ate when others were eating and then devoured his food once others had left the table.
He began refusing to wear any clothing or shoes. We live at the beach in a warm climate so lucky for him (and us) he can go without clothing or shoes (or both) a lot. That said, there are still plenty of occasions when society demands that we wear them.
The meltdowns were nuclear and unpredictable. We dubbed him the terrorist and the entire family began to fear him waking up in a bad mood or not wanting his diaper changed. Still, we thought – this is just a phase. We'll suffer through, things will get better, soon he'll be older and other lies we tell ourselves to get through difficult times.
Houston, We Have A Problem
Enter Ryan's preschool teacher who is originally from Scandinavia. Jason and I refer to her as The Saint and respect her teaching methodologies wholeheartedly. We had a parent teacher conference in the Fall of 2019 and it was clear that she also had concerns about Ryan's behavior. She had recently attended a Montessori conference and wanted to share some characteristics of sensory seeking children that reminded her of Ryan.
Constantly touching everything: objects, surfaces, people
Constantly moving: jumping, running, bouncing, rocking on chair legs
Prefers to be barefoot or naked
Crams food into mouth
Loves messy activities
New Labels, Old Cures
From the little research I've done on Sensory Processing Disorders (SPD), "sensory seeking" is one of several trending diagnoses and not without controversy. I was skeptical that this was another justification to medicate kids, many who are young boys who simply need more active time at school and to be outside more in general.
But the more I read and communicated with Ryan's teacher, I learned that one of the main prescriptions for sensory seeking children was "heavy work" along with other common sense parenting strategies. Something about it helping to make a neurological connection and some other stuff that is above my pay grade. I was pleased to find that the classifications within childhood development seemed more precise than a one size fits all attention deficit problem. I decided to make an appointment for Ryan to meet with an Occupational Therapist (OT) to find out more.
Here's how my first encounter with the OT went:
OT: For children who are sensory seeking like your son, I recommend a lot of heavy work.
Me: Exactly what does "heavy work" mean?
OT: Well, it can be a lot of things like putting weight in a backpack, jumping on a trampoline, carrying heavy things…
(Me smiling to myself): I can't believe she just prescribed rucking for my son.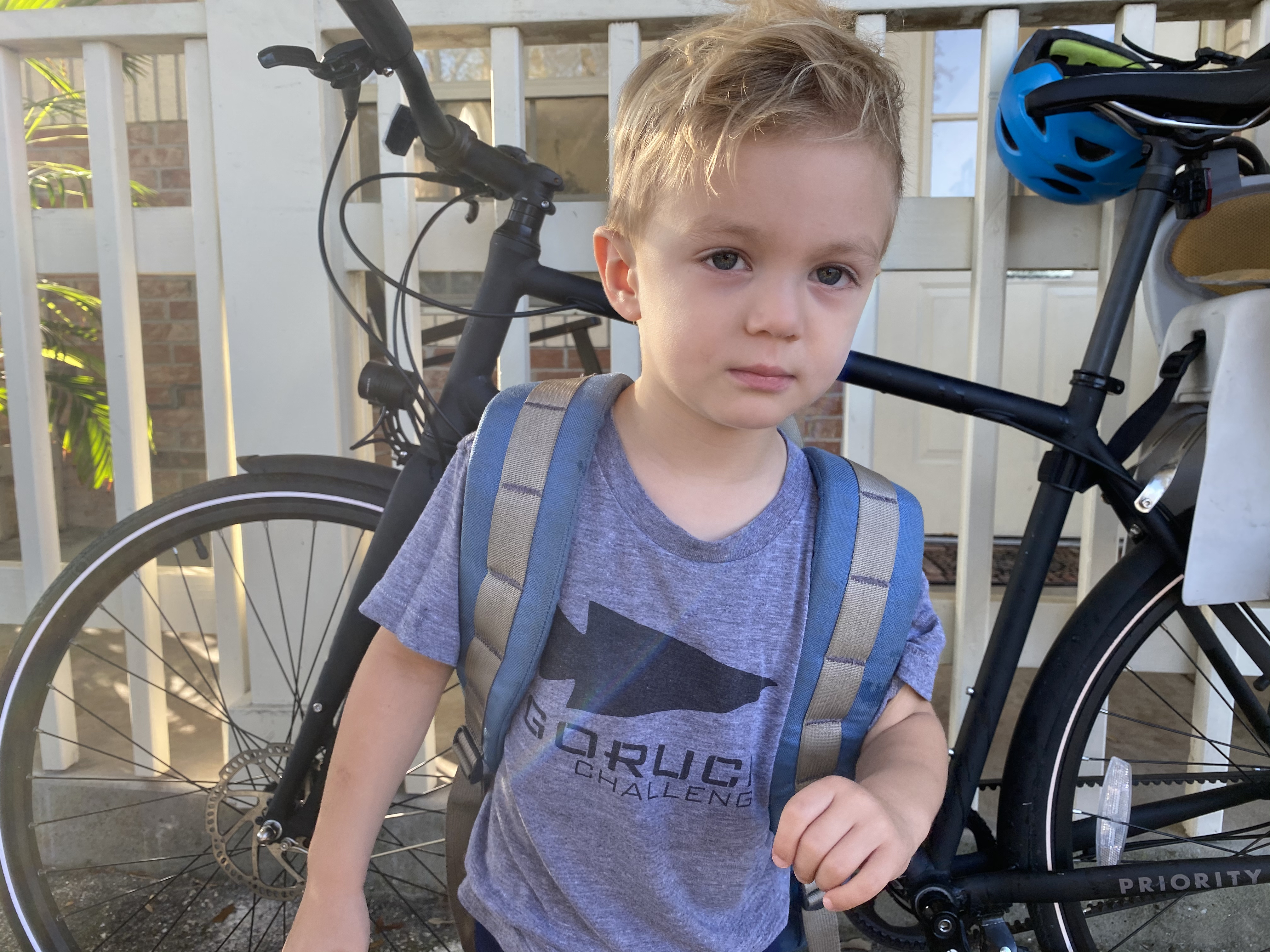 Rucking as Heavy Work
This was, of course, welcome news. A bright, young OT was recommending rucking – putting weight in a backpack and taking a walk – as a type of heavy work to help my child better process input from his body and environment. I already knew getting outside and rucking was a great activity to do with my children. We've gone on Donut Rucks, Pumpkin Rucks, Milk and Cookie Rucks, Smoothie Rucks, Mud Rucks.
What I didn't realize was that rucking was actually being recommended by OT's across the country. I found this out by sharing the ironic experience of my child being prescribed rucking in a GORUCK parents Facebook group, folks who already know about rucking and its benefits. Ironic because 'rucking' is a household word for us here at GORUCK HQ in Jacksonville Beach, Florida.
Here is a great list of Heavy Work Activities that a GORUCK parent shared with me. Number 1 on the list is "Carry heavy items" which is what rucking is all about. And yes, in case you were wondering, heavy work is also known as the things we used to do back before screens, social media, and organized everything started making us soft, angry, and bored.
Sandbags for Studying
One parent told me that his family uses GORUCK sandbags as a way to keep their child focused and engaged while studying. His elementary school student cleans the sandbag, puts it on his shoulders, and then squats while practicing spelling words. Others confirmed that rucking and lifting heavy things at GORUCK clubs helped their children. Not surprisingly, rucking did their adult bodies and minds a lot of good too.
To sum it all up:
Ryan was a tyrant, and still is.
Heavy work makes it better, OT prescribed.
I'm a lot more comfortable with heavy work than I am shoving pills down my son's throat, so that's a win-win.
Added bonus, heavy work like rucking is also good for people of all ages.
If rucking can help to weather the storms, I'm all in.