I first heard about GORUCK through the game Ingress. GORUCK ran Urban and Stealth events during these big Ingress anomalies in different cities all across the country. Out of hundreds of people that attend the anomalies, one or two dozen did the GORUCK events, becoming "the tip of the spear" and earning intel to help our faction win the anomaly. I was fascinated by the physical challenge element, and signed up for an event, as well as a regular GORUCK event.
It Started with Events
I'd only been rucking for a few months, and only ever alone. I showed up for the Canada Day Light in Toronto, not knowing a soul, and having no idea what to expect. Jake and Nick were Cadre. I didn't know what a Welcome Party was, and had even less idea what the hell they were yelling at me to do. Fortunately, the more experienced people in the group helped me out and showed me what I should be doing. This was my first taste of the incredible teamwork of GORUCK events.
The circle-push-up-hold was the worst, but we finally pulled it off. Cadre knew I had no clue, (maybe it was the deer-in-the-headlights stare), so guess what? One of them pointed at me and said "You! Newbie! You're TL!" I've since learned this is SOP. Once I snapped out of my stupor, I was instructed that Cadre wanted to play ball hockey, and my job was to get the team to a location several miles away. We made it, but missed our time hack by less than 30 seconds. I guess they were impressed nonetheless, as I don't recall much punitive PT. However, as part of the losing hockey team, we did have to do pushups in a massive mud puddle. Endex was four of us carrying a fifth in a litter at a run out a hundred yards and back, with Jake not-so-helpfully pushing the litter along forcing us to run far faster than we wanted. Everyone else had to hold their rucks overhead until the litter returned, and everyone took a turn carrying the litter. At times I wondered what the hell I had gotten myself into by signing up for this event, but getting patched, and the satisfaction of completing my first event made it all worthwhile. I got home, went to 
GORUCK.com
, and looked for my next event!
I've learned that GORUCK events are as much about mental toughness as they are about physical toughness. Your mind can push your body beyond what you ever thought it was possible for you to do.
Rucking as a way of life 
I did not start rucking until I was in my late 40s and desperately needed to change my lifestyle. I was obese, and presenting a host of related medical problems. The simpleness of rucking appealed to me. Throw on a ruck and walk. I am now proud to be a part of a ruck club in Toronto called Ruck T.O. We have organized rucks every month at different locations around the city and surrounding area. It's much more fun rucking with others. The community is what caught me by surprise – the friends and support – I now have rucking friends all across North America and beyond. We've formed a bond and we often meet up in different cities for events.
Ol' Faithful
My first ruck was the original Rucker (which I still use for events today), and I got it several months ahead of my first event to train. It's been submerged, dragged, buried on the beach, I've been dragged 50m by its straps, and it's come through with zero issues. Tough as hell, and still looks awesome. If I'm just rucking, I remove the padded hip belt, but it's a must for events. Bear crawls and Tunnel of Love are no fun when you're trying to keep your ruck from falling over your head. The 20L size is perfect for events. Enough room for the gear you need, and you're not tempted to bring any crap you wouldn't use anyway.
My go-to footwear for events is my pair of MACV-1s. Paired with right socks, they're perfect for me. Support where I need it, and they'll take any abuse I can throw at them, whether it's pounding the pavement, a beach relay race, or hydro burpees in the lake. Our club does some ice rucks during the winter, and I throw a pair of Yak Trax Diamond Grip cleats on them for traction on ice.
I also got my I/O Cross Trainers recently, but haven't had a chance to put many miles on them yet. They feel great so far.
What do you get out of rucking the most?
This may sound cliché, but rucking saved my life. I was late 40s, somewhere north of 340 pounds, pre-diabetic, high blood pressure, high cholesterol, and all the rest. Through cycling and GORUCK, I lost the weight, built-up strength, and finished my first Tough at 51. The goal of finishing that Tough is what kept me going. My ruck club helped mentally, as it's a lot harder to DFQ when you're alone. I lost almost 150 pounds, and am in the best shape of my life. All my medical problems vanished. My doctor says I'm healthier than he's ever seen me in 20 years.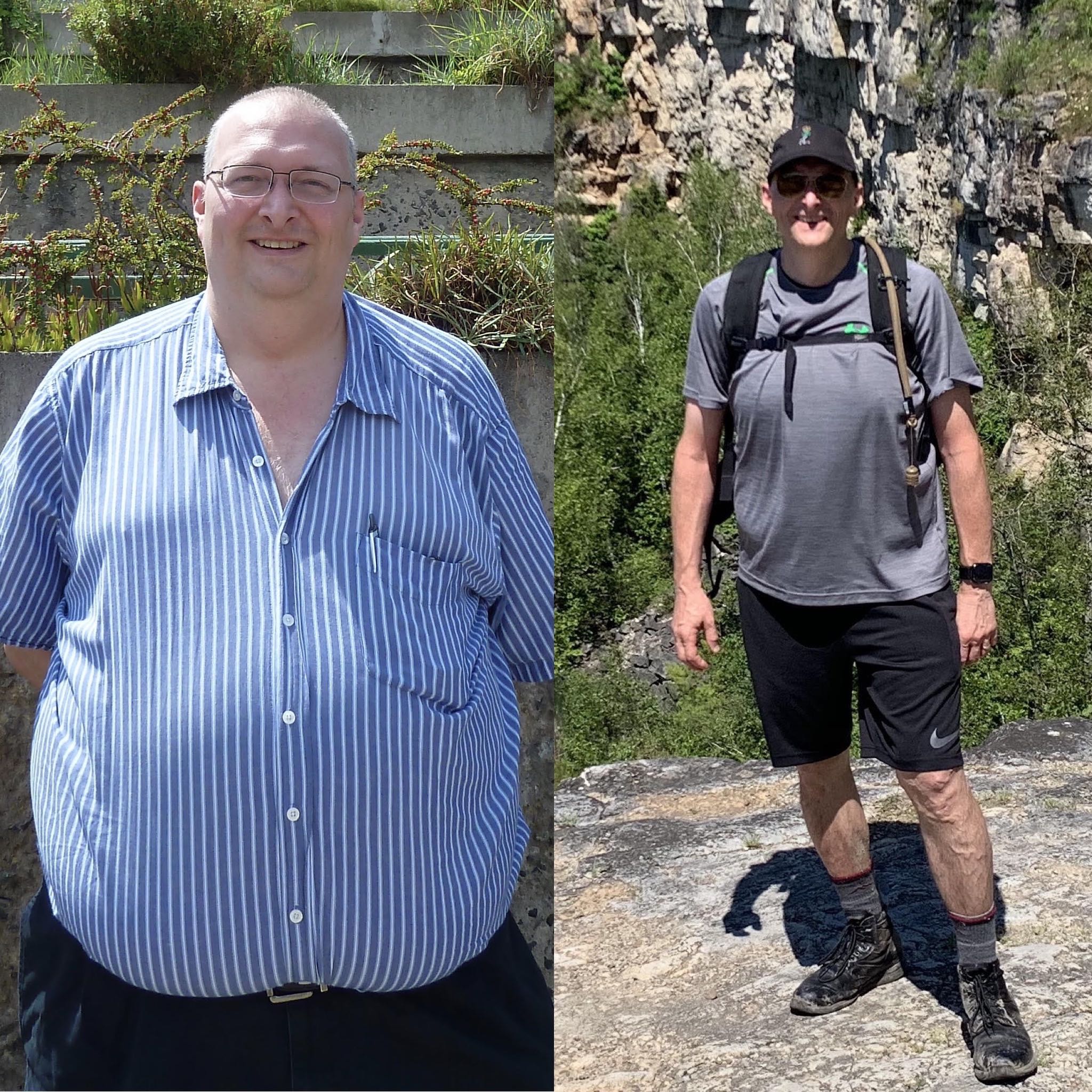 I now have fitness and mental fortitude. After losing all the weight, rucking and ruck workouts keep me in shape physically, and it's mentally satisfying to convince yourself "one more time around the neighborhood". I've learned that it's never too late. Throw on a ruck and go for a walk. Your body will thank you.
This year my goal is the Canada Day Tough/Light, and a Star Course in the fall. Thank you GORUCK, and my family thanks you too.
– Steve Ries