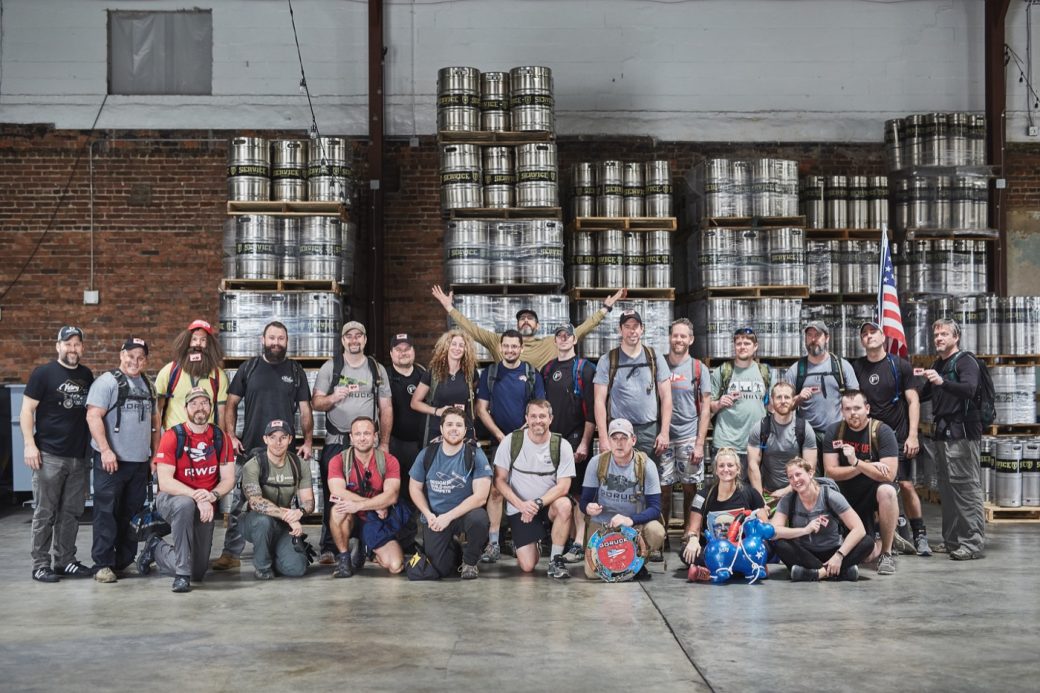 Two real cool things are GORUCK and beer. But, what is cooler than that? Doing a rad service project that includes GORUCK and one of my favorite breweries, Service Brewing in Savannah, Georgia. When we first talked to Service Brewing about doing a service oriented event they instantly wanted to partner with Chatham Savannah Authority for the Homeless. With the help of volunteers they are constructing a tiny house community that will provide homes to 72 veterans.
Cadre Cody led this event with 27 people participating, including our very own Cadre Fagan and two of his cadets. Learn more about his story here. They started at Service Brewing with construction tools as team weights. The class hit several parks along the way. At each park they had a specified time to police the area and secure all trash. Any left over trash resulted in some PT to encourage the class to "be better" next time.
After a few miles we arrived at The Tiny Home project and were put to work installing windows, doors, moving pre-fab walls, and job site clean up.
We headed back to Service Brewing and Cadre Cody gave a final round of PT lead by the two young cadets. Endex was in the keg room where the class was patched. Kevin then gave the class a tour of the Brewery and their story. We all had a few pints and are looking forward to next year.

Christopher Goad
AKA
Bomber
---
Service Brewing was seeded by passion, literally: It all began on Valentine's Day, when Kevin Ryan received a gift from his lady love, Meredith Sutton. An artist constantly seeking to imbue life with inspiration, Meredith had asked Kevin what interests he had outside of cycling, and finely-crafted beer topped the list. Instead of his favorite six-pack, however, she brought him home brewing supplies. After an obsessive practice period, Kevin's tasty brews found their way into the glasses of friends and family.
The West Point graduate and former Army commander had also been seeking something more from his career, and in 2014 the couple launched Service Brewing with the help of almost two dozen investors–most of them Army, Navy and Marine Corps veterans. Kevin leads the company, continuing to develop recipes and research the craft. Meredith, a SCAD graduate, designed the stunning Savannah tasting room based off of the stories Kevin told about his military experience and has creatively built the brand to pay homage to American military history.
With the help of an eager and thirsty community, Service Brewing has helped raise tens of thousands of dollars for local, regional and national organizations that assist our veterans and first responders.
Partners in life and in business, Kevin and Meredith remain passionate about brewing great beer and honoring those who serve.