GORUCK America was privileged to stop by Service Brewing Company  in Savannah Georgia to visit (have a beer) with Kevin Ryan and his love Meredith Sutton. Kevin a West Point graduate and former Army Commander launched the brewery in 2014 with Meredith, and investors most of them from Army, Navy, and the Marine Corps. Lee, Nick, and myself got a tour of the brewery, meeting their staff, and the SBC security team two cats named Blackhawk and Chinook.
Kevin shared this with me.
Meredith and I started the company back in 2014 we sold our first beer and are getting ready to celebrate our 3rd anniversary in July of 2017. Meredith gave me a home brewing kit on Valentines Day in 2012. Seven months later we started this brewery.   
Tell me your background?
I was in the Army I went to West Point I graduated in 1996. I did about a year at Ft Benning doing Basic Course, Ranger School, and Mortar Leader Course. I was an Lieutenant 501st in Anchorage Alaska, then came back to Benning for Advanced course and out to Carson for 3rd Brigade 4th ID.   
What else would you like me to tell you about your brewery?
We are Veteran owned and operated our mission is to make great craft beer, but also give back to charities that support service members. The first two and a half years we have given over $50,000 to charities. 
---
As soon as you step in to the brewing area you notice a display of beer tap handles labeled "Tap Handle Project" 
Meredith is the artist I am the military guy. She started doing research on our logo, branding, how we are going to present ourselves to the world. She was continuously reminded about how artists have contributed to documenting our history and standing with our military  in battle. The military has one of the largest art collections in the world and we wanted to tip our hats to them and their contributions. We commissioned 22 artists to make 22 patriotic themed tap handles. So here they are.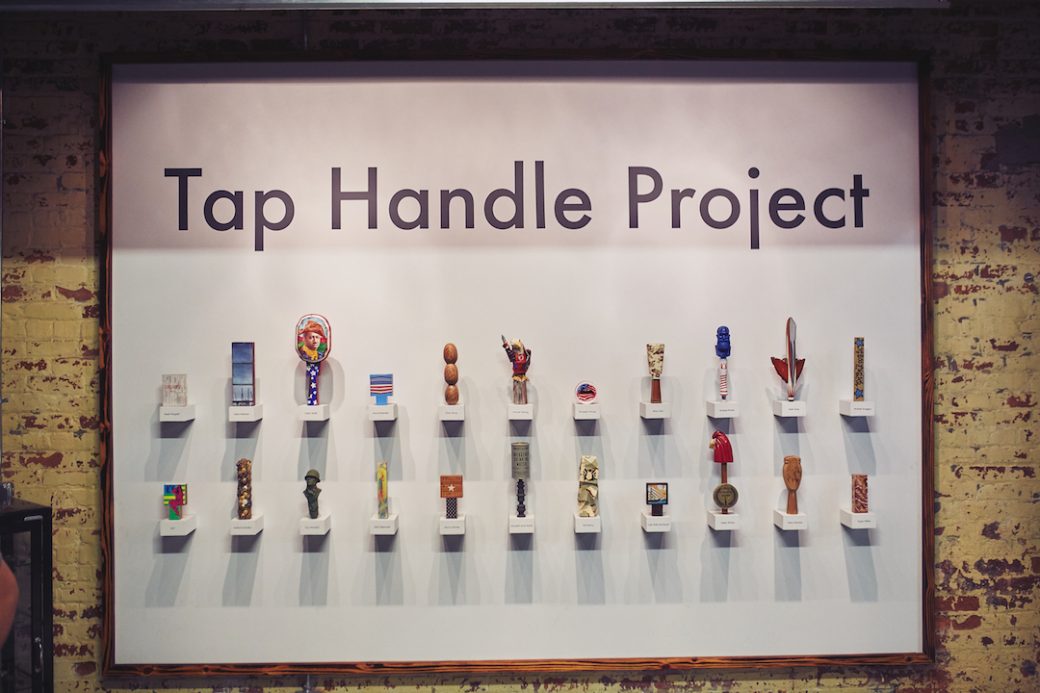 ---
After touring the brewery we head to the tap room to sample the beers they make with love. Compass Rose IPA, Rally Point, Battlewagon Double IPA, Scouts Out Honey Saison, and two Seasonal brews were on tap Gun Bunny and Savannah Banana Beer honoring the local baseball team. Behind the bar are two stacked conex boxes used for cold storage. Kevin got them to remind him of living in one for seven months while he was deployed. The wooden antique door came from an eBay find and has a cool story.
It is made in Hagerstown Maryland and and my cousins name is Jameson and the company who made it is called Jameson. It is a really cool old freezer door that is six inches thick and cost me more to ship than I paid for it. 
---
We love to support small business especially when it is veteran owned and military themed. America is all over the brewery and the staff makes you feel like a regular as soon as you walk in the door. If you are ever in Savannah make sure you stop in have a cold beer and tell them GORUCK America sent you!
Christopher Goad
AKA Bomber