After being an avid runner for years, I started obstacle course racing to try something new and I tried a few Spartan Hurricane Heats as well. While training for a 12 hour version back in 2016, people on Facebook were sharing notes on the best rucksack to use, and everyone recommended a GORUCK rucksack for its durability. I bought an American GR1 that July. It came with a free event because of a special sale, so I signed up for my first Tough later that year for Veterans Day in Columbia, SC. Many events (and many ruck purchases) later, I'm still here!
Practically speaking, rucking is a versatile form of exercise that I can use for anything from active recovery to a soul-crushing workout. I started off mostly doing half mile rucks on my way to my subdivision's fitness center as a warmup before run workouts (confession: I love running) or strength training. On a deeper level, I was soon hooked by the sense of adventure that I felt every time I put on my ruck. With weight on my back, I felt like I was empowered to explore anywhere I wanted to go, and with my ruck and my gear, I'd be ready for anything.
It takes a special kind of person to willingly train for and participate in events that push you near your breaking point, and those are my kind of people. It's even rarer to find people who are willing to suffer not only alongside but also for you.  I'm constantly inspired by the selflessness and grit of the people that I've come to know at events, and they motivate me to try to be better each day, in all aspects of life.
GORUCK Events
My most recent event was GRT Reunions 2020 in Jacksonville Beach this past weekend. I went last year as well, and it had felt like one of the most perfect weekends of my life. Everyone that I met at HQ was incredibly welcoming and sincerely made me felt like family, even though we had just met for the first time.  It was also like fulfilling a pilgrimage to be immersed in the environment where all of the magic happens. This year had a different atmosphere due to a number of pandemic-related factors, but being able to drive down and see some friendly faces again in a more intimate but still socially distanced setting had new meaning because of it. Reunions this year was a tangible reminder of how strong and resilient our community is, whether we're together physically or virtually.  
We had the opportunity to beta test a new event format called Clover Leaf. The event site map was modeled after the clover leaf shape, where Jason would lead us in a series of substantial Hero WODs at the heart of the clover (HQ) that were followed by loops of rucking out into different parts of the surrounding area. Each participant was asked to bring a personal sandbag, and we were encouraged to scale up or scale down according to our needs. Of course, you want to challenge yourself, especially when completing a Hero WOD.  
After grinding through many rounds of exercises with Metallica blasting in the parking lot of HQ throughout the night, we were pretty beat. Jason rucked us over to the beach at sunrise, where we were fully expecting to get thrashed with some surf PT. To our delight, Jason told us to take off our shoes and go into the ocean and simply enjoy for a while. It was pretty special watching the sunrise together as we waded in the water. Of course, we still got in our Hero WOD on the beach afterwards, but only after one of those picture-perfect GORUCK moments.  
With all events, whether it's a Light, Tough or Heavy, I know that I'm going to push myself. No matter how strong or not strong you are, the expectation is that you'll give 100% of whatever you do have to the team. Rarely is an event ever "easy" for me, because you should always be giving it whatever you have.
As far as my next event goes, I guess it's internet-official now. I'm training for Team Assessment, in the women's division. It's going to be really neat to showcase the often overlooked and underestimated talents of the women in the GRT community. My partner is Anna Edwards, a fellow NC GRT, who I teamed up with because we have similar physical foundations and mindsets.  
Trusty Sidekick
For H/T/L events, my favorite ruck is the 20L Rucker with side handles that SCARS helped me add. This ruck holds the weight up high comfortably, and the handles provide more options for PT.
I actually now have 5 different colors of the 20L Rucker. It's nice to have multiples for back-to-back events like HTLs, for situations where one gets really gross and you want to start fresh for the next event. It's nice to have extras to loan out. But let's be real here – a big reason for the multiples is that some of those color combinations look incredible, and I couldn't resist adding them into the rotation. I've been using the Steel and Wolf Grey ones the most often, and I have a Burnt Orange and a Black one currently at SCARS for customizations (adding side handles). I recently decided to break out the Snow White Rucker, though, to celebrate the completion of my 50th GORUCK event with the crew at the Mooresville, NC, July 4th Tough this year. Ruckers were made to be used, which made me feel better about finally christening it with some dirt and good living at the event. As a special touch, I asked a number of GRTs and Cadres with whom I've done numerous events to help me sign the inside of it. I plan to only use this ruck at special events going forward, but it will be nice to be able to carry around the names of my teammates and people who I look up to.
For Star Courses or for day trips while traveling, I use my Ranger Green 15L Bullet. The narrow shape fits my body better, and it feels soft and comfortable for the long miles or for slinging around town. I add a Greyman Tactical Rigid Insert Panel to provide extra rigidity and to hold my weight plate up high when rucking with it. My Bullet has been to Switzerland, Thailand, and Hawaii, to name a few places.
I wear Simple Pants to work every day when there's no pandemic, and I wear those same pants to GORUCK challenges.  They're lightweight, durable, and fast-drying. That makes them great for travel, as well, since they're very packable and easy to wash and dry in a hotel room.
Ruck Workouts
I ruck maybe 3x/week, and I do ruck, sandbag, and/or body weight PT maybe 3x/week. I use a combination of PATHFINDER Ruck Training and Heavy Drop Training to help me prepare for events. Between the different training modalities and programs, I can work towards being well-rounded in strength and endurance.
I'm a co-leader for the Charlotte Ruck Club, one of several great ruck clubs in the area. What I love most is the tight network that we have with those other clubs, allowing us to reach more people and promote more events. Our region is blessed with quite a few hard chargers, and I'm fortunate to be able to learn from, train with, and do events with them. If also love that our club tries to support and plan events for a wide range of rucking levels of experience. Everyone starts from somewhere, and we want to encourage them and help people reach their goals, no matter what they are.  
The pandemic has actually afforded me more time than usual for training. With no commute, and since I'm home all the time, I can hit the streets of my neighborhood and do garage workouts more easily than before. I do miss getting to see my rucking buddies as much as I used to, though.  
So Why Do It?
I enjoy the friendships that I've made. I like that my training has new purpose and meaning because I know that I'm training for events where I need to help and be an asset to my team. It motivates me to push harder than I would if this was just a solo sport.  
You can do you more than you think you can. Challenging events force you to discover strength you didn't know that you had, thanks to the Cadres' tough love. I had always left the 80# sandbags to the bigger guys on the team in the past, until I was at a 2018 Light with Cadre Fagan in Winston Salem. Everyone was smoked, and the 80# SB on the ground wasn't going to carry itself, so I asked someone to help me put it on. I only carried it for about a 100m uphill stretch that time, but it showed me that I could do it, even if for a little while. I think it somehow boosted the energy of the team, too.
GORUCK events also teach me humility. I tend to be fairly self-reliant, but these team-based events where I'm pushed to my limits help me be more OK with asking others for help, and that's a good thing. We need each other to go far.  I love that I have so many role models in the community, too. I am constantly learning from their example, about how to be a better athlete, leader, and teammate.  
Rucking is very scalable and accessible. If you are new to rucking, start with whatever backpack and weight you have, and build up progressively to avoid injury. There's something for everyone with Rucking, whether it's the social aspect or the hard-charging events, or anything in between. It's a great way to explore your city or the great outdoors, while getting in a nice workout. Rucking is fun. 
Everyone has something to give, no matter their size or ability. Get out there, train, and try something that scares you, and you might surprise yourself.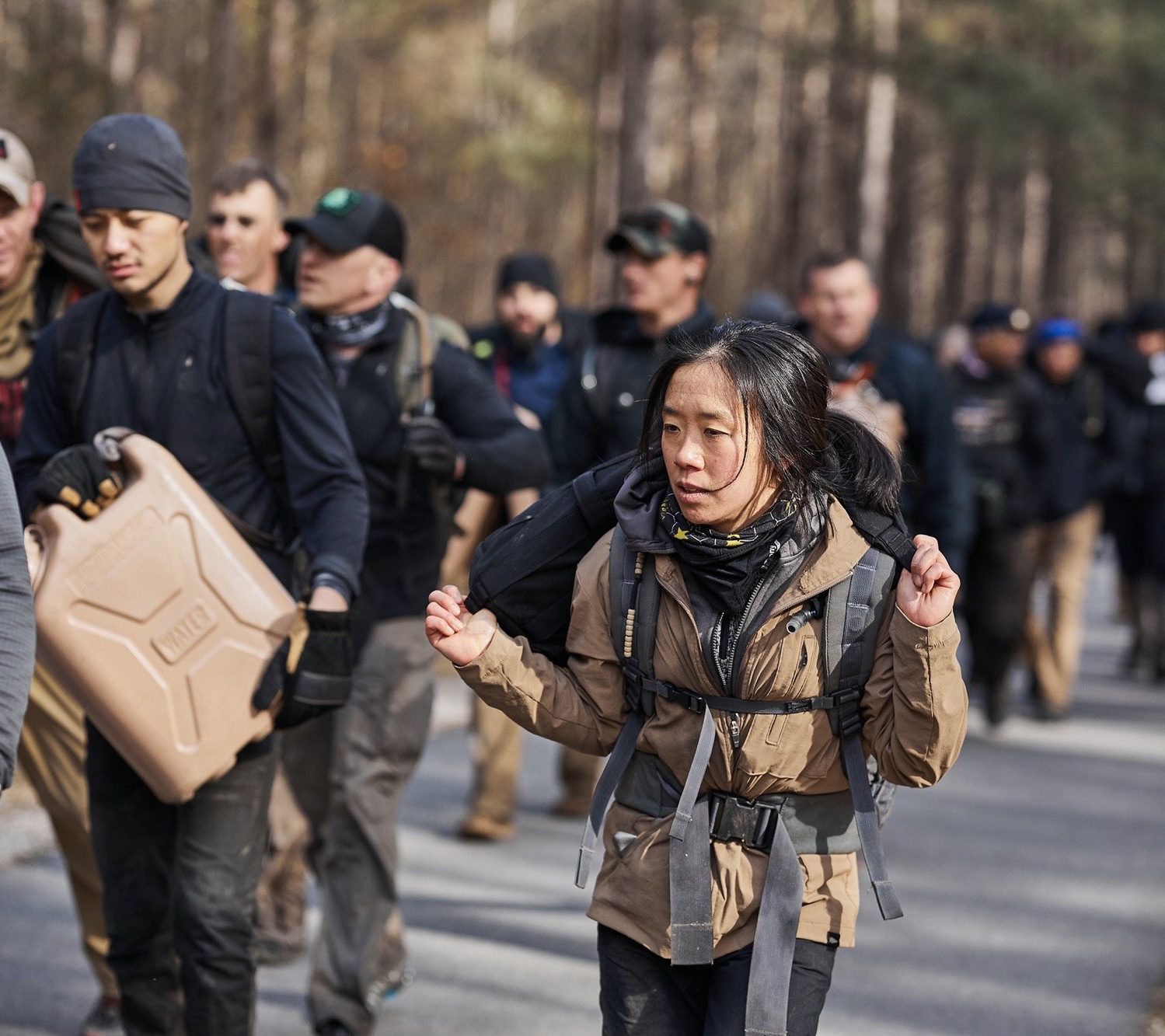 About the Author: Jennifer Lee is a GRT based in Charlotte, NC, and a co-leader of the Charlotte Ruck Club. She enjoys challenging herself with GORUCK events, and she cherishes the special bonds formed with others who also seek epic adventures by doing hard things. Jennifer has completed over 50 GORUCK events, and is likely to do many more, because every event is unique, and there's always something new to be learned.
---
Featured Gear: