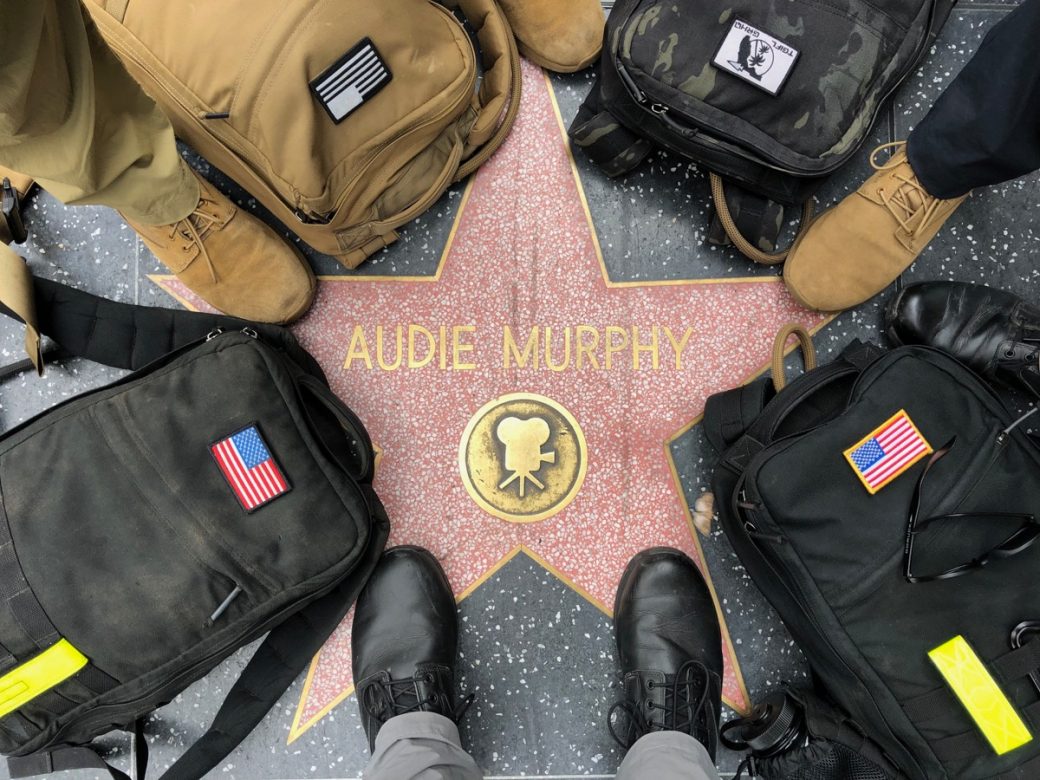 26.2 Miler Star Course — After Action Review (AAR)
Los Angeles, March 9, 2019
I was curious to see where this event stacked up between the Tough Challenge, our classic event, and the 50 Mile Star Course I did last year that beat me up pretty good and was a lot harder than I expected. And every Tough is pretty much like that, too.
Here are my big take-aways on the 26.2…
The team dynamic is great, and is what I remember most about our event. You really get to spend some time with the people you're there with. Our team of 4 linked up with another team of 3 and did almost the whole thing together, 7 of us. That's bigger than I'd recommend, but it worked for us.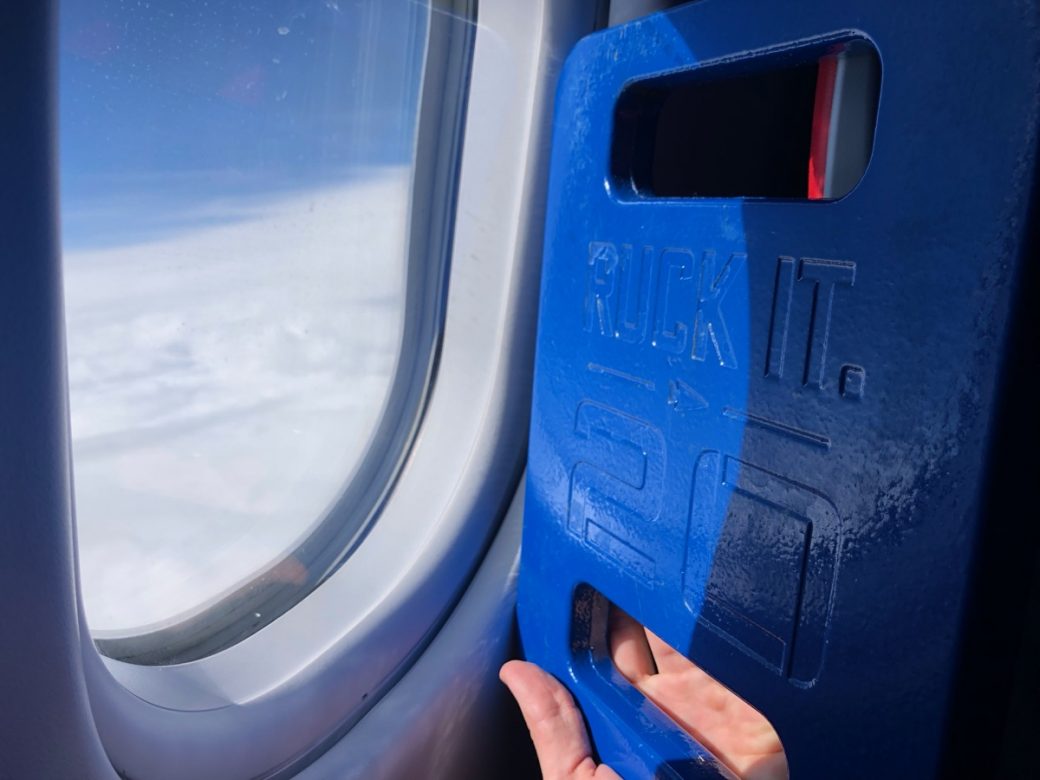 Difficulty — I found this significantly less hard than a Tough Challenge. Probably right in the middle of a Light and a Tough. The weight is less, 20 pounds for the Star Course compared to 30 for the Tough (I weigh over 150 pounds), and there's no PT. Our team took 9 hours (and came in second place), 11 is the cutoff. We were not in it to win it so to say, more important was the experience and doing it. I suspect that over time, as more people do these, we'll need to separate out some competitive waves, maybe at advanced weight. 30 pounds would have been a game changer on the difficulty front. Maybe I'll try that at the next 26.2 I do just to see how it goes. At some point down the line, I think it would be really cool to have a World's Fastest Rucker type of a competition, distance TBD but likely one of these distances, probably not the 50 unless it involved laps (not preferred). The weight would need to go up, and we'd have to find the right place to do it that would not shut down traffic but would not force participants to jaywalk to go faster, etc. A long trail, a state park, I'm not sure. If you have thoughts or ideas, I'd love to hear from you in the comments.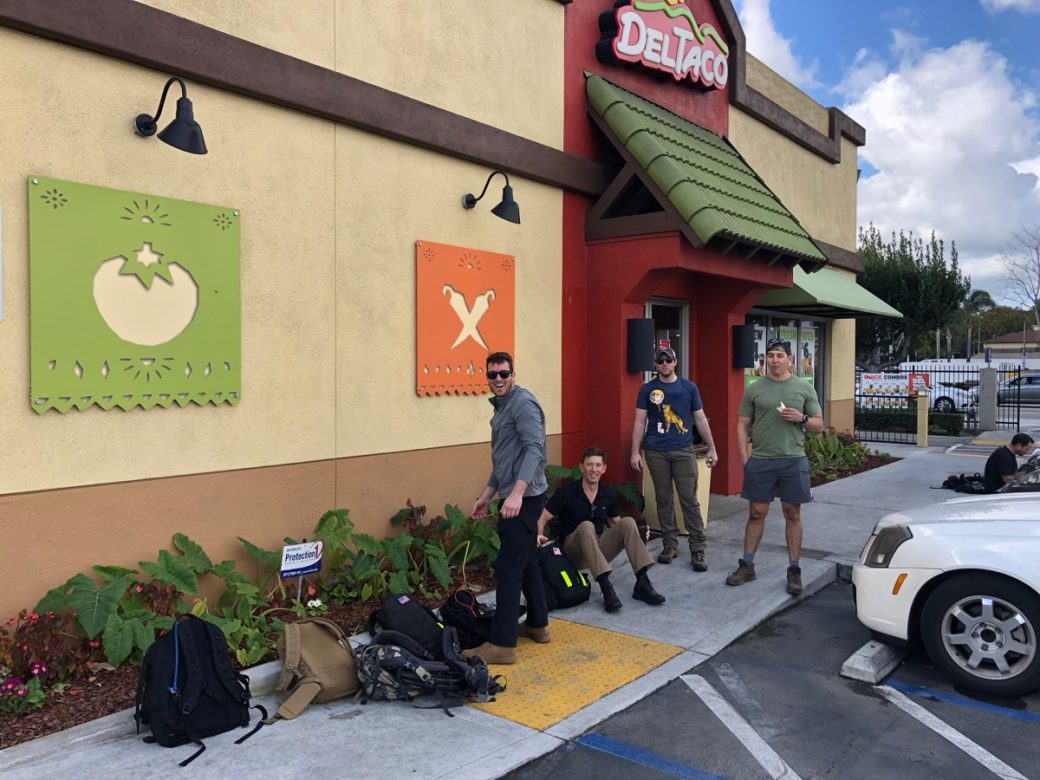 Your feet. The weather was perfect, and sunny, and dry. I changed my socks once just because I could, and I only had one small blister between my toes toward the end, I popped it at the finish and forgot about it entirely after that. It was a non-issue for me, this time. Some other guys got blisters (looking at you, Nate). To toughen your feet up under a load while rucking, you should ruck more distance and/or more weight to train up. Your feet have to adapt to the friction over all those miles, which will be even harder on your feet if they're wet (because they soften). Change socks a couple times would be my recommendation. More often if you're worried about your feet.
Boot sizing. My feet swelled up a lot last year for the 50, so this time I wore bigger boots, a new pair of MACV-1's. It was noticeable to me that at the beginning my toes had a lot more room, and at the end I had a lot less. This is natural during anything where you're on your feet a lot. Sizing up your shoe size, whatever shoes or boots your wearing, is the way to go. Just make sure your feet are used to the kind of boots you go with.
Food. We brought two PB&J's and water. We stopped at Starbucks for coffee, we stopped at the Farmers Market for a donut, there was a wonderful lady in the garment district who had made freshly squeezed orange juice. It was $4 for the glass, I would have paid $10. It was awesome. You don't need to bring a buffet with you (it's just more weight). Stop along the way if you want, there will be plenty of opportunities. And sometimes, morale is more important than anything a nutritionist has to say.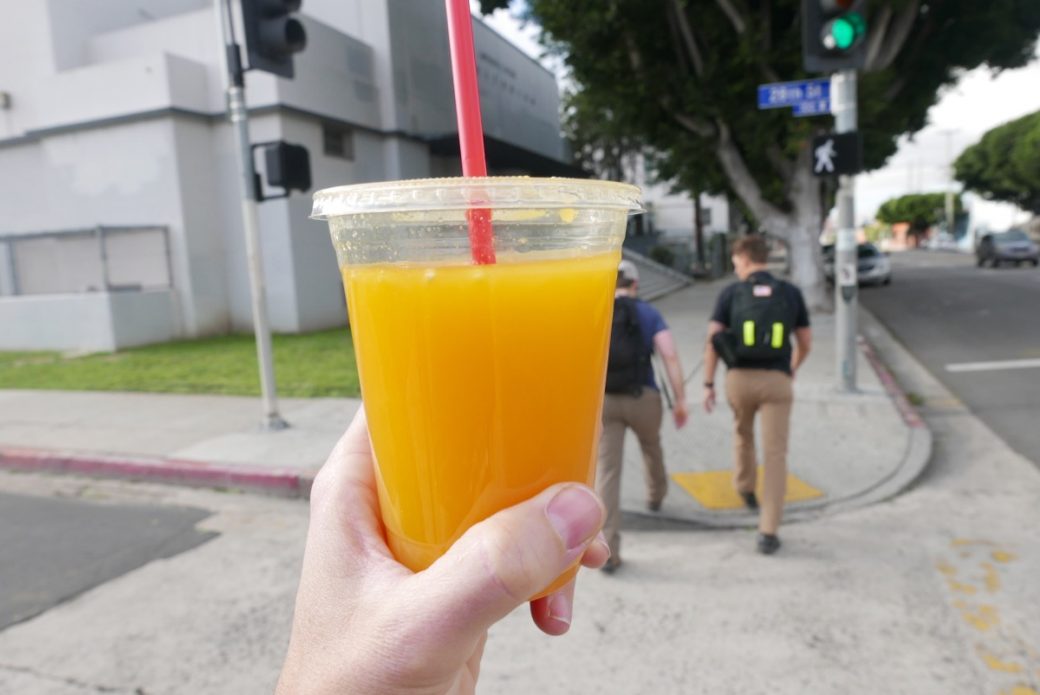 Hydration. 3L Source Bladder and a Nalgene worked great. Electrolyte mixes go in the Nalgene. I started with one and finished it about halfway through. Drink more than you think you need on the move, and remind your buddies to stay hydrated.
Our other teammates. Chase, who is the Chief Content Officer at We are the Mighty (and a former Marine and Green Beret), was with two of his Marine buddies. LA is a big town, it's hard to carve out the time to see each other. They described this a great way to see each other, get some miles in, enjoy the beer at the end, and then eat a big dinner you earned. In my life, I'm pretty much over training for individual events. They simply don't interest me because I don't get as much out of them. The time with the team, seeing some awesome sights in LA, and getting to make some new friends was the most special part of the whole event.
Gear
The Waypoints and what's in between. We got our list same as everyone else, at the start point. Then we planned our route, then we stepped off. We got to see a lot of LA, including the stuff in between. Frank and Mary and so many more. From the first picture in this post, did you know that Audie Murphy was the most decorated combat Veteran of WWII who also had a 21-year acting career in Hollywood. His gravesite at Arlington one of the most visited and I wish they had a special addition to his Hollywood Star with the Medal of Honor he earned. His story was news to me until we did the route, same with many of the other points and cool stuff in between. Our Cadre and team did a nice job on the waypoints.
The Cutoff Ruckoff. All three events stack with different start times but the cutoff was 1700, 5pm, that Saturday, for all of them. Ours started at 6am, 11 hour time limit so the cutoff was 5pm. Show up before, earn your patch. Come in after, earn it next time. You'll see a lot of people coming in in the last hour. We saw several come in in the last few minutes. Families waiting, big hugs, high fives for mom and dad kind of deal. It really felt like the end of a Challenge where people just want to hang out, cheer each other on, and get to know other people from the community. I heard all sorts of talk about weekly rucks, bigger trips overseas, and hiking trips getting tossed around, even from people lying on the ground with their feet up, recovering like I was in DC last year. I'm doing XYZ next month, anyone want to join me?, people would say. Bringing people together to do cool things that push us, and challenge us, and that are fun, and doing them together is the best part of GORUCK.
In terms of the Star Course's role within our Events, it's very much here to stay, and grow and expand. We enjoy doing the event, there are not a ton of hoops (like shutting down roads) we have to jump through to make it happen. Most importantly, it's a great goal to have for people who are just starting rucking, as well as for really experienced ruckers. 12 miles is a lot different than 50, of course, and 26.2 is probably the right distance for you if you've done a GORUCK Challenge before.
When people hear 26.2, they think of the marathon and running. As some frame of reference, if this were a 26.2 running marathon, I would have been limping to the end, at best. I used to really enjoy running but I stopped doing it a while back because my body was getting beat up and, more importantly even, I stopped enjoying working out/exercising solo as life got a lot busier. So most of what I do — ruck the kids, the dog, ruck to work while I make some phone calls, Ruck Club stuff — keeps me in the kind of shape where I can jump into a 26.2 and not get beat up. I did not follow a specific training plan, though I'm starting to in advance of some other events (Normandy 75K). You can find all of our event training plans here.
Ruck the miles, do Ruck PT on top of that foundation is the thesis. Mostly I've just hidden the miles by wearing my ruck more often, for shorter distances, and when possible I do a longer ruck (~10 miles), sometimes with Monster and the kids in a stroller even. Point is, the training is doable for all of us. We have the time, we don't even really need to carve it out like we do for other events. Just wear a ruck more often, that's most of your training right there. Next step, find a couple friends and tell them to do the same thing and have some fun along the way. Working out doesn't have to suck, and if it does, it won't suck with the right friends.
Learn More About GORUCK Star Course