It felt like Fight Club. 700 of us in teams of 2-5 underneath a freeway in Georgetown at 9pm on a Friday night. Rucks and 20 Lb. Ruck Plates and Body Glide and an infinite echo of energy bars in crinkly plastic moving toward the sound of the bull horn.
Start lines are always fun – legs are fresh and hope hasn't met reality yet. This one, though, was electric. The traffic above, the battle cries shaking steel pillars below, the din of DC nightlife mundane by comparison.
"This is where it's at," we all thought.
People had come in from all over the country to be a part of Class 001, to try something new, to see how it would go. The cool part was, nobody knew for sure, me included. Such is the beauty of firsts.
Here's some context on how this came to be, with a few takeaways (many of which I paid greatly for):
Why the 50 Miler?
This is GORUCK and our Cadre and our community own the high ground on rucking. My goal was for us to have a premier rucking event. The premier rucking event, in fact. Something new, something different. I'm talking rucking – moving with a weighted rucksack over time and distance. A few years back we did a rucking Kill That 5K series. We got decent numbers, but no electricity. It was too easy was our conclusion, and too costly to rent out golf courses and that's not really our thing, but at least we tried it.
So we went to the other extreme, the goal being to establish a signature event, a brand anchor. This became the 50 Miler, and for inspiration we went to an executive order issued by Teddy Roosevelt in 1908, later echoed by JFK: Do 50 miles in under 20 Hours.
With that decided, it came to the operational side, which Big Daddy manages. To do a 50 Miler requires 50 miles of real estate. Shutting roads down and putting out traffic cones is a beast, and we didn't want to do it unless we had to. Which, of course, we didn't.
Enter the Star Course element. The Star Course is the culminating land navigation exercise at Special Forces Assessment and Selection. You get your waypoints (as an individual) and you move to those waypoints. You have to make a time hack or else you're a no-go. The route might look like a star, or a mutant star, but you get the point.
In the city for this event, one option was to force a route, to prescribe an order of waypoints that would lead to 50 miles. The other way was to leave it open, to let the teams decide – which would entail the freedom to choose a wise route, or a not so wise route.
We believe there's more to gain from empowerment, so we went with the latter, which also fans the participants out more around the city. As we're looking to make a smaller footprint, this is a better option. And we said you need to be in teams of 2-5: it's more GORUCK that way, and it's a lot safer.
Because it was impossible to prescribe the exact distance, it also mandated a long ruck out of the gates – in DC's case, about 16 miles out and 16 miles back along the C&O Canal, followed by 18+ miles in and around the best sites of DC (and northern Virginia).
Teams organized prior to the start, everyone got their waypoints and everyone knew the cutoff to earn the patch was 20 Hours. And then we were off, full of an energy that couldn't last forever, and it wouldn't.
Our Team of 4
Our team had four former Army guys on it – Blayne, JJ, Gus, and me. None of us was a stranger to rucking, and we took mostly a relaxed approach in the build up (didn't train enough), while still respectful of the fact that 50 miles is a lot. Which was easy enough to do in an abstract way because I didn't think about it very much. "My legs have the miles in them, I'll gut it out where I have to," I thought.
Having done no specific training for this event outside the normal miles, we all agreed like you would choose heads or tails that 15 hours was our goal. Oh, how things would change…
Some blow by blow
Pre-game
Pizza around 7pm was good
Vaseline in the hot spots was a definite must – nothing irritating there at all at any point. Lots of people spend lots of money on compression shorts and all that stuff. I don't get it. The Army taught me what commando means, and how to live like one, so I do. It works and it prevents crotch rot, just don't forget the Vaseline.
4 x PB&J's each individually wrapped in my ruck plus a couple cookies. I ended up eating a little more than this because we stopped at Starbucks in the morning, but this was about right. I wish I had brought something with caffeine for the middle of that first night, though.
Clothing: I wore Simple Pants, a Simple Windbreaker, and a GORUCK T. I threw in a Challenge Windbreaker, last minute, just in case. I prescribe (sometimes) to pack light, freeze at night – and I didn't want to carry weight I didn't have to on this one. Having two windbreakers instead of just one would prove huge later on when I was freezing cold like everyone else.
Boots: I wore my GORUCK boots, not yet released. I've been all over the world in these, they have world class supporting inserts built in to every pair, and my feet know them well. They were stellar, 5 stars.
Socks: here's where I went wrong. My feet felt great for about 40 miles, despite all the rain and being a little damp. I didn't change my socks, not one time. Part of me is a masochist, the other part of me wanted to really test the boots with the same pair of socks, to see how they drain and stuff. I had a medium weight pair of merino wool socks. Despite being too worn in a few areas, they're great and I got zero blisters because of my boots or my socks. I got blisters because I didn't take care of my feet like I should have. At around the 40 mile mark (on the National Mall then moving to Hains Point), I started to feel some hot spots on the bottom of my feet. I wanted to stop and change my socks, but by then, the rest of my body was also starting to voice its opinion of my decisions, and the worst thing for morale was stopping. So it was this weird thing where my feet felt great for a really long time, and then just as I needed to deal with them, my body really needed me to keep going and not stop. I'll chalk this up to a rookie mistake, it was my first 50 Miler. I ended up with pretty gnarly feet, but only on and emanating from the bottoms. Next time, I'd bring a few pairs and force myself to change socks just to get in front of this kind of an issue. I'd also bring a second pair of broken in boots and put them on at about the halfway point.
The Route-ish
The middle of the night during the C&O Marathon+ portion was the worst for me. 330-630 am I saw my spirit animal, the trick is just to stare back and keep going. It was cold, raining non-stop, and one of our guys was struggling a bit, so our pace was pretty slow. The biggest problem for me with the pace was that the faster you move, the warmer you stay. I got chilled and stayed chilled, that bone chilling kind of chill you can't shake. I saw a meme out there in Internet land about the hand warmers in the bathroom on the trail and laughed – I was there and I knew. I overheard someone in the bathroom in the middle of the night looking at the guy next to him saying, "man, I never thought I'd be in here blow drying my balls, thinking this is the best feeling in the history of feelings."
How do you not laugh, it was awesome.
The risk with getting warm is that it makes the cold that much colder. And it did, but I ate a PB&J on the move and we kept going.
Around first light, at roughly the marathon point, Gus tapped out. His legs were screaming, he couldn't go faster. If this were a different event, we would have carried his stuff the rest of the way, or given him a longer respite, something. None of us felt good about it, but on we went. Gus is not the quitting type, not now not ever, but I think he also knew that we still had so far to go and we wouldn't be able to do it under the time hack at the pace his body could go. It was a selfless act on his part to make a hard decision sooner than he had to, and live with it.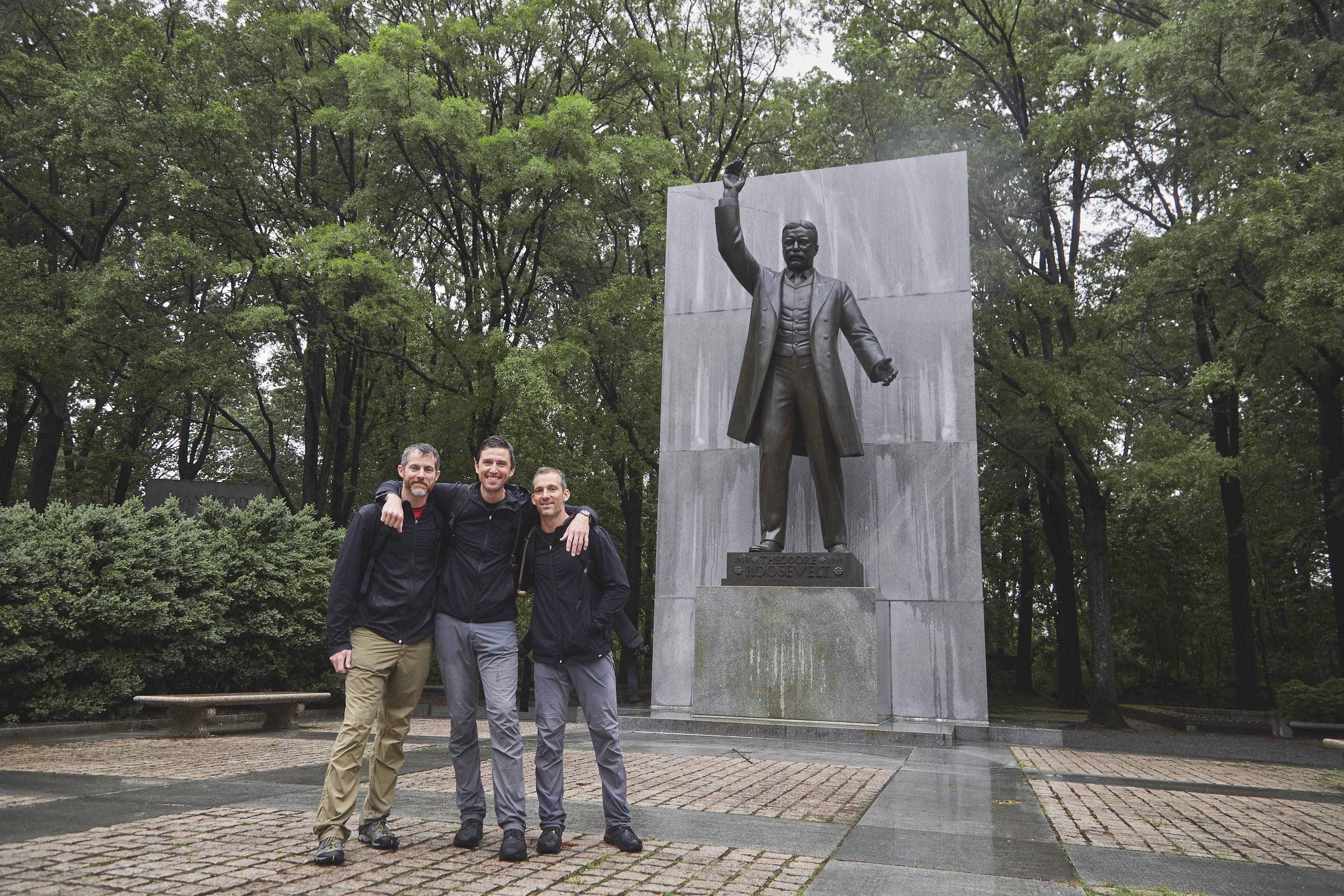 And then there were three of us — me, JJ, and Blayne. We picked up the pace a little bit, ate an orange thanks to a volunteer point (Fredericksburg Ruck Club), and got off the trail for the city. This change of pace felt great. First stop: National Cathedral, up the hill north of town, second stop Starbucks.
A large coffee and a hot sandwich were manna from heaven and kept me in great spirits for the next long while. I highly recommend this kind of morale boost, whatever it is for you.
Then, one by one we just kept knocking the waypoints off. It was really clear we weren't going to make our 15 hour goal, which we almost felt entitled to based on our histories, not our train up. That was OK with us at this point, we really just wanted to finish under the time allotted, 20 hours.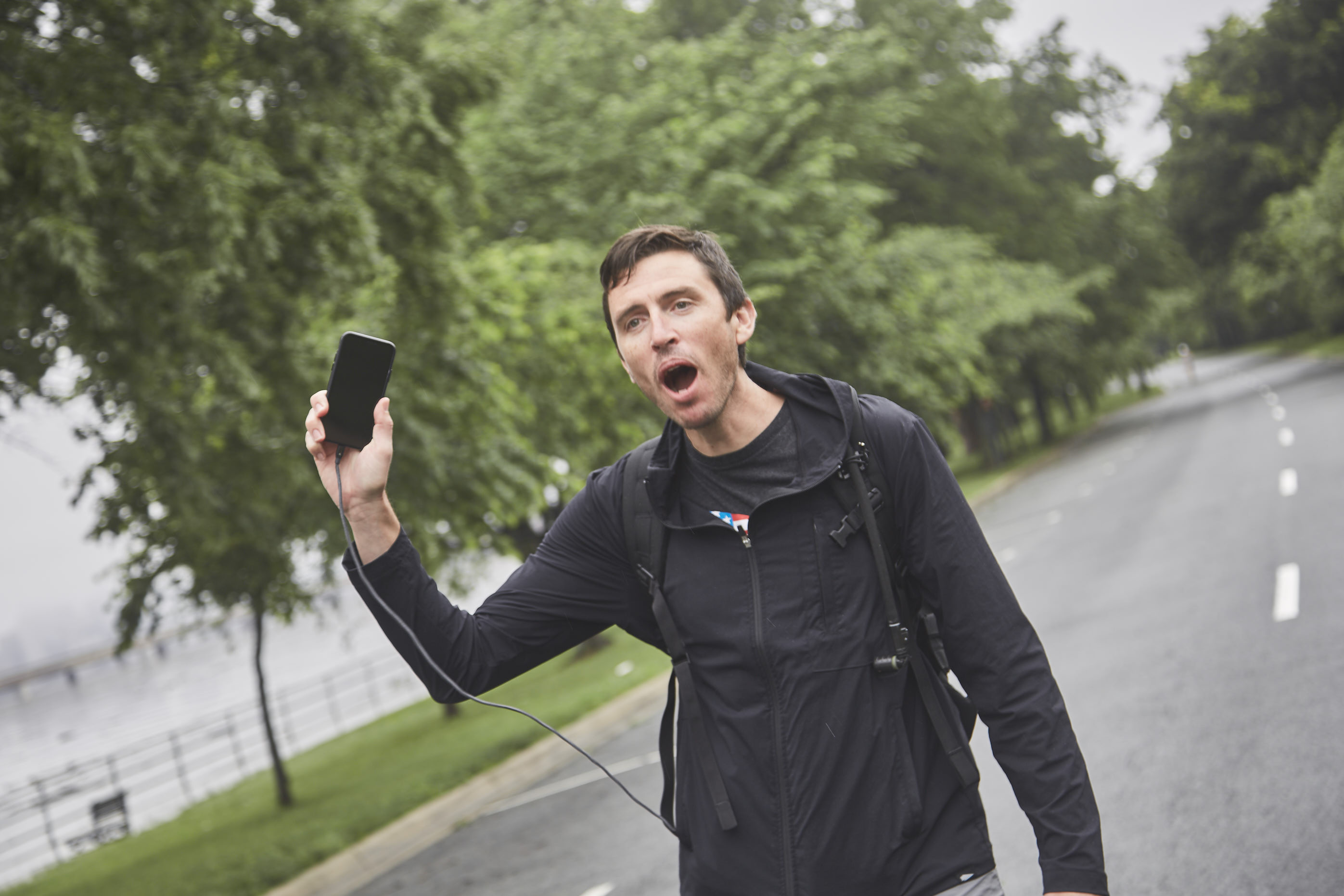 Around 40 miles, and then towards Hains Point aka Pains Point is when lots of us also found our spirit animals again. Same as always, I had Metallica on my phone – and busted it out. Sometimes it's the little things. My only wish is that I had speakers to make it louder.
There were teams all over the place, up and down the Pains Point Speedway. The energy of the night before carried over into the camaraderie of rooting for each other. Ourselves included, there was a real respect for the time standard. It was tough but fair, and everyone wanted everyone else to make it. Just push a little harder, you can do it — that was the vibe.
The miles that made up the final stretch – at least they were beautiful miles in the capital of freedom. If this would have ended at the marathon mark, or even the 40 mile mark, I would not have felt as I do now, with this sense of accomplishment and a bit of awe at those who did this so much faster than we did. The last 10-14 miles were where it's at. You have to push all those miles prior to get to them, though, and then you find out if you can do it or not. There are a lot of lessons in those answers.
The fact that this was a team event made it what it was. I have zero interest in doing a 50 Miler solo, running or rucking – the time with the guys is what made this event a spiritual one, for me. The conversations about life in the beginning ultimately led to survival mode built in support crews for each other, as each of us needed it most.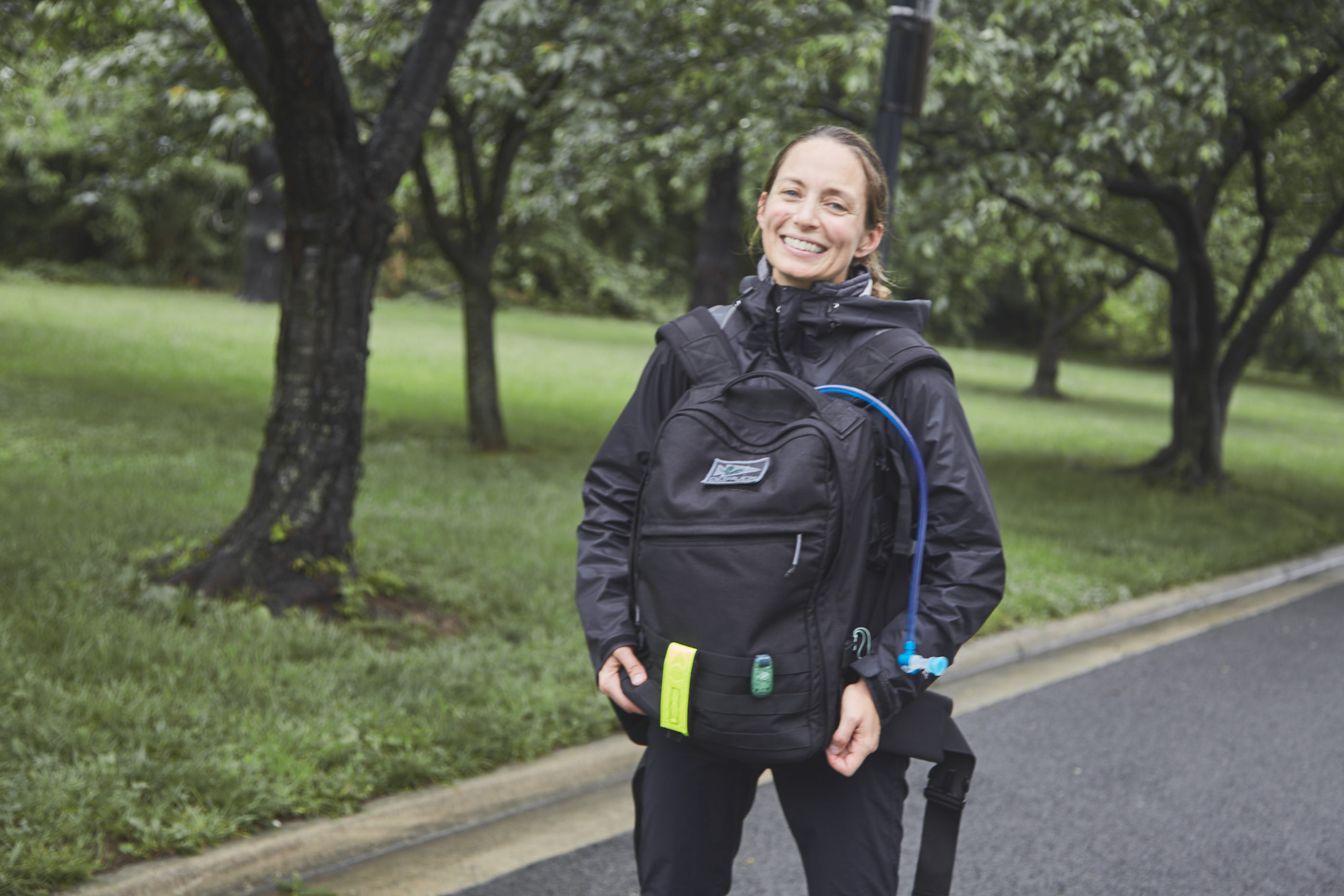 My only regret was that I wish Emily would have been on our team. She did it with some old running friends from Georgetown U, and when one of them had to drop (chronic dehydration), her team was down to just her. They had done over 50 miles at that point, had about an hour to go, but by the rules we had in place, she was done (no patch) because this is a team event which means you have to finish with someone else on your team. We traded a couple texts and I was more heartbroken for her than she was. She just wanted her friend to be OK – which she was, and is. We had run into each other on the Pains Point portion, she had two rucks on (which I never did) to help her teammate. Anyway, it didn't seem right. I get it, life's not fair and all, but our goal for the team finish was to say that this is a team event and not an individual one. She met up with us right before our finish just to do the final home stretch with us. Somehow doing better than any of us, despite being half my weight and carrying the same as I was on my back.
We moved up four flights of stairs – it was a nice touch to the route, we're all welcome 🙂 – to the end point and crossed the finish line at 18 hours, 10 minutes. Big Daddy was there with the American flags and the other finishers and the pizza and the beer. We were on a rooftop at Balance Gym in the middle of DC, it was perfect. We got our patches, sat down and ate some pizza and drank some beer. The music was going full speed. I was glad to be done, humbled by how hard that had been.
Ruckers were still coming in, united by exhaustion and accomplishment and the kind of camaraderie you can only earn by doing hard things with hard people. Everyone was there, soaking it in … and not wanting to move. Reality met our legs and we all won.
GORUCK 50-Miler Star Course By the Numbers
187 Teams Started and 64 Teams Completed
654 Participants Showed and 155 Participants Completed
1st Place team: Team Balance TC in 12:11
2nd Place team: 3-D Dayton Dastardly Dashers in 16:50
3rd Place team: Star Course Worldwide in 16:57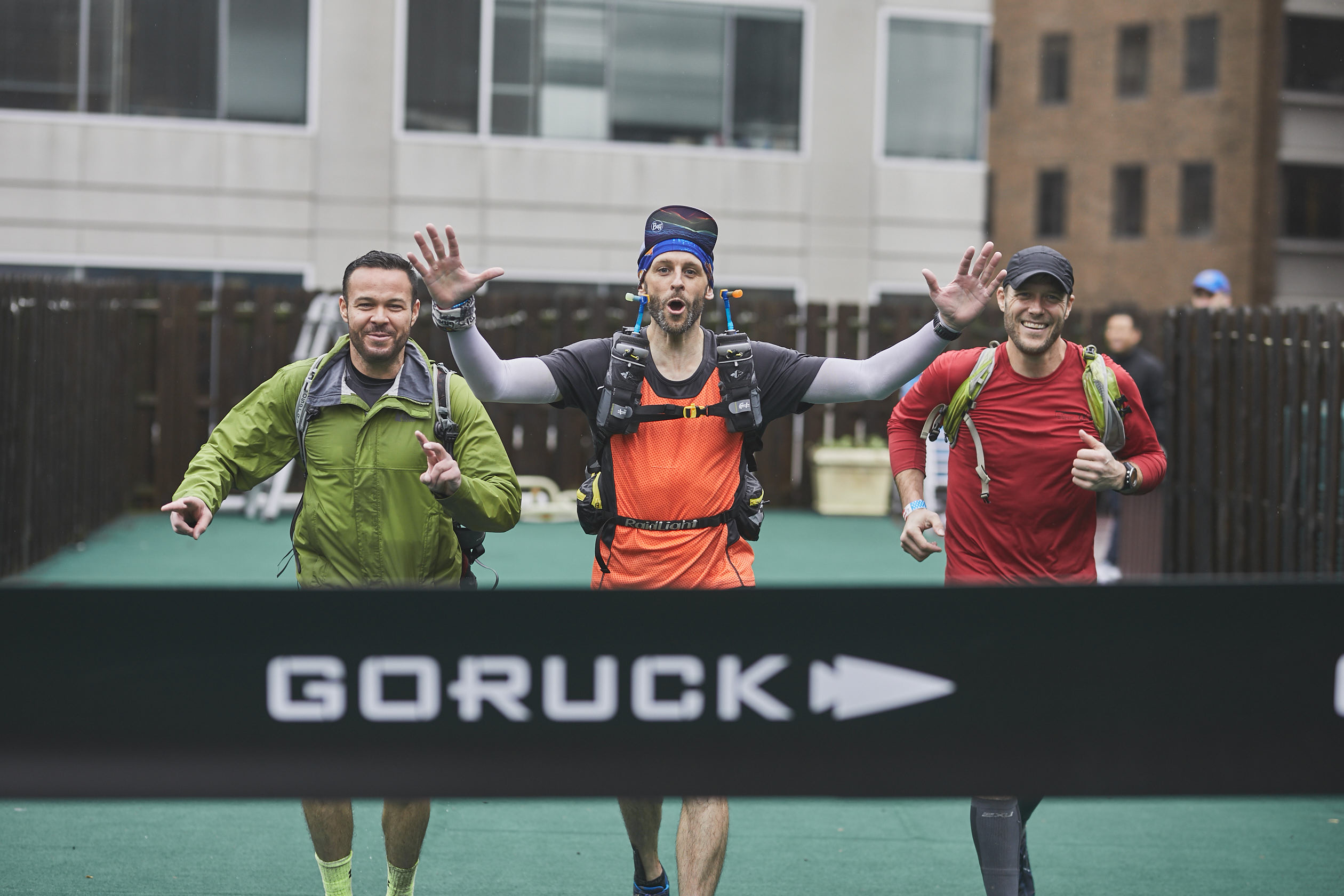 Next steps
First off, I challenge any and all of you to do this event. It's 50 miles, and it's doable. A special version of this challenge goes out to (1) All GORUCK Cadre (2) All GORUCK Employees (3) All GRT's, especially you "retired" ones but really all of you.
We own the high ground on rucking and this is the premier rucking event out there. Ruck up and do it.
We committed to this event as a national series before DC. The Star Course is here to stay — when, where and in how many cities is up to you all. You vote with your feet, of course. This year we're in a lot of cities, one of which is probably pretty close to you. If you wanna be one of the first, now is your time.
Rules Changes
Two big ones come to mind. First, we're changing the weight requirement so that it scales with your bodyweight.
If you're 150+, 20 LB Ruck Plate (or equivalent)
If you're 150-, 10 LB Ruck Plate (or equivalent)
This is more in line with how we teach people to ruck (don't exceed ⅓ of your bodyweight), and it's more fair this way. By fair I mean that if you're running, you run your bodyweight. If you're rucking, you're rucking a weight more relative to your bodyweight, with this rule change.
For the record: I was shocked how heavy my ruck felt at the end. A 20# Ruck Plate plus everything else made it about 30 LBS, total. In my day to day rucking life, 30# is the lowest I go (50# is max) and it's not a big deal. This flavor of humility was one of the great surprises of this adventure and I'm grateful for it.
Second, if, and only if, the rest of your team drops for whatever reason, you can continue solo. If you hit all the waypoints within the allotted time, you'll earn the patch. You are not eligible for any prize money, sorry but life isn't always fair no matter how hard we try to make it. If this happens, recommend you link up with another team if possible (you'll still have to post your own pics) to make it more fun as a shared experience. And because all the rules matter all the time, you must hit all the waypoints within the time hack to earn the patch.
Oh yeah, I'm planning on doing the Jax Beach season closer this year, with Emily. I think I'll train a little harder before this one and hope you do the same before yours.
Sign up here.