Hey y'all, I will be making end of month posts about all the cool GORUCK things going on with the community, GRHQ, and Monster. We kicked off 2017 in high speed, low drag mode.  BETA 001 (Constellation), TRU (Team Ruck Up), The Best Part of GORUCK stories, and a plethora of other goodness. So here is the January recap in no particular order.  Okay, maybe TRU first since I look cool in one of the photos.
---
TRU 001: January 18, 2017 and TRU 002: January 25, 2017
The following was in our first email from Jason where he set the pace for 2017:
"Twice a month, on Workout Wednesdays, we do a Team Ruck Up (TRU). One is a long heavy ruck, the other a smoke session of "Pain Roulette" followed by a timed 1-mile ruck. Comfort is the enemy and no organization touting their free bagel bar as incentive to join ever conquered the world. At GORUCK, you'll experience discomfort of the body and the mind, team room style feedback (not for the faint of heart) — and you'll experience what it's like to be part of a community built on the very best the human spirit has to offer…. I aim to aggressively drive us back to those roots to move forward – stronger and together."
– Jason
So we started with TRU 001 on Wednesday, January 18. The bottom line: get outside with a group of friends, put some miles in, maybe some PT, then some beers. Make sure you have a flag and by all means invite kids and dogs.
Check out the story and more photos from TRU001 and TRU002.
---
Constellation 001 BETA: January 14, 2017
We did a great job keeping this one a secret. 71 participants showed up for this class with very little information provided. This event is the urban survival counterpart to the GORUCK Challenge. Stay tuned for 10 secret BETA events and a 20 city national tour of Constellation events. Build your skill set and learn from the experience of our Cadre to survive and evade. In the meantime, checkout this page for more details.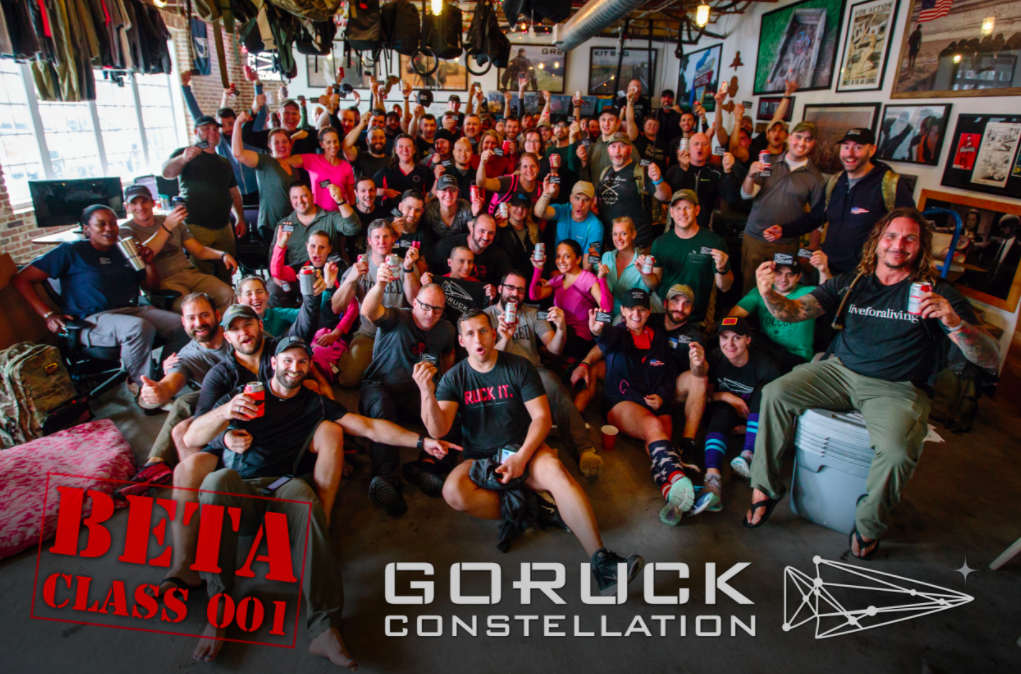 ---
The Best Part of GORUCK
Focusing on the stories that makes the community what it is. You will see this statement from me over and over. The best part of GRHQ is Monster, the best part of GORUCK is the people. Hyland's Hopeless was our first story about people making a difference in our community. This group makes a difference honoring their namesake Larry Hyland.
The second is about "Momma Stump" and the announcement that the All Women's HTL (Heavy, Tough, and Light) will be named the 2017 Momma Stump Memorial All Women's HTL in her honor.
Nick and I will be traveling and delivering more stories about the community this year. Look forward to great posts, photos, and video.
There are some super rad photos posted on the GORUCK page. Some really suck though, y'all need to up your photography skills. Anyway, here are some of my favorites. So be awesome and I might just share your photo or post. FYI I will never ever do an event in the snow.
---
We are ending out the month with the Ingress Mission Day and SCAVENGER  hosted at GRHQ.  We even set up the GORUCK PX. Agents from all over the US, Japan, and Canada participated in the Jacksonville Mission Day making this a special event.
Look forward to some really cool announcements from Jason. We have GORUCK America coming soon, a few fundraisers helping some of our favorite charities, and I will be working with the Ruck Clubs and visiting some with Nick. Plus Kit and Lee are adding more benefits to the GPTP GORUCK Preferred Training Partner Program, so look for some great incentives for our gym partners in 2017. Stay tuned y'all, this is going to be an awesome year.

Christopher Goad
AKA Bomber
Semper Fidelis