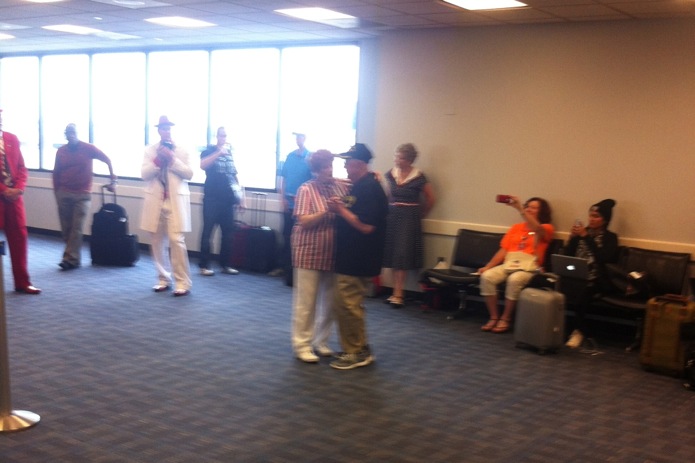 So I'm at the airport buying a protein bar as the flight across from me is unloading when all of the sudden everyone starts clapping loudly. I turn to see what all the commotion is about but as the airline rep gets on the speaker and starts to announce said reason I already know and this person needs no introduction.
So a little context: it's June 4th, 2014 today and I am in DC en route to Normandy, France to lead a GORUCK event on the 70th anniversary of the D-Day landings. So when this person slowly walked off the plane wearing a WWII hat and D-Day Normandy shirt I pretty much knew everything I needed to know about him. I'll be honest I am getting my iPad wet writing this. Why? Because that image of him walking so slowly off the plane to clapping made me think of that man 70 years earlier running full speed off of a landing craft into heavy incoming fire. While everyone else was happy cheering for this man I became extremely anxious, sad, and had to walk away. Why? Now this I don't exactly know. I know in my life when I run it's only ever from one thing: emotion. Emotion is now the heavy enemy gunfire of my life. Why is it that way? That's a good question and a subject for another day, now back to the subject at hand: so why such heavy negative emotion from something so unquestionably great? Well I'm still figuring it out… Maybe it's because I fear that's me in 70 years. Maybe it's because I hope it is. Maybe it's that I don't want to be compared to a generation and individuals so great. Maybe it's because I don't feel my war was good enough or that my generation was good enough. Maybe it's because I feel I'm not good enough. Or maybe it's because I just wanted to be someone clapping and cheering not knowing what I know and having these questions that I have. I don't know, but I couldn't watch…
I went to the restroom and dried my eyes and looked hard into the mirror. The fire subsided. I then head back to my gate and he's there as not surprisingly we are on the same flight to Paris. Before boarding, the flight crew announced that he was a Normandy Raider and to more applause started playing 40's music to which he grabbed his wife and slow danced. I buried my head so no one saw my tears and put on my headphones to drown out the gunshots in my head, but that didn't help. If the fire before was bad this was a wall of it; some rounds hit near my feet, some ricocheted off objects near me and some rounds went right through me. The not thats are the rounds that miss, the maybes are the ones that ricochet, and the rounds that go right through me are the truth. Bullets that you shoot at yourself are hard to avoid, and the unavoidable raw truth that I can't dodge or duck is that I don't want to be compared. I don't want to be a war veteran, a "wounded" one, let alone a disabled one. I don't want to be referred to by where and when I was overseas or by a battle or city name. I don't want people to ask about medals, friends who are no longer with us, or my arm. I don't want to be applauded ever because I'm not good enough and am not special in any way. I don't want to be there or here when so many others aren't, people that I knew that should be here watching him dance with his wife like I am now. These are the thoughts that dance through my head, but again: who am I and what do I know? Everything changes over time and what I think about something is no different…
When I boarded the plane I unintentionally had to walk right by his seat. I wanted to just pass by without a word; it was easier that way. But this was a challenge to myself and this time I ran at the fire. I looked him right in the eyes reaching out my hand and barely managed to say: "see you on the beach." We shook hands in the way I do and he didn't say a word: he just smiled and nodded. But if you saw the look in his eyes… He knew… So now I'm back at my seat wiping away tears from the screen so I can see it to type this. The fire is still there now and I am running through it but after shaking his hand I don't feel so alone, I feel like I have a teammate, someone to go through it with me who has done it before. As I sit here I can't help but think of how many times he has had this debate in his head and how hard it must be doing what he is doing let alone what he did so many years ago. My questions still aren't answered but I think I will find several on the Normandy sand tomorrow who have made it through that fire. Figuratively and literally. So I'll see you on the beach.