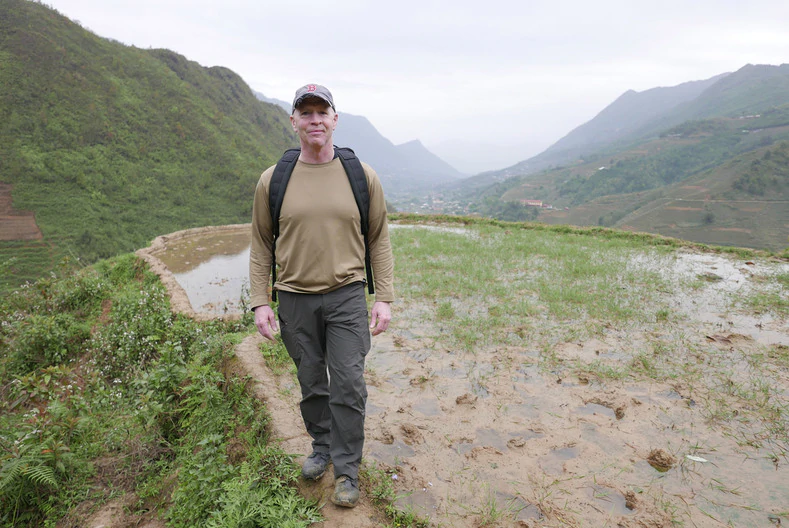 Sapa Valley
Northern Vietnam, along the Chinese border
April 6, 2018

"Hey Paul, why'd you quit?" I asked.
"What the hell are you talking about," he said.
"You went part of the way out, then you turned around and came back, that's quitting."
Rich was already grinning, he knew exactly where this was going, this kind of team room banter.
"I didn't quit. I told you guys I was gonna show you how great these were on mud. I walked out, you got a picture, I came back… I didn't quit."
"Nope, that's quitting. Not quitting looks like what I just did where you go all the way around. You'll probably fall to your death on that far end, though, so you better not go, we need you for at least the next couple months until this boot's done done."
"Oh I see what this is." he said, as if pouting.
Paul turned back around to face the task at hand and Richard and I were grinning ear to ear.
Away he went, around the mud rimmed rice patty on the side of a not so insignificant hillside in some of the most arduous terrain in all of Vietnam. I didn't want him to slip, but I wanted him to slip so we'd have something to joke about for the rest of his life, and ours. It's that kind of friendship, that kind of love we all have for each other.
A few stops and a few balancing acts and a few more starts and he was all the way around, all smiles. I was surprised he didn't start beating his chest like a gorilla. "I'm not a fuhkin' quittah" he said looking right at me with a big Boston smile and a thick Boston tongue and his permanently bent sideways nose.
His passion is contagious and yes, Paul's always kinda like this. You're glad he was around at the bah last night and you're glad he's on the ruck today and you'll be glad to sit at the bah with him tonight and remember the memories of the day and the promise for more, tomorrow — work, play, or both.
If you meet Paul around, he'll probably have a Red Sox hat on and a ruck on his back, and his nose will definitely be bent sideways and he'll downplay his role in the creation of MACV-1 with a big Boston smile. Richard this, Jason that, GORUCK's mission and his profound respect for the Cadre. That's all well and fine. But one fact is clear. Without Paul and his 30 years of experience as a shoedog (including inventing the Reebok Pump) and his friends who share our relentless commitment to excellence, MACV-1 would not exist. The footwear industry is more challenging, more costly to enter, requires more R&D, and there are more dirty tricks companies use to cut corners than in any of the other product industries I've seen.
When it's time to drink beers, he's in. Adventure? Yup. A Challenge? That too. But when it's time to work, that switch flips and the goofy grin fades and the mad scientist comes out with a vengeance and there's no mistaking that it's time to work. Not in a check's in the mail kind of way — more like, do whatever you have to do, get your hands (or your feet) as dirty as they have to get doing whatever you have to do to achieve mission success. Paul quarterbacked the translation of GORUCK and rucking and our vision for MACV-1's to a team that spoke footwear, and spoke it well. Nobody but him on our team could have done that, and he did it over and over and over again.
And then we'd get the latest sample and we'd get out and test them, together, and the relentless pursuit of excellence would continue. Sometimes, that involves not falling to your death on that far side of the rice paddy and that gets to be your story we'll be talking about at the bah tonight.
The beers in Sapa were cold and well earned and yeah, Paul, four years later you were right about the not being a "fuhkin' quittah" thing.
And the boots didn't do too badly, either.