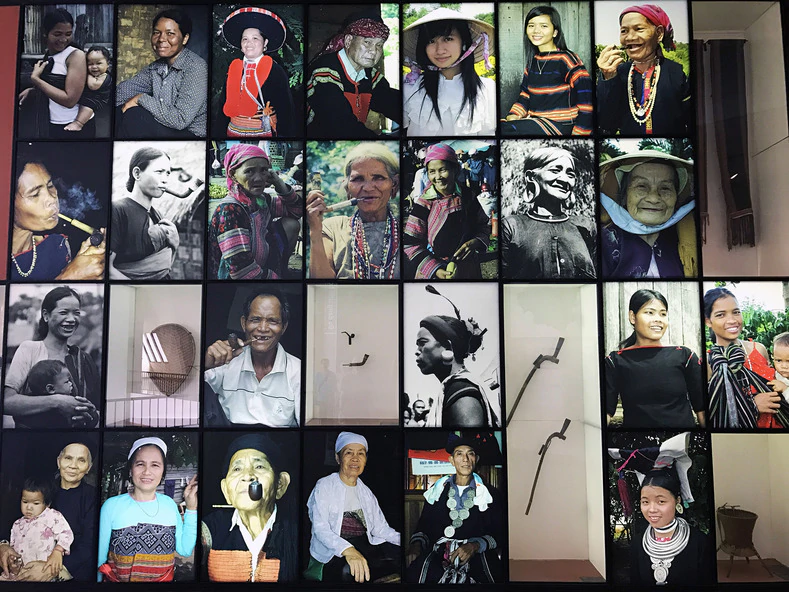 Dak Lak Montagnard Museum, Buon Ma Thuot
April, 2017

When I attended Special Forces training at Fort Bragg, NC I learned that one of the primary tenants was something called Foreign Internal Defense (FID). What this was based on was learning how to work with people indigenous to the area we were operating in, helping them gain the ability to defend themselves and in turn gaining their trust and getting them to help us with their knowledge of the operational area.
In Vietnam, this meant working with the Montagnard people who were supporting our camp and in my case our cross border operations to gain intelligence about the North Vietnamese and Viet Cong.
Rich's Montagnard team at CCS (Command and Control South) in Buon Ma Thuot.
Many of the Montagnards at Command and Control South came from villages in the local area: Buon Ea Katour, Buon Ho, Hoa An, and Buon Krong to name several. As I got to know and become friends with the men on my team, I was invited to their village to attend dinners and Nam Phe parties. Nam Phe is the rice wine, strong but tasty, made to the exacting specifications of each individual who brews it and these parties would occasionally go to excess.
I had Rade, Jarai, and Mnong tribes on my team. Once you bonded with them they were extremely loyal (I owe my life to some of them) and were great practical jokers. When inserting by helicopter, my point man (Pai Hdoc a Jarai) would always let me jump out first so he could jump on me and not get hurt.
In my Vietnam tours, I believe I learned far more from them than they did from me – but we were a real team that depended on each other for daily survival – lessons that have helped me all my life.
More stories from Rich's Return to Vietnam, 45 Years Later
A 10-Part Series Through History