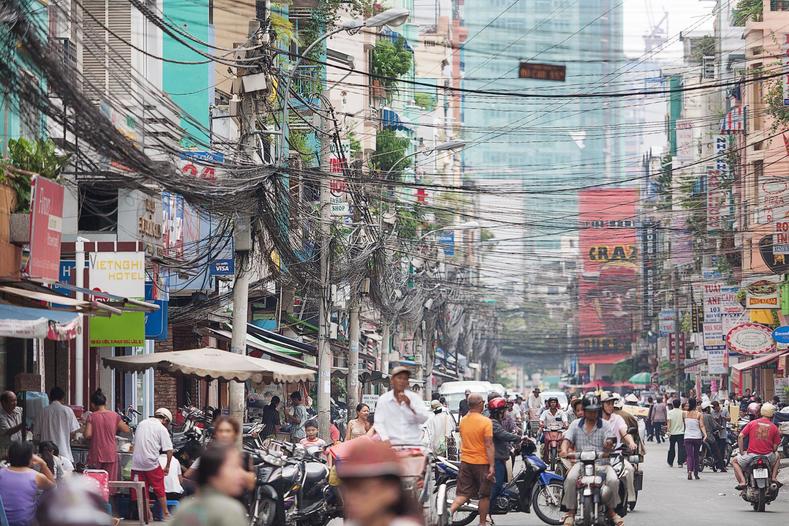 The one thing that seems to be a constant in Saigon is the delicious smell of food cooking – from the street vendors, open air cafes, coffee shops and bakeries – it was that way in the late 60's and remains so today. The first time I came to the city I remember walking to the headquarters with an officer I'd served with in Ban Me Thuot and stopping at a small coffee shop for a coffee and croissant – both were delicious and the whole event seemed surreal given what was going on in the rest of the country at the time.
This time, when I arrived at Tan Son Nhat airport in Saigon the first thing I saw were customs officials wearing what I remember as North Vietnamese Army uniforms – a bit of a flashback. Stepping out of the terminal I breathed deeply of the humid tropical air – a familiar scent that almost seemed comforting. Driving through the city on the way to the hotel I noticed the beautiful French inspired architecture which added a touch of grace to the cityscape.
In 1969 Saigon was a multi-faced city, bustling with the business of war. The people were pursuing their livelihood as best they could, while hip deep in the middle of a war zone. They were trying as hard as they could to make life tolerable and better for their families. Today, later generations of those families are doing that same thing, less the war, making life better and succeeding on a grand scale.
Revisiting Saigon and Vietnam after forty some years reaffirmed my faith in humanity – it doesn't matter who won or lost, doesn't matter who is in power – it's all about the people. The Vietnamese people have always been entrepreneurs, caring for their families and their country and have made it a powerhouse in Southeast Asia. It gladdened my heart and closed a circle for me in a most positive way.
More stories from Rich's Return to Vietnam, 45 Years Later
A 10-Part Series Through History