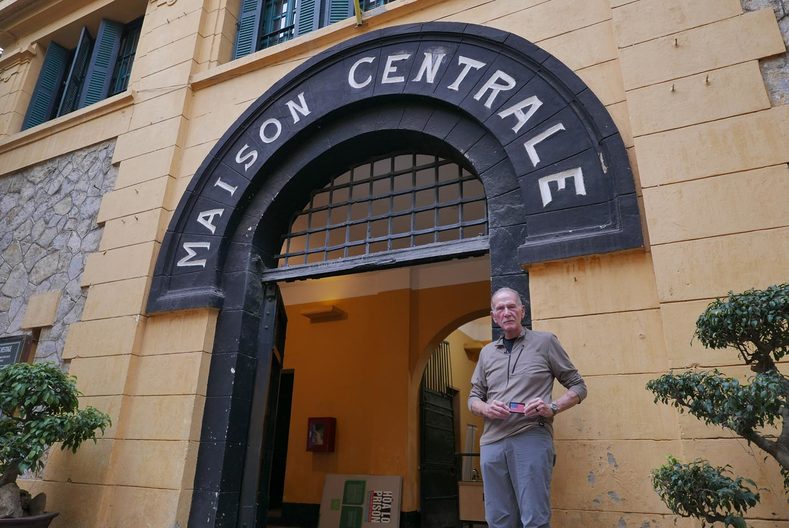 Maison Centrale, Hanoi, Vietnam
Aka "The Hanoi Hilton"
Sunday, April 8, 2018

I could feel Rich going back in time – planning how his MACV-SOG team could rescue the POW's trapped behind these walls some 45 years ago.
The approach was beautiful. Wide sidewalks around a lake with a floating ancient temple, past a white tulip garden down a tree-lined street full of Sunday revelers and coffee shops and the excitement of abandon. It felt like Paris.
We turned a corner and then became now deep in our guts and the prison doors were wide open, the scrolled Maison Centrale almost luring us in. We'd been all over Vietnam to date, retracing so many of Rich's steps of yesteryears and yet here, in this moment, his tension was my tension and we felt trapped. We were just standing there on a sidewalk in front of the Hanoi Hilton beneath the high-rises and the rooftop bars, surrounded by the din of motorbikes and indifference.
There's nowhere to go, really, if you just want to stand there and feel what it feels like to remember something you wish you could have done, but never did. Five minutes, ten minutes, I can't remember. But there we stayed. I had a few beers in my ruck and we cracked them open and began another journey back to 2018.
Rich looked around and said, "You know, I'm gonna chalk this up to an impossible mission. I would have happily volunteered to try to get our guys out, but this is impossible." And he shook his head once and took a deep breath and his consolation prize was seeing it with his own two eyes.
It's the only time I've ever heard him say the word impossible.
We raised a toast to those who had sacrificed so much inside those walls, and beyond.
The doors were still open but we didn't want to go in, but we didn't want to leave. We took a few pictures, Rich said he couldn't believe he was standing in front of the Hanoi Hilton, drinking a beer. "Of all the things I ever thought I'd do in life, I never thought I'd be doing this. This is crazy."
And then there was a family next to us and their young boy, whose shirt said "If I was a bird, I know who I'd shit on," and he kept making peace signs and goofy faces, just like my son does back home. How do you not laugh?
The mom said with a big smile, "Are you from America?"
Rich said, "Yes ma'am we are. Are you from here?"
"Yes, Hanoi," she said, pointing to the ground we were standing on.
So many worlds collided in that moment, and all of them were better for it. It was never and will never be the time to forget, but it was time to move on, to close a circle. A couple pictures with our new friends, one final toast to the fallen, and we were on our way.
A few years back, Rich and I had an immediate connection because we both served in Special Forces. But we became friends as we experienced Vietnam together – the kind of friends you can count on one hand how many you'll have in your whole life, if you're lucky.
He did two tours in the war and went on to have the kind of 30 year career in Special Forces that spanned every major conflict and mission of his generation. A lot of people would call him a hero, a warrior, an American badass, the list goes on.
But all he ever wanted to do was serve America honorably, and earn the respect of the men to his left and right. And he describes himself as lucky to be alive, and then he smiles and says nobody owes him a damn thing. So if you meet him, just call him Rich.
More stories from Rich's Return to Vietnam, 45 Years Later
A 10-Part Series Through History