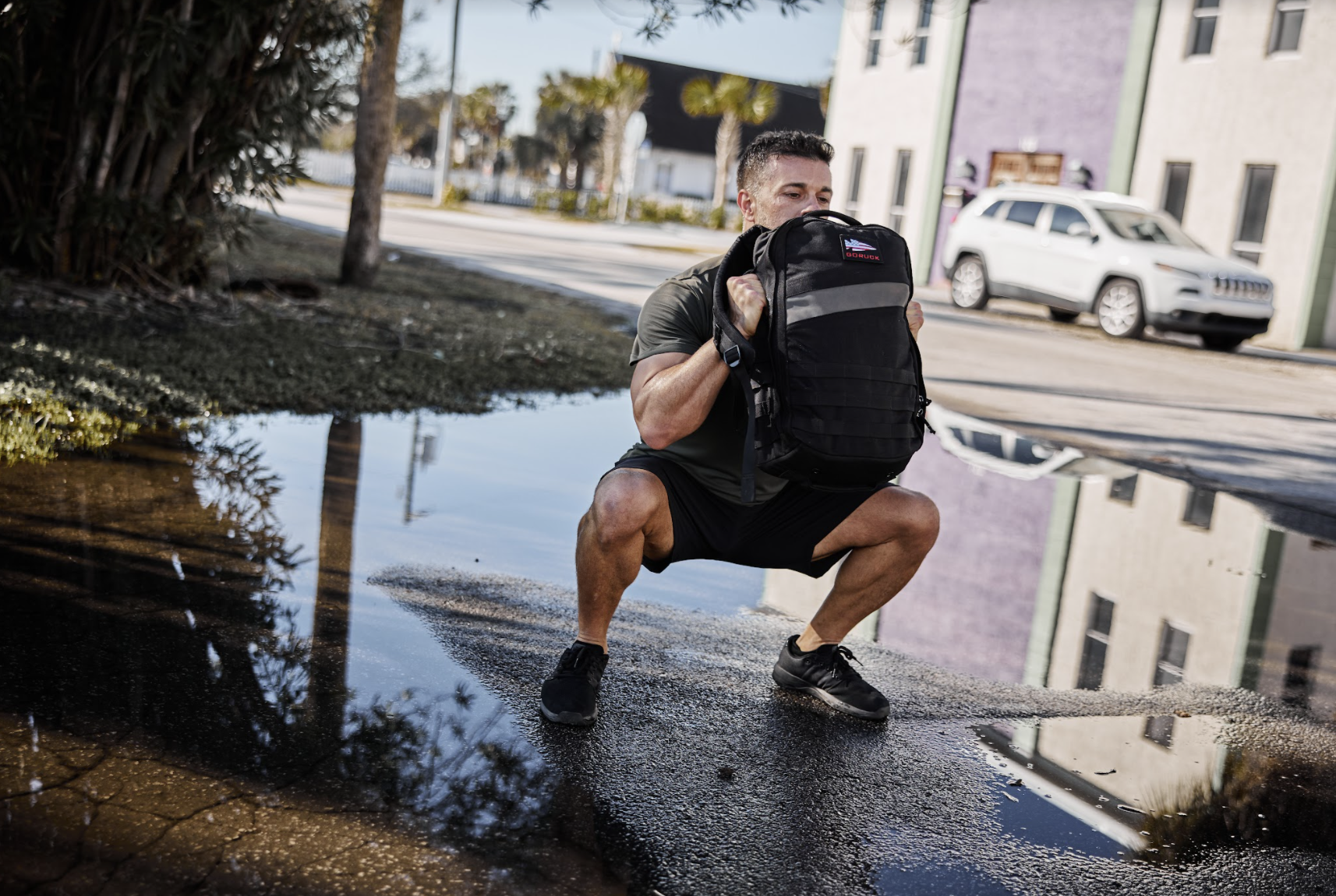 Tested and Proven: NEW Rucker 4.0 20L
Rucker 4.0 was purpose built for rucking and rucksack training. If you train hard on dirt, grass, and concrete, Rucker 4.0 is the tool for you to get stronger one rep and one mile at a time.
The Rucker® 4.0 is now upgraded to make it even easier to maintain your equipment. Zippers and 30LBs of iron don't mix, making zippers the weak point of your rucksack. So, we replaced the interior zippers with velcro and removed the front exterior zipper pocket.
It is the most comfortable rucksack ever built with upgraded padding on the top of the plate pocket for bear crawls. It also has ergonomic lumbar support and less abrasive fabric used on the back panel and underside of the shoulder straps.
The Challenge:
Six rounds for time of:
24 Squats
24 push-ups
24 Walking Lunges
400m Run / Ruck
The Tester:
Meet Eric Chilton: Eric comes from a diverse sports background that prepared him well for what would become a lifelong passion for "the next challenge". Over the years he has gone on to compete in the Obstacle Course World Championship, various local CrossFit competitions, Tactical Games, is a GORUCK HTL and Star Course 50-mile finisher, and is currently a Mind Might Patch holder within the GORUCK Tactical community. Eric trains well before the sun comes up, participates in his local ruck club, has a career as a VP of Global Sales for a Packaging company, and is a part-time L-2 CrossFit instructor.
The Result:
"When I first started my journey with GORUCK we had one rucksack to choose from. We used straps to secure bricks onto the molle, used pool noodles to soften the head blows while performing bear crawls, made our own drain holes…. etc. I can't help but to think about how far we have come as I strap on the Rucker 4.0 and begin to put it to the test. After it's all said and done, I can honestly say this is the most comfortable and best performing ruck I have ever worn!
The Rucker 4.0 sits comfortably on my back with zero hot spots thanks to the less abrasive fabric and lumbar pad. No matter what size I strapped on it remained secure during air squats and ruck shuffles then quickly adapts to other functional movements such as farmers carry's, push presses, swings, and up-right rows due to the wide array of handle offerings. This Rucker 4.0 line-up excelled at everything I threw at it and was begging for more!

The 20L is my go-to ruck size for everyday rucking and ruck workouts when the goal is to keep things fast and minimal. The transition from internal zippers to quick release hook and loop is a welcome change. When I have this ruck on its time to do work and being efficient with my time is important." – Eric Chilton

The Challenge:
Bragg Tough & Bragg Basic aka bear crawls, Ruck PT, & all the miles
The Tester:
Meet Patrick Mies: He describes himself as never really an athlete school or in his youth. He came into fitness while working construction in his 20's. Sun up to sun down, no real breaks, and working with hard men forced him to carry the load and get stronger. Patrick did go to the gym to do the typical bodybuilder-type workouts, but his real strength came from just hard work daily. Carrying and installing heavy glass and steel were his real secret weapons for building endurance and power. Years later it came full circle when Patrick found GORUCK. Whether it's a Basic, Tough or Heavy it's just like a long day at work. Carrying heavy stuff and getting the job done with a team. Over the years while doing GORUCK events, Patrick has taken part in all levels of our events and has even completed our top tier event GORUCK Selection, class 021. Hard work pays off.
The Result:
"The simple, sleek design of the Rucker 4.0 (25L) immediately impressed me. I've learned not to judge equipment or gear until I get to put it through its paces. So naturally, the Bragg Tough (12 hours) and Basic (5 hours) were perfect for this. Not having the outside zipper (as in the one found on the old version) was nice because it forced me not to have all my gear separated in different places. You do not need to pack as much for shorter events, so having fewer pockets means you will only bring what you absolutely need. Switching from zippers to velcro on the inside made it super fast for grab-and-go gear and equipment. The Rucker 4.0 performed beautifully, whether rucking all the miles, carrying logs, doing WOD's like the "Robbie Miller." The hip belt and handles, like in the old model, were all needed and perfect for anything the Cadre threw at us. I see this Rucker 4.0 being my ultimate gym bag. Simple yet enough for anything I may need for a gym workout. A steel plate, water bottle, towel, car keys, and let's go!" – Patrick Mies