When I finished Jax Beach 50 mile Star Course, I was completely sure I was "One and Done" for this event.  We had a great team, a good route, and a strong finish. Why do another? But, as happens so often, just a few weeks later, the team was talking about the next one, and DC in May captured our attention. As the planning got more specific, and things needed to be solidified, turns out only two of the five from Jax could make the DC event. Knowing how important team selection was, we started thinking about people who had the basic physical ability, but more importantly, people we knew had the mental tenacity to finish 50 miles. We quickly had two additional women on the team, creating a strong team of four women that we christened Sisters of Steel. The all female team had not been an original goal, but turned into something we were really excited about!
We created a Messenger chat for planning. Since we would all be traveling for the event, and one husband would be providing support during the event, there was a lot to organize! We ended up making a reservation for one hotel room on Friday night, which would be home base for Brian, and a place for us to gather and leave our stuff. We had a second room at the same hotel on Saturday night, so it was easy for the three others to move our stuff after the event. We ate dinner at the hotel restaurant both Friday before the start, and Saturday after endex, which was super convenient.
One of our team members drove in, so she was able to pack folding chairs, and pre-purchase water, bananas, apples, oranges and other snacks. Doing this before arriving in DC was a huge time saver.  We each brought a bag to leave in the car, which contained extra socks and shoes, sunscreen, sunglasses, extra clothes, hats, and personal food choices. I flew, and checked a bag with my plate. My ruck and car bag were my carry on luggage. Even if my checked bag had gotten lost, I had everything I needed for the event – would just have had to find weight.
We had divided up team responsibilities on the Messenger chat. Two of us were navigators, me and Jennifer. We prepped for this by plotting the 2018 DC waypoints into Road Warrior Pro. Friday afternoon we compared notes on those points. One thing I had to change was my round trip setting.  DC Star finishes at a different point than the start, so the route selection needed to be for one way. Looking at the 2018 points, we felt it was likely we would again have a long out and back on the C&O Canal, and decided we would tackle that first. We also planned to supplement the Road Warrior route with Google Maps from point to point. Having two of us doing this was great. We were constantly running ideas by each other, with the clear goal of "not one extra step".
We had one communications person, Alicia. She was in charge of pics and Instagram posts, and watching for email or social media messages from GORUCK. While we were route planning before the start, she entered all the hashtags into the notes of her phone, and then moved them into the order we routed. That way she just copied and pasted the hashtags for each post, making things easier as the day got hot and we all got tired.
We had one timekeeper, Amy. She arrived with printed time tables for both 50 and 60 mile courses, with breaks built in, and a 19 hour finishing goal. The extra hour was both a cushion, and to account for route planning time at the beginning. She kept track of our minute per mile pace, and timed every break. For the first 40 miles we were operating on the 60 mile plan. Once it became apparent that we would come in very close to 50 miles, we switched to the 50 mile plan, which gave us quite a bit of extra time! She was also the Instagram confirmation, letting the Comms person know the pic had posted, which saved us on one post  that didn't go through.
Once we got the waypoints, I entered all the points from scratch, while our other navigator altered her plot of the 2018 points that we had already spent time refining.  We wanted to see how they might differ. We also conferred with another team, to make sure we were getting similar plots. We checked Google Maps to make sure the Road Warrior points made sense. Our time spent working with the 2018 points and using the app in prep really made a difference here.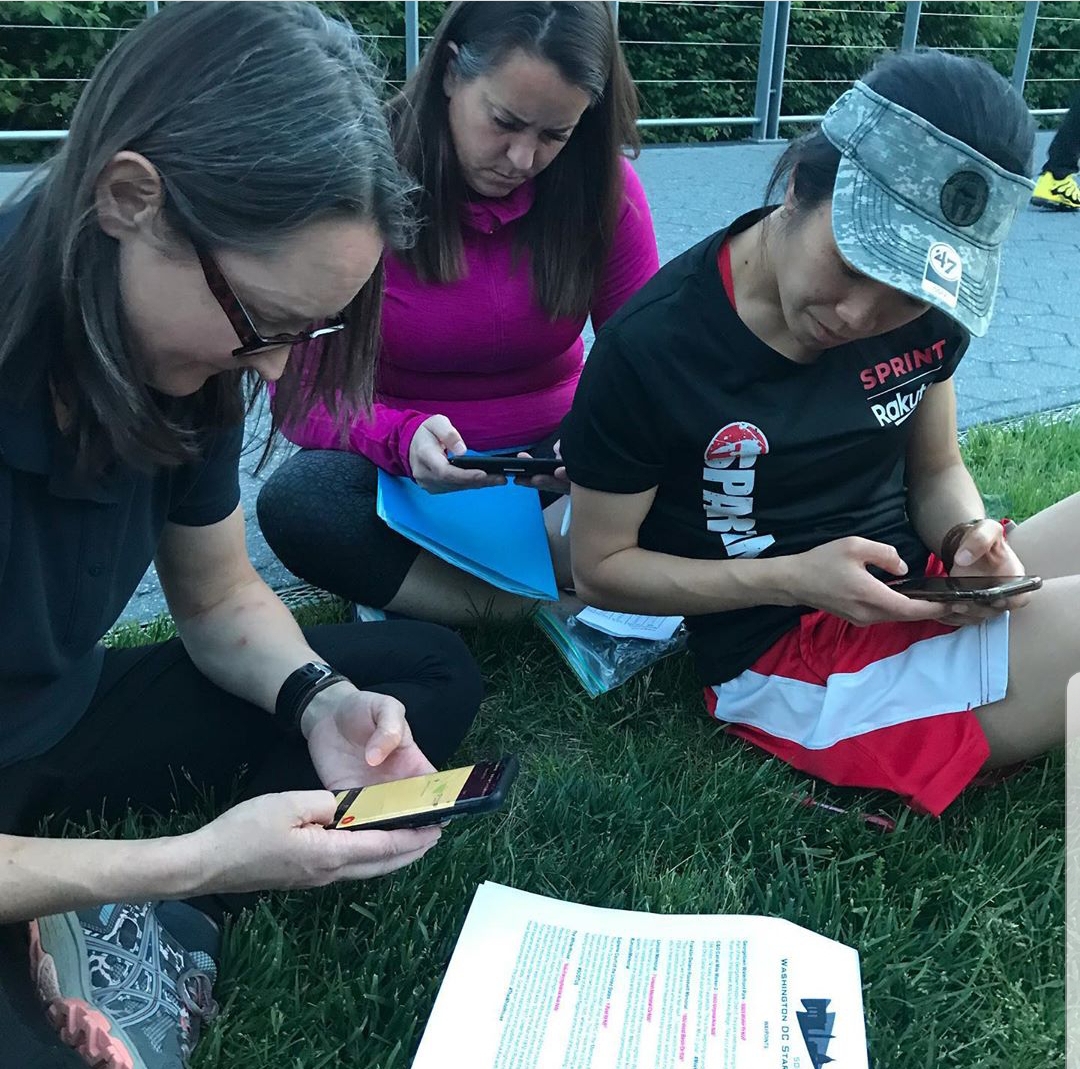 We stepped off at 9:09pm, headed 16 miles out, to points along the C&O Canal. We didn't take a break until the 10 mile mark, when we stopped for 10 minutes. We took rucks off, stretched, put our feet up.  At 8 minutes Amy gave the two minute warning, we started gathering our stuff, and we set off again at the 10 minute mark. The farthest C&O point was at 16 miles, which is the first place Brian met us. He had chairs set up and our bags out. He refilled our water, handed out food, and we took a 15 minute break here.  I changed from toe socks to Smartwool running socks, as the toe socks were feeling too thick for some reason. Having a support person is amazing, as it allows you to travel light and change things up if they aren't working. Having someone greet you with a positive attitude and a smile is priceless!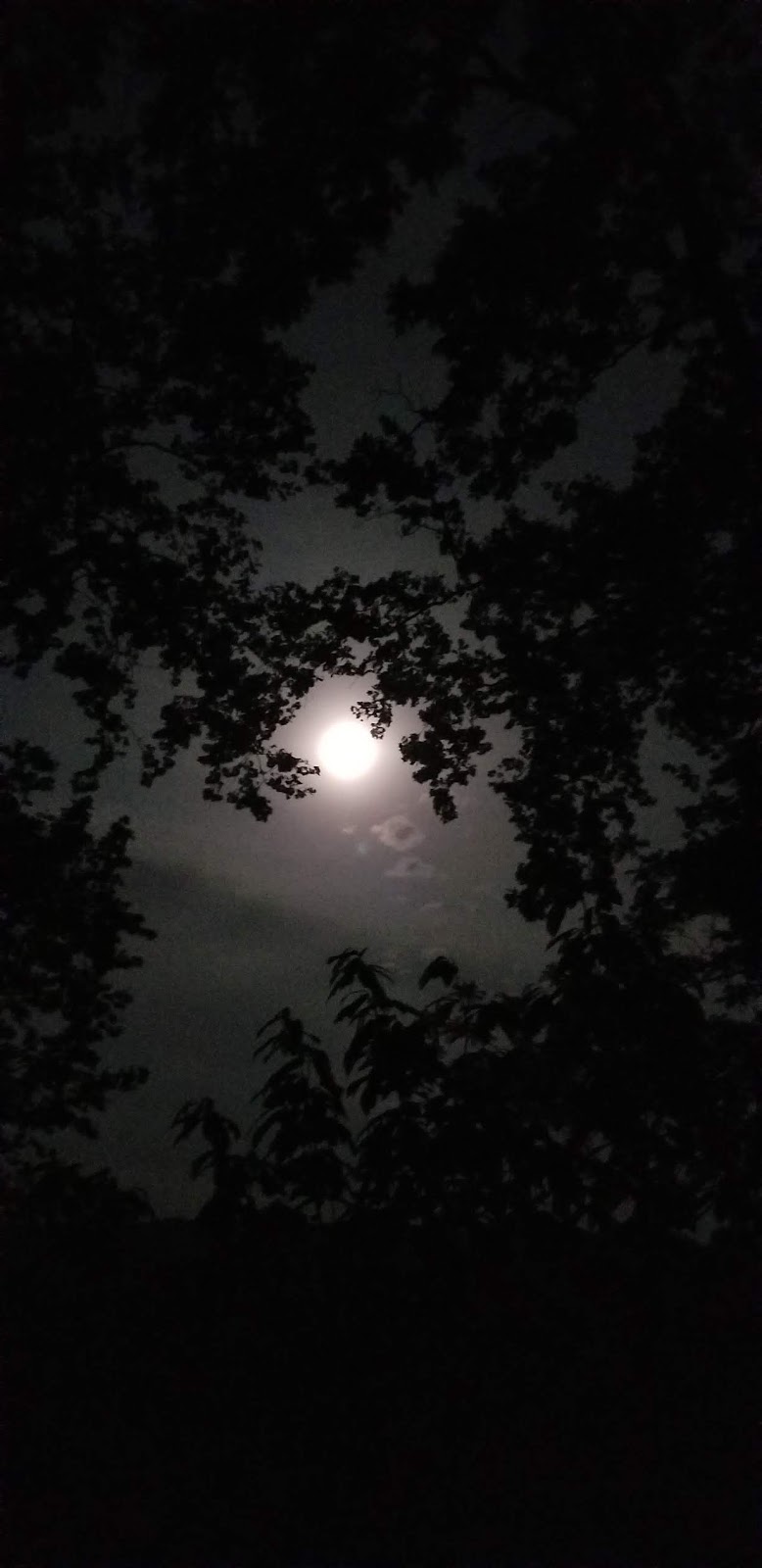 We headed back down the canal and made the first adjustment to the route. Where to exit the canal was a tough choice. One one hand, it was peaceful and safe down there and the path was softer than concrete.  On the other hand, the canal eventually dipped south, and Washington National Cathedral was north, so we wanted to get off before that dip. Another consideration was some of the roads were not safe for pedestrians, and had been prohibited during the safety briefing. We studied the satellite images as we walked, and finally left the canal 26 miles into the event, headed to the cathedral.
This is the second place Brian met us. The cathedral was at the 31 mile mark, and was an impressive site in the early morning quiet. We were looking around, trying to find where Brian was parked, when we finally spotted him waving a chair over his head to get our attention! We refilled water again, and I took more this time as it was supposed to be a hot day and we were not sure if Brian would be able to meet us once we were in the middle of DC landmarks. I changed socks again, to another pair of Smartwool running socks. I had a lot of gravel bits in my socks from the canal tow path and wanted those out as we transitioned to concrete.
As we left the cathedral, coffee was a goal and we found it at Einstein's. A pastry, large coffee, and real bathroom did these ladies good!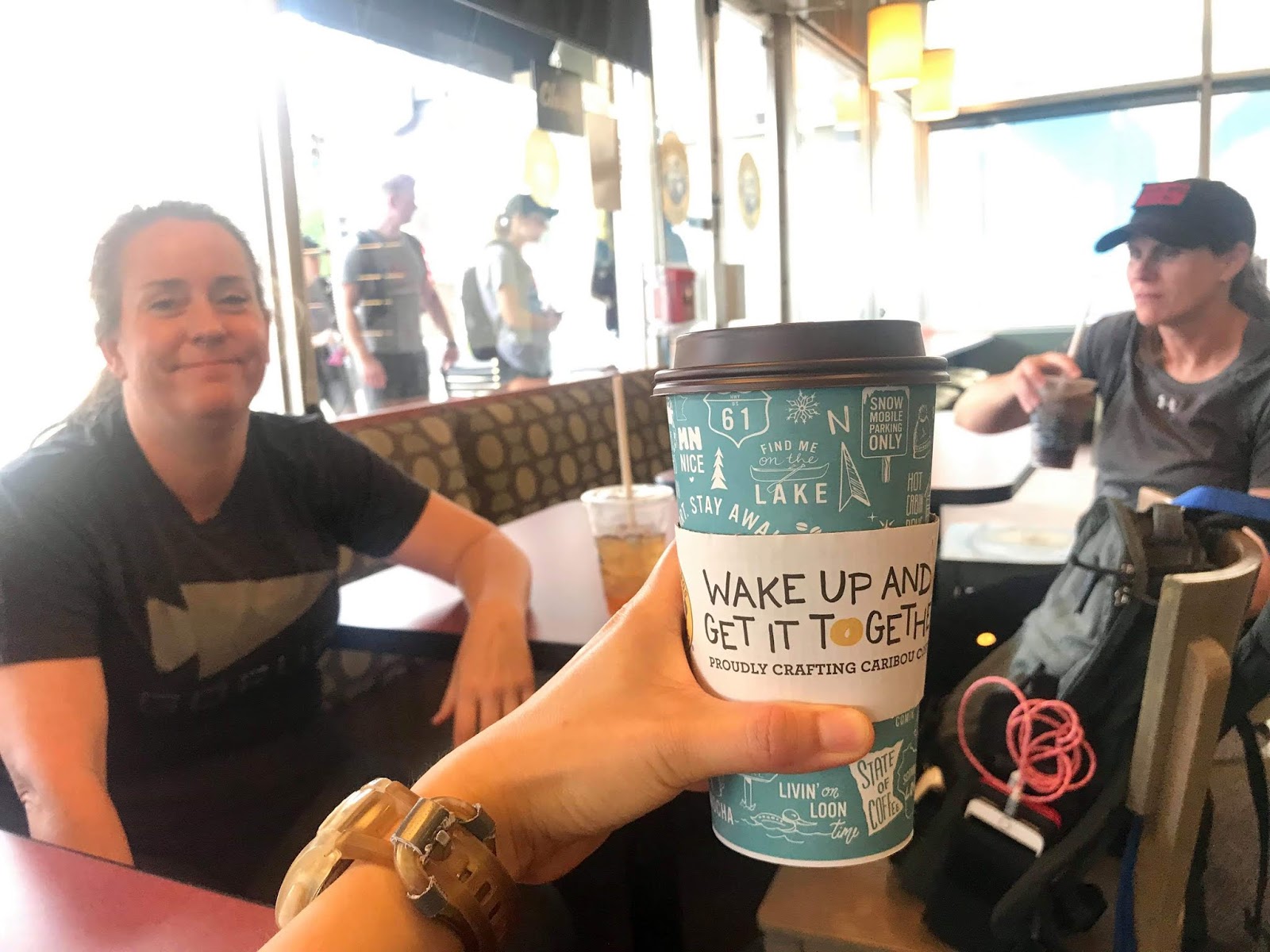 We happily kept moving to Exorcist Steps, Mile Marker 0, and George Washington University. Now came the next change in the route. The app had routed us south to Lincoln from the University. But as Jennifer looked at the pin drops and routed via Google Maps, she felt it was actually shorter to head to White House next. The key here is sometimes the app drops a pin in the center of a landmark, at the street address, or in the parking lot, not where you will actually go. These small deviations will change the route very significantly. Once we took the White House pic at the 36 mile mark, we found a bench for some much needed foot care and a yoga break, a 15 minute stop.
We then hit Washington Monument, WWII, Lincoln, Arlington, FDR, Jefferson, and Hains Point, before we took another break. This 7 mile stretch was hot. We bought more water from a snack vendor. We saw many teams suffering with the heat and the miles, and it was super easy to tell the 50 mile teams from the 26 mile ones! We paired up with a couple of other teams here and there, and everyone was helping others find the picture spots, bathrooms, and water sources. We took a 10 minute break at Hains Point, refilled some water, and enjoyed the company of a group of women who were amazed and super encouraging when they heard what we were doing! As the last out and back, 43 miles at the Point, this was a place we had to dig deep mentally. We were dealing with blisters, sunburn, lack of sleep, and being seriously footsore. As a testament to the mental strength of this team, none of this was discussed. We saw these issues in each other, but it was understood we would all keep going.
We ended up with some extra distance around Titanic, as the shortest route was blocked by construction. After we took the pic there, we found some lovely shade and high quality grass for a 10 minute break.  This is the flop to the ground stage. At 46 miles, it's not even graceful, it's just body down and feet up, ASAP. As we stood from this break, Amy and I had a brief conversation: "feet are like fire", "yep." That was the last break.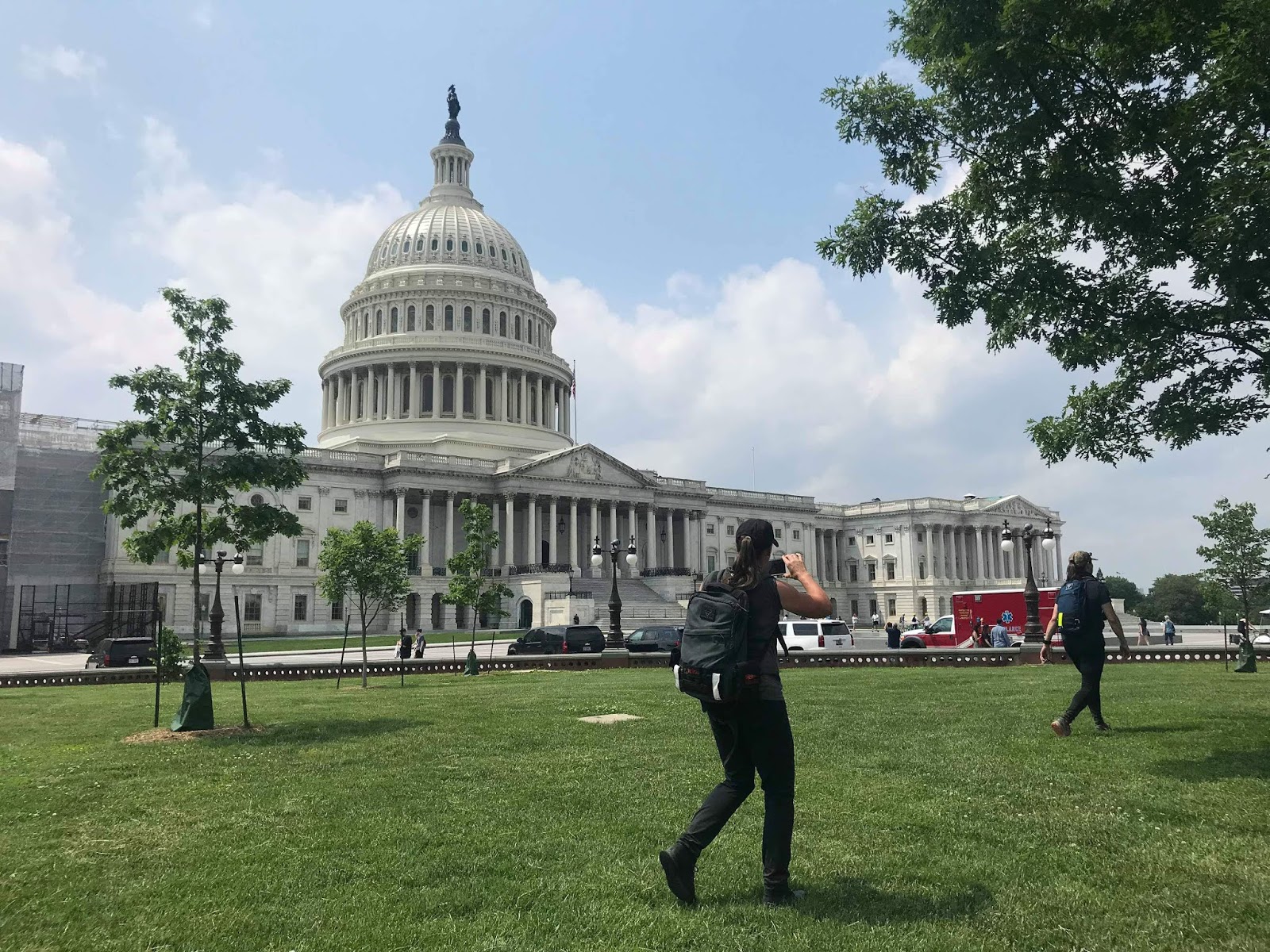 We followed Google Maps to Supreme Court, as it had picked a shorter route than Road Warrior. We continued to cut every corner possible, and seek shade. As we walked onto the white marble of the Supreme Court, the sunlight was blinding! We took a quick pic and continued to the last point at Thomas Circle, again with a slight detour due to road closures around the Senate offices. Brian met us halfway, on foot, after parking at Endex. He had cold Gatorade, and perfectly distracting conversation. I actually learned quite a bit about trees while we walked! He took our last picture, and we headed to Endex. We knew there were stairs at Endex, so it was a great pick-me-up to see Emily McCarthy just as we arrived. Her true happiness at our finish helped me move on up the stairs to get that patch!
As we sat, drinking beer and taking off shoes, there were lots of smiles. Despite some impressive blisters, some mild sunburn, and a few detours, we had rucked 51 miles in 18.5 hours! Star Course is painful, fun, terrible, empowering, crazy, and awesome. But, more than anything, finishing is so sweet.
This article originally published by Shannon McFall Bass on Blogspot.