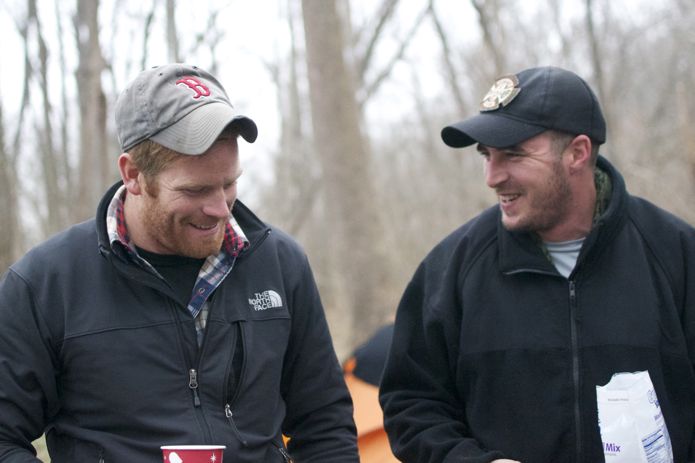 What you miss about the military when you're out is the camaraderie. And as Selection 001 unfolded, what I missed about not being there was, you guessed it, the camaraderie. As people (that means you) have grown GORUCK, we've found more Cadre. More dudes I just want to spend time with. I'll spare the world a temper tantrum, but I don't get to do all the events I want anymore. It used to be that I had to do all of them, then at a certain point it became too much so I had to learn to trust my bros. And of course they don't need my help to do what we've all been trained to do, so now the joke's on me. Pay the bills, ask no questions, be on standby in case we need a really pretty powerpoint — thanks guys, I love you too. At the end of the day the camaraderie I miss is being in the picture above. Instead of looking at the picture above wishing I were there.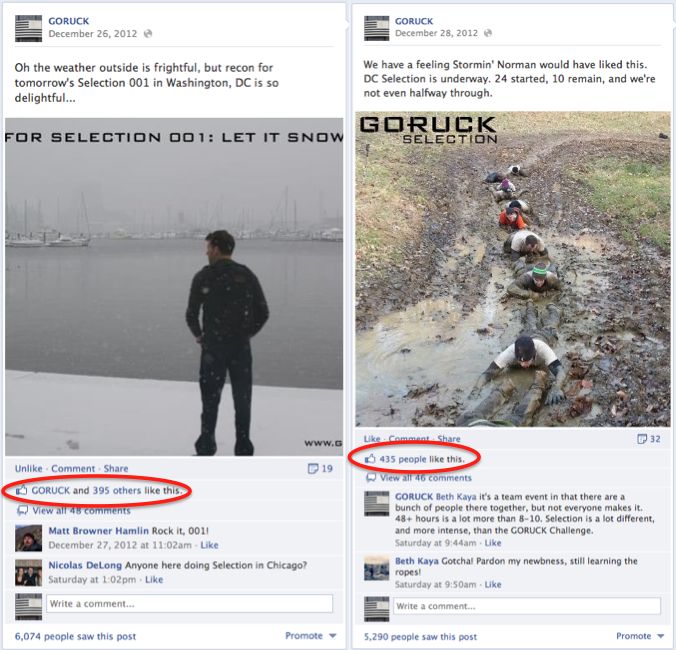 A combat voyeur is the guy at HQ who watches combat missions go down from a position of complete safety. He stares at live feeds from helmet cams and aircraft imagery, monitors radio traffic, stuff like that. Maybe he yells at the guys to hurry up or watch out. But they're not listening. Maybe he orders someone to get him some fresh coffee or turn the air up. He tries to feel involved. And in the Special Operations community, he is 100% jealous of the guys on the ground. If you saw the picture of President Obama's team watching the hit on bin Laden from the Situation Room, it's something like that. Ultimately the guy watching the feeds is in charge, I guess, but once it's going on, it's up to the guys on the ground. What I found out at Selection 001 is that being a combat voyeur sucks. But it's better than nothing. As a few pics trickled in, I couldn't not share them on Facebook. And what we found was that people – that means you – are interested in following other people. Especially underdogs that want to take their best crack at the Selection title.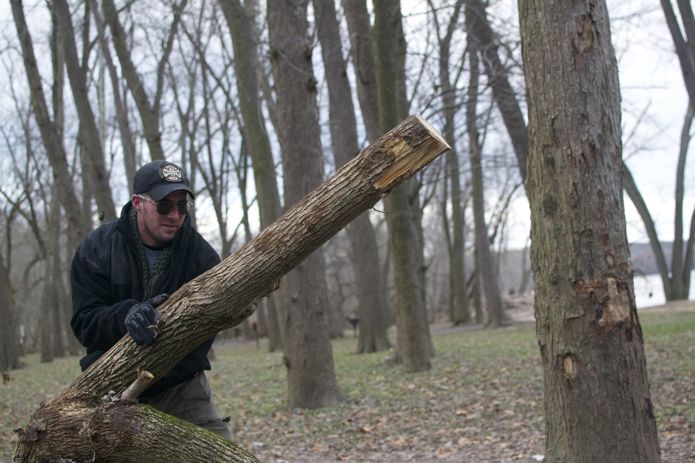 48+ hours of Selection is a long script to write. It involves a lot of logistics, support personnel, and a rotation schedule to make sure (the royal) we Cadre are fresh and bring our A-games to every iteration. Lest the participants get off easy, and we can't have that.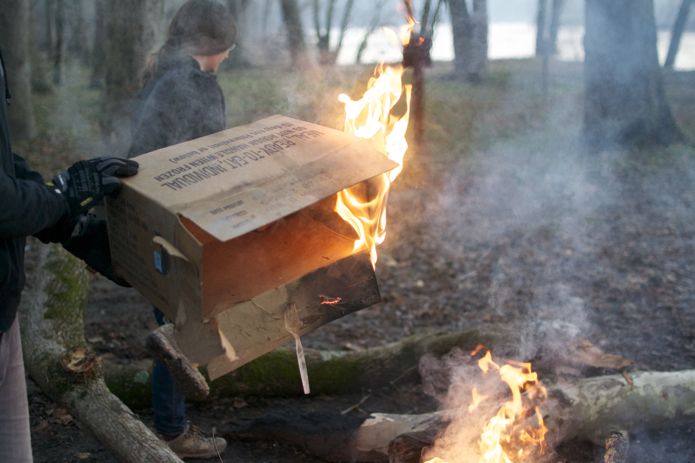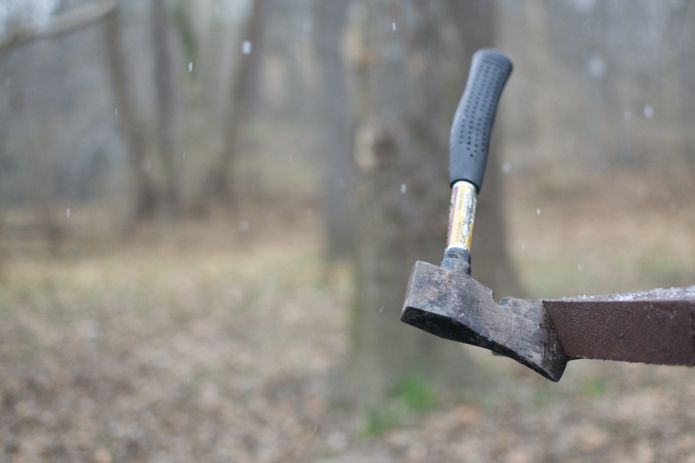 But downtime still reigns. You're hanging out by the fire with no ambition to be elsewhere. These are life's best moments you don't appreciate at the time. Unless you're not there, like I wasn't, then you really appreciate them. Vicariously.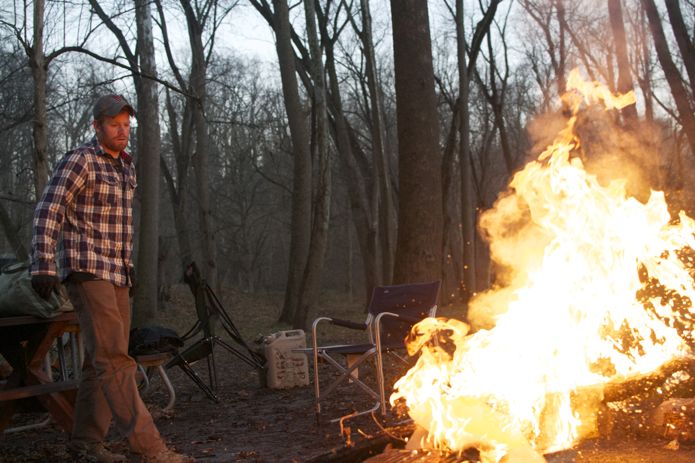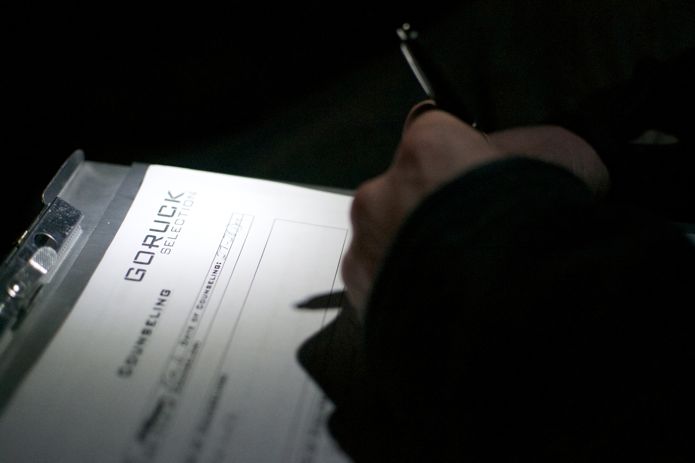 But duty still calls, and there are things to do. Counseling statements after long movements among them. I'll keep the chatter on this to a minimum lest it come off as a complaint (it's not), but working as Cadre is exhausting. The event is long and you have to give each iteration your all. You catch a little sleep here, a little sleep there, but basically you just suck it up.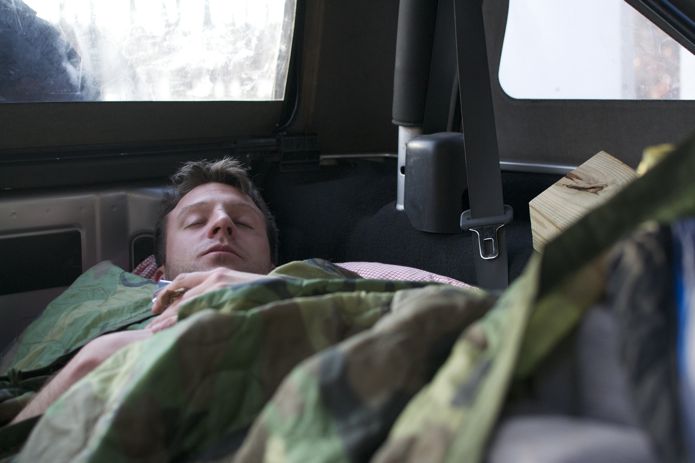 If you've spent one day in the military, you know how sweet a little rack time in your truck can be. Before formations, between formations, whatever. Even now, five years out of the military, I still smile thinking about how much I loved my time in my car. It was kind of like shelter from the cruel, cruel world. This isn't Devin's first rodeo, and he's no doubt an expert at getting as warm and comfortable as possible. Work smarter not harder type deal.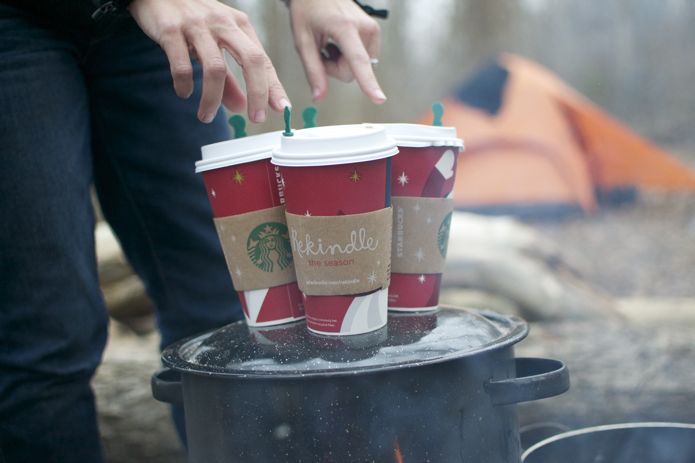 'Always improve your situation' is a maxim of Special Forces training. It can apply to fighting positions. It can also apply to a morning without coffee. So if you can, send someone on a coffee run to 'rekindle the season' or whatever that means. How many people does it take at a place like Starbucks to come up with slogans like that? Probably 1,000 where one or two could have done something better. Regardless of the marketing, the content was hot and delicious and morale went through the roof.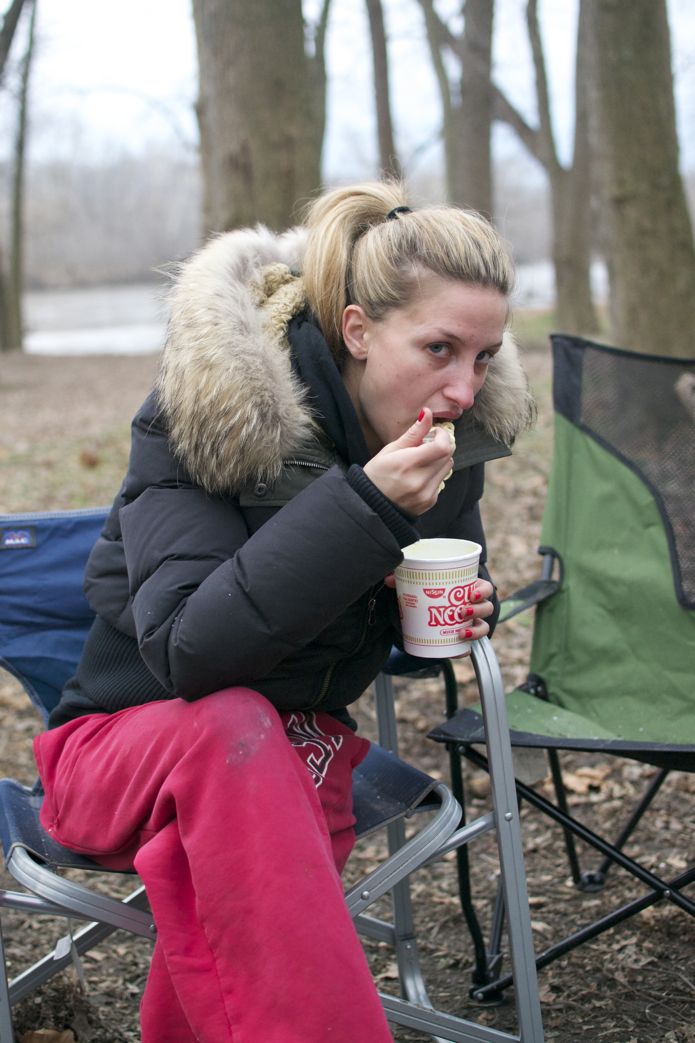 Here's a shout out to all the people who work their asses off at our events and at HQ and never get any of the glory. They savor Cup Noodles when someone forgets the donuts, that kind of thing. Some of you know Sophie, pictured above, some of you don't. But she was GORUCK Events' first employee. And she took nearly every picture in this post. If you're ever fortunate enough to hire someone or have people work for you, you have a responsibility to help them be successful. They're the ones who do all the work, and every once in a while a thank you will get you everywhere in life. So thanks Soph, to you and the gang.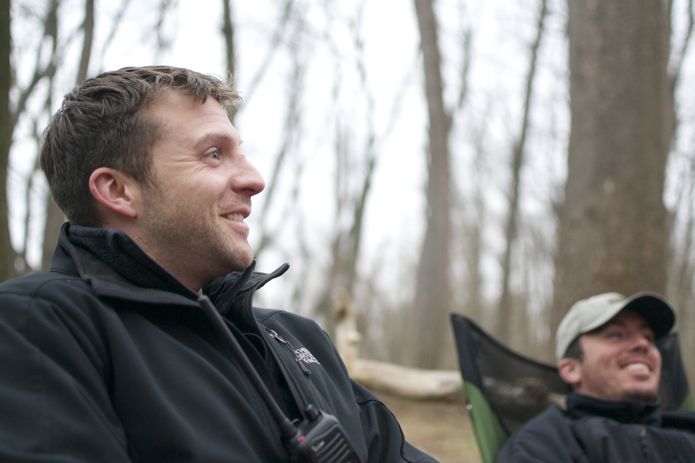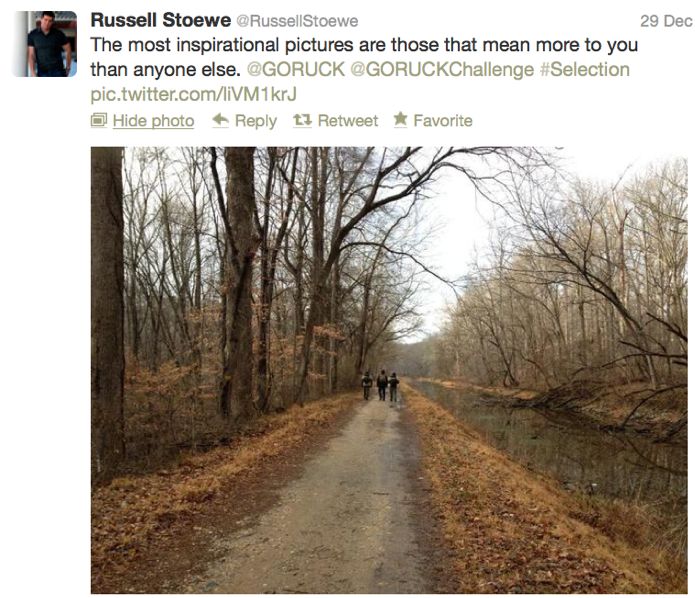 Oh yeah, there's an event going on, and we I mean me the combat voyeur are posting things about it. Dan took the picture above, posted it to the GORUCK Tough group on Facebook, and before you know it it's bouncing around Twitter. As as for Russell's comment, yeah, I'm pretty sure the three guys in the picture, all of whom ended up finishing, will love this picture till the end of time. And love it just a little more than the rest of us.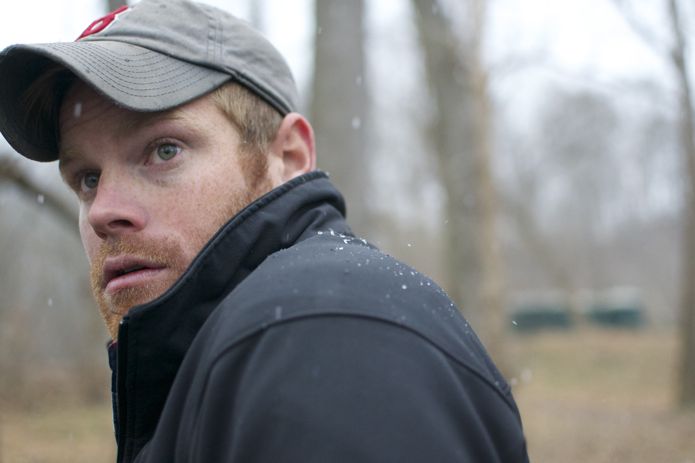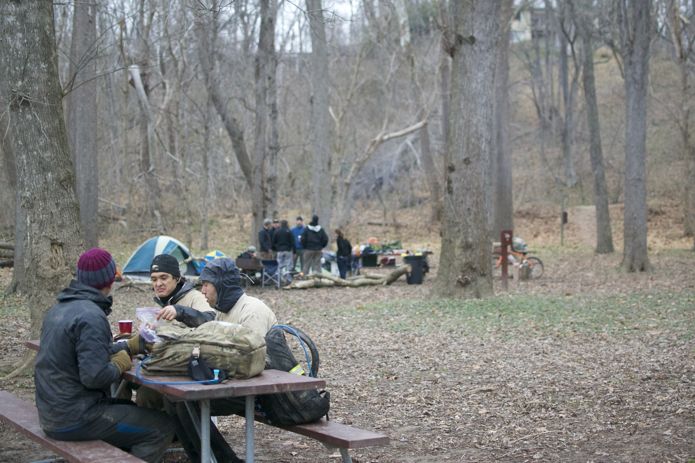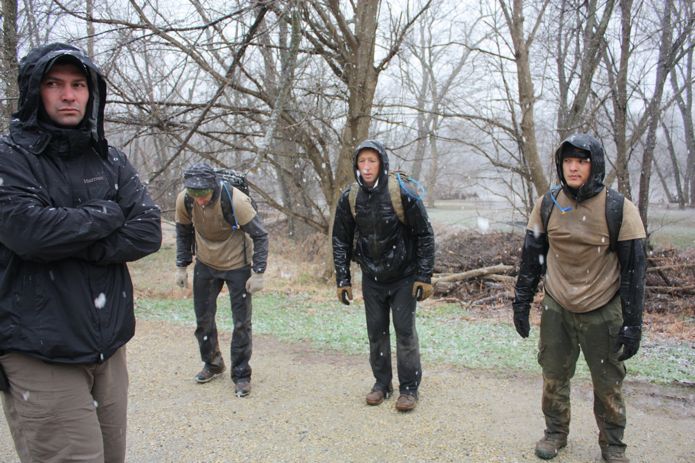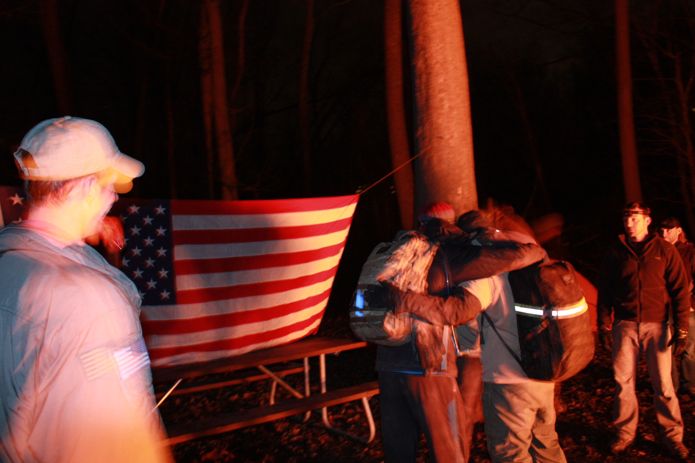 Before you knew it, the end came. What I noticed from the comfort of my desk was the uptick in Selection followers on social media. People cared and wanted these guys to succeed. From the back end, I can tell you the Cadre have a standard, and these three guys met it. But the world loves an underdog, the world loves a story of overcoming the odds. And these three guys did exactly that.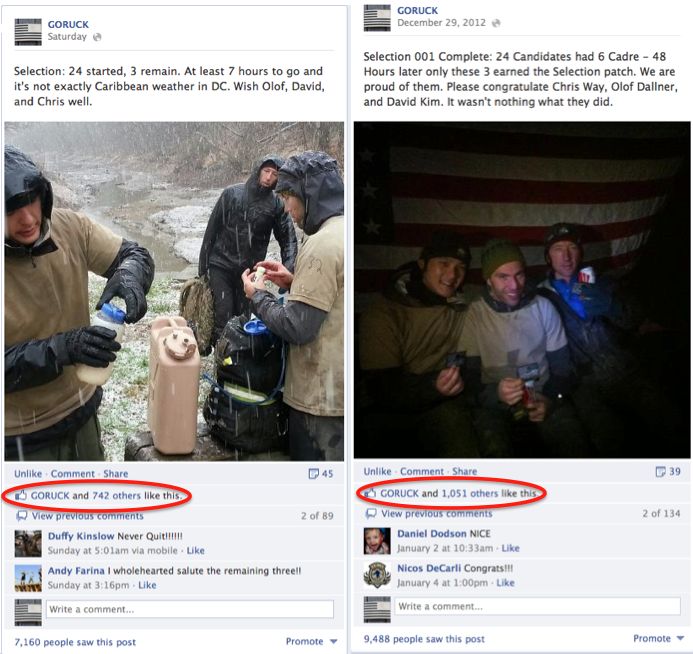 Facebook is a curious thing. I don't really understand it and if we didn't have GORUCK, I'm not sure I'd use it. But because of GORUCK, I do. This is probably like saying if we didn't have TV I wouldn't watch it I guess, though, so whatever. Anyway, the virality of the Selection pictures on Facebook was pretty interesting. At the end of the day, we build gear and we produce events, but the events side is a lot more interesting in a human way. Events are about people, and despite marketers' attempts to convince you that things make you better and happier, I think people are hard wired to care more about people than about things. This isn't exactly rocket science, but it's probably why most gear companies have really boring, static Facebook pages and events companies have really interactive pages. To put it in perspective, out of roughly 20,000 page likes, 5% (1,000+) liked the picture of the three Selection finishers. I'm sure other places out there have seen this kind of engagement, I just haven't. Here's my shout-out to our fans who are the best in the world. Surf around and let me know if you find anything else comparable. At this point, maybe I'm boring you to death. But when you're a combat voyeur, you have a lot of time on your hands, and I'm sorry. My goal is to key you into some of the back channel discussions we have about what works, what doesn't, and how we can do better. Seeing what people respond to is certainly one way to do that. And yes, Facebook is part of that equation. Much like sales numbers, it's easy to measure.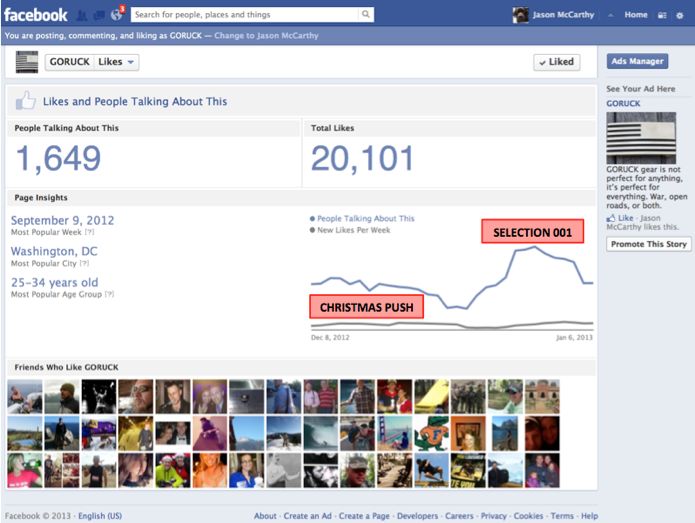 So the GORUCK Facebook page is a fan page. Meaning you like it, you don't friend it. There are admin accounts, etc, and we have to manage it. I'm not sure if you've ever seen what that looks like from the back end (above), but Facebook has all sorts of tools designed to get you to buy advertising with them etc. This makes total sense, but there is an internal debate at GORUCK and no doubt at other businesses about what the value of a 'Like' is. We dabbled in advertising and grew frustrated by our inability to quantify what we were doing, so we stopped. We've spent next to nothing on Facebook. I'm not saying this is the right or the wrong answer, it just is what it is. Instead, we have this idea to create great content and see what happens. And Selection pics, apparently, are what Facebook would call great content because you were the 'people talking about this.' Christmas is a busy time, but it paled in comparison to what we did before the New Year with our Selection posts. People are more interesting than gear regardless the season, that kind of thing.


So Facebook calls it virality to measure what works and what doesn't. More virality means you share our posts, less means you don't. Behind the curtain, I would say that every company tries and struggles to create enough good content. It's tough. It's like GORUCK News. As I've been pulled more directions, it's harder and harder for me to do these posts with the frequency I used to. That's on me and it sucks because I love doing them. Anyway, back to Facebook. The Selection finishers post was our most liked post in history. As well as our most viral. I think it has something to do with the idea that our Cadre set a standard that most of the participants won't meet. But they want to try their best. It's a timeless story that will continue to happen until the end of time. I found myself rooting for them, full blown combat voyeur style. Not kind of rooting, all the way rooting, and I was really proud of them when they finished. Men don't cry or tear up ever so of course I didn't, but it was pretty neat from my super comfortable desk watching it all go down on Facebook. And twitter. And everything else. I had a blast. But I was really glad when the guys got back home and it was time to refit the gear and prep for next time. Because next time, which starts tonight, I get to do a little less voyeuring and a little more doing. Wish us well and we'll keep you posted.