Time marches on and it's almost 15 years since 9/11. How do we honor those who paid the ultimate sacrifice? How do we talk about what that day meant to us?
How do we Never Forget?
The 9/11 GORUCK Challenge was our first "Special Event" back in 2010. The goal then is the goal now: to honor the sacrifices of 9/11, now. That means you'll sweat, a lot, and so will everyone to your left and your right. You'll hear stories of first responders and policemen, and soldiers who went to war because of what happened that day.
For us, Never Forget happens under a ruck one step and one story at a time. In 2016, our Special Forces Cadre are leading Events in 16 cities across America. Some are 5 hours, others 24+. You have options, welcome to GORUCK. Whether you show up this year or next, do something special on 9/11.
Jason McCarthy
Founder, GORUCK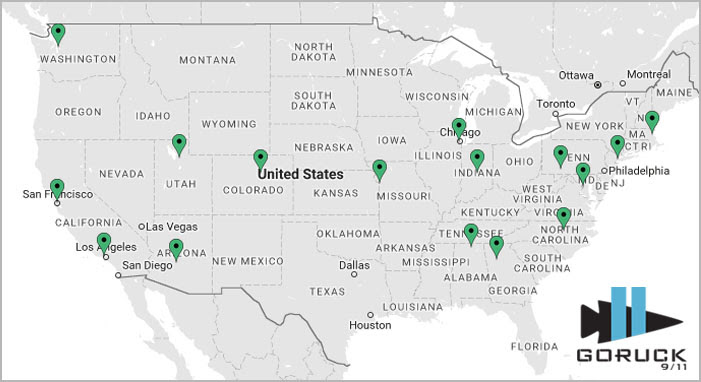 TESTIMONIALS FROM 2015 9/11 CHALLENGES
"I have never felt more proud to be an American than I did at last years 9/11 event. Rucking through DC and hearing the touching stories of our cadres still rings fresh in my mind. It was an experience I'll never forget."
– Jessica Gula, Ohio
"This event was a blast. Way different from anything I've ever done. Functioning as a team for a common goal is a harder challenge then being an individual serving your own purpose. GORUCK teaches you more about yourself than any marathon can ever do. The lessons learned from GORUCK are too numerous to mention. This event made me proud to be from the greatest land in the world. You have created something amazing. Thank you."
– Matt McQueen, Illinois
"I had the best time. This event reminded me of everything my mind and body could do. I was never very patriotic and I came out of that event feeling like a better American. The views were amazing as were the people and stories there. If you're having any second thoughts, don't just do it!"
– Erin Murphy, Pennsylvania
More 9/11 event information here.
"Never Forget."
Love,
Monster