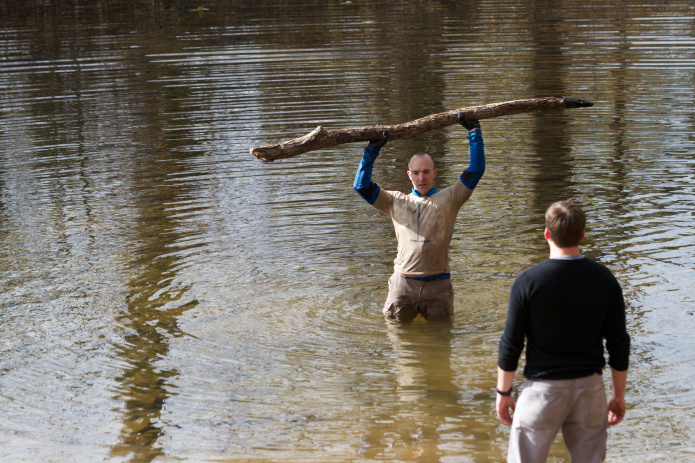 Selection After Action Reports (AAR) are an in-depth look at GORUCK Selection, GORUCK's faithful recreation of the enforced standards in Special Forces Assessment and Selection. The words expressed in this post represent the opinion of the guest author.
15-Nov-2013
Rob Alban
GySgt, USMC
Selection 013, Roster 001
What is my experience of GORUCK Selection (GRS)? That is the question posed to me as of approximately 2230 on 15, Nov by the Cadre — about halfway through my experience.  They gave me a piece of paper and a pen and this is part of what I wrote. I've added more to include the remainder of the event, what I did to prepare, and how I feel now.
I don't know much about GORUCK secret squirrel shit, most of the secrets I keep involve troop movements and force posturing. That being said, there's already a lot about Selection online, but I'll do my best to summarize my own experience, starting with my decision to sign up.
Decision to sign up: My childhood and current best friend (Conor Joyce) and I constantly challenge ourselves and each other. Throughout the years we've hiked parts of the Grand Canyon, camped throughout the Appalachian Trail, run several marathons, obstacle course races, and did our first and several GORUCK Challenges (GRC) together.  We discussed Selection at the turn of the year. We had already verbally committed to a calendar full of events in 2013: a ½ Ironman triathlon preceding the Marine Corps Marathon (MCM) by 1 day, a 200-mile ultra-relay race and several other events.  These were hard to coordinate together, with me stationed in Germany, but we signed up and put them our calendars. I don't know who brought up the idea of Selection, but we immediately started looking at dates and decided November would be best – despite only being 2.5 weeks after the ½ Ironman/MCM combo. We looked at the combo as our last big "training session" for Selection to see how we felt/ how good we had trained up to that point.
Crazy people find equally crazy people to make them feel normal, and soon we had five close friends coming from four countries "committed" to Selection 13 in Washington, DC. I personally, was stoked for the challenge.
Training: Training for GRS was a blast – nothing was ever too crazy or outlandish. When I told a potential coach I wanted to do a ½ IronMan Triathlon followed the MCM, which was 2.5 weeks before my GRS, she promptly stopped her assistance with training plans. So I created my own plan: I continued my triathlon training and sprinkled in weighted rucks, 'special' GRCs with double bricks, no food, no sleep, a 100-pound sandbag 'team weight' (which my friends all thank me for…haha), two GRCs 'back to back', and/or staying awake for 48+ hours.
High intensity training w/ extra weight constituted a lot of my training. Two-a-days were the normal part of my workout regimen; my caloric and protein intake skyrocketed. I did a lot of these training events together with friends, and they made for fond memories. Needless to say, I started Selection in subjectively the best shape of my life.
Expectations: It's hard to have expectations of an event as closely guarded as GRS. The expectations I did have were pretty normal I'm sure: 48ish hours; PT standards; running; rucking; physical training tests (often very inventive—thanks for that Lincoln Logs exercise Jerad); COLD water (PT and other events therein); mental tests; inner demons; lack of food/nutrition; + or – 100ish miles; foot care being paramount; unknowns and curve balls; and of course carrying heavy shit.
I read the AARs, anxiously awaited GRS updates, and finely combed through any GORUCK or third party YouTube/publication I could find.  I was hooked on gathering information and preparing myself, yet still felt terribly unprepared.  When it's hot outside and you're expecting snow on game day at an event that starts over 4200 miles from your home, it is hard to get and feel prepared. As the seasons changed, so unfortunately did the "commitment" of all but one of my crazy friends (and come the big day, he unfortunately didn't pass the PT test).
Every day GRS was on my mind, whether with specific training, logistics, or even theoretical debates between 'if you're not cheating you're not trying' and 'integrity'. There's a lot to think about when information is guarded and limited.
Pre-GRS: The ruck off was quiet and felt a little surreal. Everyone there had prepped and geared up for months, and was near peak fitness. I felt we would have a strong class based on the ruckoff and class size alone. Five of us stayed at the same hotel Wednesday-Thursday to be well rested for GRS. This alone proved the level of commitment for our class. Eating right leading up to GRS would prove to be more important than I realized. My initial plan was to bulk up my muscle and add fat to have extra I could burn as needed. Jen (my amazing and beautiful GRT girlfriend) suggested that I talk to Tracy (GRT and badass dietition extraordinaire), who had a MUCH different idea of what I should be doing. "Lean and mean" are the words she used over and over. She said I needed to train my body to operate on reduced calories, basically a starvation diet. I had a hard time with it. I'm the kind of man that can eat an entire roasted chicken on the way home from the store with a side of steak and potatoes when I get there. I'm not really into foo-foo food. But Tracy steered me to 'Trader Joes' and I'm happy I went to that yuppie food store – I may never go back to that store again. I did the ½ IronMan/MCM Combo on a reduced caloric intake. Doing as well as I did that weekend became a big mental victory for me. It took away the lack of confidence I had about doing all 48 hours on little to no food.
After ½ IronMan/MCM back to back, I rested – my left calf was sore and I didn't want anything physical to hinder my success at Selection. Even the day prior, when massaging my calf it felt a little tight but I didn't give myself any chance of an excuse as to why I "wouldn't" make it.
Failure wasn't an option I ever let enter my head.
Events and Experiences at GRS:
Arrival/PT Test: During arrival, while talking was still allowed, stories about how many events and what sort of training everyone did ensued. I napped. Our start point was in front of the National Art Gallery in the middle of the National Mall. It was really cool to start there, when earlier that week I had been there with my family touring the Natural History Museum. Gear checks were thorough. When through it made me sad that the rucks were weighed prior to switching to boots/rucking gear: I was a few pounds heavy. But I never trained with the minimums. Another thing – the extra weight – could have been turned into an excuse and reason to quit when things got tough, but it was quickly forced out of my head.
There's no room for negativity and doubt when entering a physical and mental challenge like Selection would prove to be.
The PT test was similar to what I'm used to as a Marine. It was interesting to run without a watch or a clock and come in early (fast). Throughout the PT test and really all of GRS, the Cadre were hard but fair. You have to have thick skin to play in this league.
12-Mile PT Ruck: Loved the mystique of riding tarped in the bed of a pickup truck. The PT surprised me from the start. When we all started our timed ruck, 19 of 21 passed me within 4 miles. They were all running and rucking.  It was quite a mind fuck, especially coming in first off on the first run, which I had finished easily 7 mins early. But again I put negative comparisons out of my mind and I was delighted to find most of our class passed the PT standards. We were ready to begin.
Initial PT sessions: The initial PT was about as expected. The exercises may change but they inherently all try to find a way to break you. We started with 'it pays to be a winner'. On a small field with 21 dudes sprinting with rucks, it becomes a hazardous event. I came in first a few times and came in last a time or two. It certainly pays to be a winner and highlights your suck when you're not. The water was FREEZING – I mean that sincerely – earlier in the week the weather forecasted snow on the Thursday night we started and the prediction wasn't far off. It was one of those colds that took your breath away and you knew you wouldn't be warm for a long time. The water temperature was warmer than the air, but trust me it wasn't comforting.
I'm real glad the Cadre took care of us and ensured we created body heat after our trips to the water. When another close friend pulled a muscle and withdrew, it was a big psychological blow. He and I shared a hotel room, discussed how quitting wasn't an option, and I'd even imagined us with our significant others at the finish flag. With him out, it became three, and our 'quality time' with the Cadre increased. When it was down to three, and we returned from the Potomac, we went back to 'it pays to be a winner'. The others were living zombies. I knew the faster I moved the more warmth I'd gain, and maybe even some rest. After several sessions coming in first, they started checking the other candidates' condition, and I remember Jered asking me how long I planned to keep this up. I told him, "hopefully another two days". Soon three became two, this lead to buddy carries, and two became one. I guess that happened around hour 8 or 9. Being the only one left ensured I'd be well supervised and given 'extra attention' over the next 40 hours. PT comes, movements happen, water is cold, and there's always a task at hand.
Timing: Physical training is something that just needs to get done. You know it, I know it, and it's obvious. What isn't so obvious is the mental side of Selection and how that is equally if not more important than the physical challenge. If you go in strong, they will push you. If you succeed, they will push you harder. Cadre will try anything to find that one moment, that few seconds where you're weak minded and manipulate it until you break. You can't give them that one second, or you're done. At one point, some 30ish hours in, Craig chose to inform me that roster number 001 never finishes Selection. I'm sure his timing wasn't a coincidental thing.
"Don't Quit": A seemingly innocent pedestrian on the C & O canal whispered this to me when he passed me during day two. I spent at least an hour wrapped up on if I knew him, how he found me, why he chose 'those words' and anything else I could get my brain to remember. Funny looking back on what your mind likes to pick apart. I can't stress enough how important being psychologically tough is and how mentality made the difference of GRS 013 having one finisher or going 'black'.
PT, Running, and Rucking: Just because the others had dropped, that didn't mean my work was done. Being the only candidate left, meant "extra attention" and that more often than not, I was directly supervised.  It seemed to go on forever. PT, water, and more PT. With each Cadre swap, came a new way to torture my body. Seemingly endless cycles of PT, running, rucking, and moving heavy shit played endlessly on random – with water sprinkled in just to ensure your socks didn't get too dry.
Rest: Space blankets under rain. I had a small meal picked by the Cadre and a wonderful nap in the rain after my 24 hr AAR. I don't know how long the nap was, I just know I was kicked awake and told I had a PT test, and two mins to prep. I wanted to poop, my 'pre-race' ritual always had me 'clear the lines' before a run but that idea was immediately shot down. I'd already endured well over 24 hours & now they are doing another PT test? What if I didn't pass? Not passing wasn't an option, so I ran as fast as my body would let me.
Mindset: I tried to control my thoughts as much as possible. One of my favorite pieces in my arsenal was a small waterproof notebook. Not much different than I've deployed with before, but it was certainly focused for the event. It had quotes that meant something to me, songs that I'd like to sing in my head, and even a heart filled letter from my wonderful girlfriend. You'd be surprised how much motivation a little notepad can provide when it's tailored to you!
I'd think about things like spending Memorial Day at Arlington National cemetery with a group of GRTs the week prior. We had stopped by many graves and told stories of heroism, bravery, and unfortunate circumstances. I knew that day nothing I'd do that week was going to hold a candle to what those brave men did.
Every once in a while, I took the time to reflect on my surroundings. My inner thoughts included: that rock formation kinda looks like a sculpture from Easter Island; WOW, the Potomac is REALLY beautiful at dawn; is that fog or a reflection of the sky; and what the hell was that noise??
More Rucking: The ruck prior to the 'long walk' had started to highlight some serious pains. The 5th metatarsal (outer arch) of my right food and the inner ankle of both feet were hurting bad on every step. At one point my ruck times were slowing and Cadre Jered met me on the trail. He asked what was taking so long, and told me they had expected me to be done with this ruck already. He told me there is a lot more to do and I'd need to hurry up. This made me feel like I was behind standard times and I told my body to keep pace with him. The strange part is was when I did keep pace with him, the pains didn't go away – but they were refocused a little.
The Long Walk: Anticipating the long walk seemingly took forever. I kept calculating how many hours I had left, and had guesstimates for how long the walk was going to be and how many hours it would take – things weren't adding up. Just when I thought we were going to start, I was told to go on another ruck. I'd convinced myself then that I'd been rucking slow and that I'd have to go over the 48 hour minimum to meet the standard. I'd have to move quicker – failure isn't an option, but at some point… I'll need real food.
I finally got to pick two food choices from what I brought before the long walk. I went back and forth MANY times between items. I was between the nutritious brown rice and rewarding my mind with M&Ms. Finally I figured my mind was long overdue for a reward and I chose Chia seeds & Almond/Peanut M&Ms.
I was loaded into the back of the truck again – first time since the initial ruck. I fell asleep during the ride and have no idea how far we went. I was told that this was my long ruck, it'll be an unknown distance and there is a time standard – time would start when I hit the trail.
The long walk felt relatively pain free from the start. I had my Chia seeds and my bag of M&Ms. The foot problems were present but subtly quiet at the onset – I even felt like I was keeping pace with my original 12 mile time. I'd guessed that I'd moved around 70ish miles prior to the long walk and made the assumption that the goal was a cool 100. Long walk indeed – so I counted and divided my M&Ms up – a little nutrition to up my energy and then divide the rest into 30 sets of M&M delicious rewards. The best part was not knowing if each one was a peanut or an almond – sometimes it's obvious when you look, but I'd not look and be happily surprised. You'd be shocked the little bits of happiness you'll find when you're 40 hours into a physically intensive / nutrition deprived event.
Now and then I'd turn a corner or look up or there would be a break in the trees I'd see Cadre calling me to them with words to the effect of 'mission details have changed …'
Hours into the long walk, on one of the bridges were the Cadre with a sand bag. I chuckled a little when I saw it was only a 40 lb sandbag – as all my training was with an 80. They told me that mission details had changed and that I needed to go in the woods to Cadres Tyler & Devin. Once there, I was told that my lack of hygiene was a health concern and that I had 1 min to prep for my hygiene time, which of course would be in the Potomac. The water was still frigid and that was my last pair of dry socks. Maybe I should have kept on my shirt… that thing smelled horrendous once I put it back on. The second mission detail that changed was that I now had the '40 lb' sandbag for an unknown distance, the unknown time hack hadn't changed & that meant I had to be MOVING.
Joke was on me, that sandbag seemed to be filled with man's densest rocks and put my '80 lb' sandbag (often weighing over 100 lbs) to shame. That thing crushed my soul. Within that first mile I slowed to a gruelingly pitiful pace. It was all I could do to go 200 yards, rest, and repeat. That was my weakest moment. I found a way to dig deep, deeper than I knew existed, and pushed through.
As it was Saturday afternoon, the trail was packed with people and I was wincing with pain. I had multiple people come up to me and ask if I was ok, one family passed me shortly after I started with my sandbag baby, and almost an hour later on their return they saw my state and offered to tell 'the other guys' I needed help. Since I couldn't talk, I got real good at sign language and just kept walking. Eventually, I found that putting the ruck and sandbag on after the break destroyed any 'rest' I had enjoyed. I drove on.
Hours and miles later Cadre Devin found me on the trail, struggling to put one foot in front of another. I was moving very slow and it was all I had. He stripped me of my sandbag and told me I'd need to pick up my pace.
After logging more mileage Devin again came upon me, this time he said he'd be with me from here on out. I knew the trail was ending soon and took this to mean that he'd be there for navigation. We winded our way into Arlington — those steps and bridges were killer. I'm not very familiar with DC, but knew enough to know we were near Rosslyn, VA – where the Marine Corps Marathon ends (ran 3 weeks prior). This also meant we were near the Iwo Jima Memorial – they couldn't make the end that epic could they? Just when I knew we were a straight shot to the Memorial, we took a left and started winding in some areas I'd never seen. I wasn't sure if the route change was meant to kill my dreams or if it was meant to be a surprise. A while later we passed a sign directing traffic to the memorial, made our way up a grassy knoll, and I saw the edge of the monument and several dark figures giving flashlight signals. They centered me in front of the memorial. I felt like this had to be it.
The end?: When the other Cadre closed in on my position, Devin got real close, looked at his watch and told me I missed the time hack; I was going to have more timed rucking with extra weight. I was less than enthusiastic – but I didn't come this far to quit now. Soon, I was getting barraged by the Cadre, each with their own exercises and less than complimentary words. Each exercise yielded the same result: another body part of mine that was destroyed and wanted to give out. I didn't know how much more my body was going to take – but I was in it with every ounce, even if my body breaks, they'd have to med drop me.
Bert said I need to give him 31 pushups (with a full ruck) – I guess someone told him that it was my birthday the next day (thanks, Jen). The first 10 were ok, at 15 I was told I could go to my knees. I didn't do that until after 20. Even when I did, my chest was still having trouble supporting me and my 70 lb ruck. Cadre Bert asked me why I was giving up now, after all I've done so far. I tried more from my toes but that wasn't an option. I was counting as loud as I could. I pushed out the extra three he demanded. 'On your feet number one, congratulations – you've met the standard, turn around'.
It was then I saw the flag. I met eyes with Jen and my Dad, all on the backdrop of the Iwo Jima Memorial. The emotional outpour is impossible to describe. I still didn't move until the Cadre told me to go kiss my girlfriend. It was such an amazing feeling to hold Dad and Jen in my arms — though I'm pretty sure they did all the holding.
The beer, my whiskey ginger, and our dinner immediately after started the road to recovery I'm still on.
The Grit: My ongoing thoughts were eternally optimistic. I just was going with the flow. In the water again? Sweet, I was worried my body/feet were going to start to swell, the cold can help with that. More PT? Great, it's 0-dark-30 and I was getting cold. Another PFT? Where are my shoes? Rifle PT? In the water? With a log I need two hands to carry? The Cadre truly have a sense of humor. http://lmgtfy.com/?q=Rifle+PT&l=1
The After: Maybe you can call me a 'lil twisted or just a hardened Marine, but the Cadre continued to push me throughout the event, and that's pretty much what I expected. True to their word, each hour was harder than the last. They had me exceed my limits– which I thought had already been demolished. Long rucks, PT sessions in the freezing water, and building that log pyramid didn't really seem too unexpected.
Sure it was difficult, cold, and/or painful, but as long as you know whatever they said had to be done, the only thing left to do is do it.
My life, like most, is certainly complicated. Work, trips, and long nights drinking all came up and hurt my training. My buddies dropped out of my class, my calf felt injured after my Triathlon… there are hundreds of reasons for anyone to quit or never even get started. As I sit on the airplane headed back to Marine Forces Africa, I have no regrets.
One thing that has completely caught me off guard was the public outpour. Certainly I've seen the videos and we've all followed the legendary Kling, but I never imagined the way my friends and family would react. Some of my closest friends started publicly posting inner feelings about me or our shared experiences, the ones that are usually reserved for long private nights under the clear sky with some Seagram's. This really shocked me because these closely held friends knew my training – hell, the closest participated in one way shape or form! I didn't see where what I was doing would stir up such commentary. Also my family – you know, the ones that don't follow GORUCK and you try to simplify what it means? Yeah, they too were very proud; I was, and continue to be amazed and grateful.
When Jen left me at my house in MD before the event, she said I had the same look as if I was ready to run a 5K. Not to say that Selection wasn't important but, at the end of the day, it's nothing to get worked up over. This isn't life or death. Certainly it's important to me but only because I made it so. This isn't combat, we're not making any phone calls Monday morning to talk to somebody's parents about how they didn't finish Selection. So, instead of being worried, Wednesday and Thursday were all about rest and nutrition – as much sleep as possible and the right amount of the right food without going overboard and being bloated for the PT test.
Accountability: I'm not a big fan of fame and glory – or Facebook for that matter, but on Thursday I made a specific and calculated post:
"GORUCK Selection – tonight (Thursday, 1800 DC local) I'll start a 48 hour adventure that is promised to be the most difficult event I've ever done.
It'll be 48 hours, over 100 miles, with 50+lbs of extra weight. I've been training heavy all of 2013 and would like to thank my friends and family for their help and support. Next stop, 31.
https://www.goruck.com/selection"
I watched as GORUCK Alumni, friends, and family all started commenting and 'liking'. I did this for accountability – so my friends and family knew what I was doing and would ask me about it. I knew that 3 days would soon be here and gone, and I'd have a birthday brunch and dinner with some of my closest friends & family, and they would all ask about it. There was only one response I was ready to give: I completed selection.
Social accountability is a powerful tool when used properly. Then I saw an interesting post, from Cadre Devin: "Uh oh….. See you soon, Robert…" SHIT – the last conversation I had with Devin was after his first challenge and I told him that he had to be harder at challenges. I knew these were words I'd soon regret. He also knew I am a U.S. Marine – something I'm VERY proud of, but certainly something I didn't want to be highlighted from the start of Selection. There were also lots of words of encouragement like, 'If there's one person on earth who Selection IS for, it has to be you.' I wrote those words down in my handy notebook in case demons came to me later (thanks, Tilman). Positivity cannot be overstated – I imagined finishing, the flag behind me, I imagined the feelings – but trust me, they're hard to imagine or truly grasp until you're there.
Thoughts: Stopping or quitting was never an option. I put WAY too much time, energy, and money while taking away time from family, friends, and touring Europe not to finish.
I tried to constantly control thoughts – back to that book of quotes. One of my favorites was Jason McCarthy's from Dublin, "Selection is easy, there's just a little bit of magic to it." I found out later the 'magic' is hard work and mental fortitude, but I couldn't read that quote without seeing his mischievous smile. There were also quotes from good friends and previous selectees as well as songs – I do love a good sing along. 'I would walk 5000 miles' or 'Lean on me' are rather fun when you're trudging through a forced ruck march with extra weight trying to make up time.
I'll repeat some common advice:
1. Do not ruck too much and do not come to Selection injured.
2. If you lose your feet – you'll fail.
I packed blister kits, super glue, moleskin, etc. but never used them. I used tuff foot and a lot of rucking in training. I was ready. My feet were sore but made it through pretty much unscathed with the exception of a couple of small blisters on my toes and a toenail that'll disappear shortly.
3. You cannot over inform or over prepare.
I knew the times for sunrise and sunset – really helped me guesstimate what time it was and how much longer we'd be going and help me step through it.
4. Train often, train hard.
Final Thoughts: Before I sign out, I want to thank you for reading this – if you spot me at a GRC or any event, I hope we can share a song, a whiskey, a story or even a beer. I also want to thank Jason for bringing together an amazing GORUCK family; the Cadre for a great event; and my family and friends for every step along the way.
Somewhere after my first challenge, I stopped training for GRCs. I started drinking more during them and just amped up the fun. I like that particular training plan and anticipate more of it now Selection is over!
My feet are swollen, I still can't completely eat right, my hip is spazzing – but I know that even in my recovery phase that I'm an unstoppable force.
Make yourself an unstoppable force and along the way never stop having fun.
Do that and to me, I think you've won.  Sheer motivation and willpower is something they — Cadre or anyone else — can only take from you if you let them. Don't ever let them.