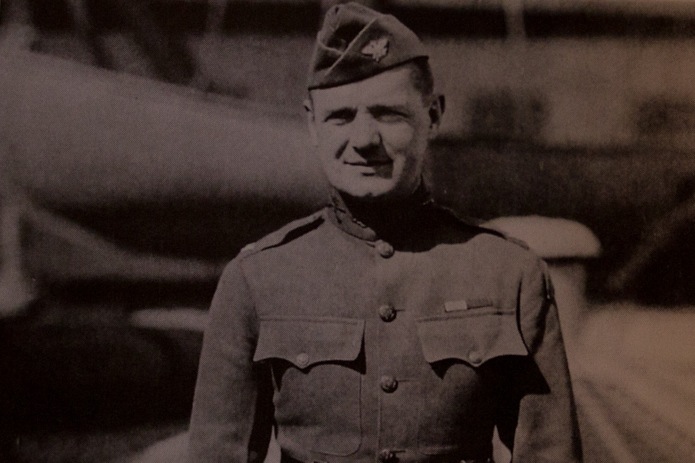 Lt. Col. William Donovan
Rank and organization: Lieutenant Colonel, U.S. Army, 165th Infantry, 42d Division
Place and date: Near Landres-et-St. Georges, France, 14-15 October 1918
Medal of Honor Citation:
Lt. Col. Donovan personally led the assaulting wave in an attack upon a very strongly organized position, and when our troops were suffering heavy casualties he encouraged all near him by his example, moving among his men in exposed positions, reorganizing decimated platoons, and accompanying them forward in attacks. When he was wounded in the leg by machine-gun bullets, he refused to be evacuated and continued with his unit until it withdrew to a less exposed position.
Today is a special day for us here at GORUCK as it marks the death of a legendary man. Major General William Joseph "Wild Bill" Donovan become the Father of American Intelligence and both Special Forces and the CIA can trace their roots back to him and his creation of the Office of Strategic Services (OSS). On the heels of the attack on Pearl Harbor, President Roosevelt established the OSS in 1942 by a Presidential military order as a wartime intelligence agency, tasked to conduct special operations required by the Joint Chiefs of Staff. The OSS coordinated espionage activities behind enemy lines to penetrate Nazi Germany and its operatives armed, trained and supplied resistance movements, ran spies, and used propaganda and subversion, among other things, to help win the war.
Generations of Americans are often compared, but I don't see many differences between those who served then and those who serve now. Selflessness and a dedication to Americans, winning, and America's future are the constant.
A little bit about Wild Bill: He was a New Year's Day baby in 1883 born into a working-class Irish family in Buffalo, New York. Described as a hotheaded, scrappy athlete with more of an eye for the ladies than schoolbooks, Wild Bill officially earned his unforgettable nickname while playing football at Columbia University. Later when he became a soldier, lawyer, intel officer and diplomat, Wild Bill did it all and did it well. In addition to being the Spymaster who created the OSS and served as its head during wartime, he is the only person to have received all four of the most prestigious awards in the United States: The Medal of Honor, the Distinguished Service Cross, the Distinguished Service Medal and the National Security Medal. He remained known as 'Wild Bill' due to his loose and chaotic leadership style that was more focused on the recruitment of talent than administrative procedures, once arguing that the bookkeeping wouldn't matter if the United States lost the war. No wonder we like him.
While too few these days had the honor of knowing Major General Donovan personally – he passed away on this day in 1959 – his pioneering spirit lives on in today's patriots who are deployed all over the globe as soldiers, spies, and diplomats. A safer America is the goal yesterday is the goal today is the goal tomorrow, and the challenge remains to connect the dots of communication between and among America's best. At GORUCK, our aim is to build better Americans by teaching what we know. Wild Bill created many of the dots and many of the lines, and our homage to him is an event that probably doesn't exist called Trek, where it's been said that the CIA meets Special Forces. Cultures clash and your map gets a lot more lines on it. And dots, too.
And you learn to live the following SF + Moscow Rules mash-up:
1. Always look cool while admitting nothing.
2. Never get lost when denying everything.
3. If you get lost, look cool while making counter-accusations.
If you're ever in the DC area, Major General William Joseph Donovan is buried in Section 2 of Arlington National Cemetery, alongside America's best.
Rest in peaceful chaos, Wild Bill.