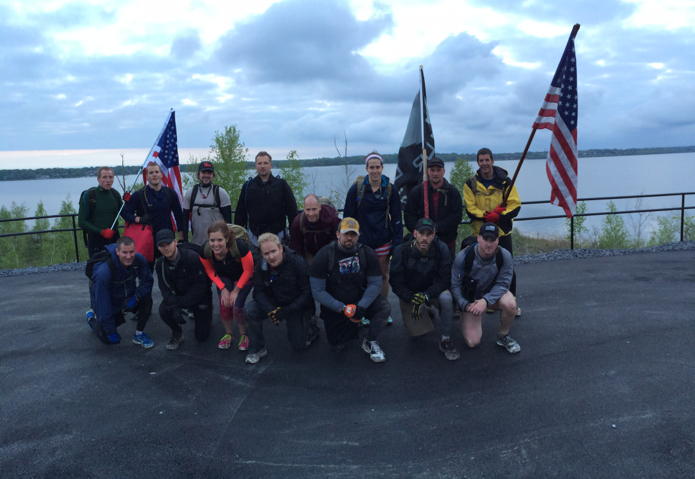 Editor's note: This was originally published on the GORUCK Tough (GRT) Group by Cadre Brian on Sunday, one day after the tragic event occurred. The photo above was taken of Class 1032 by Cadre Brian at 0555, May 17, 2014, approximately 50 minutes before tragedy struck. Jeff is in the middle in the dark red shirt, smiling.
It's hard to comprehend the tragic event that took place yesterday. As I sit here to type this, I just can't seem to find the words to describe how broken my heart is for Jeff's family. The whole thing just seems so unreal and I can't understand why this happened to someone like Jeff. The last 36 hours have been some of the most emotionally challenging I have ever faced, but a few things are helping me through this process.
First is Jeff's family and friends. While going to Jeff's house after the accident and meeting the rest of his family was one of the hardest things I have ever done, the strength of his family gave me strength and comforted me. The stories his mother told me about Jeff's childhood, how much he loved his family, and how happy he was with where his life was were helpful. His wife told me stories of how much Jeff loved GORUCK, and how much training he had been doing leading up to the Challenge, and how excited he was the night before to do the Challenge. It was also great to see how many people from the local community showed up to show their support for Jeff's family.
Another, is the GORUCK Community. It has been unbelievable. The support from Jason and my fellow Cadre to ensure I'm doing okay as been very helpful. The outpouring of support, condolences, willingness, and prayers to Jeff's family from GRTs and others has been so humbling and an example of what makes the GORUCK Community so great. I'm proud to be a part of such a community.
Finally, is the actions taken by class 1032 following the accident. All night I harped on teamwork and communication not knowing that the class would soon be faced with one of the toughest challenges of our lives. Everyone reacted instantly and the teamwork and communication displayed by them during those moments were unforgettable.
These are the things I think of and resort back to when the demons and the "what-if's" start to creep in.
One of the great things about a GORUCK Challenge is how much you learn about a person in a short period of time. Lifetime friendships have been forged during GORUCK Challenges. From my time with Jeff, I learned he was a complete stud. He was always willing to get under the log, carry a downed casualty, or someone else's ruck if they needed it. He had no problem taking orders as well as giving them. He was always motivated and smiling and anyone would be proud to have him as a teammate.
My fondest memory of Jeff was around 4:30 in the morning, when I went up to him to see how his ankle was doing that had been bothering him a little bit during the Challenge. Jeff looked at me and said, "I've figured out a good limp, so I'm good" as he smiled. I just laughed and said "Alright." I think I learned a lot about Jeff in that moment and it was a testament to the type of person he was.
I ask for everyone's continued prayers and support for Jeff's family as they get ready to lay Jeff to rest. Jason will be posting a link in the near future how you can help and donate to Jeff's family. Also, there will likely be a Memorial Challenge that will be determined at a future date.
And finally to Jeff, as we say in Recon, "Never Above You, Never Below You, Always Beside You." Rest easy brother.
To donate to money for the benefit of Jeffrey Proietti's children, there are two options:

(1) Online at The Jeff Proietti Memorial Family Fund. Find it here.
(2) Mail checks to Jeff's wife at the following address:
Rebecca Proietti, C/O Solvay Bank
1537 Milton Ave.
Solvay, NY 13209