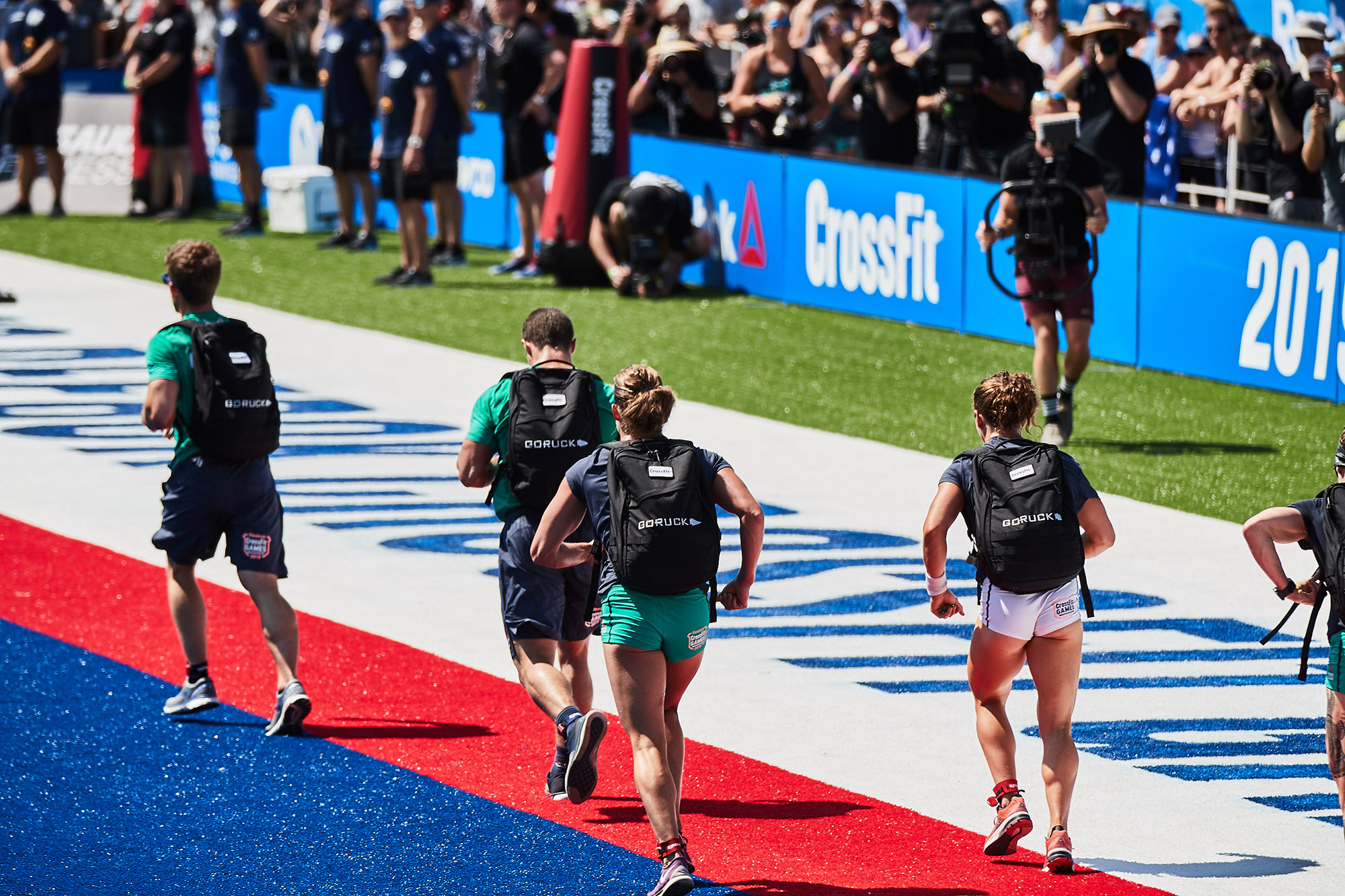 Recently, at the 2019 Reebok CrossFit Games, CrossFit and GORUCK teamed up for the "Ruck" event. Because I have a long history of involvement with both organizations, my heart exploded with joy seeing these communities working together.
I've been doing CrossFit for over a decade now. I competed as an individual in two regionals (Southwest in 2010 and Asia in 2011), owned an affiliate, and now work for CrossFit Headquarters on Kids Seminar Staff, so CrossFit is pretty much woven into my DNA.
As for GORUCK, I've attempted to complete GORUCK Selection, a 48-hour endurance event modeled after Army Special Forces Assessment and Selection, four times and have yet to finish. Because of this, I have experience rucking thousands of miles and training with GORUCK rucks for over 5 years.
Watching the CrossFit Games athletes crush the event with the rucksacks that I train with everyday, I had to give it a try myself. Because I want everyone to be better ruckers, I experimented doing this workout with different rucks, and different ways to carry weight, so that I could give advice to both communities on how to prevent chafing your back (ouch!), and also how to run efficiently with a loaded rucksack. 
The Ruck Event:
For time:
1500 meter run with 20#

1500 meter run with 30#

1500 meter run with 40#

1500 meter run with 50#
*At the CrossFit Games, the athletes started with 20# in their rucksacks, then added a 10# sandbag on each lap of the run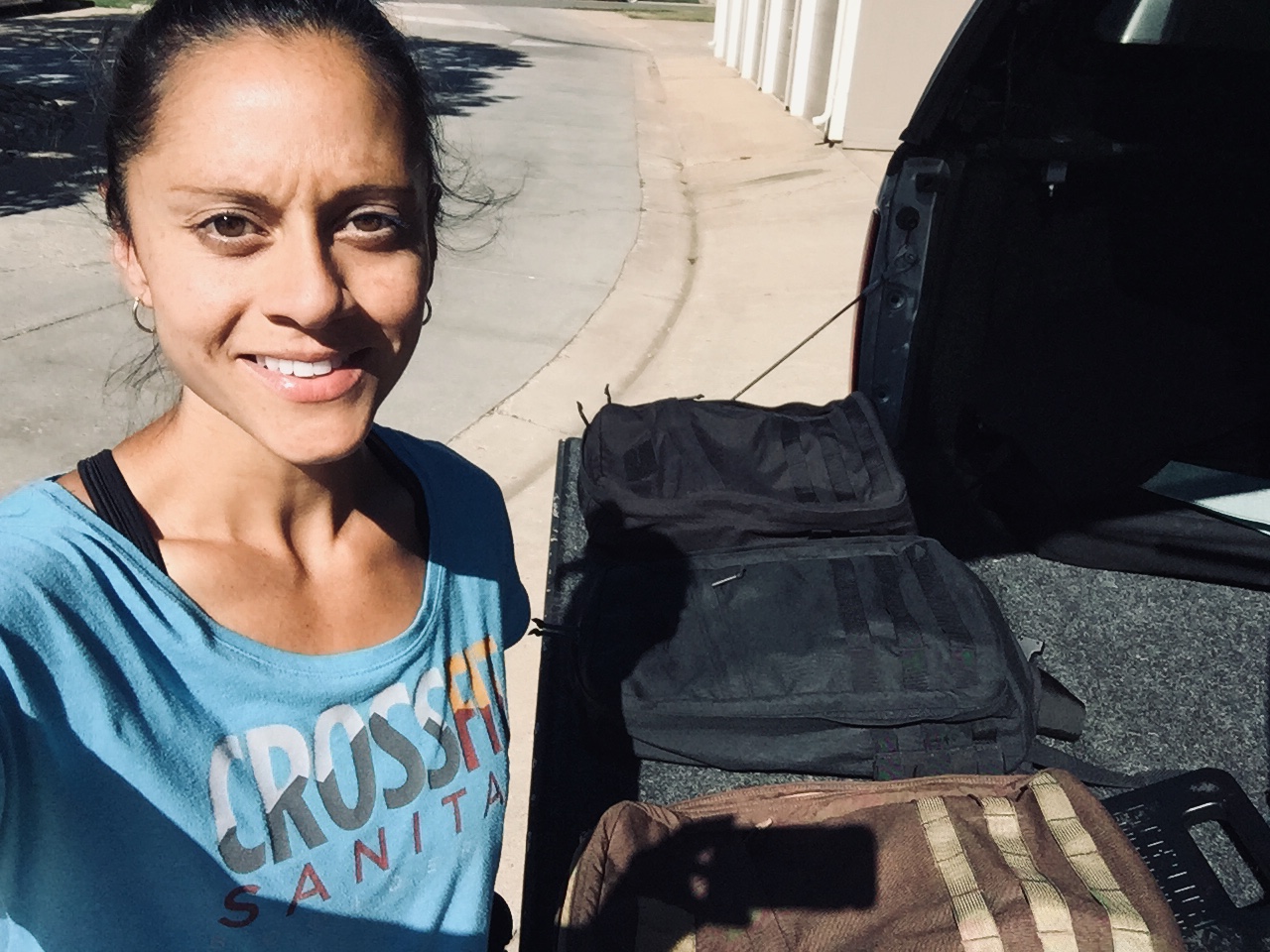 The Games "Ruck" event, Boulder Style
My ruck run course was approximately 3.92 miles on an uneven rocky trail in Boulder, Colorado, at 5,400 feet altitude (the actual event at the Games was 3.72 miles/ 6k, on flat terrain). Each lap was measured with a Garmin; I tried to make all of the laps 1,550 meters as to not short the event. For reference, I'm 5'5 127#.
I did not have 10# Ruck Sandbags yet to put into my ruck each round, so I used GORUCK Ruck Plates (10#, 20#, and 30#). I tested three different ruck models: GR1 Women's (21L, no hip belt), GR1 classic (21L, no hip belt), and The Rucker (20L, with a hip belt). Using the hip belt with The Rucker on the 30# lap was intentional; I wanted to compare how it felt running with it, to running the other laps without it. While watching the Games athletes compete, there was some speculation as to whether or not a hip belt would prevent the ruck from bouncing. I'd try it (again) and find out.
I was not able to set up in an open field, so I placed all of the rucks into the back of my truck. Each round I'd unlock the truck, grab a ruck, transition weight plates between rucks, then lock the truck and run away. This made for pretty slow transitions, but I was able to catch a few deep breaths before starting the next run. If you want to streamline the process I definitely recommend the 10# Ruck Sandbags. 
When it was all said and done, I finished the Ruck Run workout, affectionately called "The Castro Ruck" indicating an escalator of weight over time, in 35:10. Granted I had slow transitions (my final time includes those transitions, I never stopped my watch) and ran .2 miles too much, however it was an awesome experience doing the same event as Games competitors.
Here are some key take-aways…
Pro Tip #1: Cinch the Ruck Straps
At every transition, as soon as I put my ruck on, I pulled the straps so that the ruck sat tight and high on my back. 
To do this, fully cinch the straps down, lean forward a little bit so that the weight of the ruck transfers on top of your back (not just your shoulders), then cinch the straps further. A good rule of thumb here is not to cut off your arm circulation, but to make sure the ruck bounces minimally as you run. When you're going to take the ruck off every 1500 meters, that will naturally increase circulation back to your shoulders. If the straps feel just a little too tight when you step off, that's probably about right.
Pro Tip #2: Don't Wear a Hip Belt
Both the GR1 and GR1 (women's) model were worn with no hip belt and moved minimally. The Rucker was worn with a hip belt on the 30# lap. I used the hip belt to see if it helped stabilize the load. It turns out that the hip belt rides a bit high when running, and it makes it difficult to breathe paired with a high heart rate. It does virtually nothing to mitigate bouncing; making sure the ruck straps are tight enough stops the bounce just fine. 
The hip belt was designed to (1) transfer load to the hips while rucking (which is different than ruck running) and especially when rucking heavy weights over long distances, and (2) to stabilize the rucksack during bear crawls and various other exercises on the ground that are executed at other GORUCK Events. It does not minimize bounce when running.
Pro Tip #3: Run Like You Are…Running! Stand Tall, Look Forward, Move Your Feet Fast
Here, I tried to minimize the forward lean so that the ruck could sit properly on my body. Leaning forward is a natural inclination with a heavy load, however this places more stress on the lower back and knees as you have completely changed your natural running stride. In order to run fast, and to run fast with a loaded ruck, I made sure to keep my gaze forward, and at some point I did have to shorten my strides. If I found myself leaning forward, I'd adjust and try not looking at the ground then focus on moving my feet faster. This allowed me to stand tall, breathe better, and feel stronger.
Though I ruck run under a load at more than 30% of my body weight infrequently, when I do ruck run with weight I make sure to do the above to minimize stress on my knees and back, and to preserve my skin. 
Pro Tip #4: Wear a Shirt, Tape Up, or Lube Up
Other ways to mitigate chafing include wearing a shirt ( a regular shirt that you can tuck into your pants/shorts), pre-taping the spine where you usually rub, or using vaseline on the hot spots on your back. It's no different than how you have to take care of your feet when running or your hands when lifting heavy. With rucking, you just have to learn how to take care of your body and learn how it reacts to your equipment; the only way to do that is to practice.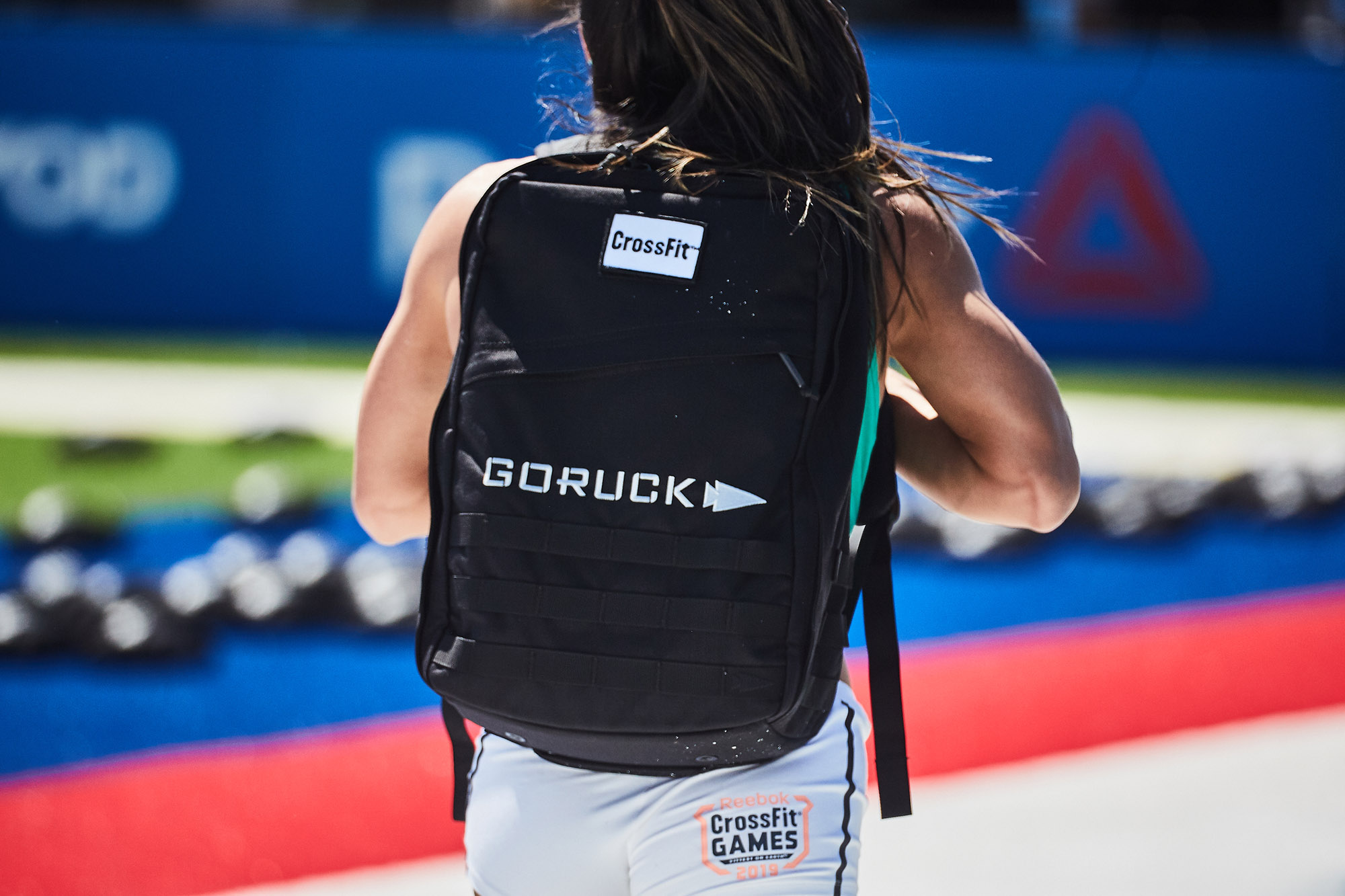 If you want to give the workout a try as well, make sure you cinch up those straps, ditch the hip belt, stand tall, and wear a shirt. No matter how long it takes you, you'd be doing both the CrossFit and GORUCK communities proud!
– Jaala Shaw