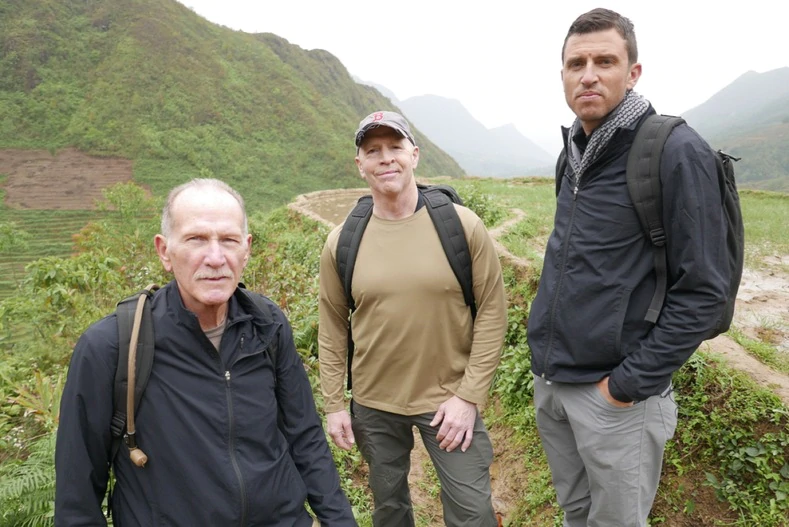 A simple black boot, comfortable in any and every environment imaginable. It's so simple it took us four years to get right.
One boot.
This is the tale of the details to the details, the why's — all of which began from the well earned tribal knowledge of boots that's passed down from generation to generation, in Special Forces.
One first point before we dig in. Pictured above, those boots were brand new out of the box 20 miles prior, when we stepped off into some of the most arduous terrain in all of Vietnam. No hotspots, no blisters at the end of the day. Though the beers did taste really good by the end, we had earned it.
There's no break in time with MACV-1, but they get better with age, and the memories you put into them. That's why we say MACV-1 is Ready When You Are.
---
Lightweight
"Lightweight like a running sneaker, tough like an assaulter's boot." That was our mission and we were religiously committed to it. At under 14oz (28 oz/pair), MACV-1 is lighter than any footwear of its kind, ever.
So, how?
Less is more and more is lazy. It's easy to horde features on any piece of footwear but especially a boot, because there's more of it. Marketers sell you on features, so the features get added. One example: to double the weight of the sole, just add rubber ridges everywhere for "more durability" – then advertise that and put a big yellow logo on it. But if the "more durability" is not in the right place then you don't need it, and you've wasted precious ounces on unnecessary bulk. And you have to live with that one step at a time. We took the opposite approach of the marketers and removed everything: every stitch, every pattern piece, every gram of rubber, everything that wasn't absolutely necessary for Special Forces performance.
The first thing everyone says when they hold MACV-1 for the first time is "damn, that's light." And then they test it out and because it has no break in time they say "damn, it works too." And that's a win.
---
Tough
Full grain Challenge Leather™ leather and Special Forces grade materials and triple-stitched stress points, a durable EVA midsole and All-Terrain Outsole that thrive in all kinds of terrain, but that's not even most of the story.
In Special Forces, adaptability is everything. If your boots or your ruck or your weapon fails, it's a life or death kind of thing. And in the choice of what boots to wear, it's a trade-off with the weight you're willing to attach to each foot and the speed you need.
One truth, though, is absolute: no matter the terrain or the situation, you want your boots to be as light as possible and you want them to never fail. We spent four years focused on each of the major components of this one pair of boots and how they function, how they're constructed, together: the upper, the midsole, the bottoms, and the insert. We ruthlessly cut features and weight and the outcome is a lethal combination of lightweight and tough. MACV-1 is simple, tough, and it works in any terrain Special Forces operate in – namely, all of them.
---
Supportive
The MACV-1's Workhorse Insert™ is not your normal worthless flat cheap single foam insole. On the 14 mile trek through the jungles of Colombia to get to the high ground at the Lost City is where you're most grateful for that kind of support. The Workhorse Insert™ uses a dual layered compression foam system that supports your entire foot from heel to toe – including contoured arch support – throughout the duration of your foot strike. In order to provide maximum support over all the miles, the Workhorse combines two types of premium compression foam: one layer is significantly denser for greater, padded support. The other is standard density for comfort. Our GR1 shoulder straps use a similar system of dual layered compression foam because it works.
Normally, "inserts" are an add-on item because big shoe companies refuse to spend the extra money. In the production of their insoles, they mix additional water into the compound for the foam – this results in cheap, diluted fluffy foam that provides no support and collapses down to nothing – after you've bought the shoes, that is, and the joke's on you. If you upgrade to an aftermarket insert, which will cost you $20-50+, it will never fit perfectly so it has the tendency to shift around. We solved that problem by building our own proprietary premium Workhorse Insert™ and including it in every boot, sized perfectly and good for all the miles when you're living in your boots.
---
The Details
PREMIUM FULL-GRAIN CHALLENGE LEATHER.
Over time and distance, the leather will mold to the way that you flex. The creases will become yours, and they'll tell the tale of your journeys in them. It's a mark of quality that the leather on your MACV-1's looks and works better — for you and your feet — a thousand miles later than it does when you first open the box.
1000D CORDURA UPPERS with 2" nylon webbing for added ankle support – debris and rain stay out, your feet can still breathe. This was one of the primary innovations of the Vietnam-era Jungle boots, to reduce the amount of leather, and thereby reducing the weight of the boot and increasing its breathability, by replacing it with 1000D Cordura with 2" nylon webbing for ankle support.
PREMIUM SUEDE HEEL COUNTER
wraps a supportive, injection molded TPU (Thermo-Plastic Urethane) heel counter. This combination stabilizes your heel as the suede leather prevents the kind of friction that causes hotspots and then blisters. And the heel counter provides ample stability, even on uneven terrain.
WIDE TOE BOX Generous forefoot area (toe box) lets your toes breathe. Over time and distance during any activity including rucking or traveling, your feet will swell. That means that it fits your shoes differently. By widening the toe box, MACV-1 gives your toes room to breathe at the beginning, and the end of the day.
NO BREAK-IN TIME
They're ready when you are, right out of the box. As you lace 'em up, your heel locks in for stability and your toes have room to breathe over all the miles, until you get to where you're going with no blisters. Pictured in Sapa Valley, northern Vietnam. Brand new pair 20 miles earlier, no hotspots, no blisters.
FREEDOM OF FLEX. The wider toe box serves a vital purpose. What you want is max freedom of movement in your forefoot, where you flex through the ball of your foot. We moved the bottom of the laces back on the boot as far as possible so that they would assist in two primary ways: (1) assist in locking your heel into the rear instead of strapping the tops of your feet to the front of the boot, which doesn't work as you move and (2) maximize the flex you need in your forefoot.
There's no friction on your heel, your toes can breathe, the leather creases to how your foot moves, and with every step they become yours, more and more.
3mm SPEED LACES
as opposed to standard 5mm. Debris and mud doesn't collect on the 3mm laces like it does on the 5mm, the 3mm rinse off and dry faster, and they're faster to tie because there's less bulk.
RUBBER LACE CAPS
on shoe laces for advanced toughness – doesn't crack like those cheap clear plastic ones.
SHIELDING DRAIN HOLES
keep sand and debris out and repel moisture with every step. If rainwater, sweat, or any moisture gets in your boot, there are two ways it can dry:
The natural friction between your foot, your sock, and the boot as it strikes the ground will increase the temperature inside the boot and help dry your sock out. If you're sweating more than the friction can dry out, you'll experience a net moisture gain – further reason to have a boot that breathes and won't trap the heat (or the moisture) in.
You expel the water. The eyelet drain holes expel water with old fashioned technology that just works – with every step, you push the water out the side of the boot. Because of its placement along the arch, you'll expel all the major excess water and then the friction you're generating with every step will do the rest of the work to get your feet dry again.
NO SPACER MESH
Spacer mesh is soft, squishy, and feels comfortable to your hand when you touch it. But it's a trap, literally. The first time spacer mesh looks at any kind of water, your boots get heavier and they stay that way. Whatever the initial advertised weight was, it's a lot more now. Spacer mesh is also a sponge for dirt, grime, sand and stink. Every step feels heavier than the last. And when you find yourself at your favorite watering hole, the other patrons will thank you if they can't smell what you did last year in your boots.
We proudly do not use spacer mesh, end of story.
---
Sole: Midsole + Outsole
The thickness of the rubber outsole plays a huge role in determining the weight of the boot. More rubber = more durability but also more weight that you have to carry around with you on every step. You could build boots out of 100% steel and they'd be really durable, too. If running sneakers often have no rubber, and they wear out in no time. Military boots are often covered in rubber like a tank, and will last forever – but you never want to wear them because they're too heavy, like a tank. The relationship between the EVA midsole and the rubber outer sole matters greatly to the performance of the boot – and the combined weight is a major factor in whether you want to wear them or not.
Pictured – no shielding rubber outer sole. EVA compound only that became the midsole (it survived months of testing and hundreds of miles of wear in extreme environments, but ultimately we needed more grip on the soles than it provided).
The EVA midsole, working together with our Workhorse Insert™, provides a supported landing on every foot strike over all the miles. We tested our EVA compound as a standalone sole in the Grand Canyon, all over Medellin and up to the Lost City in Colombia. It did not offer the kind of traction we needed but it offered a surprising durability for being solo, so we combined it with a shielding rubber outer sole on the bottoms, and only on the bottoms (not the sides) for added toughness and traction.
Understated rubber extension adds traction for when you need grip higher up on the boots or when you're doing push-ups. What we did not do was wrap the entire toe box in rubber. The leather is full grain Challenge Leather™ and very durable. It can withstand the abuse in its own right. This rubber extension was about just a little more grip across all the surfaces you'll encounter.
Rubber outsole grips asphalt – and doesn't get bogged down in mud. It's better than motorcycle tires powered by an engine, in the mud. Proof from northern Vietnam pictured. And to think, Paul thought the guy was trying to sell him some apples before he wound up pushing him up the hill.
---
Rucking Offset
The rucking offset refers to the difference in the thickness of the heel compared to the forefoot.
All the historical biomechanical gait research (begun in the late 1970's and into the 1980's to modern day) proves that a 10mm – 13mm heel raise creates the "best" mechanical advantages for most people who move a lot on their feet: that means running, walking or rucking (hiking).
The MACV-1 bottom unit has a midsole forefoot center line thickness of 10mm and heel center line thickness of 23mm (all based on size 9), which is a 13mm heel raise. This amount reduces the strain on your achilles (and by proxy your ankle, knees, and hips) and helps to accommodate a natural gait in an unnatural world of asphalt and man-made surfaces. Comfort, stability under under both body and rucksack weight, and injury prevention are the goal.
---
Adhesive Bond Test
The adhesive system that bonds the outsoles to the midsoles and the midsoles to the uppers is strength tested at upwards of 12.5 kg of precision applied force, which is considered a "diamond" shoe within the industry. For reference, the industry standard of 2.8 – 3.5kg. Our adhesive system ensures that the boots thrive no matter the abuse thrown at them. The other option for this much durability was to sew down the uppers to the lowers — this is a common technique in very heavy work boots and very heavy military boots. It requires additional fabric and materials to execute, which increases the weight significantly. Our adhesive system creates all the durability at a fraction of the weight.
---
Proudly Not Waterproof
Your feet need to breathe, especially while moving. Waterproof boots act as a microwave for your feet after they're shrink wrapped in plastic – so your feet sweat more and the waterproof boots trap it in. If rainwater, river water, or water from an alley puddle get in from the top, there's nowhere for it to go. So it sits there like a water weight swamp for your foot to slosh around in. This will not work out well for you – you'll get pruned skin and eventually blisters that will form and then rip off, exposing raw, red skin – it's everything bad you don't want. Waterproof boots are great if you're moving very little and needing a lot of warmth – otherwise, stay away.
In Rich's words, "waterproof boots are good if you wanna kick your feet up around a campfire that you drove to, or if you're a prison guard in Siberia. Otherwise, stick to MACV-1, it adapts to whatever environment you find yourself in."
---
A funny story before we go. A couple weeks ago over Memorial Day weekend, Rich turned 70. He and Nancy came down, we threw a BBQ & Beer kind of party for him. It was nothing special and it didn't have to be. Life's about the time you get to spend with the people you love.
Let me get to the funny part, though. We were a few weeks away from the MACV-1 launch, and I thought it would be cool to have a properly shined pair of boots, and a couple pics of them being shined by, you know, someone who would look great shining a pair of badass boots. And they might as well be mine, the ones I rucked through northern Vietnam that still had plenty of dirt all over them. And even better than me polishing them up, the morning after his party I said, "Hey Rich, it would be so cool looking to get a shot or two of you polishing some boots up. You're way more dignified and polished than I am." You should've seen his face looking back at me. He nodded a little north south and said "OK, yeah, I get it." He knew what I was doing, and what else is new, and the whole time he polished my boots up and ever since he's been ribbing me about how I hate to work and how I always have to outsource the tough jobs to the professionals, stuff like that. It's team room banter and if nobody dishes it out, they don't love you. And if you can't take it, you won't be in the team room very long.
This has been one hell of a journey, and in some ways it's over and in others I hope it lives forever. I hope you all out there find some huge project, bigger than you thought imaginable. I hope you find a team you love, a team you can go to the ends of the earth and back with. And I hope that when you come back you have more answers than you started with. And I hope those beg more questions and I hope that never stops.
And you never know, you might even make a friend you'd go to the ends of the earth with, anytime anyplace, for anything. And what more can you ask for in life than that.