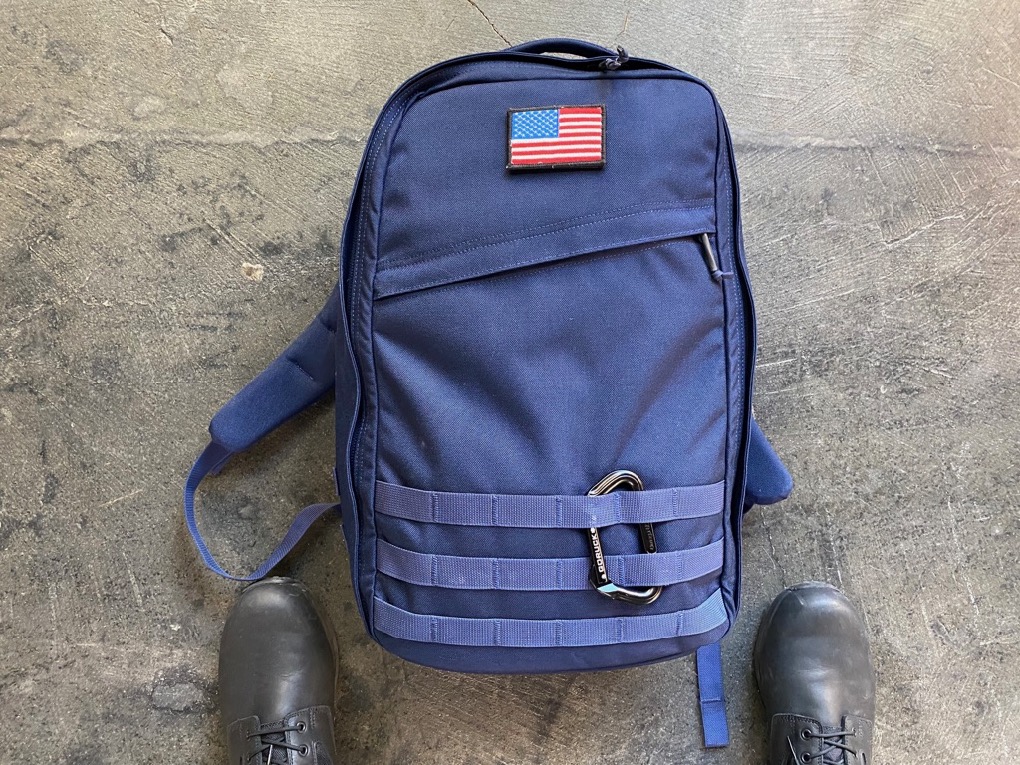 This is the ideal setup for a 2-3 day trip. Just you and your GR1. There's no need for a rollbag — they slow you down and make travel harder, not easier in situations like when you're slower getting on and off the plane, or when you run into that flight of stairs or those cobblestone roads, or when the flight is overbooked and they force you to check it. Or when you don't have a sherpa or a bellhop to do all the work for you, as if that's the goal in life – it's not. There are a million ways that rollbags promise easy but deliver inconvenience. 
One ruck, in my case: a GR1 (26 Liter) in Midnight Navy repping the best patch on the planet because this is what freedom of travel looks like.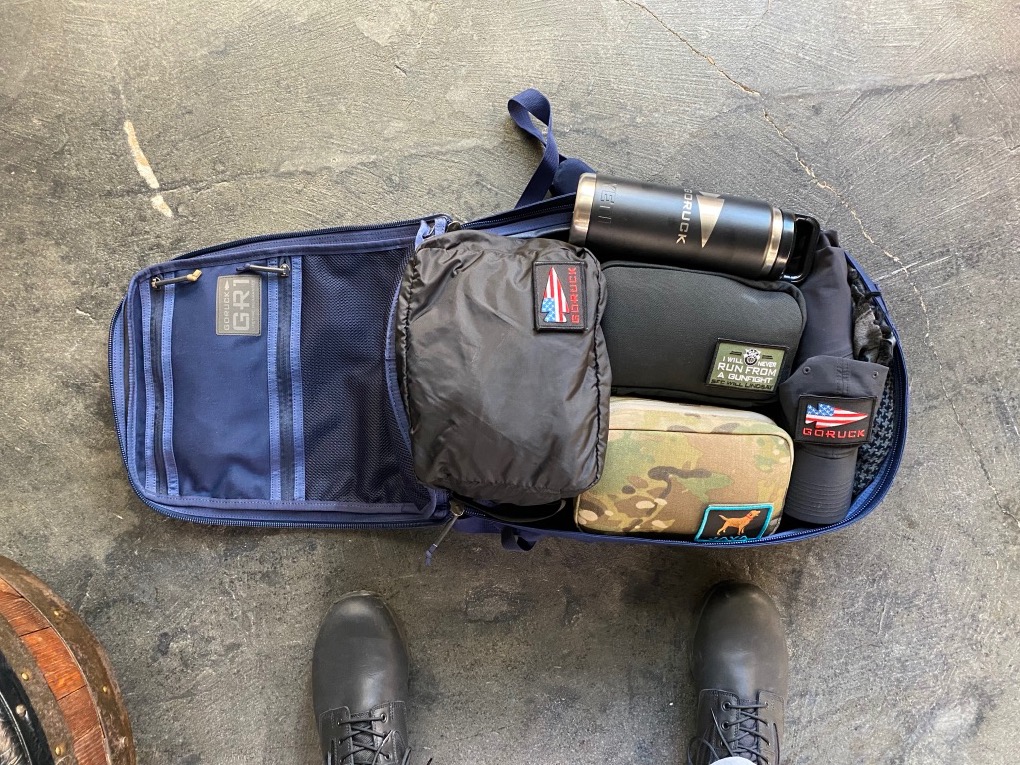 Pack Out
I brought a Leica Camera in the black Field Pocket, toiletries in the multicam one. Clothes in the Packing Cube, a Yeti x GORUCK water bottle and a waterproof cold weather jacket (with a Shemagh and Tac Hat) at the top of the ruck. It was warm when I left Florida, it was cold when I landed. You want quick access to your layers at the top of the ruck so you don't have to dig. Clothes (or shoes) you won't need until you get there, put them at the bottom. As far as clothes, I bring one t-shirt a day up to a week, two pairs of Simple Pants, one pair of shorts. Two pairs of merino wool socks. This isn't that complicated. If you bring more, it slows you down.
Pockets
In the easily reachable upper interior pocket, I usually stash a writing pad for all the good ideas that come at 30,000 feet. And my laptop fits perfectly in the laptop compartment. Pretty straightforward.
Rest for the Weary
And one more thing – I always bring a book, something to read that's not a screen. There is so much draw to screen time, and perhaps I'm growing old-fashioned, but to have something like a book that's not a screen will keep me off my phone and my computer and give my eyes a rest. Long form is timeless, and books are a great distraction from distractions.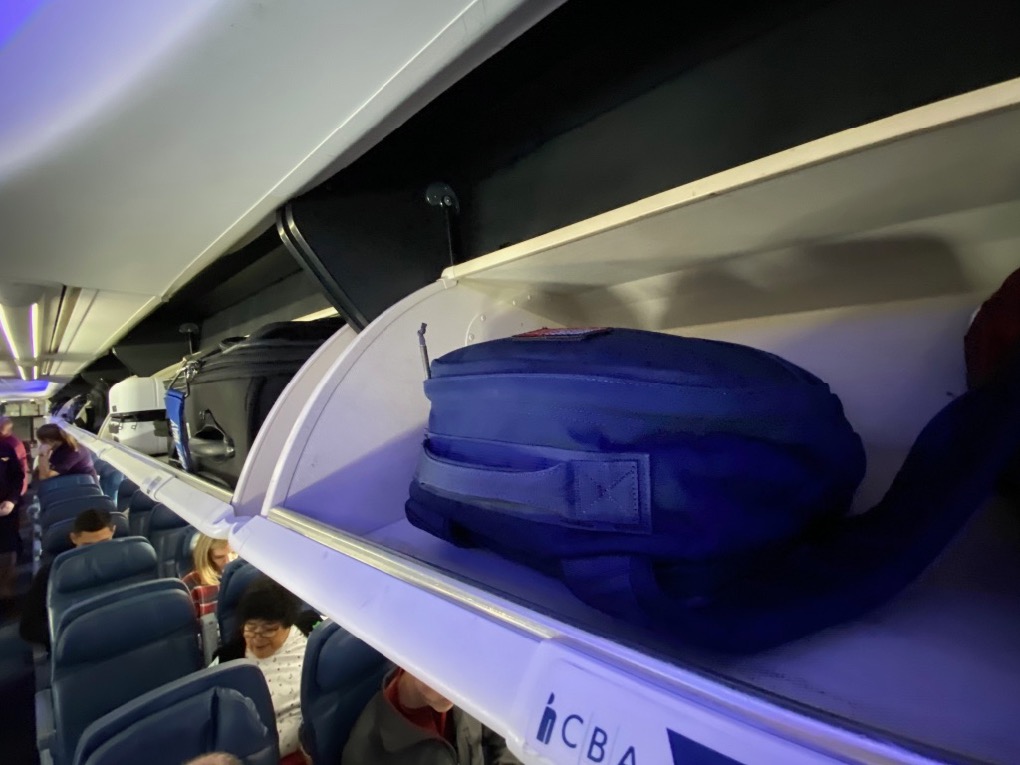 ---
The Destination
Where was I headed? The first ever Mayhem Classic event in God's country, Tennessee. Hotel stairs workouts with Ricky in the morning, at the event the rest of the days. Proud to be a part of it, people are the best part of CrossFit and that was really on full display here. The ruck run ended up at Rich Froning Sr.'s Barn. This is a badass place to end anything, or to spend time, period. It reminded me of my dad's garage in God's Country, Ohio.
The Final Ruck Home
As all good things come to an end, I was all packed up then it's back to that airport grind life. I had a connection to Atlanta — yes, there's a point coming — the flight was delayed, we arrived in the A terminal thankfully because my connecting flight to JAX aka home with Emily and kids before they went to bed was at the other end of the A Terminal. The gate door closes 15 minutes before take-off, when we landed it was 21 minutes before take-off. I sprinted off the plane with just my ruck. There was no roll bag to slow me down and bang into everyone as I weaved past them. Just me and my GR1. I showed up to the gate with seconds to spare and made it home that night, and felt like I had cheated Father Time. Home with the kids or three more hours at the Atlanta airport, that was what hung in the balance. Ruck running through the airport to make my flight was the perfect end to the trip. The lesson is this, I guess – let's not be a nation of rollbaggers, let's be a nation of ruckers.
Win races and make flights like winners.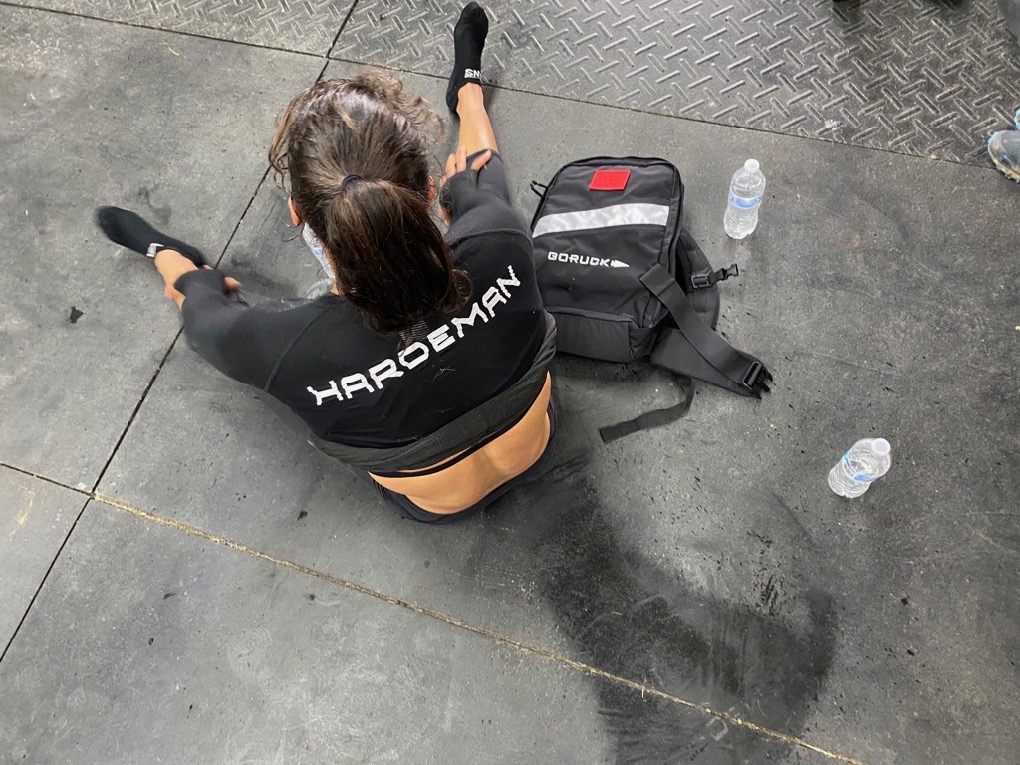 ---
Featured gear: