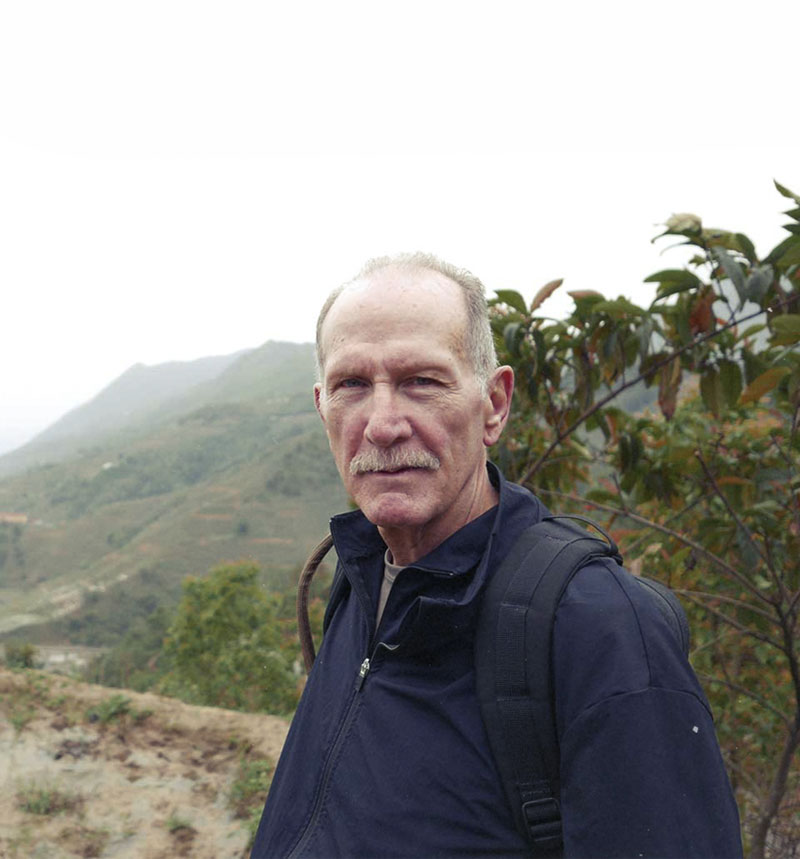 What many people don't know about Vietnam is that after years of colonial rule by the French, much of the cuisine in Vietnam has been influenced by French cooking. I remember walking into the center of Ban Me Thuot in the central highlands years ago and the most overpowering smell in the street was baking French bread. Also, the street food is dirt cheap, and tasty with multiple locations available to get a piping bowl of authentic pho at low prices. It is such a diverse country with lots of great things to do making it a terrific destination for both culture and adventure. It also is one of my favorite places for food in Southeast Asia.
During the development of the MACV-1 boots, we traveled to the beautiful mountain town of Sapa in Northern Vietnam for a field test. This town has become one of my personal favorites.
Vietnam is one of the most beautiful places in the world to visit and yet it can be one of the most brutal.  The countryside is idyllic with slow moving rivers, rice paddies, towering highlands, thick green jungles, white sand  beaches and crystal clear waters. 
It is also a country of extreme contrasts: from teeming cities that rival any industrial center in the west, to quiet rural landscapes, both punctuated with ancient buildings and quiet unassuming people.
Many Vietnamese, especially in the major cities, speak English and are very friendly and helpful to tourists and others who are visiting their country.
Vietnamese culture is quite different from other Asian countries. There are many cultures, religions, beliefs and rituals all within the same country. There is also a vast combination of people from many ethnicities, backgrounds and countries of the world.  They follow Confucianism which stresses loyalty, duty, honor and respect for age and seniority. Overall, Vietnamese people are warm, hospitable and kind and welcome and honor their guests.
Ho Chi Minh and Hanoi, the two primary cities in Vietnam reflect two different sides of the coin. After you get over the chaos of motorbikes coming at you from every direction, these two metropolitan areas can be very cool. With classic rooftop bars, a budding craft beer movement, and an incredible array of food options, spending a few days in these two cities is worth the time.
Ho Chi Minh is the center of commerce in Vietnam and a visit to the War Remnants Museum, Reunification Palace, and Notre Dame Cathedral will yield an interesting background story. Hanoi, the center of government of Vietnam, is a bit more relaxed and lends itself to a Sunday stroll around the Hoan Kiem Lake, Nha Tho Cathedral and the Old Quarter. 
During the development of the MACV-1 boots, we traveled to the beautiful mountain town of Sapa in Northern Vietnam for a field test. This town has become one of my personal favorites.
November through April are the cooler months in Vietnam with the least amount of rain, while May through October are hotter, but have lots of rain.
If you're packing for a trip to Vietnam, you've got to have a bag to put stuff in, and we've got the bag for you. If it's a short trip (2-5 days) the GR1 is the one and if it's a longer jaunt (5-14 days) then the bag to use in the GR2. I've used both and they work equally well. Both fit in the overhead bins on any aircraft, including small regional ones.  With either the GR1 or GR2 you get a suitcase's carry on size and easy packing mixed with the ergonomics and portability of a backpack. Each one opens flat for packing and allows for easy access when you need to retrieve something.
For Vietnam, as well as the rest of Southeast Asia, lightweight, loose fitting clothes you can layer are what you want. Humidity, rain, and monsoons occur during certain times of the year  and must be considered when packing.
Below is a Vietnam packing list that works for 7-10 day trips. If you're gone for longer, you don't necessarily have to pack more. Laundry is cheap and easy to do in Vietnam.
Vietnam packing list
3-5 pairs of socks (wool are best)

4-7 pairs of underwear

3-5 assorted tops (tees/(GORUCK American Polo)
2-3 pairs of pants (GORUCK Simple or Challenge Pants)
1 light sweater/sweatshirt (GORUCK Grid Fleece or Tough Half Zip)

1 rain jacket (GORUCK Simple Windbreaker or American Waterproof Jacket)

1 pair of shorts that can double as a swimsuit GORUCK Simple Shorts)

GORUCK Shemagh

1 pair of flip flops 

Sunglasses/Water bottle

Travel journal and pen (You're bound to find something interesting to note)
If you're traveling to Vietnam in April-October, which is the normal rainy season in much of the country, you should bring:
A rain jacket (The American Waterproof Jacket)

A rain cover for your backpack (optional)

Dry bag for your gear

Bug spray; rainy weather also brings more mosquitos
The best time to visit Vietnam is from December through February – there's less rain and milder temperatures. Especially if you're heading to a higher altitude, like Sapa, you should bring:
A warm layer (sweatshirt, sweater, Grid Fleece)

A pair of warm socks
Packing toiletries can be a challenge. Much of what you need can be purchased in-country. Excellent for packing toiletries and health items are the GR1 or GR2 Padded Field Pocket.
Tissues/baby wipes (small packs for easy travel access)

Shampoo/Conditioner

Toothpaste and toothbrush

Shaving necessities

Contact lens solution 

Feminene hygiene products of choice

Travel towel

Sunscreen/Insect repellent (malaria and dengue fever are present in Vietnam)

Deodorant
Health Items to Pack for Vietnam
Packing a travel health kit is a good idea no matter where you are going, and very important if you have any sort of health conditions or take regular medications. Vietnam has doctors, pharmacies, and hospitals if you need them while in country.
Personal medical essentials

Prescription medications and copies of all of your prescriptions/immunizations

Imodium, ibuprofen, tums/antacid tablets, Benadryl

Allergy meds

, asthma inhalers, and eye drops

Hand sanitizer

Antibiotic cream/ointment

Band-Aids/bandages
Electronics to Bring to Vietnam
For electronics, only bring what you need. A great packing device for your electronics is the GORUCK Wire Dopp.
Phone, headphone, and charger

Travel adapter (Vietnam uses type A, C, and F)

Camera/memory cards, connecting cables and chargers

Portable charger/battery pack

Laptop or tablet and chargers
Packing Tips
If you're using either the GR1 or GR2 you'll be able to take advantage of the exterior and  interior pockets for organizing your gear.
Vietnam is a country rich in history.  Setting at the crossroads of Southeast Asia it has been influenced by its neighboring countries (China, Laos, Cambodia, Thailand, and the Philippines).  As a center of commerce for hundreds of years, it has become an entrepreneurial center teeming with new business. In contrast to its commercial side, there are many side trips for the adventurer that will lead you to important historical sights, and cultural gems hidden throughout the countryside, mountains and busy city streets. Vietnam has something for everyone.
– Richard Rice
5th Special Forces Group
US Army 1966-94
Senior Advisor, GORUCK
---
Featured Gear: