At GORUCK, I am a "jack of all trades". My day consists of jumping from working on partnerships, building out emails, creating product pages to taking photos. That being the case, I need to have numerous tools at my disposal to get the job done. The load out below is my EDC for not only my workday, but traveling (plus a 32L Kit Bag) and going out to shadow events. My ruck can basically become my mobile work station no matter where I am.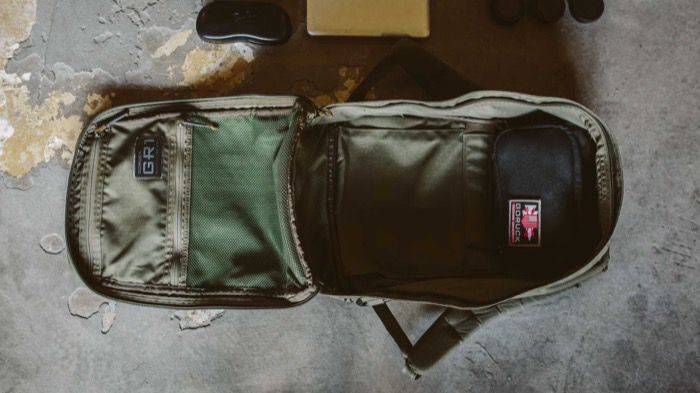 First off, I bring my Ranger Green GR1 to work with me everyday. It is basically required. If you bring anything other than a GORUCK ruck, whoa. I also have a GR1Field Pocket where I store my extra DSLR lenses. I didn't want to undo the MOLLE, so in the ruck she stays.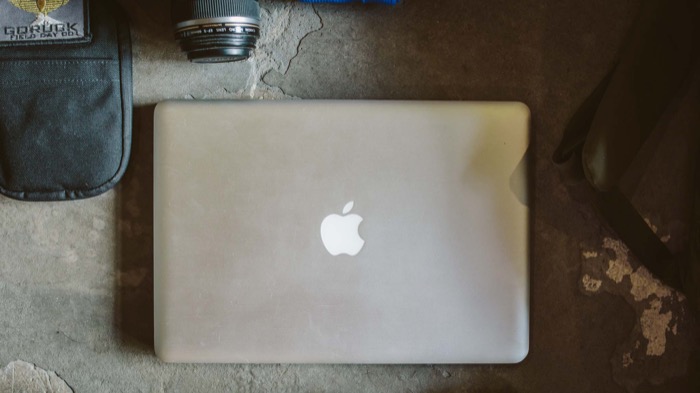 Thanks to our "bomb proof" laptop compartment, I can safely transport my MacBook to work with me everyday. Yeah, I am an Apple fanboy. So sue me.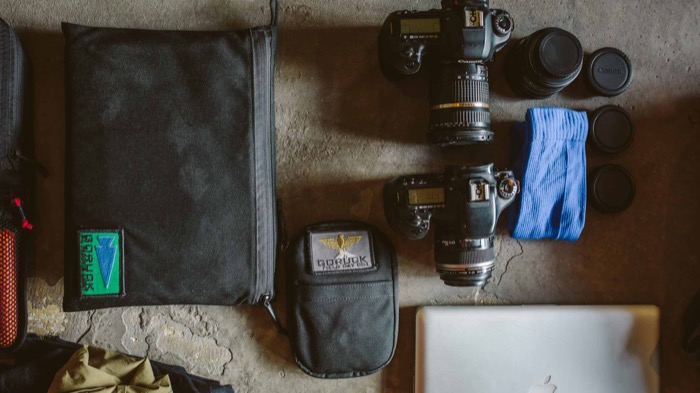 Now we get to the fun stuff.
Some of the gear pictured above is considered a "unicorn" by some, meaning we no longer manufacture it, sorry. I have a *discontinued* GORUCK CORDURA folder with a St. Paddy's Day patch on it (do a St. Paddy's Day event if you can by the way). In here, I keep my random papers and print-outs ranging from super TOP SECRET agreements to menus from favorite restaurants.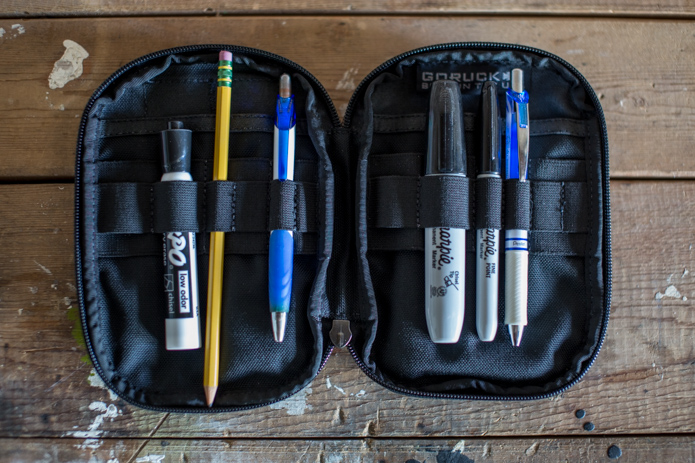 With the super rare 001 GORUCK Field Day patch front and center is the *discontinued* Tool Pouch. I keep pens, pencils, markers and sometimes even a small hard drive in here. I keep this pocket in my front slanted pocket of my GR1.
I also have two DSLR Cameras, a Canon 7D and a Canon 5D Mark III. The 5D is my go to and the 7D is more or less a back-up. These are usually in my ruck with lenses attached for quick access. But if I am traveling I will detach the lenses and put the bodies in a GR2 Field Pocket.
I carry the following lenses:
Sigma 50mm – My go to
Tamron 10-24mm – My wide-angle
Canon 60mm Macro – For extreme close-ups
Two of the above lenses are usually in my GR1 Field Pocket with the socks being used as a soft barrier to keep them from banging into each other.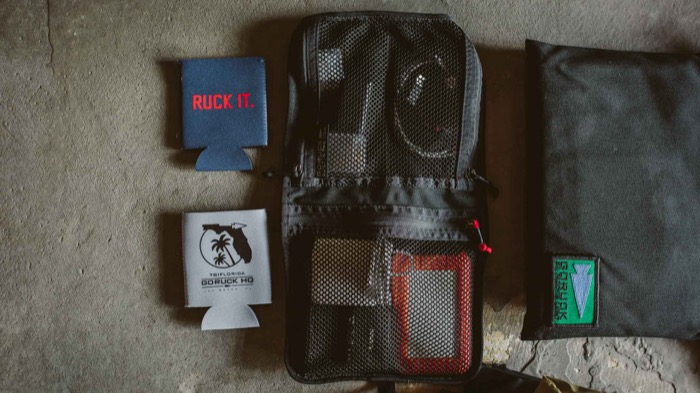 The Wire DOPP is a key piece of gear for me. I keep all my chargers, cables, extra batteries, hard drives and spare headphones here. It is a great way to keep everything organized in your ruck and easily accessible. When on the go, you need to be organized and having cables and chargers all over the place never equates to efficiency.
I also always have (2) Koozies in my ruck at all times. One for me and one for a friend. Come and visit HQ sometime and we will happily offer you a TGIFlorida Koozie to crack a cold one with us.
These items are kept in the large internal zipper pocket on the inside of my GR1.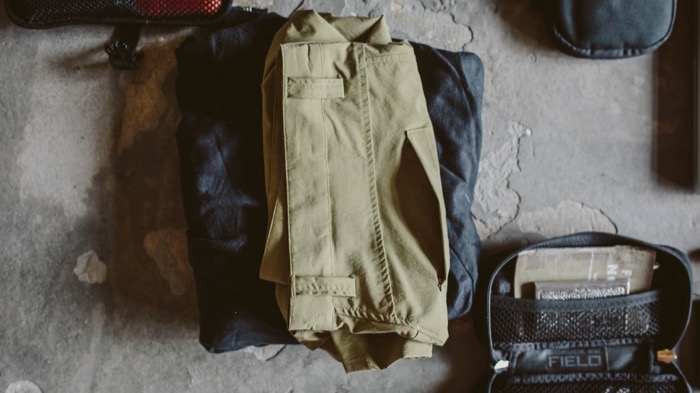 At the bottom of my ruck, I keep a pair of Simple Pants and a *discontinued* GORUCK Spearhead hoodie. While I live in Florida, A/C is cold and sometimes it gets below 60 degrees (move to Miami weather) and I need to add a layer. These items also double as a cushion for my camera gear for when I put my ruck down. Win win.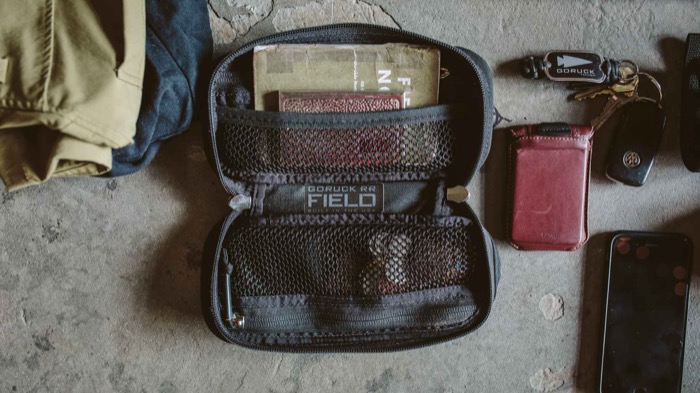 Right on top of the clothes at the bottom of my ruck, I have an Echo Field Pocket. This is a great place for my Field Notes notebook, business card holder, spare change and challenge coins. I also keep random thumb drives and other small peripherals here. As I am sure you can guess, having extra storage (be it hard drives, thumb drives, etc) are essential to being an on the go employee.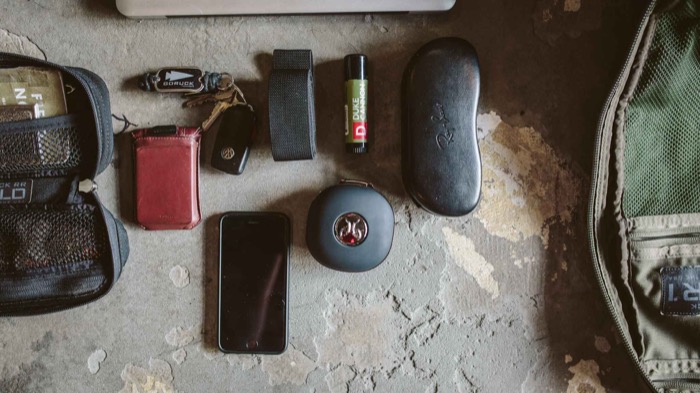 Finally, I keep the above items in the small zipper pocket in the interior of my GR1. They are things I need quickly and can be accessed by just unzipping the top of my ruck.
In this pocket I keep:
A Bellroy Elements Wallet
Car Keys
iPhone 6S
Duke Cannon Lip Balm
Camera Sling
Ray Ban sunglasses
Jaybird Bluetooth Headphones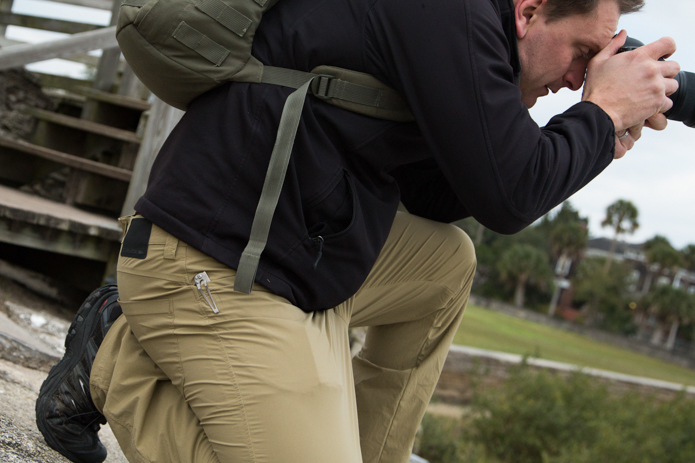 So there you have it. My load out. I hope this helps to get you to buy a ruck or more than one if you already have one. I mean I work in marketing after all.