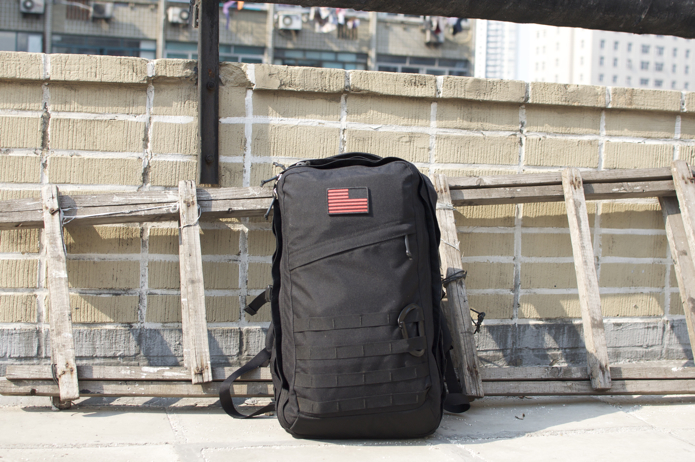 GR2 travels really, really well.  I'm no stranger to the austere, the posh, or the grind of getting to both, but no matter where I'm going I want to get there with as little hassle as possible, find a place to set my bag down and then find an adventure or two.  I hate the traveling part of travel anymore: the lines, the baggage check, separating out my laptop, stripping down at security. When we were designing GR2, our goal was to create and simplify the one travel bag we wanted to take with us anywhere. So that's what we did.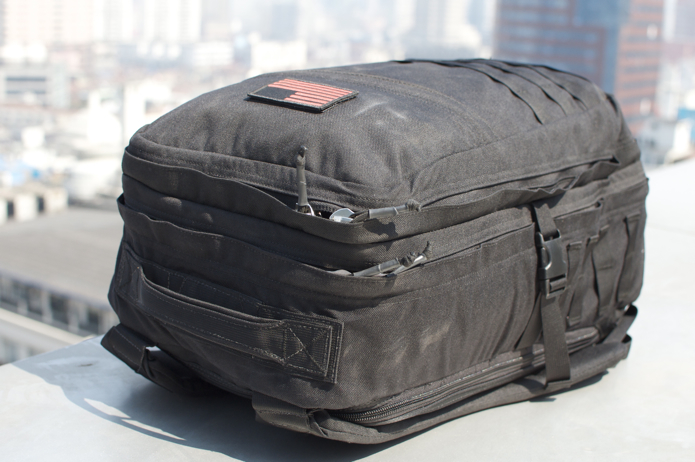 Inside this bag, on the ledge of my hotel in Shanghai, is everything I took to China with me for 2 weeks. I'm wrapping up my degree from Georgetown's business school and this was part of it.  Red is the lucky color over here, so I chose our red reverse flag.  Though I was perfectly comfortable having just one bag, my GR2, this is not a lecture in minimalism, as people have different needs when traveling, and there is not one right way to use GR2 or any of our bags.  And that's the point: mine is mine and yours is yours, it's the bag that adapts.

GR1 Explained goes into great detail about many of the same features you'll find on GR2: military-grade 1000 Denier Cordura, silent 550 parachute cord zipper pulls, exterior and interior webbing, and our overall commitment to building the best in the good ol' U.S of A.  GR1 is a dayruck, GR2 is a weekend ruck.  GR2 is significantly bigger (40 liters vs. GR1's 26 liters of capacity) and lends itself to slightly different usage, which for me means longer excursions or trips.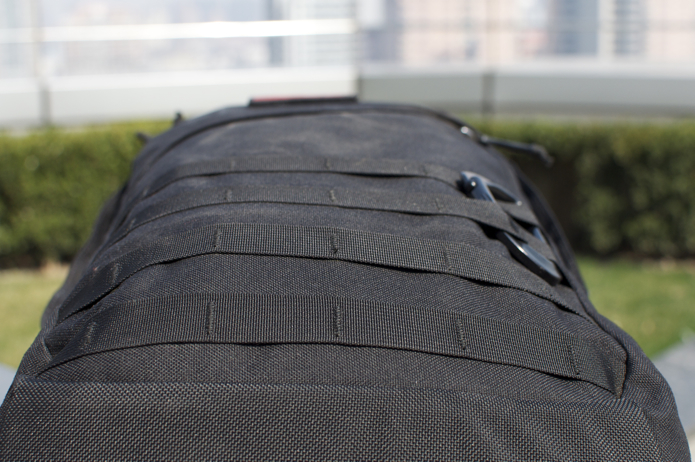 Webbing strips on the exterior to allow for additions, and customization.  In my case, simply a D-Ring (carabiner) – which always seems to come in handy.  This system of webbing is the same one I used in the military, which we used to set our gear up with the accessory pockets we wanted.  Those are on the horizon for GORUCK, but we wanted to be able to keep it as minimalist as possible.  My preference is for a streamlined exterior and an interior that allows for maximum organization.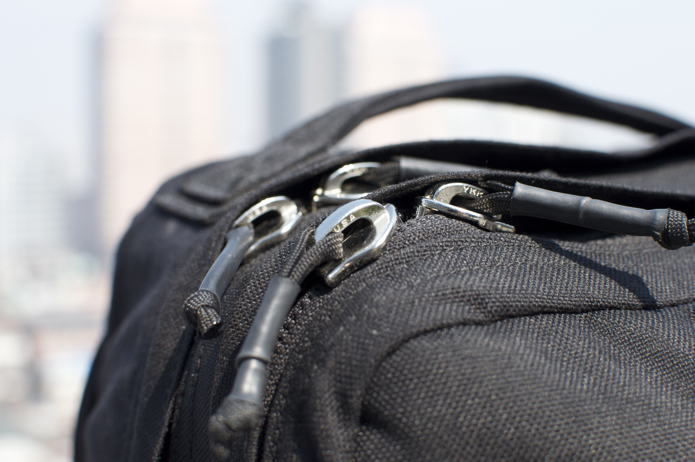 GR2 has two exterior compartments, hence two sets of zippers. This is in addition to the laptop compartment next to the wearer's back, of course.  We only use YKK made in the USA zippers, with gutted 550 parachute cord and rubber shrink wrapping to make grabbing the pulls easy no matter the conditions.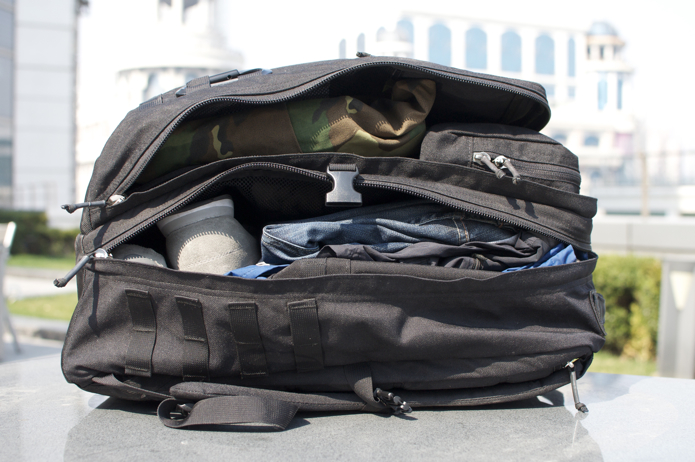 The two main compartments unzipped simply to show what they look like before I compress them down to close all the zippers.  There is a lot in there.


Special Forces trauma medical bags were the leading inspiration for GR2's functionality. Our medics would lay their bags out flat, just as this one is, next to the casualty they were treating.  Vital to them was that they could access everything in there as quickly and easily as possible.   Everything had a proper place, in the proper pocket.  Their packs never allotted for clothing as mine does, but the principle is the same: everything in its right place, and the more I use it the more I have a particular place for a particular kind of thing, be it clothes, electronics, books, or beer.

The main compartment, with my blue jeans on top, offers the most volume, and is where I pack my clothing, shoes, and generally anything that will take up a lot of space. This compartment is large enough to accommodate a hang-bag, though I did not bring one on this trip.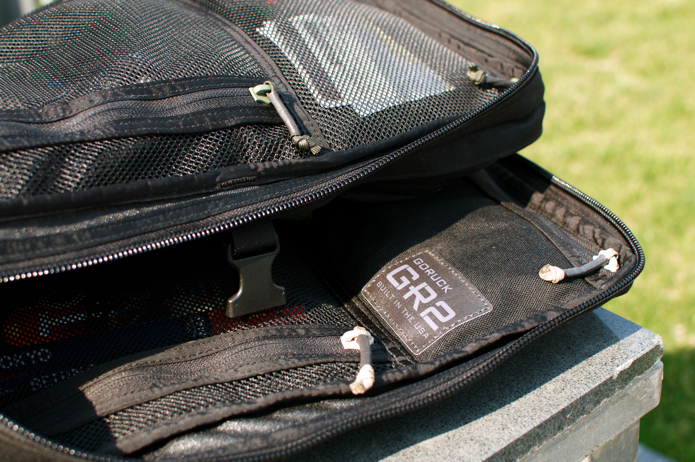 Both flaps folded away from the main compartment.  Mesh pockets make it easy to see what's inside, and we also color-coded the zipper pulls by compartment.  On the top are foliage green pulls, underneath are coyote tan pulls.  People are visual, and there are a lot of pockets in GR2, so this is just one more way to help remember where something is and to differentiate the various options for where to place what.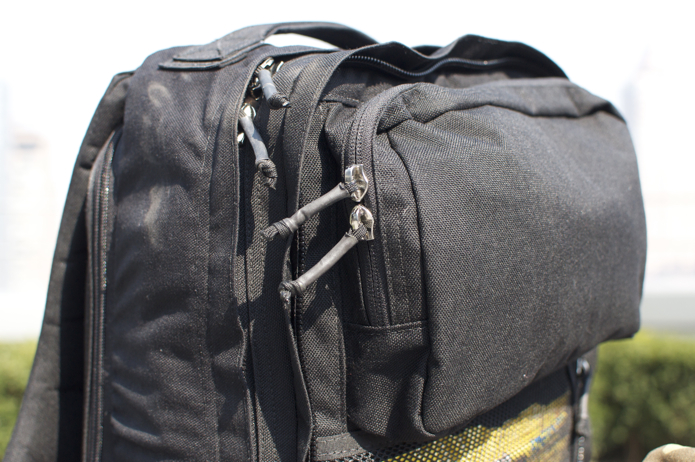 The main compartment is zipped up, only the exterior flap is open.  Given that there was more space in GR2, we built in one pocket with some additional volume capacity.  On a side note, the yellow seen through the mesh beneath it was my safety reserve in China: 42oz. of Peanut M&M's.  Their soul mate, beer (aka the latest in advanced cellular repair technology), is housed in the volume pocket.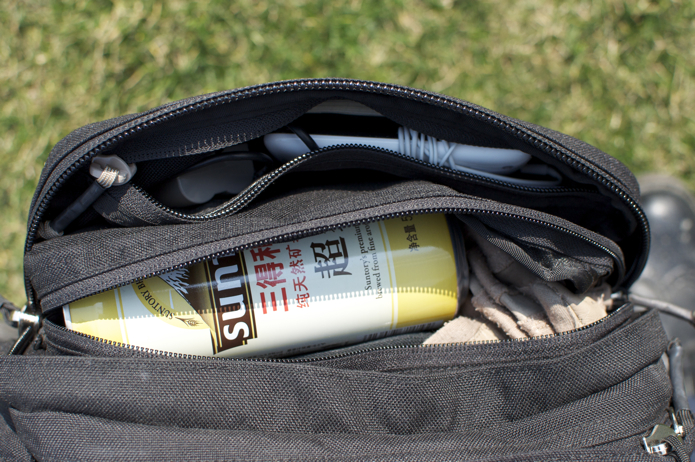 I took a liking to Suntory (Bill Murray's quote from Lost in Translation: "For relaxing times, make it Suntory time"), which is actually Japanese but happens to be the most popular beer in Shanghai.  Truth be told I tried them all and this was the one I went with, though Tsingtao was good, too.  The volume pocket houses a couple tall boys perfectly, along with gloves, a watchman's cap, and sunglasses beneath the beer. Things with volume that you want to have quick access to.  I'm used to "working" out of the top of the bag.  In this pic, I set GR2 down and opened up the exterior compartment to access its top pockets, both of which are open in this picture.  At the very top is a closed pocket (non-mesh) with a coyote pull where I house things like my iPod, spare camera battery, notepad, etc. Things that take up less volume, which would probably sink to the bottom of the volume pocket.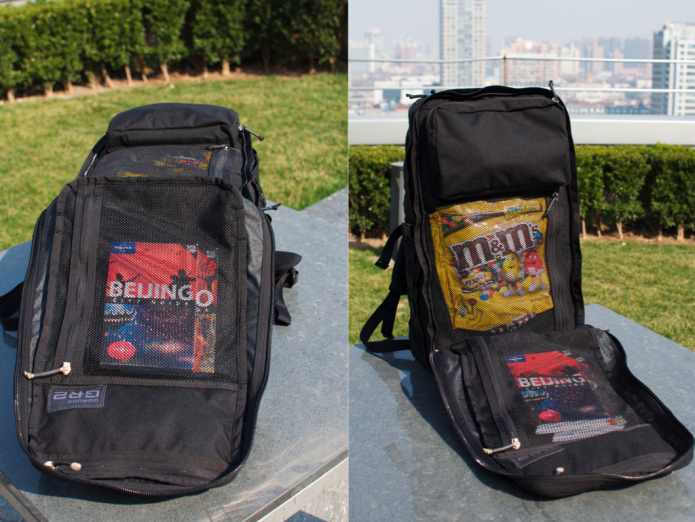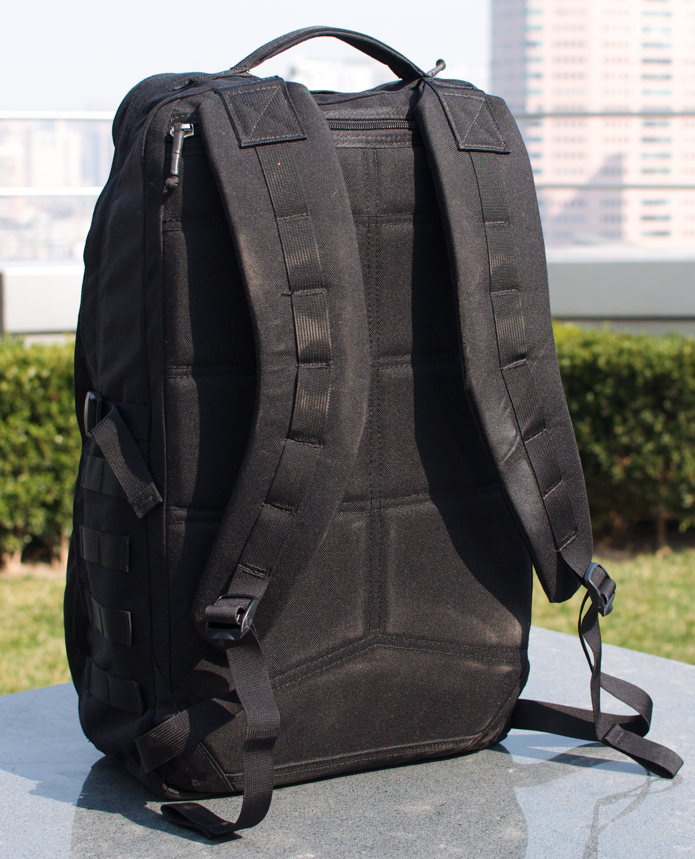 The back panel, similar aesthetics, construction and functionality to all our rucks.  The material is consistent with the rest of the bag (1000 Denier Cordura), and the laptop compartment, which can also hold a hydration bladder, sits next to the wearer's back.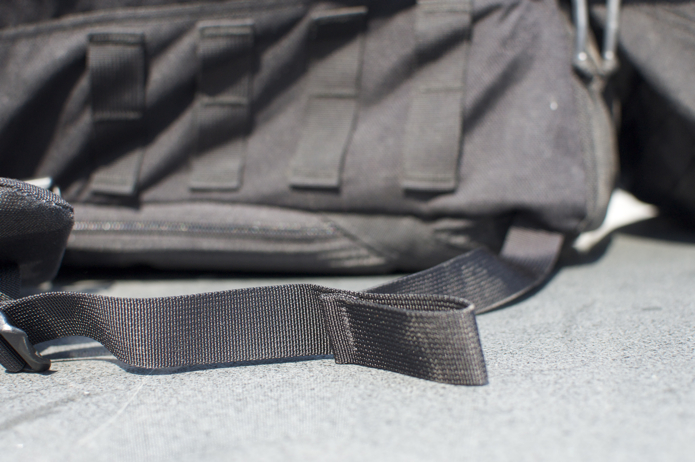 The ends of the webbing that cinch down the shoulder straps.  The first run of GR2's we made did not have this loop on them, and we often had difficulties grabbing onto the end as it buried into the buckle. We made this small adjustment to increase the functionality.  If you have one of the earlier GR2's, you can send it to us and we'll fix it; conversely, this is a really simple fix at any sew shop which requires no knowledge of our construction techniques.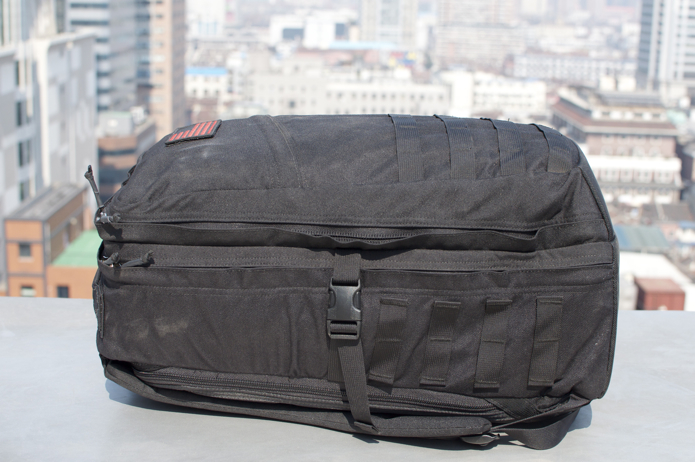 GR2 has a compression buckle on both sides.  I have used this in the past to hold a sleeping pad, for instance when hiking up Pikes Peak.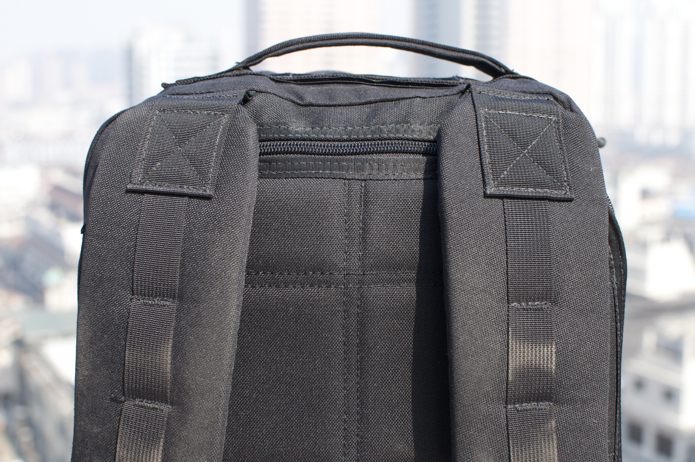 The shoulder straps are designed to allow the wearer to carry a heavy load comfortably.  GR2's are wider and thicker than GR1's because it will often carry more weight.  The way we integrate them into the ruck itself causes the user to wear the ruck high on their back, which is more comfortable.  Rucks that sit lower take their toll on the wearer's lower back.  The idea is to get as much weight next to the wearer's spine as possible for load distribution.  This is also why we build pockets into the top of the ruck that carry weight.  An evenly distributed pack that rests on the top of the spine is always the preferred technique, and allows for much additional comfort, especially over time and usage.  People often wonder why our rucks are so comfortable after extreme use, and this is one of the reasons why.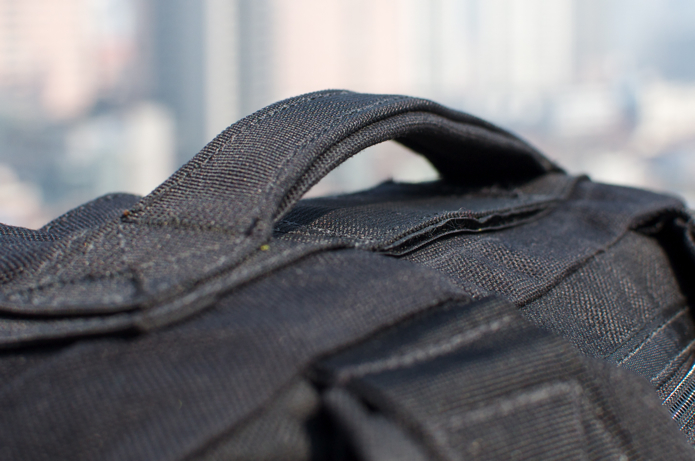 GR2 is meant to hold more weight, and I use the carrying handle often in airports or just to set it down and gain access to the laptop compartment or the top pockets in the compartments.  With repeated use, especially when traveling, padding increases the comfort the same way that it makes the shoulder straps more comfortable.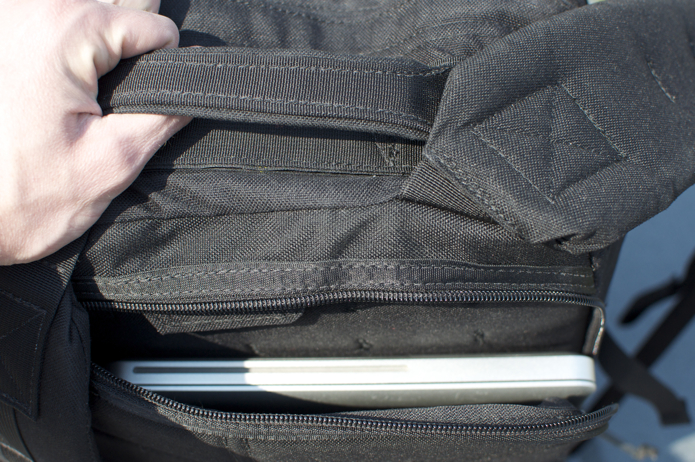 The laptop compartment is next to the wearer's back.  With all of our rucks, this type of usage occurs often. I fold the shoulder strap back and then unzip the compartment, giving me access to my laptop or whatever else I wanted to segregate from the main compartments.

The bottom takes a beating, so we reinforced it.  You're expected to use it hard, as I do.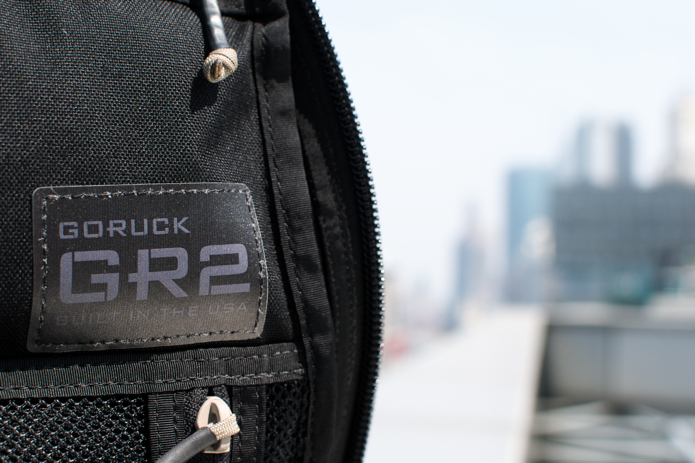 This is the only logo you'll find on or in the bags.  It's on the interior and meant to be subtle, and it's always a reminder that GR2 is Built in the USA.  For me, this is synonymous with the brand, and always will be.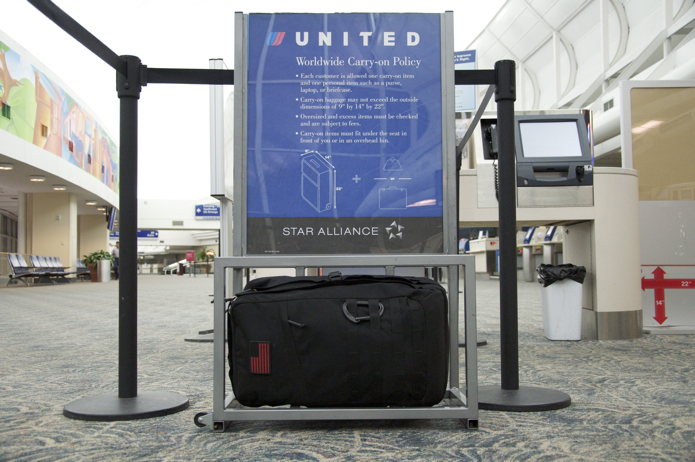 Back home in Jacksonville to an empty airport, I took one last picture to answer the most often asked question about GR2.  Yes, it is carry-on friendly, domestic and worldwide.  So travel hard.  Despite the hassle, it's still worth it.
Find GR2 here.