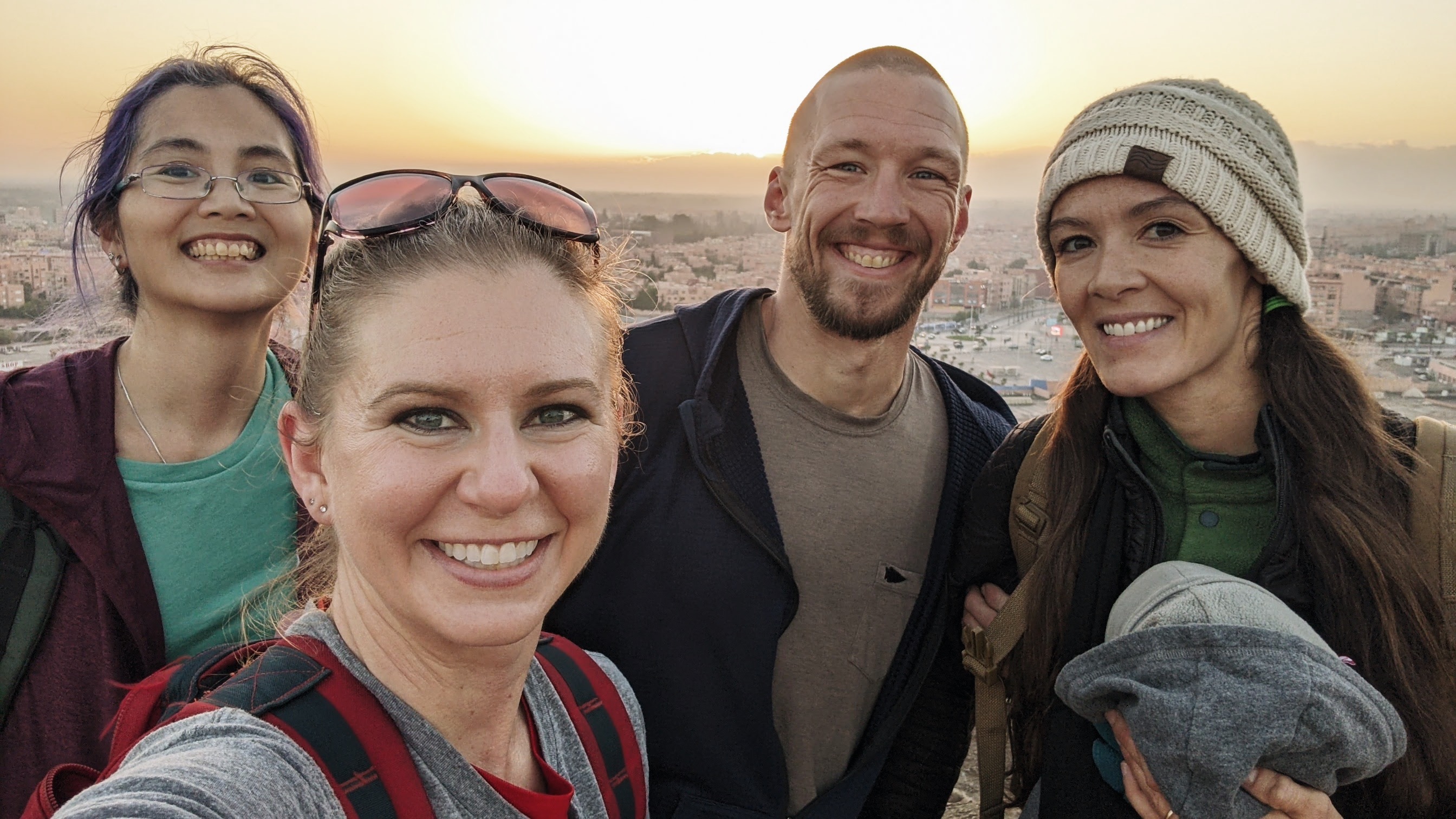 "You deserve a vacation. So there!"  After almost two years of COVID hell, one of my dear friends, Winnie, realized that I was in dire need of a break.  She had recently started working for a travel agency specializing in Moroccan tourism, and her company wanted to send her to Morocco for two weeks to acquaint her with the accommodations and excursions that she would be pitching to prospective clients.  She invited me to come along, and after a conversation with my boss that basically went, "I am going, or I am leaving," I found myself on a Royal Air Maroc plane bound for Casablanca in early November 2021.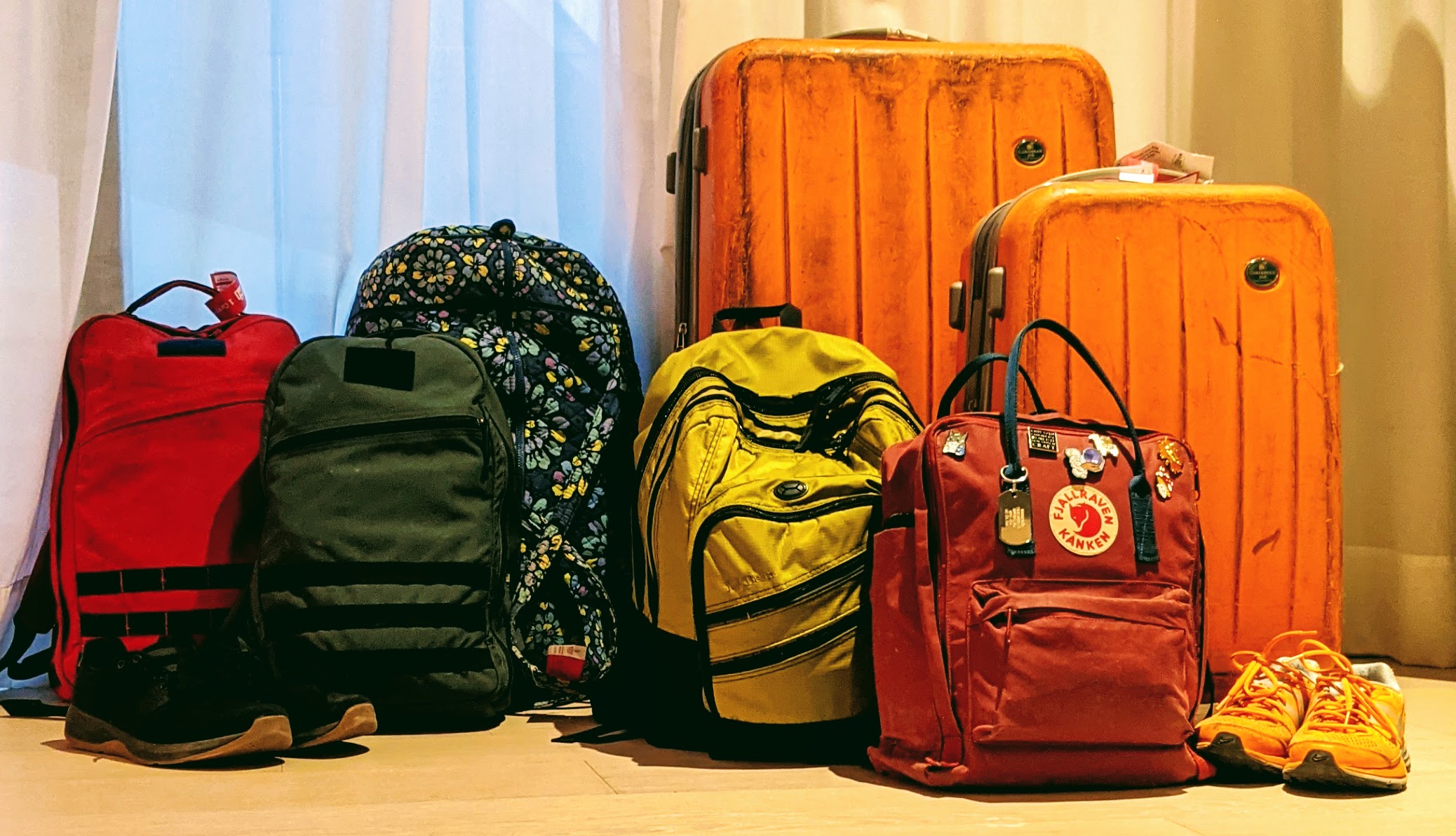 Now, this was my first vacation in three years, and it was the first time I had traveled to Africa.  I wasn't really sure what the weather would involve, or what we would be doing, or what I would need to pack, but I was reasonably confident that I could fit whatever I needed into a 26L American GR1, a 15L steel Bullet, and an old Vera Bradley duffel bag (pictured left).  My only real goal?  No rollaboards.  I wanted to be self-sufficient, readily mobile, and organized – and that did NOT involve hoisting a hard-sided suitcase (pictured right) into an overhead bin.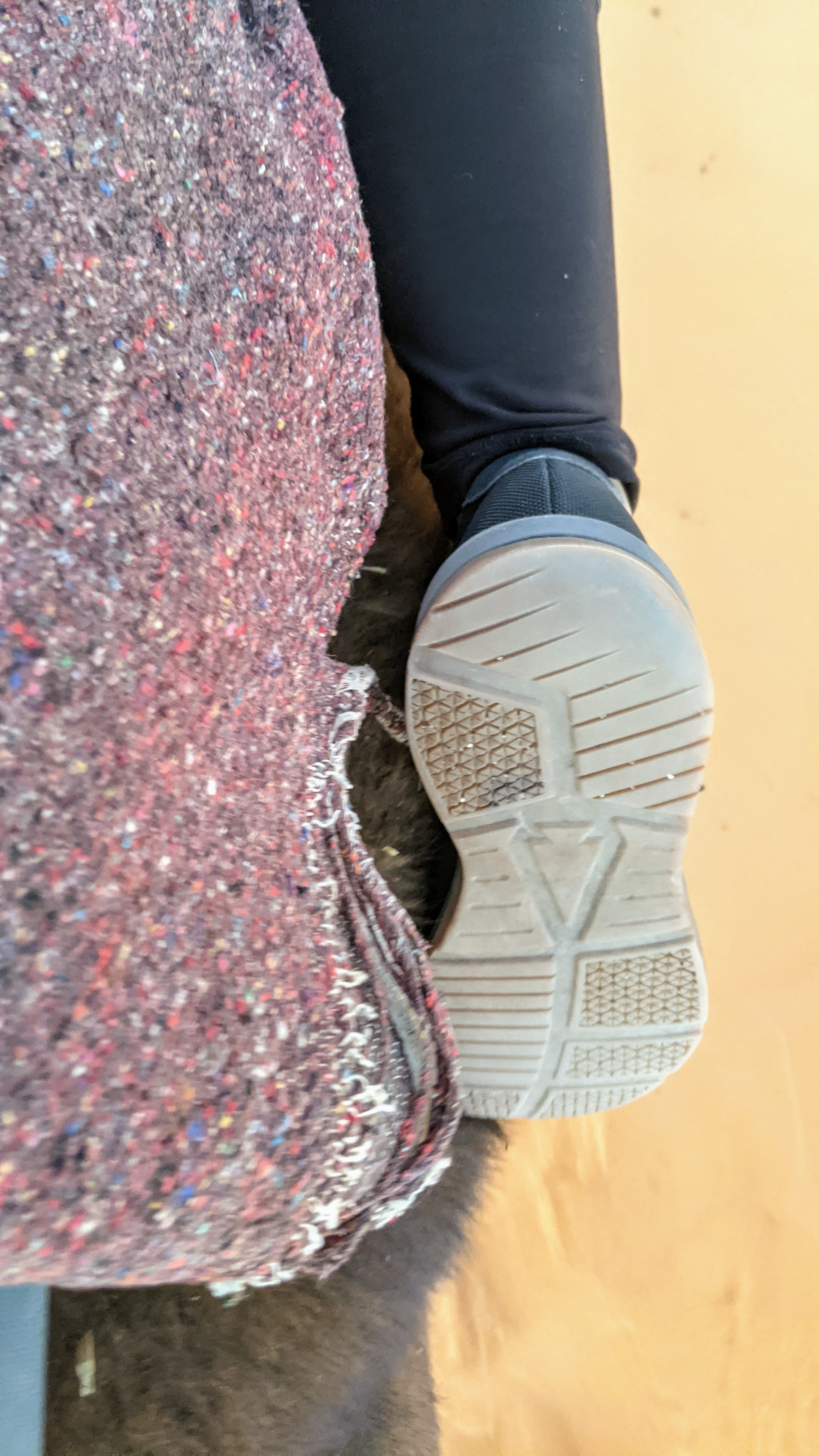 Fortunately, packing footwear was easy.  I had been using my black Ballistic Trainers pretty consistently for running, rucking, and gym work, so they were an easy choice for everyday footwear that I could use for hiking, climbing, working out, and even riding a camel (pictured right).  These shoes are great for daily wear because they are super comfortable and provide a secure sole with sturdy support, which is helpful when your daily activities include climbing 800-year-old worn stone steps or roving through shifting sand dunes in the Sahara.  Also, in a traditional Muslim country that embraces modest dress, these black-goes-with-everything trainers were the perfect choice over my flashy, fluorescent pink Asics running shoes.  I supplemented my Ballistics with a pair of black flats and a pair of rubber flip-flops, and I had zero footwear issues throughout the entire two week trip.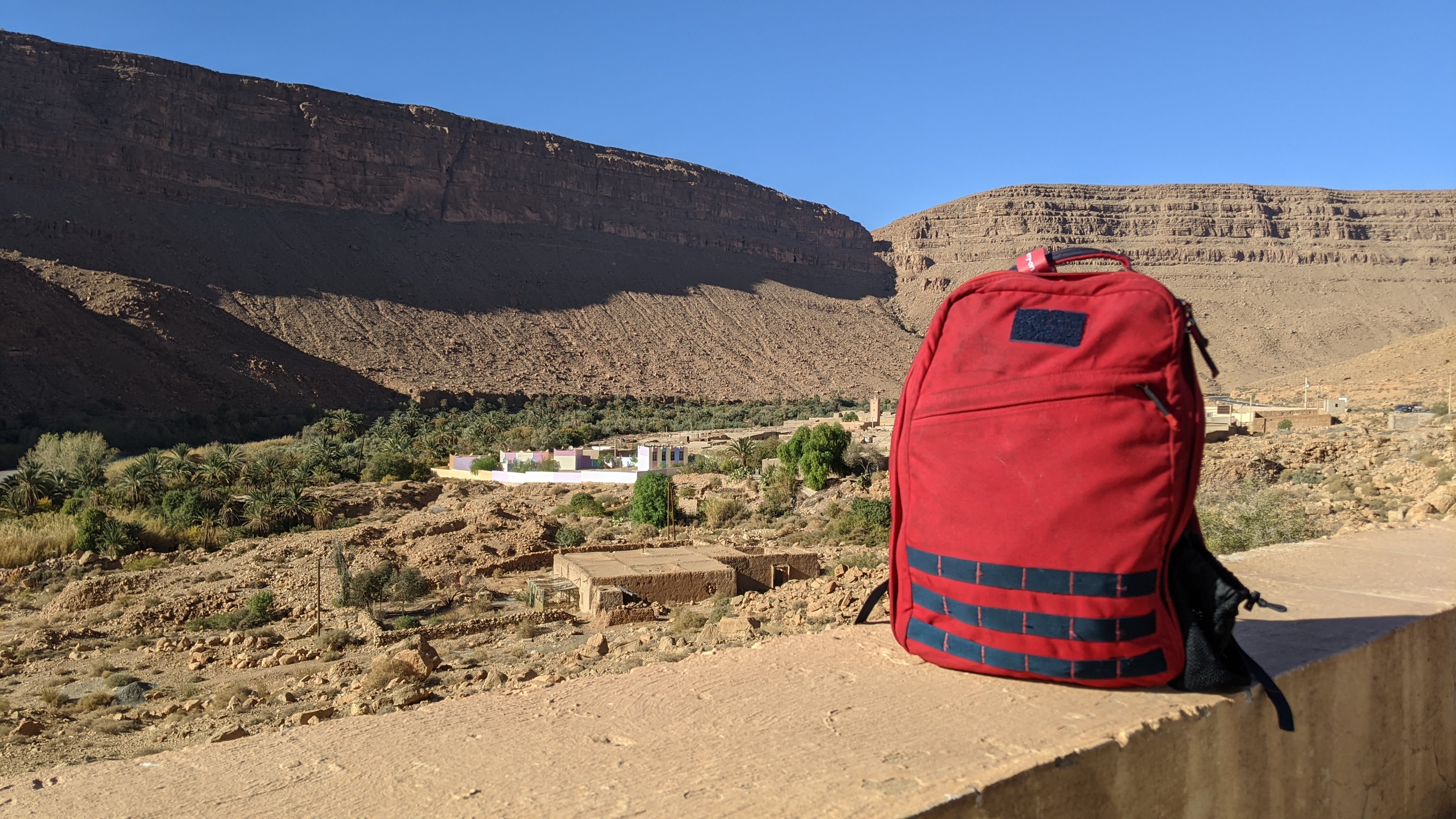 Our itinerary included several modes of transportation – planes, trains, automobiles, ponies, camels, touring vans, and good old-fashioned walking.  We traveled across most of the entire country, from as far north as Tangier to as far south as Merzouga, in the Sahara desert, and Agadir, on the Atlantic coast.  We spent just one night in many cities before driving to another destination on the following day, so having highly portable luggage was invaluable.  My packing strategy was simple: most of my clothes went in the duffel bag (with sink/shower washings as needed), while my valuable personal items (toiletries, passport, laptop, electronics, souvenirs) went in the GR1 in the trunk, and my "entertainment kit" (knitting, snacks, wallet, sweatshirt) to keep me busy while we were driving lived in my Bullet in the backseat with me.  Additionally, on the outbound trip, I made sure to fit my Bullet inside my GR1 while I was packing, Russian matryoshka doll style, so I could ensure I'd have an extra empty overflow bag for souvenirs on the way home.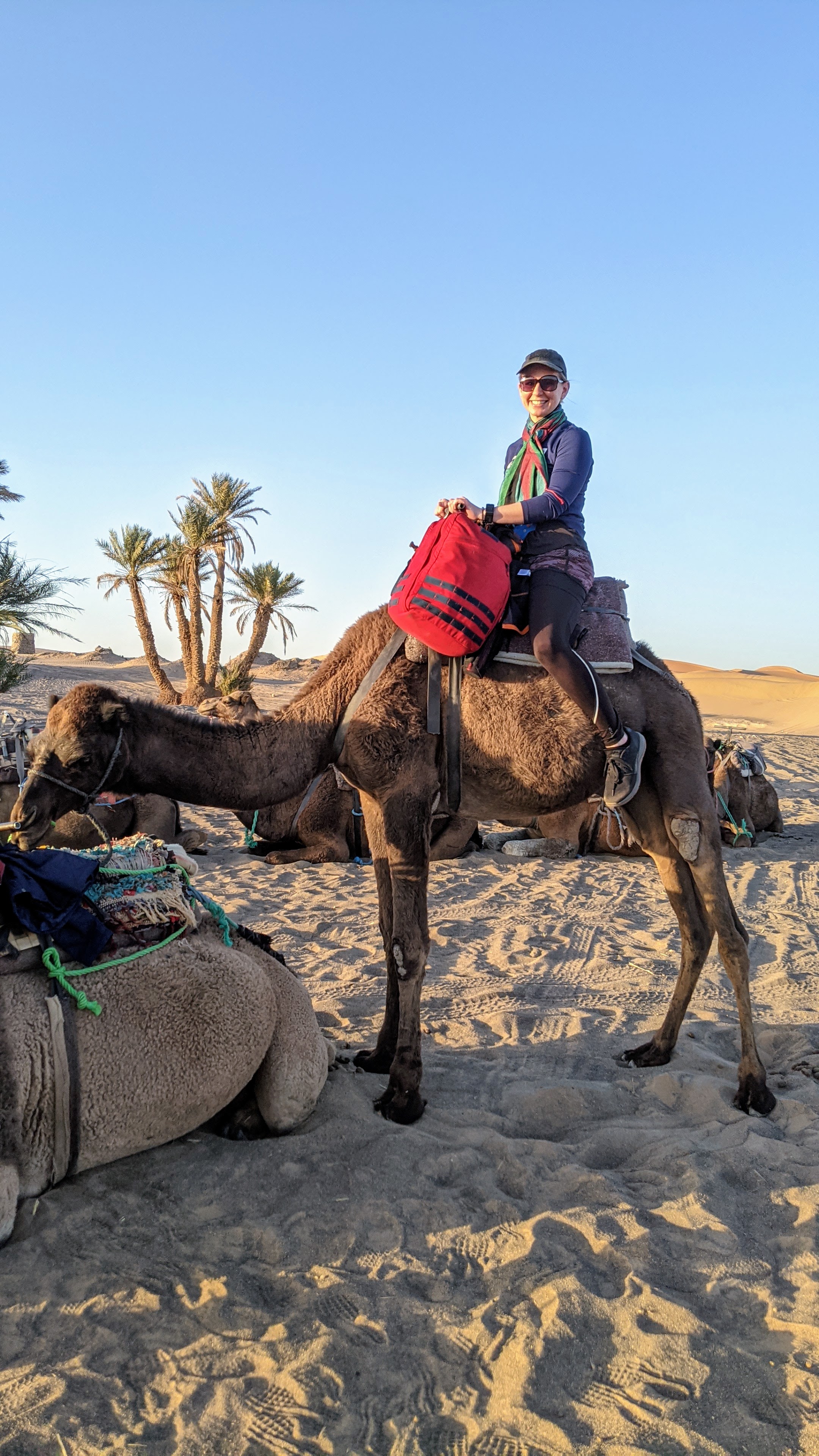 The first week was spent road-tripping around the northern part of the country – Casablanca, Rabat, Tangier, Fes, Chefchaouen, Meknes, and some other fairly urban towns and cities.  The second week, however, was when the terrain became more rarefied.  We spent two nights in the Sahara, riding camels to a glamping outpost in the dunes of Erg Chebbi and listening to Berber musicians play drums and sing around a campfire under the desert sky.  My bright red American GR1 was perfect for our overnight desert expedition, shoulder straps looped securely around my camel's saddle handle.  The bag repelled the few drops of rain we had overnight and was large enough to easily fit two changes of clothes, my personal electronics, toiletries, snacks, and a water supply.  My Ballistics were up to the challenge, sturdy enough to help me climb onto my camel but lightweight and sure-footed enough that trekking around in the sand wasn't a chore.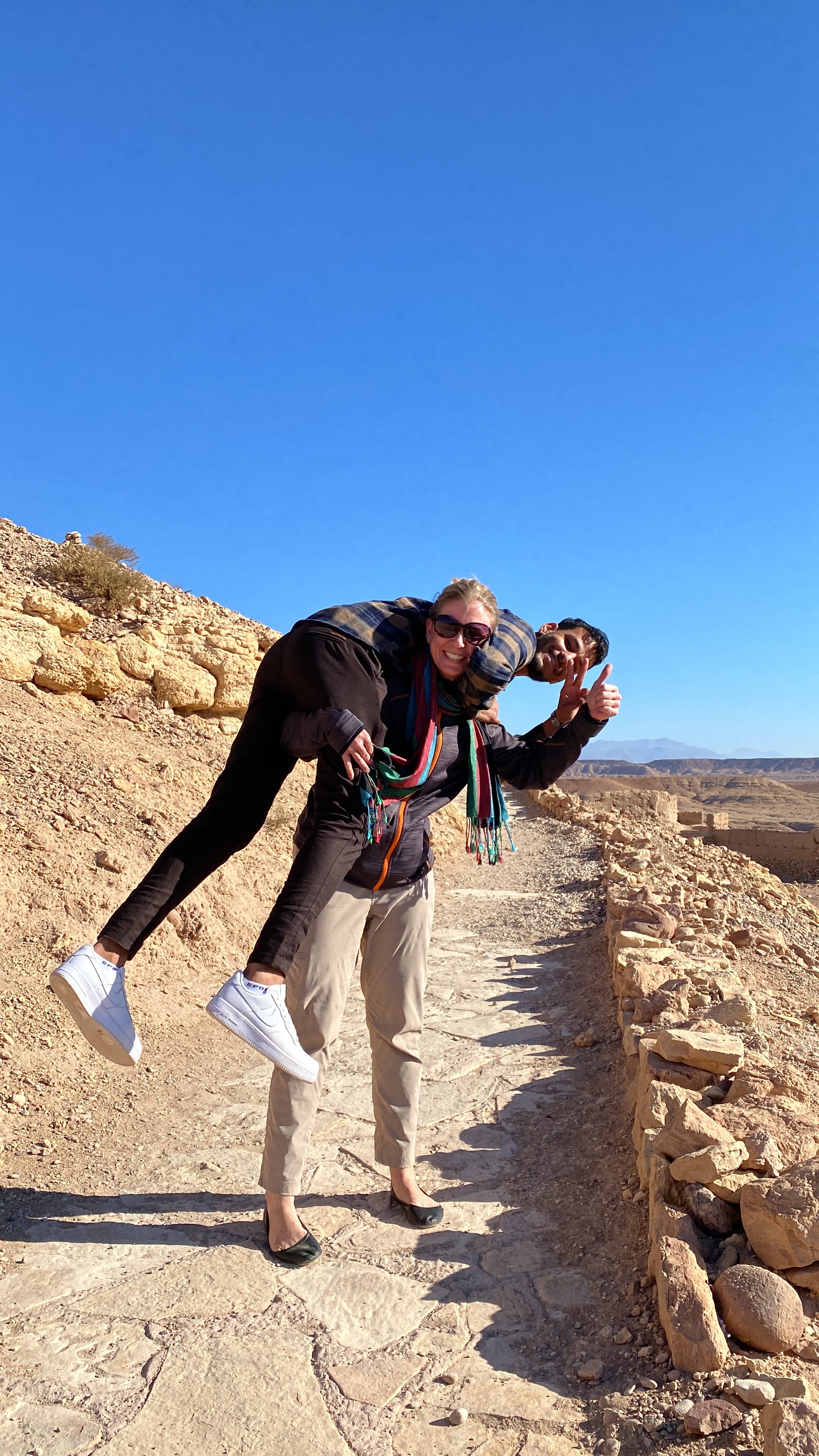 I was casually tracking social media during our trip and saw how much fun the GORUCK nation was having with Chad 1000X and the Veterans Day events while we were stuck in the touring van, knitting and snacking and practicing our Arabic on Duolingo.  Not wanting to miss out on some Good Living™, we climbed to the top of the mountain city of Ouarzazate and took the opportunity to practice buddy carries up its numerous stairs.  However, as a GRT in the wild, after a week-plus of mostly sedentary activities, I was ready for an adventure.  Our accommodations had been noticeably devoid of Western fitness facilities, and the conservative Muslim culture was a little daunting for an American woman trying to run outdoors, alone, in her yoga gear in foreign streets.  Forget the camels; I was chomping at my own bit and itching for some physical activity.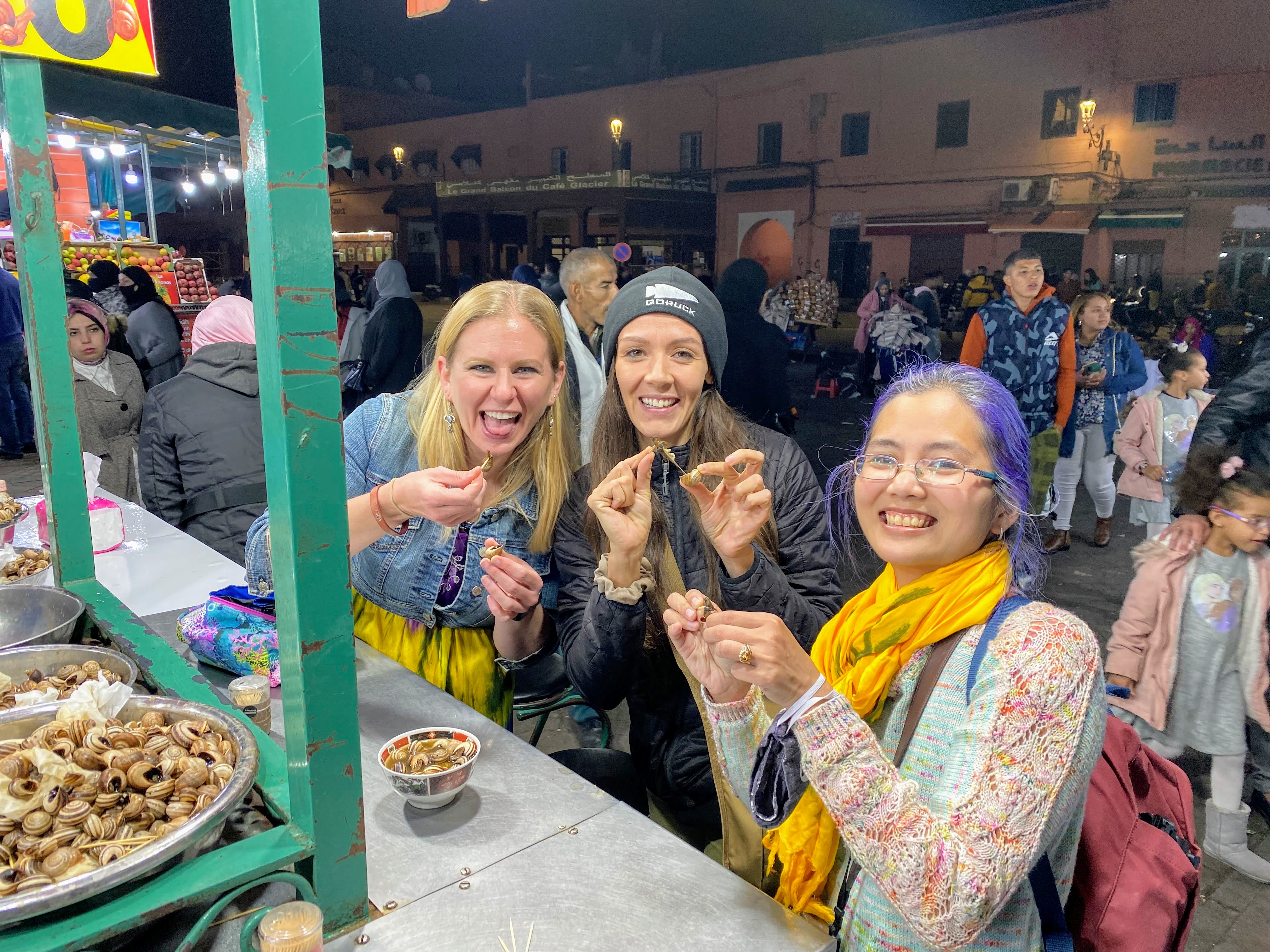 Now, if anyone reading is familiar with GORUCK cadre, then you might be aware that central Morocco is home to GORUCK's very own Cadre DS.  I hadn't seen Cadre DS since the NYC HTL events of 2019, before COVID, so I was stoked when he invited Winnie and me to see his new hotel, Riad La Vie, in Marrakech.  We met up with him and his family, wife Izdi and new baby boy Pollux, for dinner in the riad one night and enjoyed delicious home-cooked traditional Moroccan fare: chicken tagine with vegetables, khobz flatbreads, savory-sweet chicken pastilla, and decadent crème caramel for dessert, followed by a trip into the medina for a $2 bowl of simmered snails and fresh-squeezed pomegranate juice.  The food was satisfying; the company was warm and inviting… and when DS asked if we wanted to participate in an early training ruck the next day?  HELL YES, we did.
So, at 0700 the next morning, we met up with DS, Izdi, and Pollux and set our time hack: ruck 3.5 miles to the top of a rocky hill by sunrise.  Cadre DS was kind enough to bring a 7.5 kg barbell for Winnie (sporting my Bullet) and a 16 kg kettlebell for me (with my GR1), so we loaded up our rucks and set off.  We did indeed accomplish our goal of a summit sunrise (proof of life, see photo).  It was a fantastic way to end the trip, and on the plane ride back the next day, I found myself wondering how soon I could plan my return to Morocco – and if it would be possible to make the next trip carrying just one bag.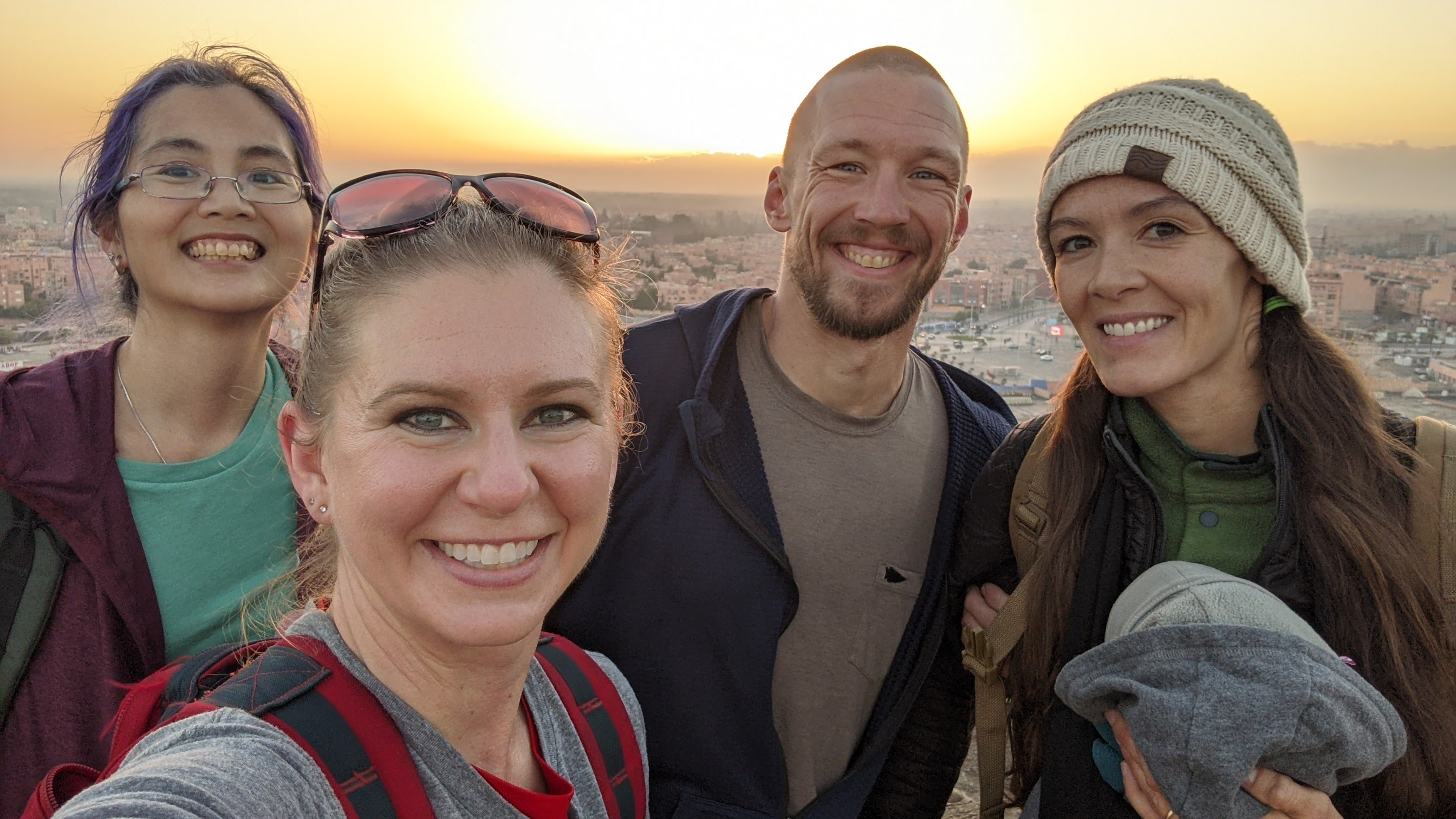 – Erin Turowski
Some photo credits – Winnie Man of QT Mousie Studios, Beverly, MA
---
About the Author: Erin Turowski is a proud member of More Weight Ruck Club, Salem, MA. She is @eturuckski on Instagram.