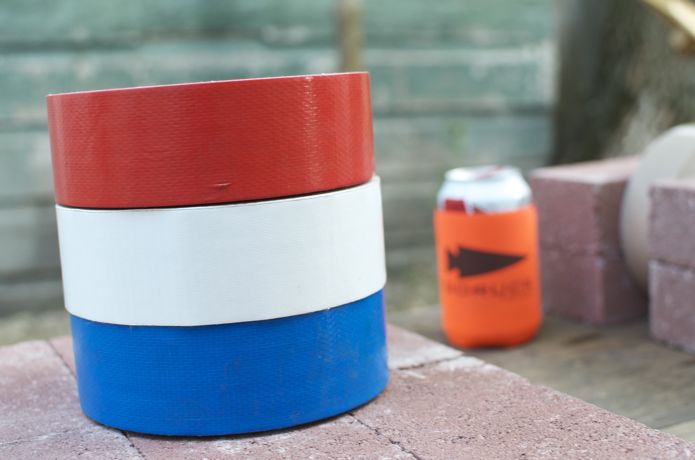 The military has all the best stuff. Equipment etc that costs too much if you had to pay for it. But lucky for military types Uncle Sugar has deep pockets to buy the best. And you get paid to use it in (sometimes) cool places, doing cool things with cool people. Weapons, vehicles, and (almost) all the gear you ever wanted. And even though everything is 'mil-spec,' you learn fast that you better take care of your gear. Because nothing is indestructible.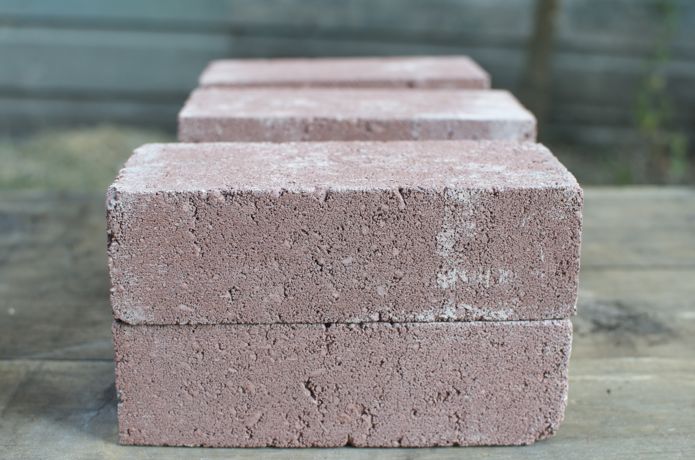 Bricks are required for the GORUCK Challenge, and back in the early days of the Challenge I found out from peoples' smiles and a couple stickers I saw (got bricks?) that rucking with bricks is kind of our thing. But bricks are really, really abrasive so you have to wrap them up. The fabric and the zippers that we use in our rucksacks are the best on the market, period, but they won't stop bullets. Or raw bricks shifting and moving around for 12 hours of the Challenge. You probably don't want to earn the nickname Raw Dog, either. Trust me.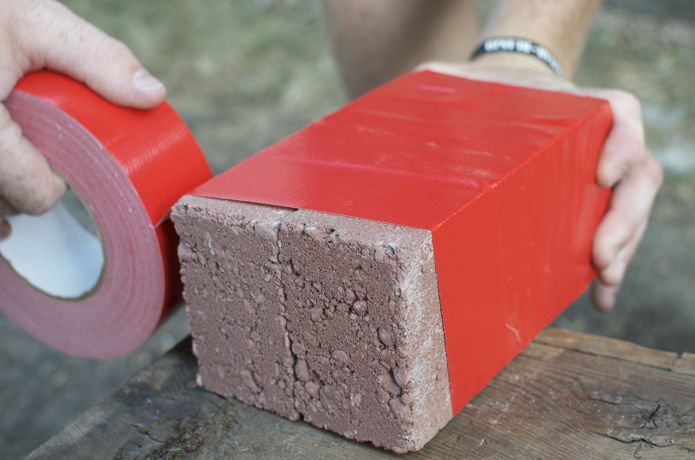 You'll have 4 bricks if you weigh under 150 lbs, 6 bricks if you're over 150. Occasionally, life tries to be fair. One of these Challenges, we'll bring a scale out. Till then, like most of life, it's the honor system. I recommend wrapping them in pairs. This lets you test out different ways to put them in your ruck – and it also lets you train in increments. More on the training stuff later. For this post, Chris (don't call him Donnie he hates that) is wrapping sets of 2 bricks using red, white, and blue duct tape.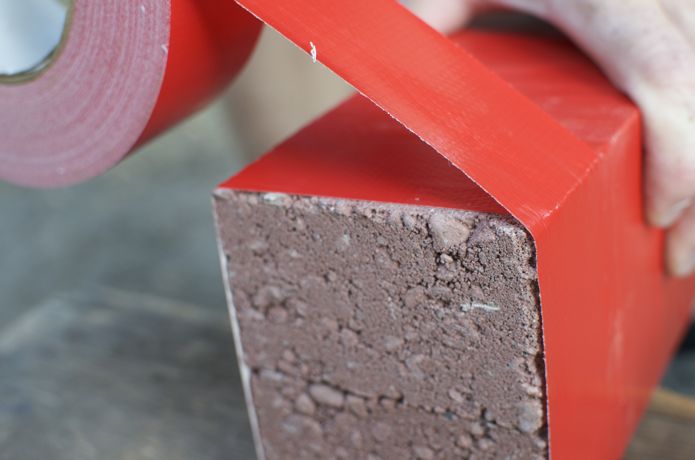 Red, White, and Blue were the only best three colors we could think to use. Every set of two bricks gets three layers of duct tape. Just start rolling the tape over the two bricks short ways (above), then tear it and do it long ways (below).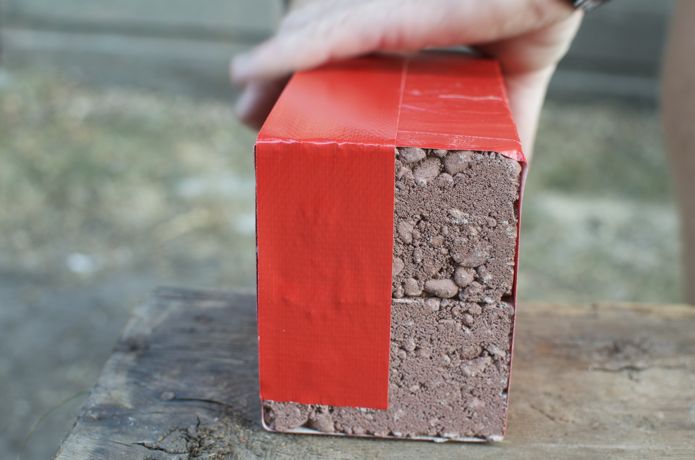 Above, make sure there is no exposed brick. Add enough wraps until you don't see any.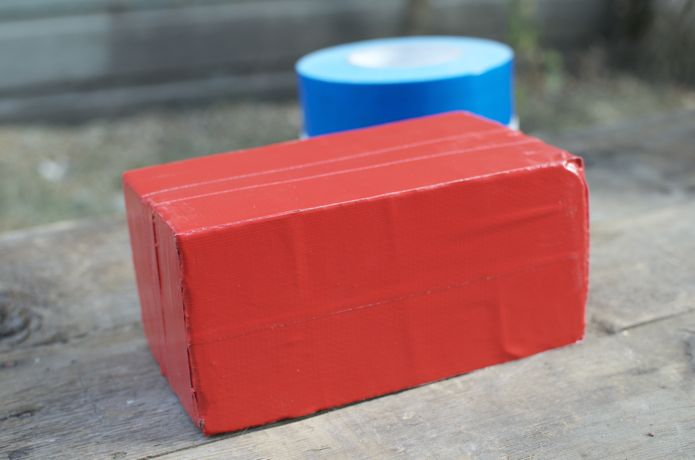 The first layer complete above, in red. The second layer is in white. It's a repeat of what Chris don't call him Donnie he hates that did in red. Naturally, you could do all three layers it in one color, but I thought doing three different colors would make it easier for people to follow. The people I'm talking about are my friends, who always tell me they hate reading what I write and just want to see pictures.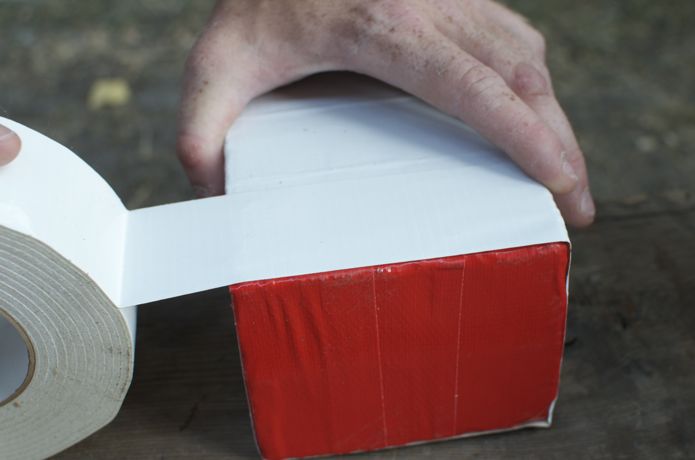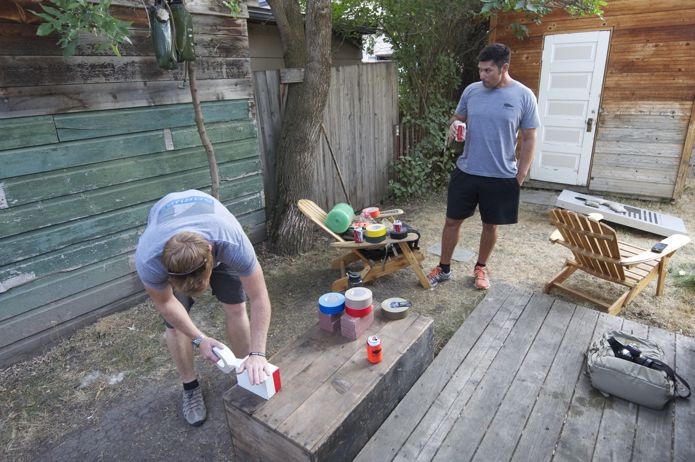 Here's the random plug to have a good time prepping for the Challenge, including wrapping bricks. And if you're hanging out, drinking beers with your buddies while you do it, experts abound when you're not doing it perfectly. Chris don't call him Donnie he hates that never could have done this alone without Lou there to drink beers I mean manage.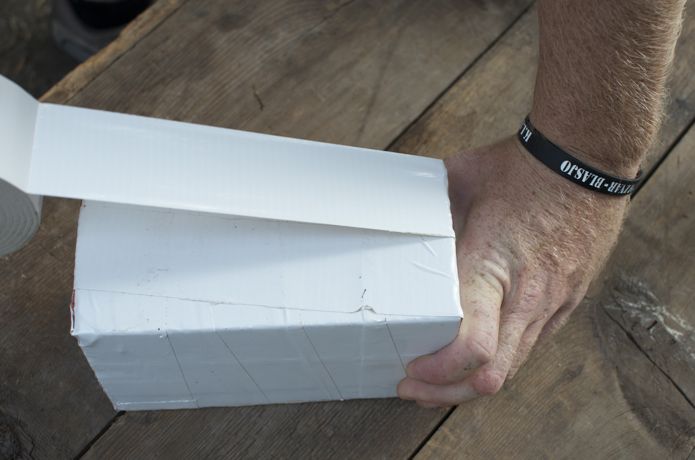 Second layer in white, almost complete above, then the third layer in blue, starting below.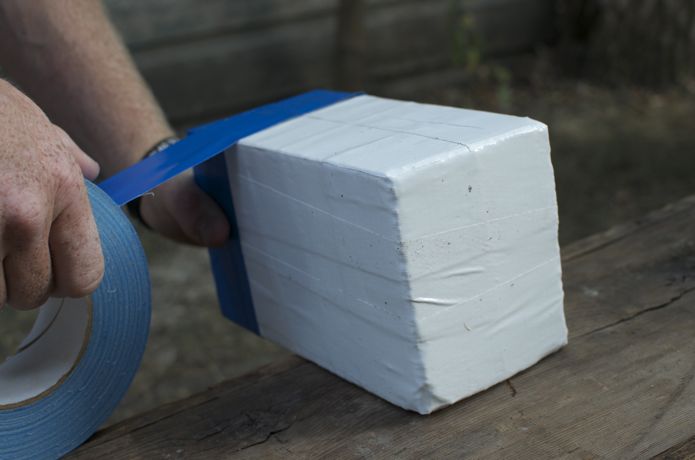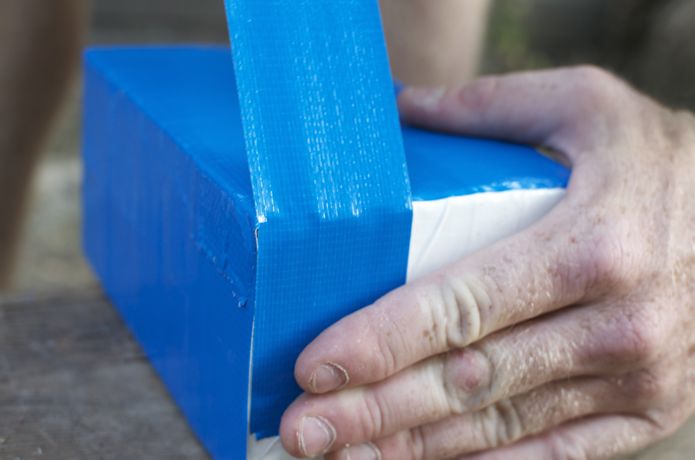 Above: the corners matter most, so make sure they're covered up.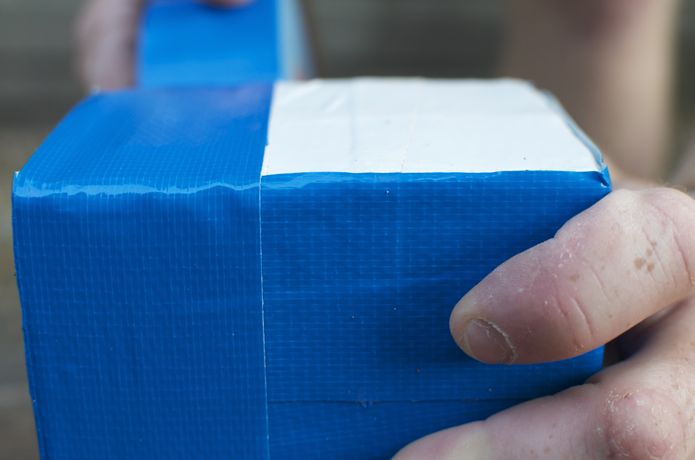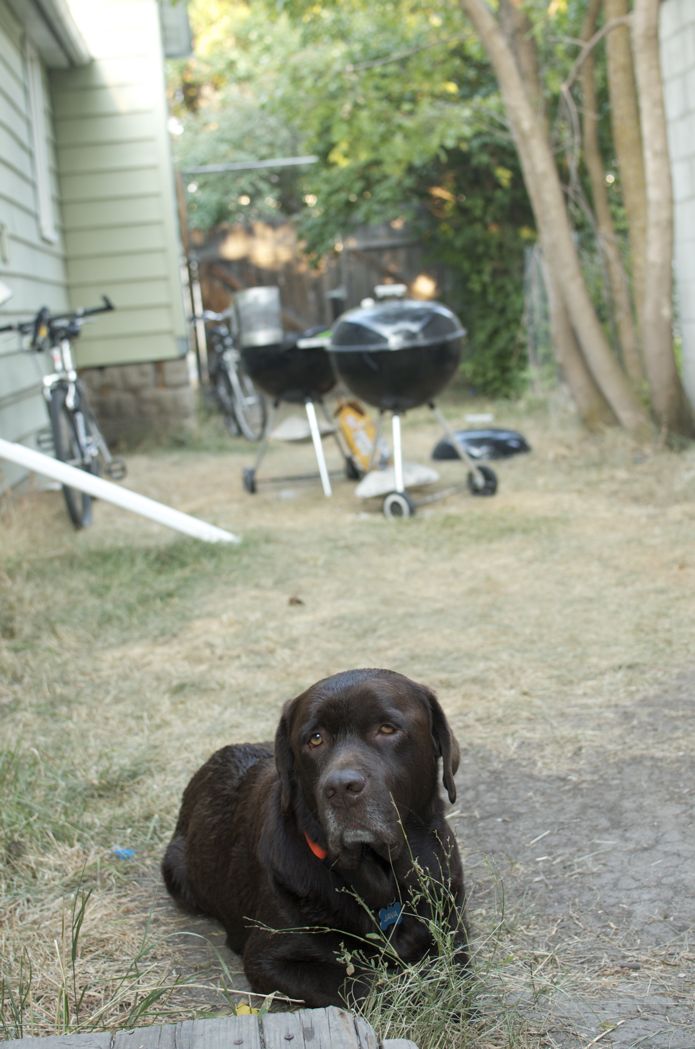 We take quality control very seriously. Pictured above is the big dog QC manager: part Adonis, part Ares. Less focused on beer like Lou and more on results. And get back to work Chris don't call him Donnie he hates that.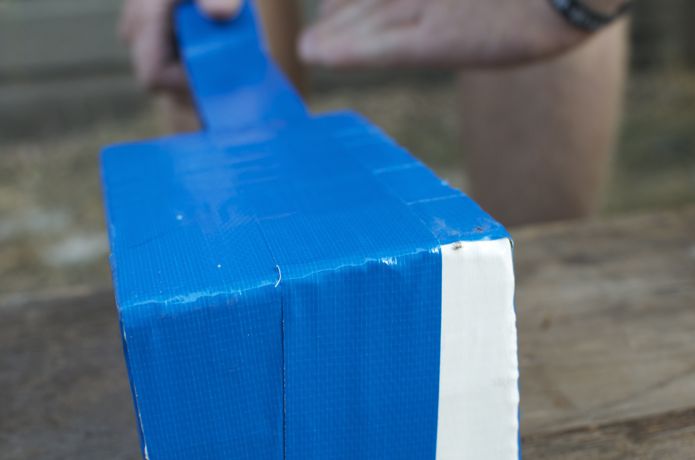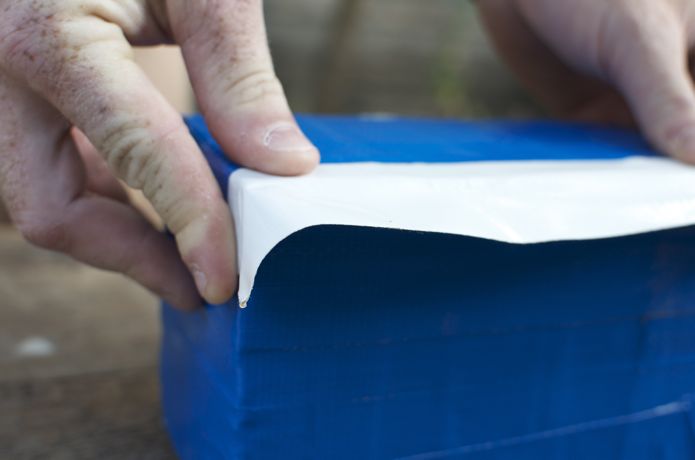 Once the third layer in blue is complete (above), you need to reinforce the corners. To make it easier to follow, Chris don't call him Donnie he hates that is using a strip of white tape to reinforce the corners of the brick present.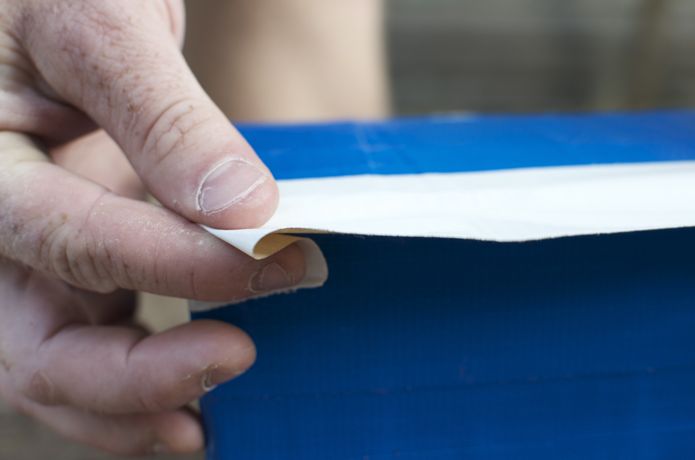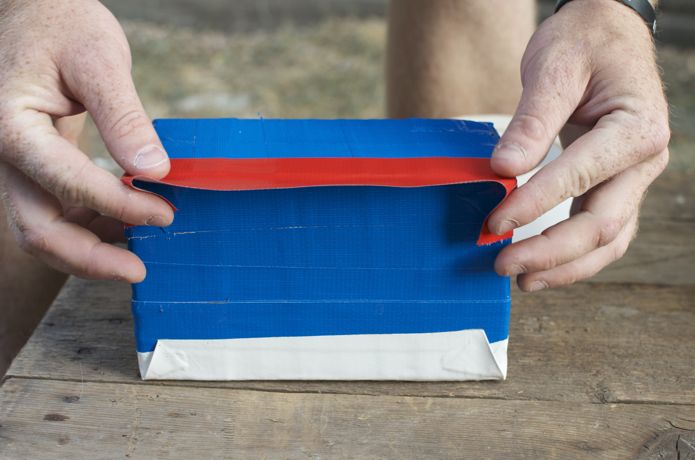 Above, each corner gets reinforced, the next strip of tape is red and you fold it down sort of like wrapping a present.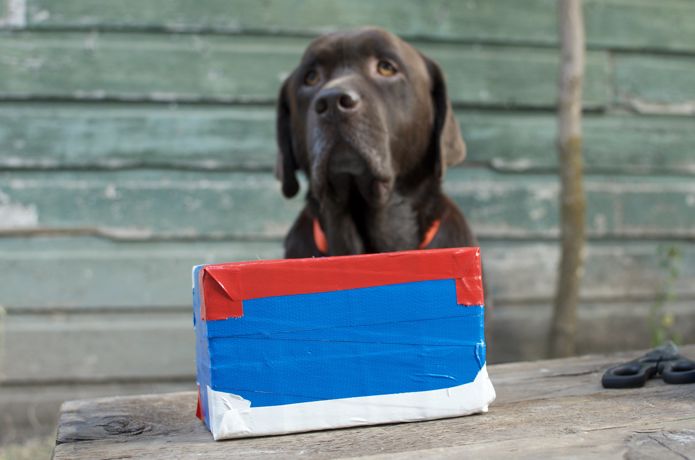 It doesn't have to be perfect. But it does have to have 3 layers of duct tape, and in my opinion, if it's got some red, some white, and some blue, it doesn't get much sexier than that.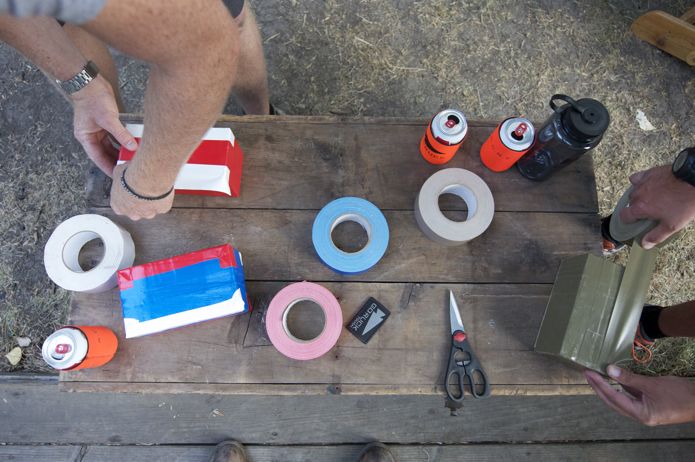 So, two more sets of bricks. Chris don't call him Donnie he hates that on the left, Lou getting in on the action on the right after Java thugged him out for being lazy. So red, white, and blue are beautiful, but they also happen to go well with Army OD (olive drab) green. This tape (below) is known as 100 mph tape because it was thought that it could hold a Jeep together doing 100 mph. Then like most things, the name stuck and guys started calling it that. This is the tape you deploy with, the tape you trust for any problem tape can solve. It's tough, sticky, and it lasts forever.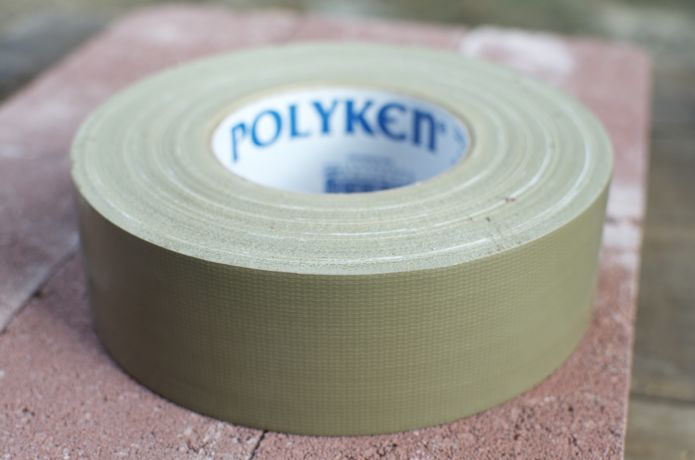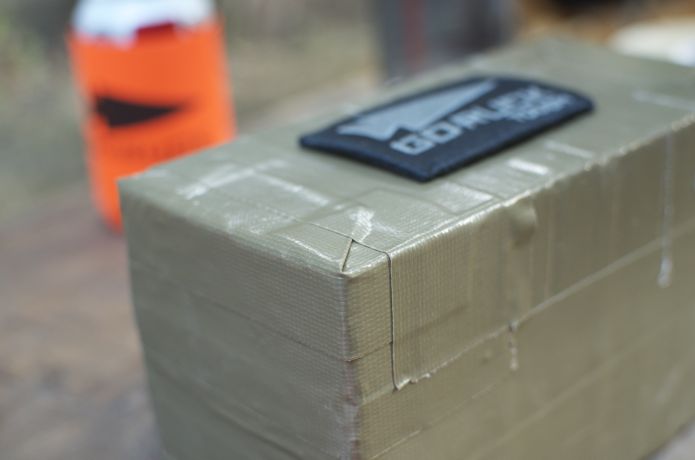 Lou has 4 great kids and, above, you can tell he wrapped a few presents in his day. Nice corners, good folds, reinforced. Well done. Now be less lazy next time and you won't get thugged out.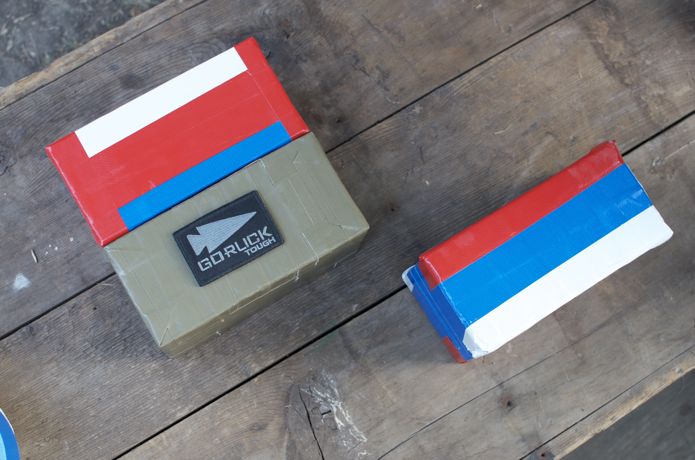 So the 6 bricks are all wrapped, three presents of 2 bricks each. I recommend training with a weighted ruck to prepare for the Challenge. But if you've never rucked with weight before, it's something you should ease into. Start with your first present the first week and increase over time in preparation. Do not train for the Challenge by running with weight. Walk at a good pace but no running unless you want Army knees (trust me you don't). When 2 bricks get easier, take it up a notch to 4 and then get to your full 6 bricks.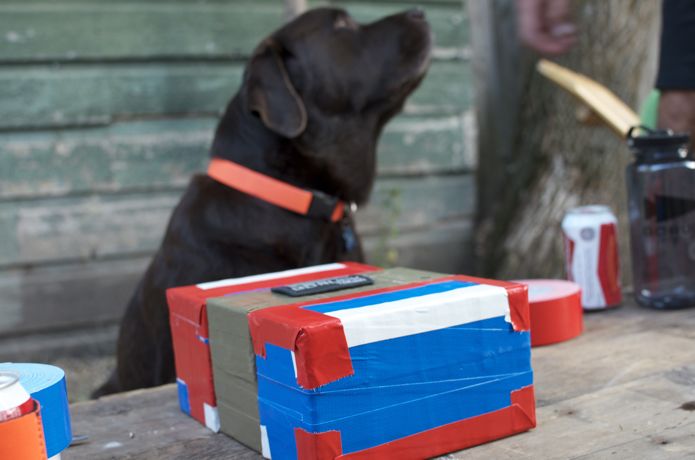 It's important to train as you fight. You know you're going to have weight on your back for the Challenge, so you need to train with weight on your back. Back in my Q-Course days, we had really long patrols — up to 4 days — with really heavy rucks, but I never had 4 straight days to train. So my thought was to train with a ruck that was heavier than my patrol pack would ever be. Bad for the body but good for the mind type stuff. I felt ready when it was go time because I had put the work in. I think the Challenge is kind of like this. You can always just gut through it, but if you feel ready, you'll do better and give more to your team.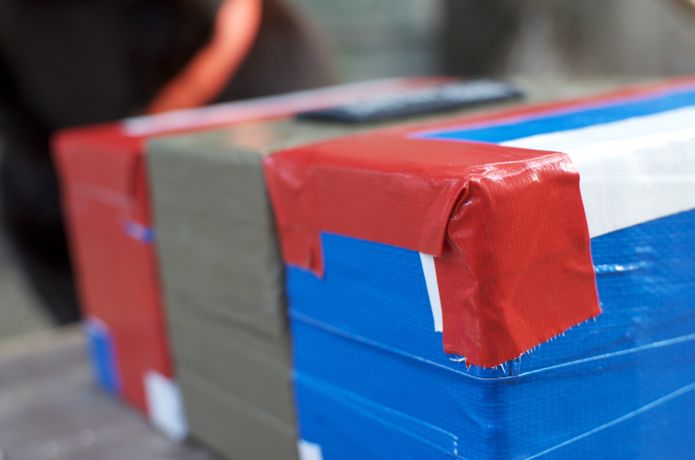 I've seen a lot of designs on brick wrapping over the years. Some guys have honored fallen buddies, others have honored kids with cancer, that kind of stuff. I've seen US Flag designs, stars and all, and I've seen all different colors of duct tape. You don't have to do anything like this and your bricks don't have to mean anything to you, but it's kind of cool if they do. It adds a little more value to your full Challenge experience. Which by the way is about more than just you, and the more reminders of that, the better.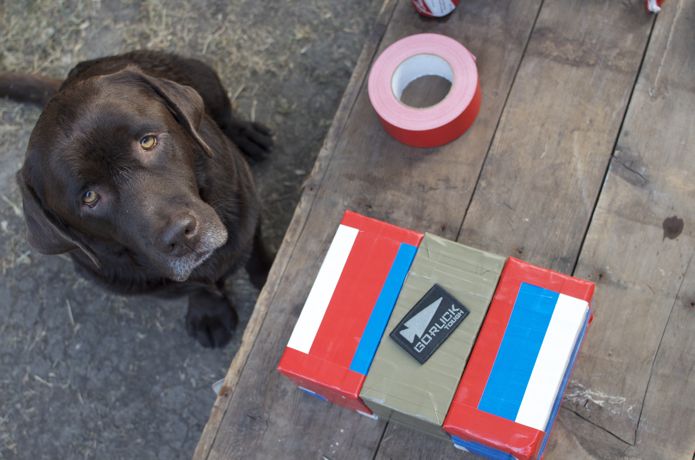 Chris don't call him Donnie he hates that had to take the Challenge before he could become Cadre. His brick configuration in his GR1 was to put the three brick presents directly on top of each other, then secure them together with 100 mph tape. This reduces shifting around.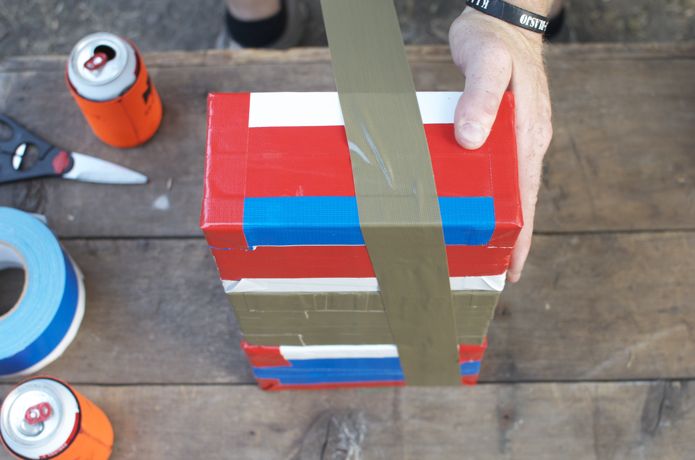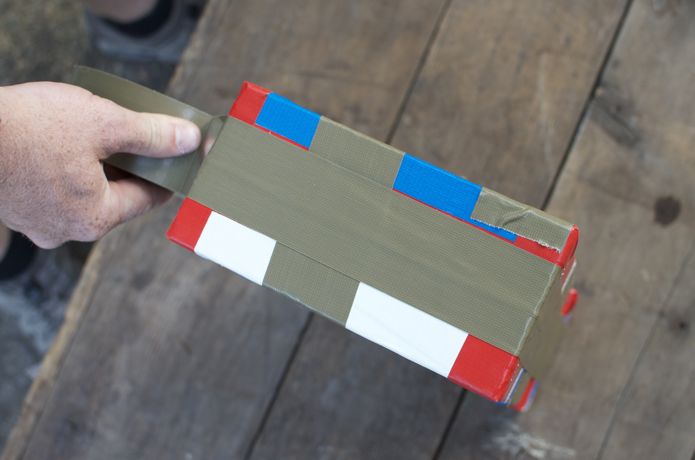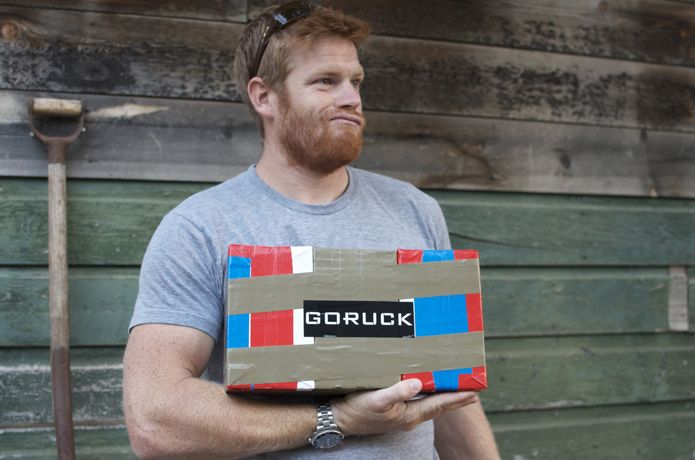 And don't forget the sticker. Any sticker you like, of course. Chris don't call him Donnie he hates that chose the GORUCK sticker because it was the only one lying around, but otherwise he probably would have picked some Special Forces war sticker or something. Maybe a machine gun or a grenade or some bullets. Man does he love talking about that stuff. Sort of like Bubba talking about shrimp in Forrest Gump.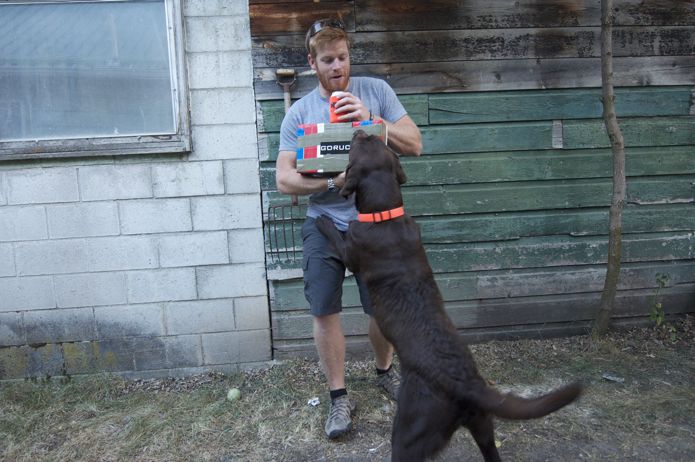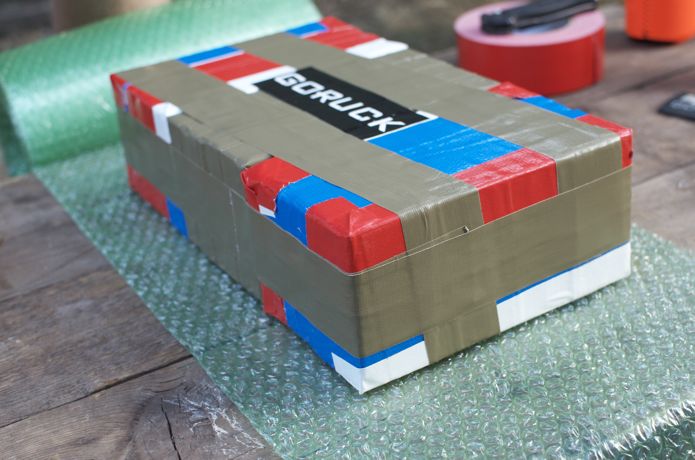 Almost done, but for the Challenge we recommend bubble wrap in addition to the duct tape. It gives the big package less tendency to shift around and it's additional protection. Sure, the duct tape, 3 layers of it will work just fine on its own, but what we've seen over time is that your bricks will sit better and shift around less with bubble wrap. You guessed it, 3 is the magic number of wraps.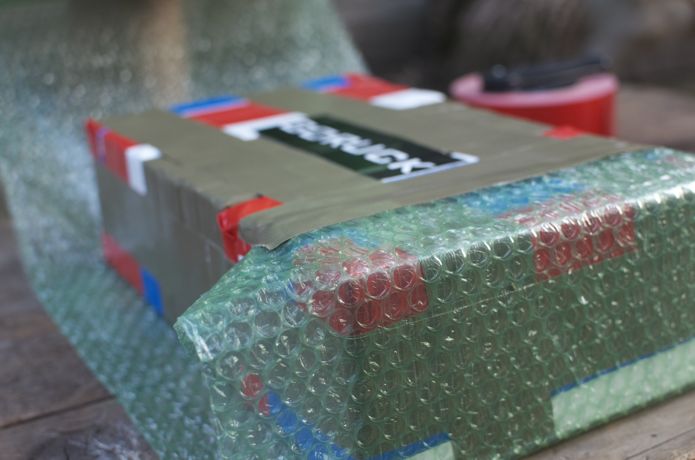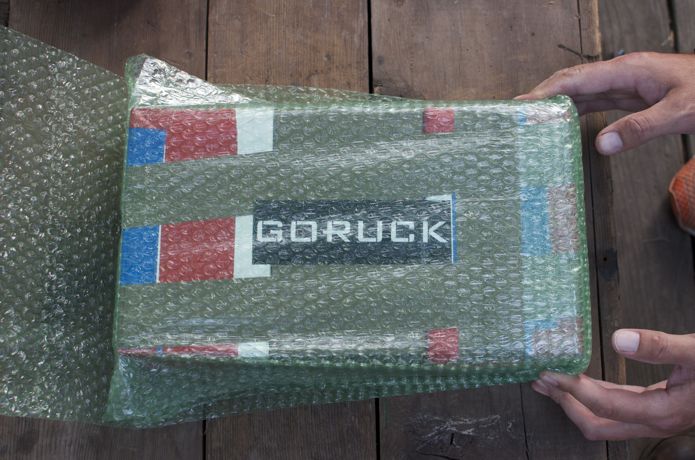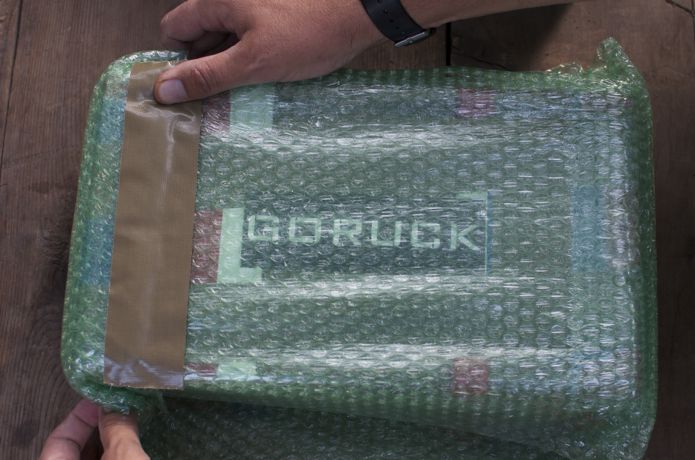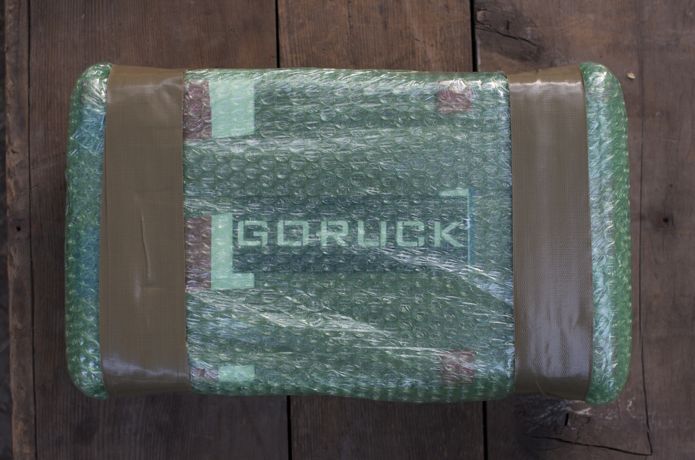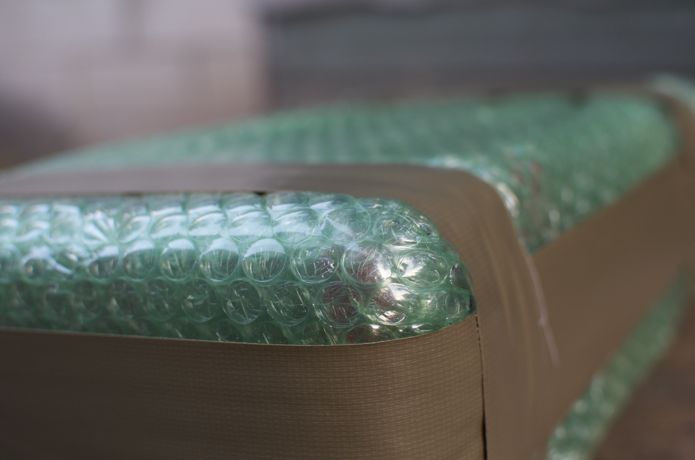 Ultimately, it's your system. Your bricks, your ruck, and you gotta pack it how you like it. If you take anything away from this post, let it be this: test it out before you show up.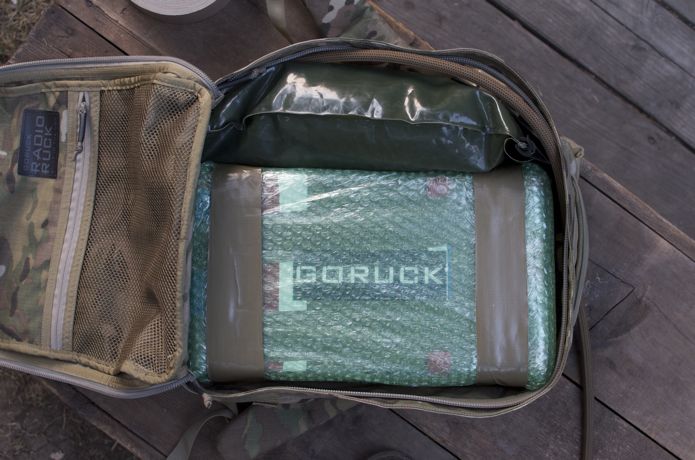 Above is a system for the Radio Ruck. Below is the GR1. Each has a Source hydration bladder and the 6 bricks in the main compartment. I recommend putting your bladder in the main compartment because it will lie flat against your back. Again, though, everyone's bodies are different and you gotta see what works best for you.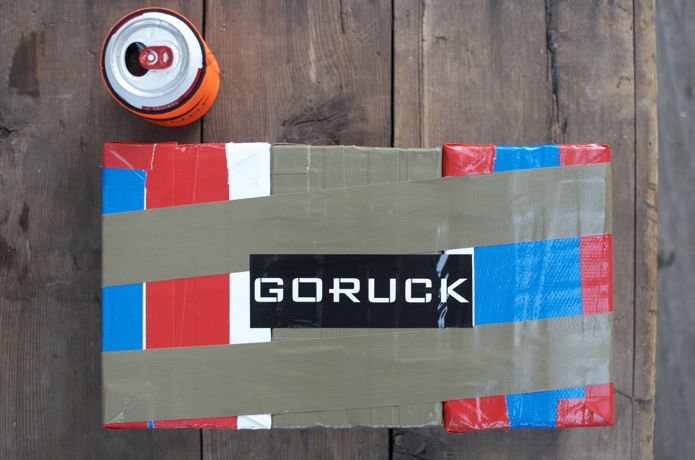 Sexy. I love red, white, and blue, with the Army green and the GORUCK sticker. And I had a blast doing this post from a backyard in Bozeman. Everything is fun when you're in good company. As for the Challenge and bricks and stuff, embrace the suck and, like always, look cool doing it.