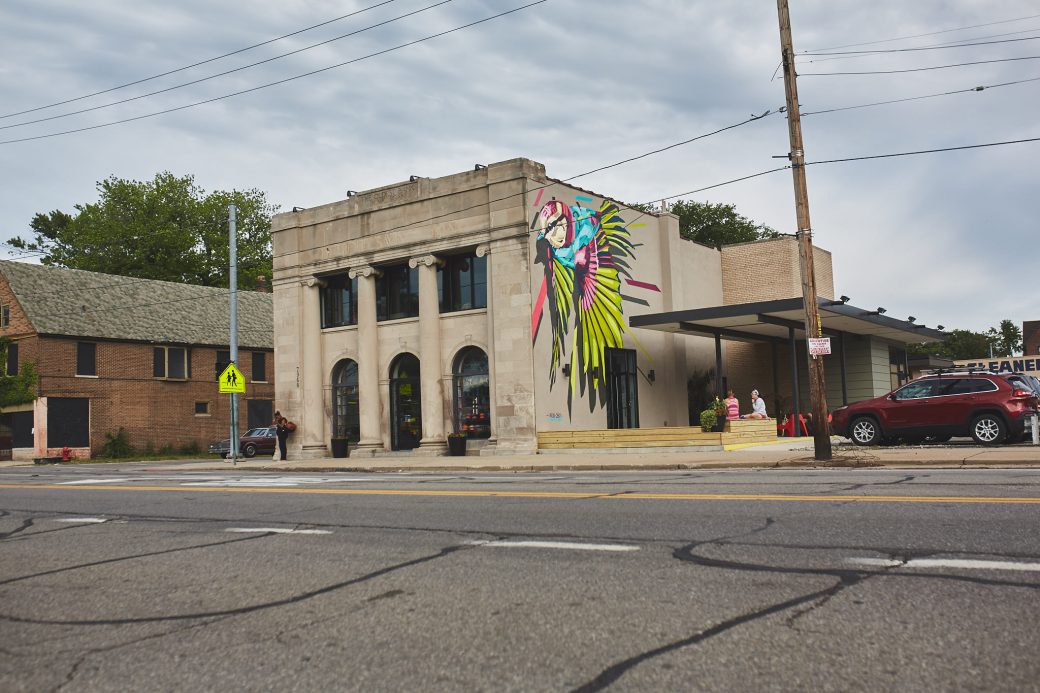 Our next stop was Detroit Body Garage located in Detroit's West Village and owned by Terra Castro. I had chance to chat with Geoffrey "Geo" Woodman during our 6.5 mile ruck they hosted from their gym. We got a tour of the neighborhood with Geo giving me a history lesson during our Ruck.
Tell me about Detroit Body Garage?
The building we are in is the oldest bank building in the city. It has been two different banks and a pizza place. We have family ties to the area. Her grandparents met here and lived here. We both lived here and have spent a lot of time here. It is a neighborhood that brings in a lot of demographics in the city. West Village reaches from some of the lower income communities but also draws from a lot of local business centers in the city. 
What does Detroit Body Garage focus on with your programing?
We come more from an endurance background. Terra was a professional Ironman Triathlete. I grew up as a swimmer and played college baseball. I found endurance sports at the end of my baseball career and started doing  triathlon and ultra-marathons. As coaches that is where we come from, injury prevention and being able to sustain forward progress with your fitness path. So people do not have to take time off for injury and all that kind of stuff. Building people back up and allow them to do what they want to do in fitness. Just be strong as possible. 
It is very cool how all the gyms are tied together.
We have two in the city and one in the suburbs. We all work together, we share information with each other, share members, coaches, activities, and all are part of the GORUCK community. 
How long have you been involved with GORUCK?
4 years now. James Vreeland is unfortunately a life long friend, haha. We have known each other for almost 25 years. When I moved back here from living all over the place. I had see him doing GORUCK event from distance and as a triathlete I was looking for something different to try. I looked GORUCK being a great mental challenge and something different than run, bike, swim. The mental side of it is really the biggest part of it for me. It has changed how I look at competition. I have done about 15 events. 
Do you have a favorite Cadre?
You know, I get asked that a lot. I really don't. I take away something from each Cadre I meet. I do have a tattoo from Cadre Danny Boys saying "empathy respect courage". 
Everyone we meet is Detroit and Michigan proud.
I lived away for 12 years and I kept coming back and for the longest every time I did it kept getting worse. This building was gone, this is closed down. It was more and more desolate. Then I noticed it was starting to turn around a bit. I was gettig pushed to come back both professionally and personally by my family and friends. People realized they could not be solely reliant on the automobile industry. They started becoming more self reliant, there is a lot more grass roots everything now. I am very happy to see the entrepreneurial spirit that has really come along with the come back of Detroit. That is what makes me proud. I am a chef by trade and have always coached. We decided to change Detroit and thats what drives us. 
I love cool buildings and they do not make them like this anymore. We lose so many of them and it makes me love the new generation of Detroit that wants to save them respecting the good from the past. While not forgetting the bad and learning from it. Seeing three gyms working together for a better and healthier Detroit  makes you feel good inside. Please check out all the stories in the blog. They are what makes America amazing.
We want to thank Terra and Geo for hosting our GORUCK America Ruck and all the GRT's that came out for the fun. Once again proving that GRT's every where are amazing people. Thank you Detroit.
Christopher Goad
AKA
Bomber