You never know when you'll meet someone that'll change everything. On a trip to Japan I almost didn't take cause it's too far away I got lucky and met two, Big Daddy and Andy. Had I not gone who knows how things would be different but I hate what if's let's deal with facts. They both were in Challenge Class 122 in Naha, Okinawa – ask 'em about it sometime, it was a lotta fun smile smile – and they've both gone on to have significant roles at GORUCK. Big Daddy runs the Events side and Andy is head of the GORUCK Historical Society and once they're done with their day jobs in the Corps ha ha I hope they both retire to and eventually from GORUCK after decades more of Building Better Americans. But that's looking too far into the future and we're talking about the past for now.
Meaning matters and greater meaning matters more. Old Glory makes the only best backdrop to explain their team weight and since Andy's explanation on a hilltop in the middle of the night that they were doing the Challenge to honor their fallen, every class has carried Old Glory. Humility comes as it comes and I can't believe a Marine inspired that I mean it's so obvious and now I've gotta rationalize it as Andy is a Green Beret trapped in a Marine's uniform or somethin' like that lol and a little inter-service rivalry never hurt anyone and nor did a little more red, white, and blue.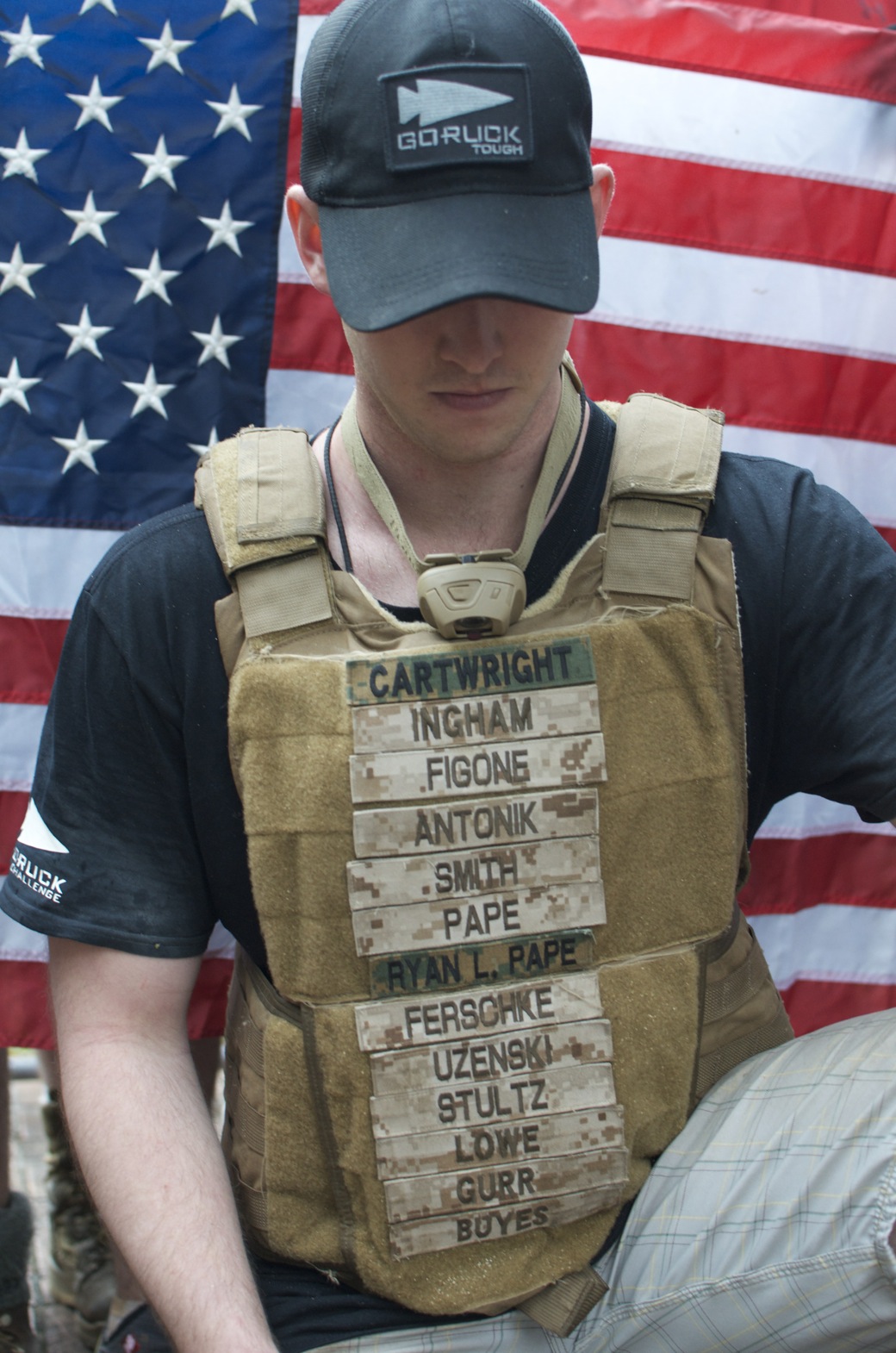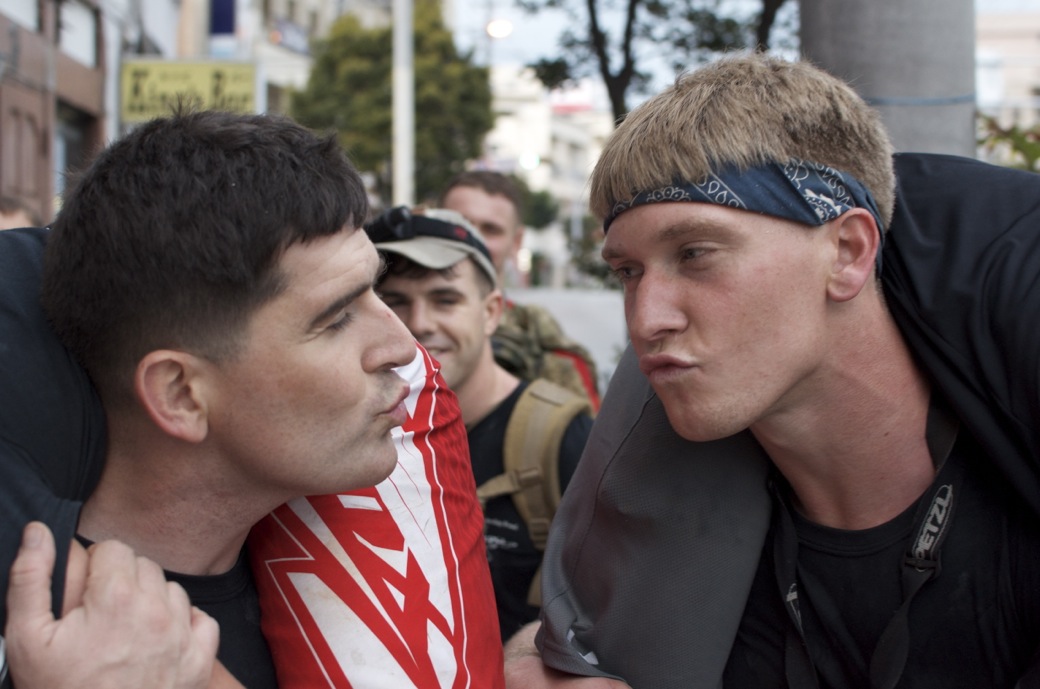 Yes, it's OK to smile even as you honor the fallen and apparently kisses are even better.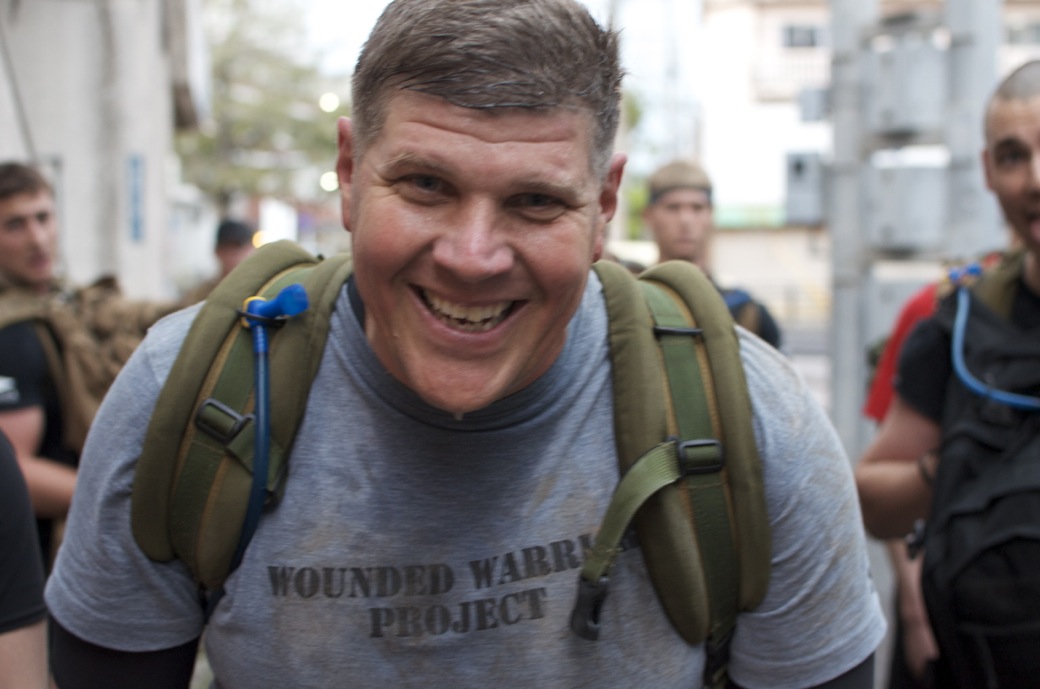 Hey Andy Big Daddy wants his kiss now – he's smiling just thinking about it. On a more serious note I talk about what an honor it is to work with these guys and guys like them because it is and the more of them you know the better you feel about pretty much everything. So Semper Fi and thank you, guys. I'll give Andy the last words…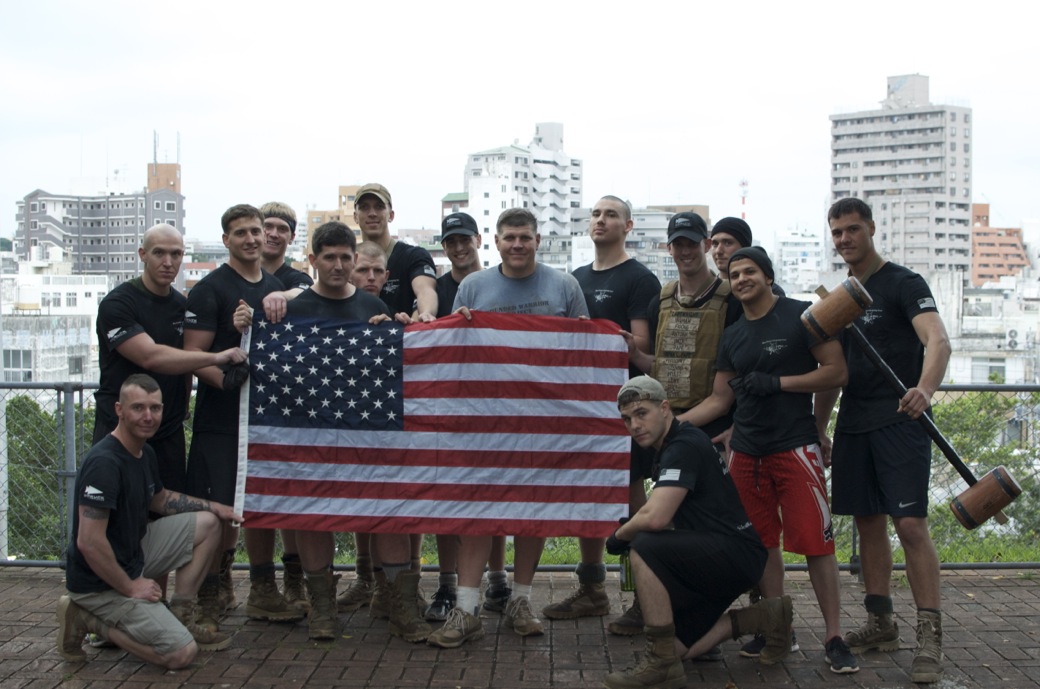 From Cadre Andy:
The story: Late 2002. My unit, 1st Recon Battalion, was working up for the invasion of Iraq. We were shipping out soon and my Mom and Dad flew out to California for a visit. On the last day I was home, my Dad pulled me aside and handed me this flag. My hometown VFW gave it to my Dad to give to me. It was one of those east coast Dad lets down his guard moments that I'll never forget. It was also one of those times in my adult life where my Dad looked at me as both his baby boy, and man to man. I carried it in my ruck or in my armor on every patrol. It has since been on every deployment, and every combat patrol in Iraq, Afghanistan, and in other hot spots around the world. If you troll my pictures, and see a flag, chances are it's this one. I remember after Class 122, as we sipped Budweiser at the finish point, Jason shared his idea of making it mandatory to carry an American flag at every GORUCK event. No arguments from the 15 Reconnaissance Marines you see in this photo! One day, I look forward to building a shadow box for this flag, and bringing it home for the VFW….but I'm not done yet.