I didn't know Robbie Miller, but I'm fortunate to know his story, and stories of so many Green Berets that have selflessly laid down their lives so that their friends could live. He represents the very best of us and GORUCK is humbled to celebrate his life, share his story, and honor his sacrifice. As Patton once famously said, "…we should thank God that such men had ever lived."
Even though I never had the privilege of meeting Robbie Miller, I owe him an enormous debt of gratitude, because on the night of January 25th, 2008, he saved the life of one of my closest friends, and gave his own in the process.
It was a cold North Carolina evening and I'd just wrapped up another long day of Jumpmaster School. My feet hurt, my hands hurt, my brain hurt. I walked across the street to the student parking area and flopped into the front seat of my truck. I grabbed my phone and noticed that I had a few missed calls and a voicemail from my wife. I didn't think much of it, but figured I'd give it a listen, just in case I needed to pick something up on my way home. The message started to play and I couldn't believe what I was hearing.
"I need you to give me a call. Bob got shot yesterday in Afghanistan. He's alive and on a flight to Germany, but he's hurt pretty bad."
Bob and I met during Special Forces Assessment and Selection in November of 2004. I remember sitting around a campfire after finishing the Star Course, lamenting the status of our feet, but feeling hopeful that we might actually make it. From there, Bob and I were basically attached at the hip for the next three years. We suffered together through the Q-Course, Arabic training, and Ranger School. We had our first children and bought our first homes. And we were both assigned to 3rd Special Forces Group, him to Third Battalion, me to First. Life wasn't easy, but it was good. We were quite literally living the dream. It didn't take long for the inevitable deployment orders to come down. Bob would go first.
A week before Bob's deployment, I met him at the local Justice of the Peace to witness a secret marriage ceremony between him and his lovely wife, Jen. They were engaged and planning a big, family wedding upon his return, but they thought it was prudent to make things official before his tour in Afghanistan – just in case. Bob didn't plan on getting shot, but was happy to do anything that provided Jen with a little peace of mind while he was overseas.
"Wait, what happened? He was shot? Where?
"I guess it was in the chest. His lung collapsed, but they say he's going to be ok."
"Shit. Was it a sniper or something?"
"His whole team was ambushed. I think one of his guys was killed in the attack."
Teammates on Special Forces detachments are not co-workers, they're brothers. I knew immediately that whatever physical injuries Bob had sustained, they would pale in comparison to the devastation he'd feel around losing one of his brothers, especially as his commander.
Within a couple of weeks, Bob was home and on his way to a full recovery. One night over beers, he told me about that night in the mountains of east Afghanistan. He told me about the mission they were conducting. He told me about what it felt like to be shot. He told me about how is medic gave him a chest tube in the dark to keep him from drowning in his own blood. He told me about how is Warrant Officer took over and eventually moved the team to safety. Most importantly, he told me about Robbie Miller. There was no talk of medals, but the story he shared was absolutely the stuff of legend. Apparently, this 24-year-old kid had single-handedly charged into a near ambush, beat back 100 or so insurgents, and saved the collective asses of the entire patrol. Bob was very clearly proud of Robbie. He was grateful for his sacrifice. And he was crushed by his loss. I was just glad to still have my friend.
Almost exactly one year later, thanks to Robbie, Bob would be there for me when I lost brothers in Afghanistan. Our lives continued to mirror each other and gave us one more experience to share.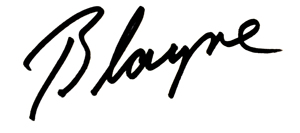 BlayneSmith
3rd Special Forces Group (A), 2007-2009
President, GORUCK