Happy Thanksgiving, Celebrate Like You Just Finished Selection
48+ hours of Welcome Parties and Good-Bye Parties and Sandbag Movers and Devil's Miles and when the human spirit is still alive, it's a good day.
"Roster 035, Congratulations on completing GORUCK Selection, the toughest endurance event in the world." And I got a little choked up when I said it because it's a raw moment where Mark had validated whatever his reasons were for being there, and we're all better, now, for knowing him.
I gave him a big hug and so did all the Cadre and so did his family.
And then the celebration began, which is what I hope everyone is doing today, on Thanksgiving. Here are a few tips how to do it right:
The beers and the music and the chauffeured ATV rides up the Hill of Death. Because we can, right Cody?
The food by the fire, all you can eat of course, the cornhole and conversation that leads to bets and dares and being spoonfed. OK, maybe, but definitely not by James.
And then, something happened which I don't recommend at all. Out of nowhere, Mark quit. "I gotta go get some rest, I'm about to pass out."
But Mark, you were doing so well. Nobody quits on the party before it starts. Tired but not dull, he had a jab, "By the way, whoever said the beer after you finish Selection is the best tasting one in the world is full of sh*t, I had to choke that one down." And I felt like John Goodman in The Big Lebowski, lecturing the Dude after he said to f*** the tournament.
Stony and Kling both tried to catch Mark's quitter disease, but were promptly re-summoned for festivities. Such as Jaala's training, which never seems to stop. Rumor has it, she'll be back, so will a few others whose time was cut short this go round. Fingers crossed.

The bluegrass band showed up and the temp dropped, but not to worry, we had hand made knitted beer coozies. What else can you possibly ask for in that particular moment to help you with your frosty cold beverage? Nothing.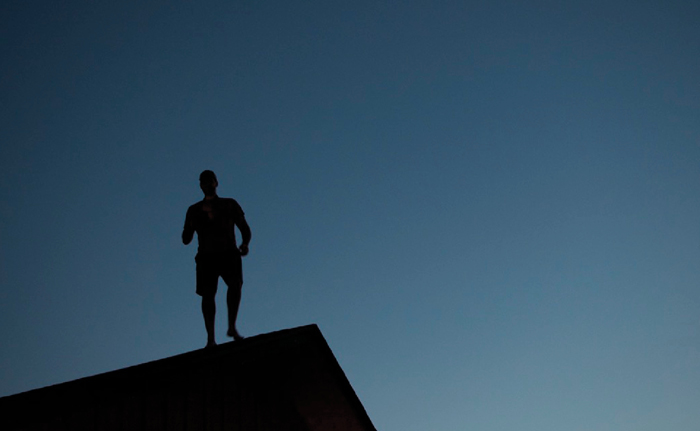 Nick climbed the roof and got serenaded by mostly the moonshine, but then the band chimed in, too, and the lights stayed shining and the football came on in the garage and I don't remember exactly how Selection faded to next year right there in my dad's house in Bellbrook, Ohio, USA.
But with smiles on all our faces, it did.
Have a Happy Thanksgiving. We hope you do something awesome this day, and every day, with people you love.