I competed in the Travis Manion Foundation's 9/11 Heroes Run in Boston, Massachusetts on 9/14/2019. Beantown Ruck Club had a particularly strong showing, with 17 of the 28 registered rucking division entrants coming from our ranks. Many of us had just come off of the NYC 9/11 HTL last weekend, which was important mentally and physically. Physically, we were still nursing a few minor aches and pains, but mentally, it was a nice step-down effort to wrap up the events of a very emotional week surrounding the 18th anniversary of the September 11 attacks. Three-ish miles with Light-class weight seemed pretty inconsequential compared to what I put my body through less than a week ago, even at a jogging pace, so I didn't have any reservations.
For gear, I loaded a 20 pound standard plate into my 10L Bullet, plus a change of clothes and my keys and wallet. I did not bring food or water for this short distance, and they were provided by the race organizers anyway. I wore an older 5K tech shirt, running shorts, and my new-ish ASICS Gel-Hyper Tri 3 running shoes, which are still pretty stiff but nice and supportive for trail running. The esteemed Paul Litchfield was also in attendance sporting a pair of his babies, the new GORUCK I/O Cross Trainers, and I will be honest, my feet were jealous. I am probably going to pull the trigger on a pair of those when I am in the market for new rucking shoes – I am itching to try them out and eventually give SCARS a run for their money. I kill shoes like houseflies, thanks to 20 to 40 ruck miles per week, plus occasional running.
A note on weight here – yes, a woman is going to talk candidly about her body weight. I can not be the only one in this position. I normally teeter right on 150 pounds, erring a couple of pounds over or under depending on the day. For non-competitive GORUCK team events, where I am usually dialing in my nutrition for a week prior to the event, I am typically under 150 pounds by the start time and therefore use 10/20 pound plates for events as required. However, for this race, after a week of recovery eating and some residual water retention after the HTL, I was up to about 155 pounds. Was anyone going to weigh me and disqualify me for carrying 10 pounds instead of 20 pounds? No, but in a competitive setting with chip times, bragging rights, and hardware on the line, I chose an honest 20 pound plate with an official ruck weight of 23.5 pounds at check-in. It just would not have felt right otherwise. No big deal, I usually do my timed 12-milers with my 30 pound plate, so it could have been way worse. I am not aware of anyone asking a GORUCK participant to verify their body weight prior to an event (weighing rucks, however, is totally possible), but do the right thing, okay? Do not be that person. Monster will judge you all the way from Florida.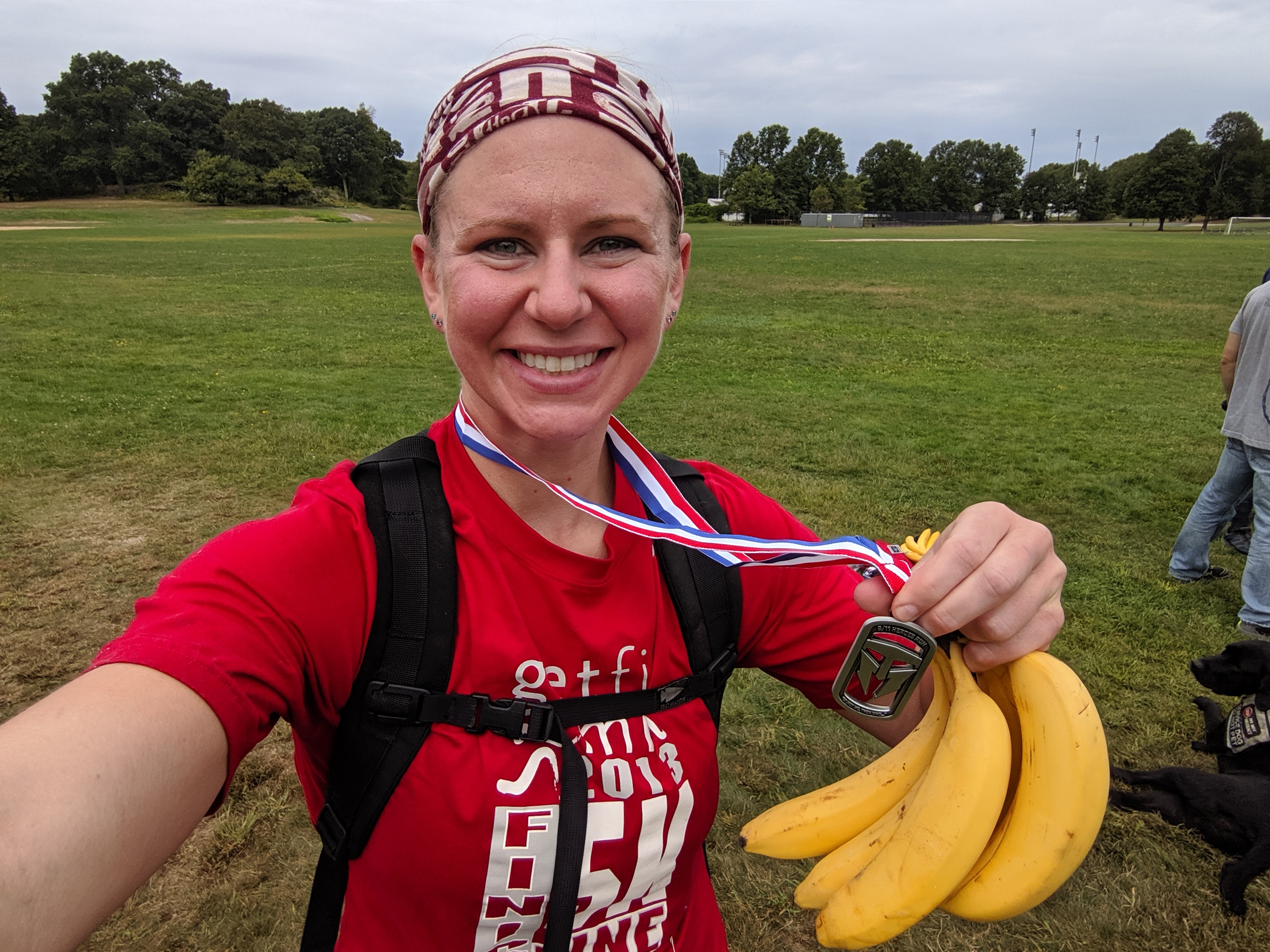 We assembled at Franklin Park, weighed in our rucks, got our GORUCK stickers and "MQ" (Medal Qualifier) notations on our bibs, and posed for a team photo before the program started. After a flag presentation from a university ROTC group, some opening remarks from the commissioner of the Boston Police Department, and a quick rundown of the race course, the horn sounded at 0930 sharp, and the field of runners and ruckers set off on their race. The course was a short inner trail lap followed by two longer trail laps with some gentle, rolling hills along the way. My battle buddy, Tina, and I matched strides for about the first mile, then she urged me to go ahead and keep jogging at about a 10- or 11-minute pace while she caught her breath. I finished in just under 34:00 and took second place, and Tina was about another two minutes behind me as she crossed the line for third. Beantown Ruck Club also did quite well as a team, with five members taking six of the available podium slots.
In hindsight, I am not happy with my finish.
You see, Tina and I are training for Team Assessment next June. That's "team," not "two people at the same place at the same time."  I should have stuck with her, but I've never won more than race participation medals and I was literally zoned in on the prize. We have already established that she is the muscle of the operation, and I am the cardio. But Saturday, I did not think twice about leaving her behind because I wanted an individual prize – and even then, we still would have finished second and third if I would have stayed back with her. It is a small lesson, but one that kicks me a little bit today. I am sure that over the next eight months of our training journey, there are going to be times when she thinks, "God, Erin can't even bench the BAR today, this is so lame!" But that's what Team Assessment is about, right – learning to leverage each other's strengths and weaknesses to work together as a successful and strong team and to do it better than everyone else who sticks through the event. Sure, we both have work to do, but we don't do GORUCK because it's easy, we do it to get comfortable with being uncomfortable and to push the limits of what our bodies and minds can do. She and I are different in many ways, but we both thrive on adversity and the thrill of the unknown.
So, Tina, I am sorry that I left you behind. We have a long journey ahead of us, and there are going to be times when you want to quit, and when I want to quit, and we owe it to each other to be supportive and to kick each other's butts into gear when indicated. Either way, it's going to be fun, and I am looking forward to the challenge. So…when did you want to do that timed 12-miler this week?
[Footnote – ladies, you get a deeply-discounted registration for Team Assessment – it's only $25!  You should do it. You might be surprised at what you are capable of doing with the support of a battle buddy. So ruck up, grab a friend, and consider heading to God's Country next June with Tina and me and we can all get muddy and sweat and carry heavy things together.]
Written by Erin Turowski – @eturuckski on Instagram
Proud member of Beantown Ruck Club: Boston, MA