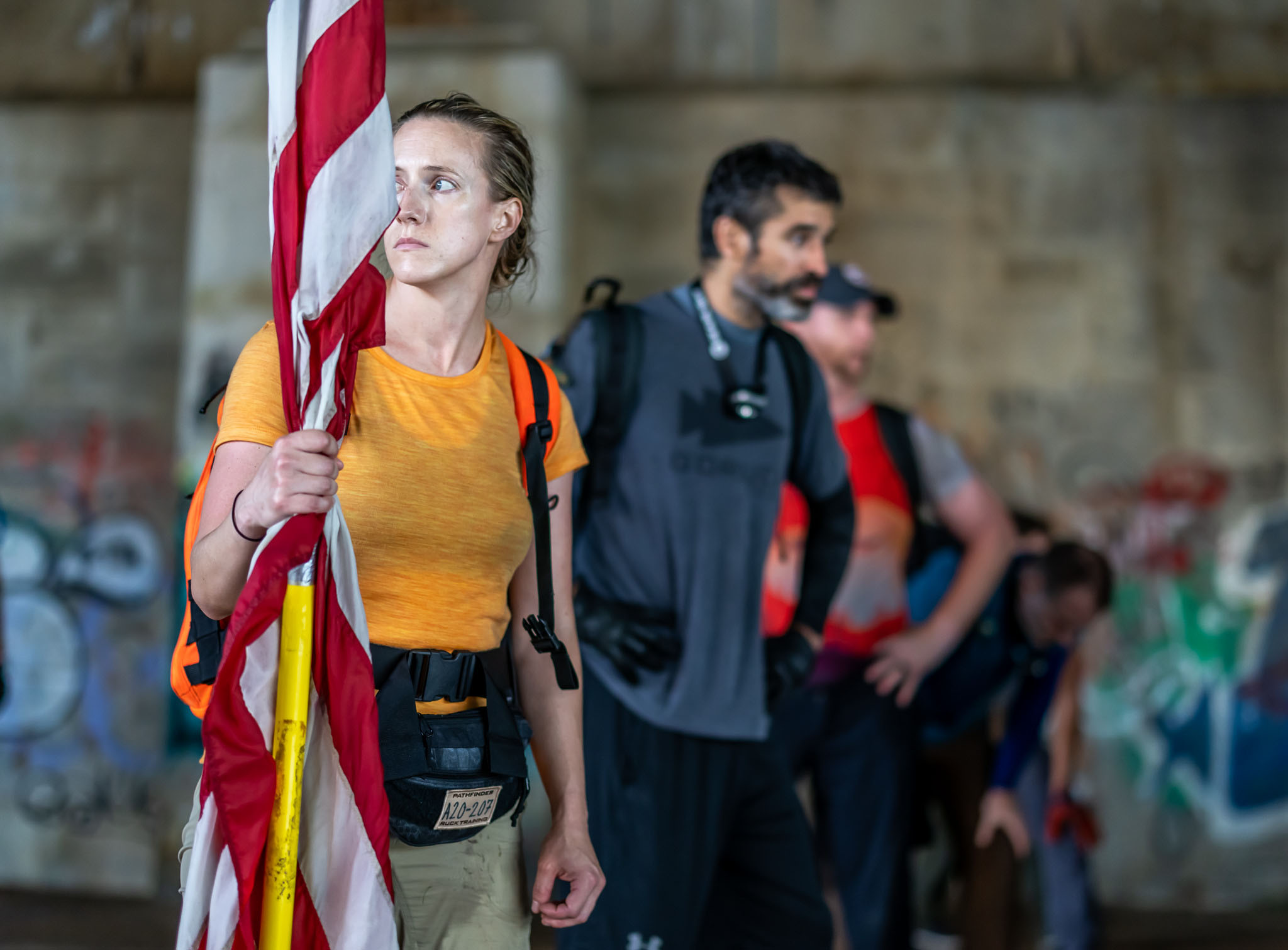 Back in 2018, I had been training to attempt my first HTL in September in Pittsburgh alongside my sister and quite a few other Steel City Ruck Club GRTs. I'd been in the best shape of my life since having my two sons in 2011 and 2013. Then I found out I was pregnant, and after a very rough pregnancy and several issues with delivery and recovery, I figured any attempt of gaining that fitness level back was hopeless. It took me a while to jump back into rucking, but I did so in 2020. At an SCRC event in December, Alex asked me if I was signing up for the D-Day Heavy with several other people seeking Heavy redemption. I laughed, but then I realized it was a possibility if I put in the work.
I was already training with Pathfinder Ruck Training by this point and I had done two Lights in 2020. After knocking off the class 026 Endure requirements a month early, I signed up for Advanced. I finished class 027 and continued Advanced training for 028 (which lasts until July). Any time I doubted whether I could pull off the Heavy, I thought back to my Pathfinder logs and knew I could do it. Having that specific training and support was definitely a huge factor in my success.
My main worries going into the event were 1.) (always #1) where are the bathrooms going to be? 2.) the heat and 3.) if sleep deprivation would affect me in any way (it didn't, thanks kids who have major sleep issues, for the training). Thanks to Caitlin's advice I felt confident in my clothing, gear, and nutrition choices. Five of us from SCRC drove down Friday morning, arriving around 2:30 pm. We chilled at the hotel and then walked the 0.7 miles to the start point in Long Bridge Park about an hour early.
Everyone was hitting up the restrooms at the start point as well as filling up water. Once we lined up and Cadre Cleve arrived, he urged us to again check our water and fill up if needed. The high on Saturday was to be 92 degrees, and water was going to be a huge priority during the event. I had a 3L Source bladder filled with water & Tailwind as well as a 1L Nalgene filled with water. Never at any point did I go black on water, but I filled up on water about seven or eight times throughout the 24 hours. (My hydration was great throughout the event—both great and annoying, seeing as I basically always had to pee.)
Once we were all back from getting water and lined up, we counted off. 42 of us were starting the event. 6 representing SCRC, 6 women, and a bunch of GRTs I was happy to get to know. We also had six or seven newbies to GORUCK, and you could tell they were pumped and ready to put in work. Cadres Cleve and Hand were both present while Cleve made sure we all knew what we were getting into, how important hydration was, and that this was going to be a learning event where we would learn about, respect, and honor the efforts put in by the military at Normandy in 1944. There would be a focus on special ops forces, and we would learn specifically about the contributions the Rangers made on that day. Cleve said "know and understand that it is not our job to set you up for failure, it is our job to facilitate your success" and they certainly both did so during the event. We were held accountable and it was by no means easy, but everything we did was always very fair.
After introductions, gear check, and some D-Day knowledge, we took a bag of empty sandbags and fillers over across the park to very conveniently placed piles of construction sand and rocks. We filled them up—two 40s, three 60s, one 60 filler sans bag, 10 "80s," some of which were actually filled with one 60 and one 40 filler and weighed well over 100, and five 120s. We filled them, got a friendly wave from police, and took them back to the start point. After lining them up (flag patches always up), we circled up and started doing 8-count body builders. Being right next to the airport, it was loud and hard to hear, and I did not know that our goal was 100 in 15 minutes. My form was definitely not great, I felt lightheaded and like I might puke up all my water, and my ruck at this point weighed 41.2 pounds. I knew we were live on Tribe and I thought "I can't even do these right, I shouldn't be here." But then I remembered what others told me—do your best while conserving energy, it's a 24 hour event. I kept going to the best of my ability in the moment. When we got to 88, Cleve gathered us together and told us that we didn't make the time hack. We would be starting over. However, he let us know that reason we were doing 100 was because Jim "Pee Wee" Martin, a badass who jumped into Normandy 77 years ago, is 100. Cleve said that Pee Wee had more combat experience than all the cadres in the room that he had talked with back in May. We needed to finish these 8-counts for him and everything he'd done for our country. We got a new time hack of 25 minutes and knocked them out, finishing with several minutes to spare.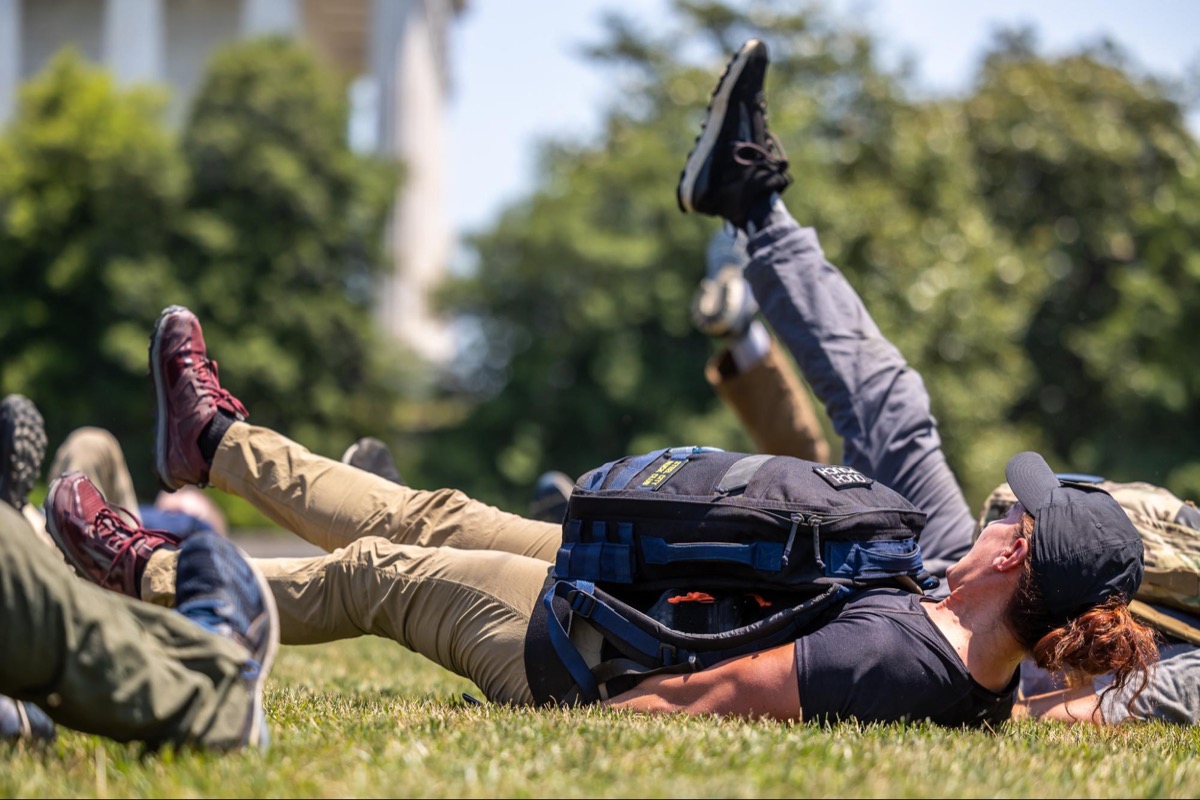 After forming up again, Cadre Hand took over. He asked the GRT to the right of me what was the date of D-Day. Easy answer. He asked me the official code name for the mission. Operation Overlord. Then he asked someone behind me a question that I can't remember at this time, but it may have been the name of some specific commander. The answer was incorrect/unknown, so more PT was dished out. We did push-ups, flutter kicks, 6-inch holds, mountain climbers, and Russian twists. (It was a Heavy, so no PT at any point was ever done slick.) During this segment I also got to talk about my two great-uncles, Harry Carey, who served in the 29th Infantry Division at Omaha, was shot through the lung, rescued a day later and survived, and Lawrence Carey, who served the 4th Infantry Division at Utah Beach. (They both went on to fight at the Battle of the Bulge.) After PT and some stories, we were told that we were headed for the 12-miler and that we needed to pay attention so that we would know what we were going to be doing. We grabbed the coupons and moved back across the park and out onto the road towards the Pentagon.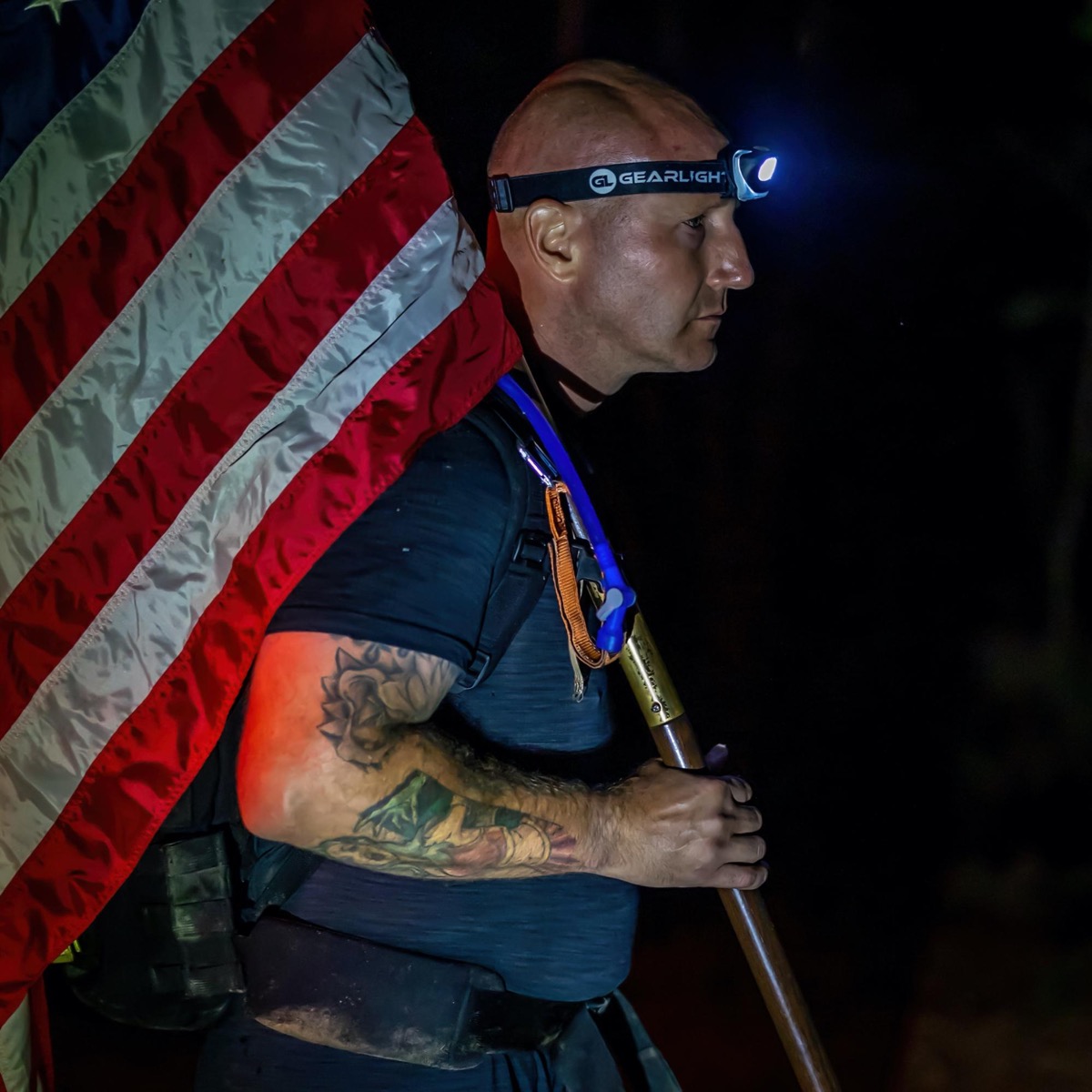 Our movement led us to the Navy-Merchant Marine Memorial near the Pentagon Lagoon Yacht Basin, where we did one 2 mile loop with all of our coupons to familiarize ourselves with the route that we would do six times for our 12 mile timed ruck. By the time our timed ruck began, it was dark. Along the route was a bathroom and place for water fill-up. I stayed with my sister, and we had a good pace that wasn't exhausting. With one stop off at the bathrooms during lap four that took about 8 minutes, we finished in 3:12. I had been looking forward to the timed ruck since I did my Pathfinder timed 12 in 2:39 with a 30# plate, and I felt good throughout this. We also had a party boat providing us music when we were in its vicinity. Upon completion, we got to rest. I ate, took off my shoes and sweat-soaked shirt, stretched, and talked.
We had one voluntary drop during the timed ruck. Once everyone was finished, we had more D-Day education. Cadre Cleve was the cadre with us at this point of the event, and he talked and gave us the opportunity to talk. I shared the story of brothers Bedford and Raymond Hoback, who served in the 29th with my great-uncle Harry but were both killed in action at Normandy. Others shared equally awe-inspiring stories and we were all reminded why we were there. After our rest and talk, Cleve had us stand up and do more 8-counts. I had no idea how many we were doing, but once we hit 30 I had the realization that it wasn't just a "quick" 10 or 20 and that we'd either be doing another 100 for Pee Wee or 77 to commemorate the D-Day anniversary. Thankfully, it was 77.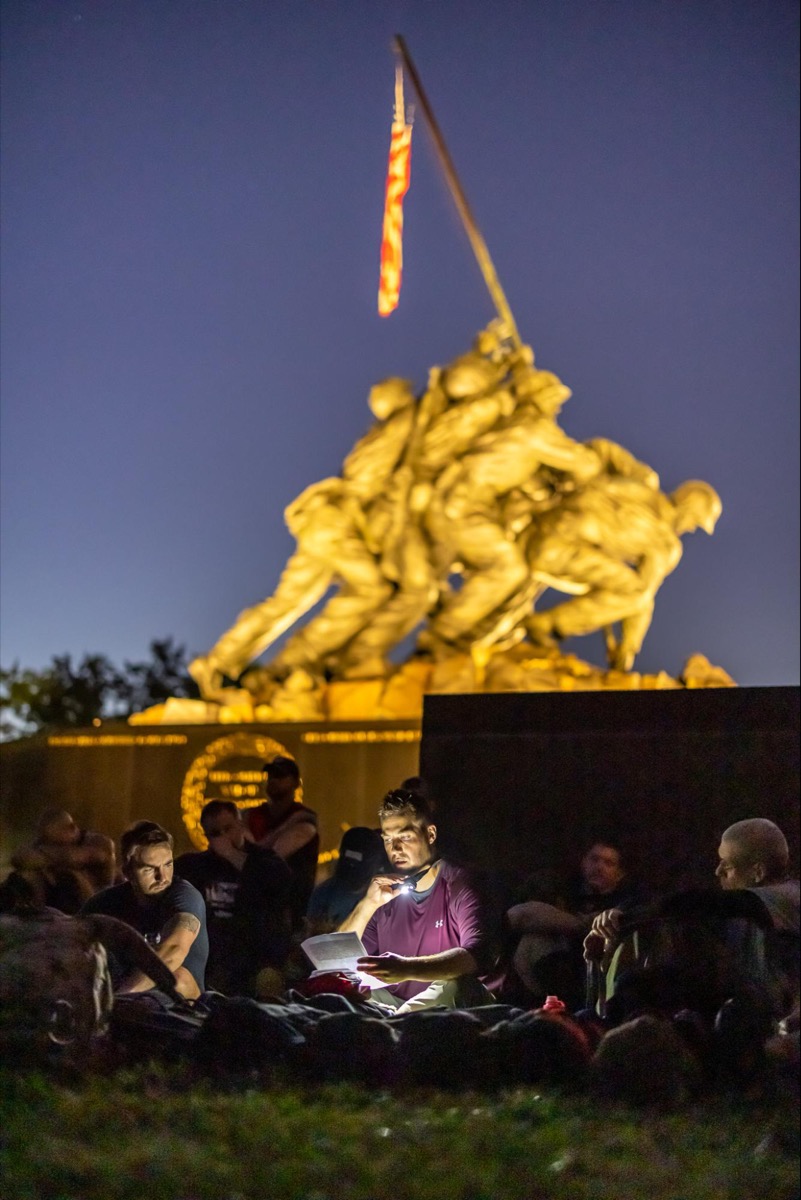 Our next movement was northwest along the outside of the Arlington National Cemetery to the US Marine Corps Memorial. We had the typical issues of coupon sharing, trade-off, and formation spread, and I'm sad to say that along this movement one of our GRTs collapsed and was taken to the hospital. (He recovered and greeted us at Endex!) Another GRT who he had come with went along, so we lost two more men and were down to 39. It was probably around 3:00 am at this point. Once we got to the Marine Corps Memorial, we gained four more jerry cans for a total of six, filled up water, ate, and shared more stories. First light was coming already and I think we all felt a mix of happiness for the impending sunrise and doom because we knew how hot it was going to get that day.
We went on to Roosevelt Island via a long route by heading north on some city streets, then WSW and over the bridge. Once on the island, we looped around the entire thing, which was a major switch-up from the sidewalks we had spent the majority of the event on. For much of it we were on a wooded dirt trail with fallen logs as obstacles, and part involved a wooden path over marsh. Once we were under the route 66 bridge, Cleve explained what "hydrographic surveys" were and we all spread out in the water to assess the bottom of the Potomac River by submerging ourselves fully from a pushup position, rucks on. We took a group photo both here and at the Roosevelt Memorial, then it was on to the next location—the Exorcist Steps.
Movement to the steps was steady but rough. I can't speak for those who shared the 120s but I know they were brutal. I tried to do my best to switch up between the 60s, 40s, jerry cans, and team weight. I saw a clock as we went over the bridge and it was around 7:35 am. Once at the steps, we set down the coupons, had a quick potty break, and then were directed to complete the D-Day WOD by going up and down the steps 8 times, performing the WOD on our own however we chose to break up the movements, and then by going up and down the steps an additional five times. I train on steps a lot and I was fine with them, but the PT really wore me down. It wasn't pretty! I also miscounted my PT sets and after getting halfway up the steps for my finishing set I realized that I had broken it down wrong and had only done 7 sets of 7, not 11 sets, so I had to go back down and finish. Cadre Hand rejoined us at this point (and they all drank coffee while we worked out) and then we had another extended break. A lot of guys seemed to be able to sleep during these times, or at least looked like they could, but if I relaxed too much I felt myself getting foggy, so I just sat, stretched, and talked. We lost another man here, who was having back issues.
Cadre Hand told us that if we each did 4 pull-ups on the pull-up bar, we could lose a sandbag. He assisted those who needed help with our feet on his thigh (thank goodness) and we got to dump one. We then continued on with Hand as Cleve left to get some rest (I assume), going through Georgetown Waterfront Park, much to the confusion of the hundreds of people around us. Any time we saw potable water, we filled up the jerry cans. This movement felt long, and we finally stopped next to the Parkway Drive volleyball courts for another extended break.
Throughout the Heavy, we did have a lot of breaks. Some expressed their surprise at this, but I know Cadres Hand and Cleve were focused on, like Cleve said, facilitating our success. With the sun beating down on us, the heat in the 90s, and the amount of weight we were carrying, it would not have been safe to push and push without breaks. Staying hydrated means needing to pee, so we had to make sure bathroom breaks were happening as well. In the past I've tried to not drink because I didn't want to have to pee, but that was not an option yesterday and isn't really ever a good idea.
During our break here, we heard more stories from Cadre Hand. We also played trivia, and it was Jeopardy-style in the sense that the harder questions had a better reward, with the rewards being getting to empty out certain sandbags. I will never forget the name Max Schneider now, the colonel who led the 5th Ranger Battalion at Normandy! We lost some sandbags but not as many as we could have. It still seemed like we had the same amount of weight, and depending on the fullness of the six jerry cans, breaks from coupons were still few and far between.
At this point I volunteered to be TL. Cadre Hand was very communicative and helpful when instructing me and my ATL where to go next—the Watergate Steps in between the Lincoln Memorial and the Potomac. We were told that if we go down one side, across the bottom, and up the other side ten times, we could lose another sandbag. After three loops, he changed the deal and said that if we could finish two more loops in under six minutes, we could lose it. We finished in 6:05. Another challenge was offered—we were split into four teams. We had to bear crawl down, wait for our entire team to finish, then sprint back up. Three times. I was terrified that my arms would go out and I would break my face, so I used my knees as I went down face first the first time. I was the slowest on my team. We saw other teams going sideways, so I did that the next two times. I was still slow, but our team was not last. The last place team had to do flutter kicks while everyone else got to rest. A few outstanding GRTs immediately joined in with the losing team, and within a minute everyone else had joined in. One team, one fight.
By this time I'd estimate it was about 11:00. Our next mission was to find a bathroom and water somewhere in the vicinity of the National Mall, Cadre Hand wasn't too concerned where. We went off to the north side, past to the Vietnam Women's Memorial, to a bathroom near the carp pond. Unfortunately, the bathrooms were out of order and there was no potable water. We all dropped weight and rucks for an extended rest as some GRTs went off to the Lincoln Memorial with jerry cans in search of water and others scouted out the WWII Memorial to make sure it was safe to perform PT on location. After 20 or 30 minutes, our water scouts came back with full jerry cans, and eight of us went back to get the other four filled by a wonderful custodian at the Lincoln Memorial. (Also—bathrooms. Air conditioned. Awesome.)
My ATL had attempted to make a plan with me regarding coupon distribution, but now the jerry cans were full again and our plans were out the window. Our team picked up the weight and moved on to the WWII Memorial in the blazing sun.
We had made it—we were at the WWII Memorial, ready to honor those who fought and died at Normandy and throughout the entire Second World War. It was time for the D-Day WOD again. No special mileage this time, we were doing plenty of that, just the PT. As TL, it was my responsibility to lead it. In that moment, I felt mentally and physically switched ON, and I knew I couldn't let my team or our purpose down. After some helpful discussion with the team, we decided to break down the movements into two groups—the rucks on back movements and the rucks in hand movements. I explained it to Hand and he approved. We did 11 sets of 7 squats/7 push-ups, then 7 sets of 11 deadlifts/11 overhead presses. We had hundreds of people watching us, and afterwards, as we hydrated and got our hats wet in the pool, a lady came up to me to ask if we were doing this in honor of D-Day. I explained yes and the general idea of a Heavy, and she congratulated us and said that she thought it was awesome. We took some photos here, and then we moved on.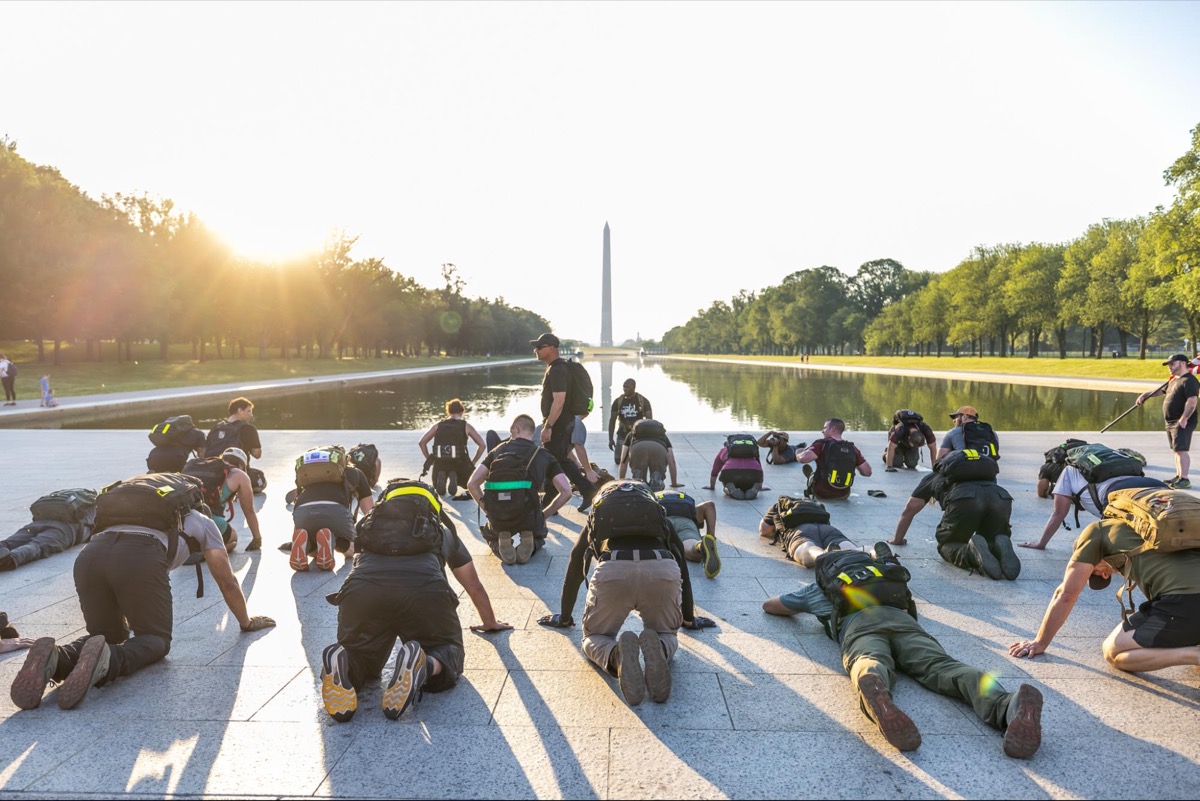 Cadre Hand wanted us to loop around the Washington Monument and then head to the Thomas Jefferson Memorial, but at this point we were dragging so badly. People were struggling, the flag was always at half step, and everyone was wiped out from the heat despite constant water. He changed instructions and we instead went down the south side of the Reflecting Pool and took another rest in the trees between the Lincoln Memorial and the Korean War Veterans Memorial. Bathroom breaks, food, and then it was time for our culminating movement back to Endex. My time as TL was finished, and I headed back into coupon rotations.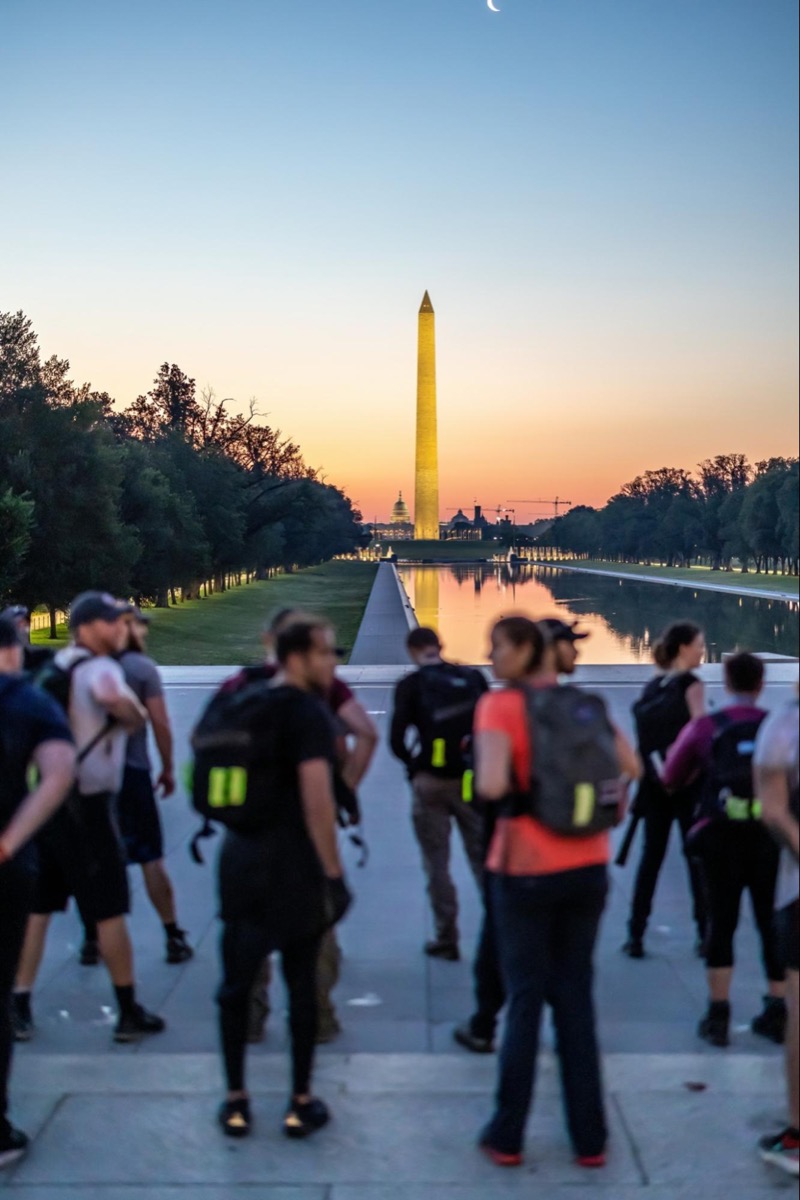 I'd estimate it was 2:00 pm at this point. My left foot felt painful, like there was a ball swollen under my skin along the outside of the bottom. I was hurting, but I wasn't injured. I kept going to the best of my ability, trying to switch carries to change the suck. My time back to the park we started at was spent trying to alternate between jerry cans, a sandbag, the team weight, and the flag. Sometimes even the flag seemed a struggle in the wind, but I know there were plenty of guys on the 120s who would have loved a chance at the flag. (Cadre Cleve had said at the welcome party that the sandbags represented bodies, and every time something got too heavy, I reminded myself of that. Sometimes I pretended the 60 was one of my children, injured, and I had to keep going to get them help.) I believe our final movement was around three miles. Cadre Hand had warned our TLs that it would be like herding cats, and we were getting snappy, with some wanting to push hard to get it over with while others needed short breaks to recover from the heat. When we walked back into Long Bridge Park, I got tears in my eyes. I had done it. It didn't matter if cadre made us do 100 more 8-counts at the end, I was finishing this Heavy. (Once the sun came up I had no doubt that I wouldn't quit, but obviously you never know if an injury may take you out against your will.)
We got to where we started, set down the coupons, and lined up. Cadre Cleve rejoined us with beer. Cadre Hand asked us what we had learned, and we started volunteering information, but Cleve was so pumped that he just basically instructed us to swarm the beer and celebrate. People started sitting down, but then he reminded us that if we wanted a patch we had to stand up. I was in the front, and when Cleve patched me he asked if I was going to cry and said I looked like an ugly crier. I laughed and said that I had some tears, yes. No sobbing, though. I'm not a hugger, but I went around and hugged all the ladies anyway. All six of us had all finished. Meghan, who I met that day, went on to complete the HTB.
To everyone I met and had conversations with, you are awesome. I may not remember your name (thank goodness they stopped playing the name game at events) but I am honored that I got to go through this with all of you. I appreciate every time someone mentally picked me up, and I hope I did the same for some of you.
This was the most meaningful event I have ever done. The meaning adds so much to it, motivationally. In September, I will be headed to NYC for the 9/11 HTB. I was a senior in high school on September 11, 2001, and I will never forget that day. I have no doubt that the personal impact of the events that occurred on that date will drive me through the HTB. I can't wait to experience it with my fellow GRTs.
---
About the Author
Carrie Sofko is a GRT mom of 3, a member of Steel City Ruck Club out of Pittsburgh, and a rucking/OCR enthusiast.