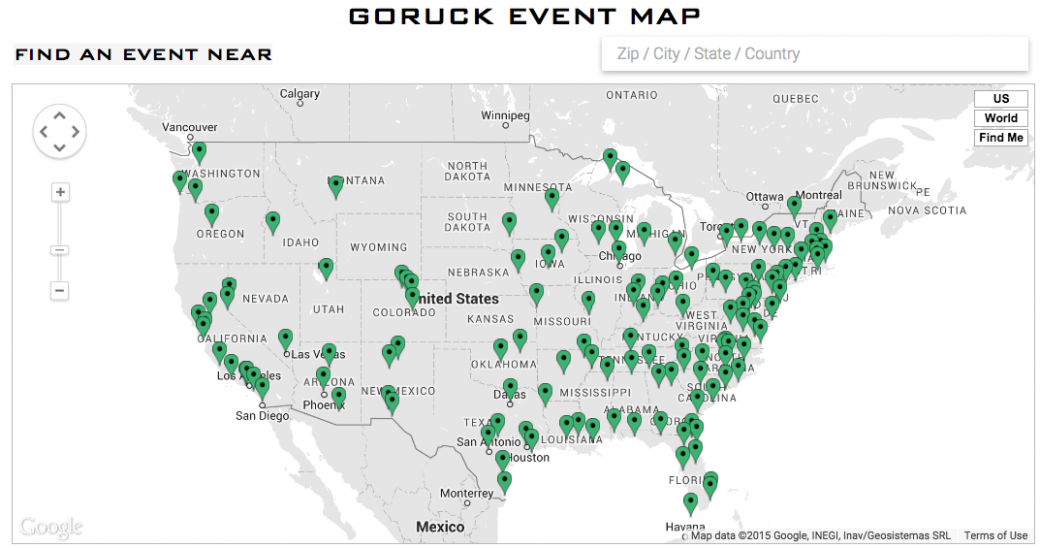 In the past week, we've cancelled ~250 Events (Challenge and Light) and we've launched aka added around ~100 Events (Challenge and Light) for the 2015 schedule. We had around ~900 total Events live, and we've reduced it down to ~750.
Here's why. In essence, we're going to some places way too often, with very low participant numbers in each class. In big hubs like DC and NYC, we're not offering enough variety or "special" kinds of events where our Cadre can create a different kind of Challenge, with an even different meaning.
To address this, operationally we've broken down the cities into tiers, and we've focused on Special Events, specifically 5 Special Events that are massive:
Memorial Day
July 4th
9/11
Mog Mile
Veterans Day
Then we've looked at Tiered cities. Tier 1 cities are:
Washington, District of Columbia
New York, New York
San Francisco, California
Boston, Massachusetts
Chicago, Illinois
Philadelphia, Pennsylvania
In that order in terms of participant sign-ups in the last two years.
Plus Tier 2 cities:
Dallas/Fort Worth, Texas
San Diego, California
Austin, Texas
Seattle, Washington
Houston, Texas
Atlanta, Georgia
We've then said let's hit these Tier 1 and 2 cities more frequently, differentiating by putting Special Events there, with special patches and special themes. Then let's hit other cities, smaller cities, less frequently but make them more special in their own right. No Events company comes to every state in the country except us, and we can and will continue to do this. But we can't come to Minneapolis 5 times a summer, as we had scheduled. And yes, I love Minneapolis the last time I was there I met Justin Grimm and learned of Brave Charlotte and my Godmother lives there and she's awesome. That's another story.
The cities that have been cancelled. It's not a no love thing, it's just a push to consolidate and focus. We cancelled a few in Colorado Springs but added a Mog Mile. Boulder is close to Denver (and the Springs) so we deconflicted a little better so as not to spread the registrations so thin.
You might say why didn't you do this before you launched these. It's a super fair question. The answer is two-fold:
We lacked reporting tools to make this visual/manageable prior to the launch of our new website, instead launching an entire year from an Excel worksheet with guidance from me only to launch more than last year. This was unfair and incomplete/improper guidance given to our team, and that's on me.
I failed to see the importance of the Special Events in terms of driving sign-ups, and in terms of your appetite for them. Special Events also offer us Cadre the opportunity to use the creative part of our brains in new ways, which we enjoy because it's more cerebral to talk about significant things (Never Forget 9/11 means what did it mean to you Always Remember 9/11) at the same time as we teach a team how to overcome together. Every Challenge is special but themed ones are special in a different way.
Most cities we cut had very low sign-up numbers, call it sub-4 participants. We hate doing stuff like this, it sucks from the perspective of you're signed up and we cancelled on you. For that I'm sorry, and I hope you'll come to one of our other events. There are a lot of 'em.
We're still really small, and we've grown grassroots style based on your support. All we have is our best shot at getting it right, and we have you all. Thanks for not beating up our team too hard. If we cancelled an event close to you, we're happy to work with you to put you in a class nearby, or to schedule a custom event. And if we cancelled your event, we're issuing full refunds.
But mostly just this: thanks, and I'm sorry, and we'll do better on the scheduling in 2016. And in 2015, when you show up, it'll be all you're hoping for … and then some.
At least I hope so, since I'm expecting big things for my first GORUCK Challenge and all your buddies not in this group are, too. They're just not lucky like I am to have a sneak peek into the community I'll be joining.
As always, love you all and thank you.
Special Events here.
Events map here.
What are your questions?