Effective I dunno as of now you'll notice some price differences for GORUCK Light and the GORUCK Challenge. Usually some CEO or whatever would come on and justify price increases and talk about rising costs and oil prices and Middle East disturbances and you name it. Maybe that will happen someday but today I'm doing the opposite, and explaining a price decrease for our Events. My hope is that this creates greater opportunity for more people to show up and achieve something great, which also lets us gainfully employ more Cadre aka more decorated combat Veterans of Special Operations, to build better Americans and to focus on the homefront aka America and jobs for war Vets is vital to the future of an America we've fought so hard for over the last 13 years and I happily dedicate my life to that cause.
Two main reasons because yes this is a business and we have to keep the lights on blah blah (1) More People is the goal. I've met some of the best people ever via GORUCK and I want that to continue, and I'm talking Cadre and participants. (2) Christmas happens once a year and Events are year long and you all buy gear, and that allows us to charge a lot less for Events than we would have to if this were 'just' an Events company.
Some months we lose a significant amount of money on the Events side, a model I would not recommend copying. April/May/June we lost a combined $140+K via Events and that's a huge number and I don't recommend running a business in the red it sucks and you won't sleep much but at GORUCK we've always been 1+1=3 so we're combining Gear and Events and we make decisions based on what we think is right. And this is another story altogether but April 15th we had a combined $2,416.99 in the bank and then I had to go to work like almost never before and I'll tell that tale another time. Long story short Monster saved us ha ha.
My belief is that people are more important than anything else in this short time we share and I believe in magic and I believe that our Events and the people who have taken them and the Cadre who have led them have driven GORUCK to where it is and we are not very good at measuring but when we do our taxes every year we sorta have to see where we stand and as the top line gets bigger it's not lost on me that the reason that happens is because of you.
So yeah, we sell gear and it's the best in the world. And our Cadre lead life changing events with the best people you can meet and we are a Cadre driven brand meaning if the Cadre can teach it, we can do it. And our Events are hard and yeah yeah too hard for you except come on you've been eyeing them forever and at a certain point is everyone you've ever talked to wrong? Probably not and in this case, definitely not.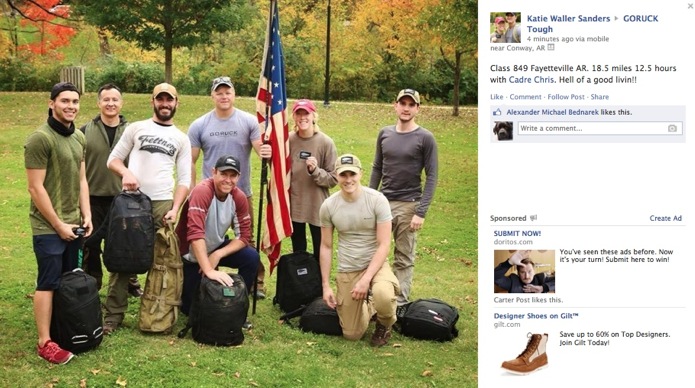 GORUCK Challenge, Class 849
Fayetteville, Arkansas
I've been using this photo for a while to explain my philosophy internally and lead with transparency means why not share it with you all, too. There's one Cadre (Chris) and seven (7) participants in a GORUCK Challenge in Arkansas. If you haven't been, it's hugely underrated and I love it there make sure to hit the Ozarks. I digress. One Cadre and we probably lost money this weekend but to those who showed up, thank you. I also see six (6) GORUCK rucksacks and a GORUCK sandbag, none of which is cheap last time I checked and I just checked so I'm sure.
And I see a bunch of smiles and 7 actually 8 folks who will probably love GORUCK forever and who probably left great friends and better Americans (It's Not About You) and I don't care to try to quantify that even if I had a floor full of McKinsey analysts at my disposal. I also see Old Glory and I'm pretty sure Chris (ask me about the time he and Garrett got into a SERE school reenactment sometime it was hilarious) felt good about Building Better Americans and have you ever spent 12.5 hours like this with a Green Beret before? Nah I don't think so and if you're skeptical so was everyone till they did it. I'm talking about me, every Cadre who works here, and every participant from the beginning of time.
My take is this event in Arkansas should cost less for you because it costs less for us. So now it does and if it happens in the wintertime isn't the cold a scary thing, it's even less. Hopefully you bring more friends next time because that's our goal. Classes that cost us a little more will cost you a little more, but still less than what we were charging. The price grid is approximate and I'm sure we'll tinker with it on a case by case basis and NYC is always the one that comes to mind I mean man it's expensive there but man New Yorkers show up in force God Bless 'em. Today though I'm talking more about the philosophy of pricing at GORUCK. History lesson and long story short, we inherited a pricing model from an old partner years ago and we kept it in place for a long, long time. Longer than we should have but the rumor is that change is hard and while chaos is one of my great loves the rumor is still true.
And thanks for the support since forever and here's to a million more years of this, we're having the time of our lives and I'm grateful for the opportunity. So thank you.