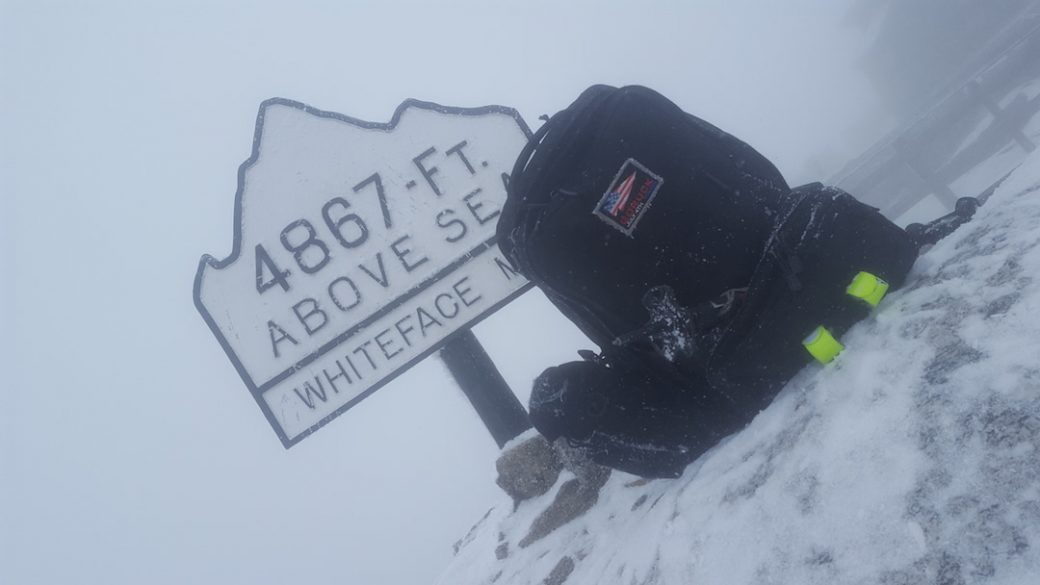 I love when GRT's send us a great story with photos that look like postcards. This is one of those stories. Chi sent this to Kit, Kit sent it to me, and here it is.
---
 On February 1, 2017 I decided to start my new adventure with the Adirondack Winter 46er challenge. My goal was to hike up all 46 mountain peaks during their qualified "winter" window, and dedicate each hike to all the soldiers that died that same day during the Global War on Terrorism. Many have been affected by various wars and acts of terrorism, but my past experiences had brought me to focus on the men, women, and children that were affected by the last six Operations.
In order to be considered a "winter" hike, one would have to complete it during December 21 – March 21. Having climbed a handful of 14,000 ft. mountains in Colorado's winter, and a few of the Adirondack peaks before, I had a general idea of what I was getting myself into. Previously, I was also a D1 soccer player, played ODP, 2014 WTM, and 2015 Death Race Finisher so I felt physically capable of jumping into this.
Before I even started packing my supplies, I already knew which backpack I was going with. This thing had traveled with me through almost every major and minor U.S. city in 45 states, countless of airports and 3 different countries, all within just the last year. GORUCK. I proudly showcased my patch from the 2016 Fourth of July Light & Heavy in Charlotte, NC.
Every hobby enthusiast has their popular preferred brand. In the hiking community, most would either lean towards an Ospry, Deuter or Black Diamond. However, I wasn't interesting in features like a "contouring ventilated mesh back panel", or really just anything made out of nylon. I wanted something durable.
I had known that GORUCK's were Special Forces grade, had a Lifetime guarantee, and had extra padded straps. However, I didn't know that they were also, "waterproof". That's in quotations because when asked if GORUCK's were waterproof or not, GORUCK Founder and 10th Special Forces Group, Jason McCarthy, stated "the short answer is no, the long answer is that waterproof to our standards means you can leave it at the bottom of the ocean for a week and nothing inside gets wet. 1000D Cordura is highly water-resistant, by military standards, and I never worry about carrying my electronics around town even in a downpour."
Having put my ruck through almost anything imaginable, I can attest to this. I've left it outside in storm during a 14-hour workday, to having just climbed 46 High Peaks through blizzards and rain pours. I've never had any valuables get wet. Conversely, other packs require that flimsy plastic cover that either always falls off, or gets a hole ripped into it. With how often one has to crawl and crouch during the Adirondack 46er climbs, it's inevitable. I've been out on days where there's a -51F wind chill, and that's neither the time or place to have to worry if your gear is up to snuff or not.
Other features I enjoyed in the 34L GR2 were the 7 pockets, that would later house my emergency survival gear, the many internal and external Molle webbings, and the low profile.  The great perk of having Molle webbing is that I could attach components like an insulated waterbottle pouch to the side, or an additional storage pouch on the front. The GORUCK shoulder straps were additionally a perfect feature. I used one slot for the chest strap, another slot for a carabineer that would either hold my mitts or ResQLink Personal Locator Beacon, and another slot for my knife/sheath. All in all, every single inch of this ruck was thoughtfully put together and more importantly, extremely well executed.
This coming Sunday I hope to finish my last climb. Although I will have completed all 46 peaks, I will have to redo (12) of them in between December 21 – March 21 to have completed the Winter ADK 46er. I just didn't have enough time and energy to finish them in half a season with a knee injury while also pursuing a second BS & Masters in Aeronautics.
As of March 28, 2017 there are 10,136 people that have completed hiking the regular Adirondack 46er challenge. Of those people, only 833 have completed them all in the winter. It was short, but it was a very enjoyable two months. There is zero doubt in my mind that I would not have been able to do this if it wasn't for a GORUCK rucksack. If you don't have one already, I highly recommend getting one. Then, I highly recommend you go earn your patch to put on it.  
---
Thank you for sharing this story Chi. If you have a cool GORUCK story and pics to share please send them to bomber@goruck.com I can't promise you we will use your story. But I will read every one you send in.

Christopher Goad AKA Bomber