From Tyler: "So on the 10th in DC that documentary is screening for the first time at the Capitol for Congress and military brass. Seeing as it is about bridging the gap (kind of), I would really love you to see it and see what you think. I haven't seen it…but I hear good things…and yes I have to be there which quite frankly I am scared shitless about as this is waaaaaaaaaay out of my comfort zone…That being said I always tell my classes to live outside their comfort zone so it is time I practice what I preach…"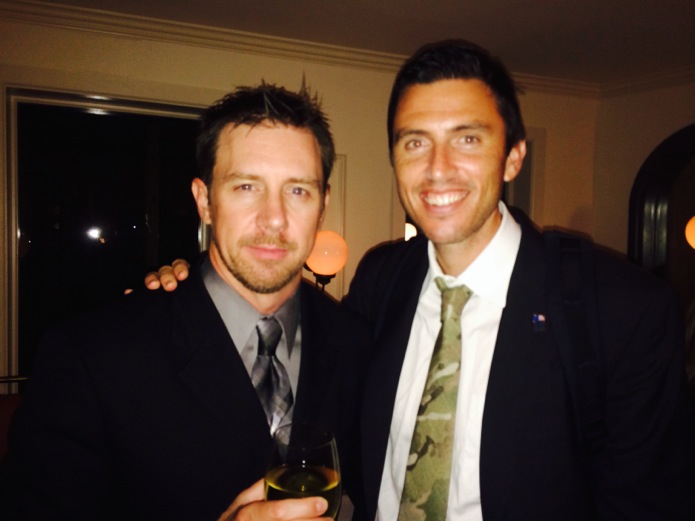 So he watched it. And I watched it. And I was proud of my friend and proud to be there and once the shine of the night wore off a pair of shaky hands (inside joke you had to be there ha ha) snapped a pic of me and Tyler, a reminder now to say what I was thinking that entire night. Which is that I really admire his ability to fight the awkwardness of saying hey this is me this is my story and I hope someone else gets something out of it and if there is a way to make America better, to help soldiers, then I'm in – whatever it costs.
A couple take-aways but actually just one:
If Jayson and Tyler, two Special Operations soldiers, can expose themselves to a degree of vulnerability like this, if they can say I hit rock bottom call it PTSD or whatever and it sucked and I had to ask for help to get back to being me again, does the stigma around asking for help go away for all war veterans?
And I say no it doesn't, but it starts to.
And that's why I'm proud of this film.
Check out the film's TWILDM home page for future dates and the Armed Forces Foundation, who was instrumental in making it.