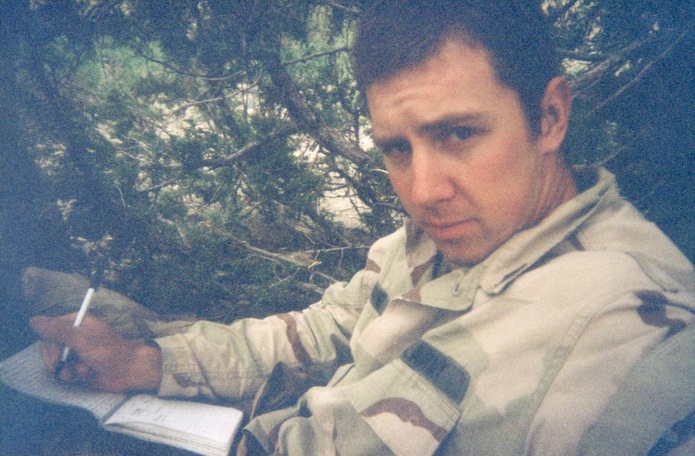 It's an eventuality.
The Special Operations community is similar to being on a professional sports team in many ways (pay is NOT one of them haha). One of those ways is that the job is dangerous and therefore injuries WILL happen. Whether from the intensity of training or the chaos of combat, at some point everyone knows: play the "game" long enough, and eventually you are going to get hurt.
The OCR/GORUCK/CrossFit/Hardcore training community is no different: push yourself hard enough and at some point you're going to break/injure something.
Now I will be honest. I HATE being hurt because I love training and anything that interrupts my training drives me nuts. But these things happen and if you're going to play the game you will need to be able to deal with coming back after something sidelines you.
This is my story.


I was blown up on a nighttime raid in Sadr City, Baghdad, in 2005. At first I thought I had lost my arm; it suddenly felt … not there. Once I got outside, I looked at it. From several inches above my wrist to my shoulder it looked like hamburger meat. Plus I saw I had an arterial bleed – and uh that's not good. I looked at it for a couple seconds and then I looked away. Based on the damage, I was pretty sure that it would be cut off once I got to the Medical Cache. Shockingly, I accepted that at the time. No going back now, I remember briefly thinking about a cyber arm and then the 80's movie Robocop. That movie was kind of cool; a cyber arm may be sweet. Funny what your mind thinks of in times like these.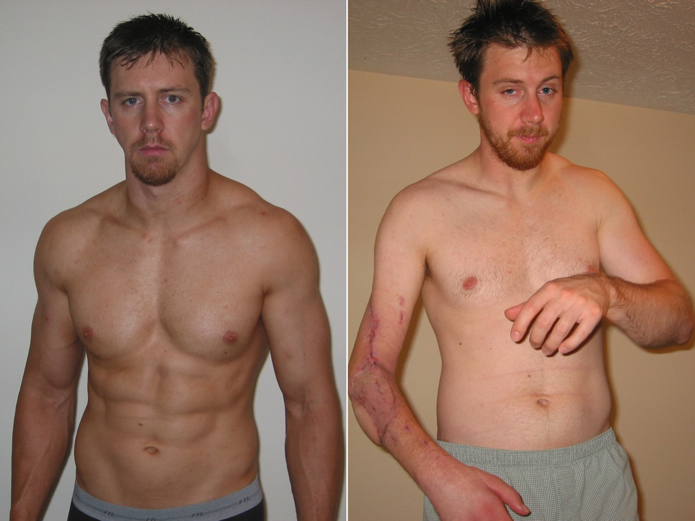 I was in the hospital for several months. I lost almost 50 lbs. while I was in there. The pictures above show me a couple months prior to injury and then about 6 weeks after getting out of the hospital.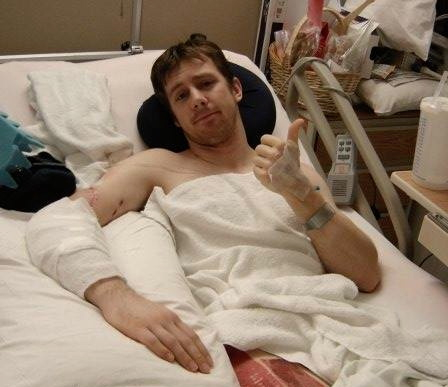 Cut to 4 years and over 30+ surgeries later: I looked and felt like I had never worked out in my life. Once the swelling from the grafts subsided, my arm looked like a skeleton's; it was as wide all the way up as my wrist. And nothing more. I wanted to get back to working out, to shooting, rock climbing, mountain biking, etc. I wanted to get back to the activities that made me happy. But what I didn't realize then was what I really wanted was to get back to feeling like myself. I love to train, that's just who I am. But where do I even begin?
Have you ever been in a situation where things are so messed up and so many things are wrong that you are paralyzed by not knowing where to even begin?
I remember going to the gym for the first time in over 4 years. It felt like a foreign place that I had never been to in my life. I felt like a fraud, like I shouldn't be in there. I went to bench press and struggled with the bar. Yes the BAR! My shoulder was so atrophied that it would click in and out of place. I had barely enough muscle there to not dislocate it constantly. I couldn't bicep curl the 20's. And my right hand kept dropping the weights, constantly eliciting views from the other gym patrons. I left the gym disgusted, embarrassed, and quite frankly, ashamed of myself. On the drive home I literally had tears in my eyes.
To get back on the horse, you can't let it get away.
Sometimes the worst things that ever happen to you can turn out to be the best things that ever happen to you. That day back in the gym did suck no doubt but on the way home after those tears dried … for the first time in a long time I had a goal, and that goal was simple: it wasn't to lift this or that certain amount of weight or be this size by this date. It was to not be ashamed, it was to not judge myself and just keep pushing forward. I had to get over what I used to do, who I thought I was, and most importantly who I "used" to be. I had to start over and the first step was accepting and being ok with that.
I went back to the gym the next day, this time with about $200 worth of straps and gloves (to help me not drop the weights) but most importantly with a new attitude. My attitude was simple and I committed myself to just one thing: I would keep moving forward. No matter what happened I would just keep at it one step at a time, one rep at a time, one set at a time. I would give 100% every time I workout. It was as simple as that. I wouldn't care about results; I would care about my effort. I stopped tracking the weight I lifted, the weight I was, and the size of any body part. Any number or gauge that I used to use became unimportant. It was liberating, as I stopped comparing myself to my biggest and only competitor: my former self. My 100% now was no different than my 100% over 4 years ago as far as effort was concerned. And ultimately isn't that the only thing we ever control?
Since that day when I made the mental decision to have a new attitude, it has been about 3 years. I have had slips-ups, set backs and I have injured myself (and my arm) several times by pushing it too hard and quite frankly by being stupid a couple of times. When that happens, I rest and I heal and then I get back on the horse and ride it at 100% effort till I fall off or it bucks me.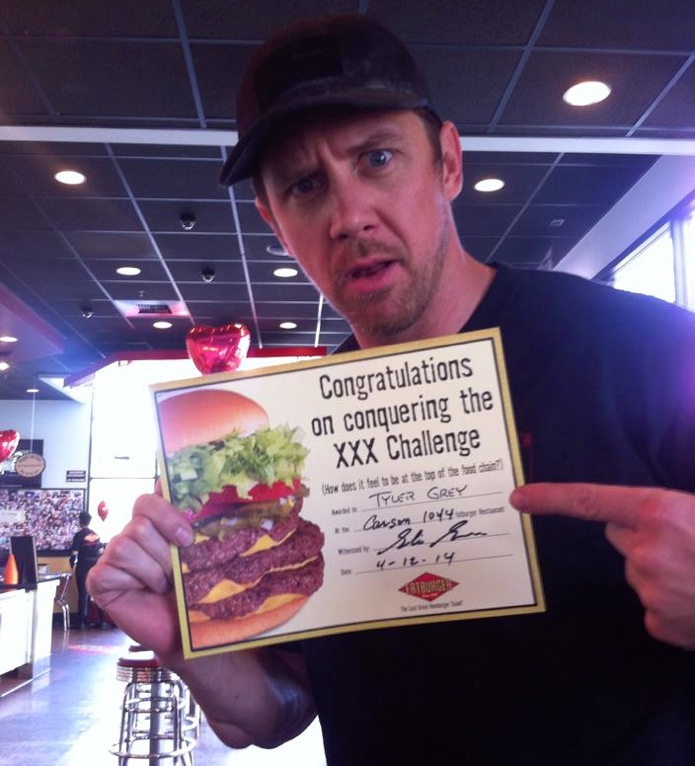 The moral of the story is simple: DFQ! (Don't ******* Quit!) 100% effort, 100% of the time, anything less is quitting whether you admit it to yourself or not.