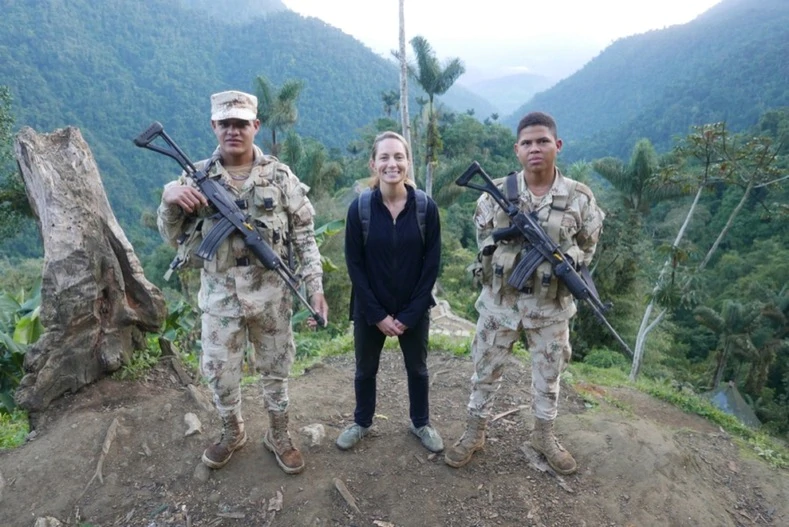 Rucking 29 miles in the Colombian jungle in 29 hours.
Over the years, I've taken a lot of trips and spent nearly a decade living in South America, Africa, and Europe. Jason has visited more continents and countries than me, though for shorter stints of time. And while we've traveled together plenty, our trip to Colombia in February of 2018 turned out to be the most important trip we've taken to date.
Word on the street is that it's a great time to visit Colombia. It's having a bit of a breakout moment as a country with a notorious past and promising future. The danger is now manageable, even avoidable altogether with some basic street smarts. Some of the friendliest people you'll ever meet are ready to share what they love about their country.
Jason and I sought an epic adventure in a country neither of us had ever visited before as the highlight of a long-awaited honeymoon. We chose to ruck Ciudad Perdida aka the Lost City, an ancient archaeological site only accessible by a narrow footpath through the Sierra Nevada jungle. When we first looked into it, all the guidebooks and online blogs said the trek would take 4-5 days. Doing the quick math, we said muchas gracias but we wanted to complete the trek in 2 days time or less. According to the guides, what we wanted had never been done before.
36 hours prior to beginning our trek, I was hanging out by a gorgeous rooftop pool at sunset in the gritty port city of Santa Marta. Maybe it was all in our heads, but the atmosphere seemed charged with excitement. The daily lives of locals and the casual wanderings of tourists intersected on the streets, and we wondered if every gringo we came across was also waiting to embark upon the trek to the Lost City.
This is what I packed for a 10-day trip to Colombia. My 21L GR1 weighed just a tad under 15 lbs when fully loaded. Key was bringing a casual dress that could be rolled up and a pair of flat sandals for nights out in the city.
My GORUCK apparel consisted of a pair of Women's Simple Pants (the only pair in the world at the time), a Half Zip, 3 V Neck Tough Tees, a pair of Simple Shorts, and a Simple Windbreaker. It wasn't exactly the same style as the locals' t-shirt and tight jeans look but it was close enough to blend into the surroundings. Worst-case scenario, if you err on looking a little too much like an operator, that's not a bad thing.
Carrying everything we had packed for Colombia in our rucksacks, we started on foot from Mamey aka Machete Pelado just before 10:00AM on the first day. Much to the surprise of our amenable guide José, Jason and I turned down the motorcycle rides taken by folks attempting to do the trek in 3 days. We made it clear to José that not only did we consider the use of motorcycles to be cheating, we were going to do the 29 miles in less than 2 days' time. José smiled and said, "Ok," but his eyes said "Yeah right."
This is my reaction to the thought of being stuck in the jungle with Jason for 5 days straight while only averaging 5-6 miles a day. Little did José know, our master plan to ruck the Lost City in under two days time was not solely about testing our speed and endurance, it was also about the survival of our second marriage to each other.
To be clear, we were not going race pace. There was plenty of time to linger in certain spots and take photos of the new women's apparel line. I took a dip in the stream to cool off and test my Simple Pants' ability to dry in the jungle where nothing dries. After a few minutes in the sun, they were dry and cleaner than before.
At our first stop for lunch on Day 1, just a few hours from the start point, it became clear to us that José was not as keen to push the pace. He was used to eating three square meals followed by a siesta. It was easy to see how the larger the group, the more difficult it is to move quickly. That is, unless, your group is a GORUCK Challenge and you have timehacks coming from a more motivating guide.
So many shades of green. Henri Rousseau, eat your heart out.
When José was not eating the snacks he had brought for us, he was telling us the history of the four Pre-Columbian indigenous tribes whose territory we had now entered. Interestingly, several years ago the tribes worked out an agreement with the Colombian government to allow tourists like ourselves to visit the protected Lost City in exchange for medical clinics and a share of the profits. There is a burgeoning economy creating job opportunities for members of the tribes, local farmers, and tour companies, all working in harmony with one another and the environment.
Mules led by local campesinos take supplies in and trash out. You can also rent them to schlep your gear, don't knock it until you've seen the 70 year olds out there embracing the suck on these challenging trails. If I'm still alive and well enough to do this trek when I'm a woman of advanced age, I may just rent a mule myself.
I thought this might be a good photo op to try a yoga pose on a rickety bridge. José thought otherwise and got a little upset with me. He told me that no one had ever tried to do a headstand on that bridge during his 4+ years as a guide leading treks to Ciudad Perdida for 48 weeks out of each year. Trying something new is good for the soul and, let's be honest, photos. In this case, it was not so good for my head but the trek must go on.
Word to the wise: when in the jungle, do what the locals do to prevent tropical diseases. If the limited packing list recommends Nopikex, a favorite local repellent in bar soap form, by all means, seek it out. I loathe mosquitos, the worst of all God's creatures, with a fierce passion after contracting dengue fever while in the Amazon in 2003. To this day, it is the most terrible I have ever felt and took months to get back to normal.
A couple days prior to starting the Ciudad Perdida trek, we ran into a young French couple in the coffee region who were as clueless as they were sweet. She had bites on bites on bites, maybe 200 total, where mosquitos had ravaged her legs. Both she and her boyfriend also looked sunburned, exhausted, and generally miserable. Not surprisingly, they had just completed the Lost City trek. I asked about the experience and the French girl told me it was disappointing: too hard, too long, and they saw no animals (aside from the mosquitos, that is). She happily showed me photos of toucans seen later at some tourist trap. Disclaimer for those who need it: the Lost City trek is not a safari and it is a place where you want to wear repellent, lots of it, local-style.
Tropical locations usually have two types of weather: dry hot and wet hot. February in Colombia is technically considered dry season though getting wet while under the tree canopy means nothing dries. These photos were taken before I had my proudly not waterproof MACV-1 boots. Regardless of what footwear you are using, it's still a fantastic idea to take off your shoes for river crossings. Rucking this trek in the rainy season would be an entirely different experience, it's easy to imagine crossings where the water level is up to your neck and the trails are a series of mudslides.
Basecamp Paraíso can only be described as the jungle outpost version of the Star Wars bar scene on Tatooine. It's a place for weary travelers, seasoned guides, campesino cooks, and members of the indigenous tribes to gather and eat some local food, drink beers and the juice of native fruits whose names are hard to pronounce, even a trading post where your paper money can buy supplies like Oreos and Nopikex for the remainder of the journey. The energy and excitement of the place was palpable, electric. Tomorrow we would climb 1km straight up to see the ancient ruins of the Lost City.
Sleeping arrangements were practical and not super conducive to honeymoon activities. We didn't care, according to our timeline it was only one night and after rucking 14.5 miles through the jungle and listening to Jason's "Calle Español" I was ready to tuck in my mosquito net and sleep with the angels.
The best thing about taking a private tour is that we got to call the shots and José was nice enough to not say no. We told him we wanted to see the sunrise at the Lost City. He hemmed and hawed a bit about missing the regularly scheduled breakfast until we broke his heart by admitting that we didn't care about the food, we were here for the scenery. So a 4:30AM wake up came fast and we quietly slipped out while the other 60+ travelers snoozed in their netted bunk beds and hammocks.
Climbing straight up over roots and rocky terrain in the pitch black jungle turned out to be a most dramatic ascent, we were alone but much more excited than afraid. Adapting to the whims of his crazy gringo wards, José gave us an insider's history of the Lost City on the hoof, stopping only to draw our attention to points of interest along the way and to pan his cell phone flashlight on occasion, looking for the glint of animal eyes in case we startled a jaguar or nocturnal hunter.
We reached the top of the Lost City without another soul in sight and saw the sunlight creep slowly over the tops of the Sierra Nevada mountains. A thick cloud of mosquitos swarmed over our heads but did not dare to bite out of fear of the mighty Nopikex.
Jason thought it was funny that I wanted to take a selfie at the top. Truth is, I didn't want to wait two months for him to finally figure out how to share his fancy photos with me. My mom needed proof of life and to show our kids that we were alive and very well.
Waking up earlier than the normal routine meant we had the element of surprise. Armed guards, charged with protecting this sacred site from thieves looting the gold that may still be buried with the dead under the sites of former homes, were clearly not expecting to have visitors so soon.
We found out that José, who by that time we had lovingly dubbed "Snack Rat", had never taken a photo of the Ciudad Perdida without it crawling with tourists. So of course we coerced him to come and take a selfie with us. One of my favorite memories of this adventure was seeing the pride on José's face as he told the other guides and locals that he had done the 29 miles in dos días. You're welcome for making you famous, José. And thanks for being the best guide we could have hoped for.
This is what we avoided by doing Ciudad Perdida our way. People ruining your perfect photo and getting massacred by mosquitos while you wait for everyone to make it to the summit. It wasn't that much more expensive to have a private guide, we basically paid the same to do it faster. If you are young and broke and counting on those nights of rustic lodging and food, our high-speed version of this trek is probably not for you. But when life back home tells you to make the most of your most precious and limited resource aka time, you pioneer a new way of doing the Lost City.
And, lo and behold, our private breakfast of homemade arepas and fruit from the jungle was waiting for us, still hot and delicious. José didn't want us to miss out on experiencing one of his favorite meals. A quick tooth-brushing later, we headed back the way we came, on tired legs but with our hearts filled by the spiritual moment we had built up to, a sunrise in a place like none other.
One note on the difficulty of completing this 29-mile trek in 29 hours: it is entirely doable and yet not nothing. The funny thing about an out-and-back is that the downhills become uphills and vice versa. The Sierra Nevada mountain range may not be known for serious changes in altitude, however the terrain and the elements consist of enough vertical climbs, river crossings, swarms of mosquitos, plus tropical heat and humidity to make even a Green Beret grimace.
I'm not sure we fully realized it at the time, but there was a lot riding on this adventure. Jase and I have known each other for 25 years and we've been through a lot — war and love and loss and travel to the kinds of places that cost our moms lifetimes of heartache —but we had never dared so greatly, together, until now. It felt like a victory to challenge the status quo of the Lost City trek, to push forward a little further and wake up a little earlier, to have that sacred city in the middle of the Colombian jungle all to ourselves.
Life's mundane moments disappear every day, forgotten and erased from your memory, and then where did all the time go? These are the kinds of trips, the kind of moments that live forever, and they're worth everything when you share them with someone you love, on your terms.
So when the world gnashes its terrible teeth and it's time to come home, you'll have a great story or two to tell your kids and if you tell it just right they'll want to hear it again, and again, and again. And if you're luckiest of all, you just might inspire them to find their own adventures, on their own terms, with the ones they love.