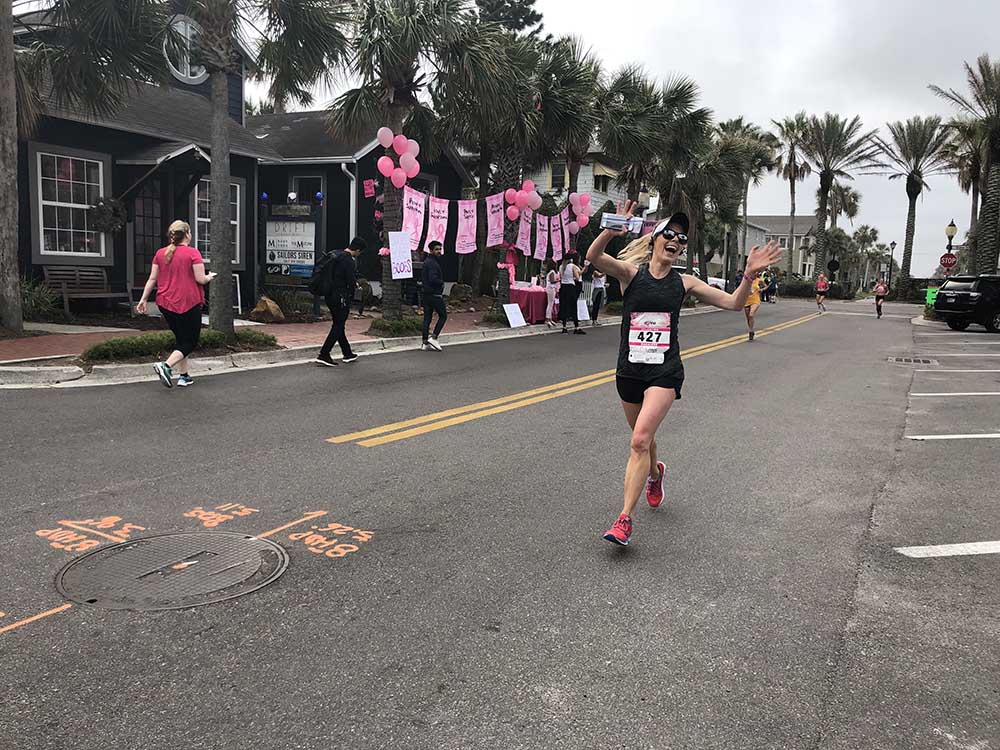 The other day someone asked me to tell them a little about who I am.
I laughed, drew a blank for a split second, and then recovered (somewhat) by blurting out: "I'm just a girl from Pennsylvania who married Kit and if I could be paid to work out, I'd be so happy."
I mean, that's not to say I'm not happy now, I just truly love being outside, pushing my body to clear my mind. It's my therapy, my way of making sense of this world, especially when things don't make much sense.
I consider myself a lifelong runner who has converted to other activities like rucking out of necessity and convenience. I first started joining my husband Kit on rucks from the GORUCK Team House, led by Jason, old 5 pack 5k style. Later, I raced the first ever 5k rucking race put on by GORUCK in 2015 and I won the KT5K Women's Division. So I guess you could say I'm pretty OG when it comes to rucking. It's easier to ruck than run my nutty dogs, Rummy and Rasky. And when I was pregnant with our son, I found it more comfortable to ruck than run and spent a lot of quality time with Kit before little Christian changed everything…for the best.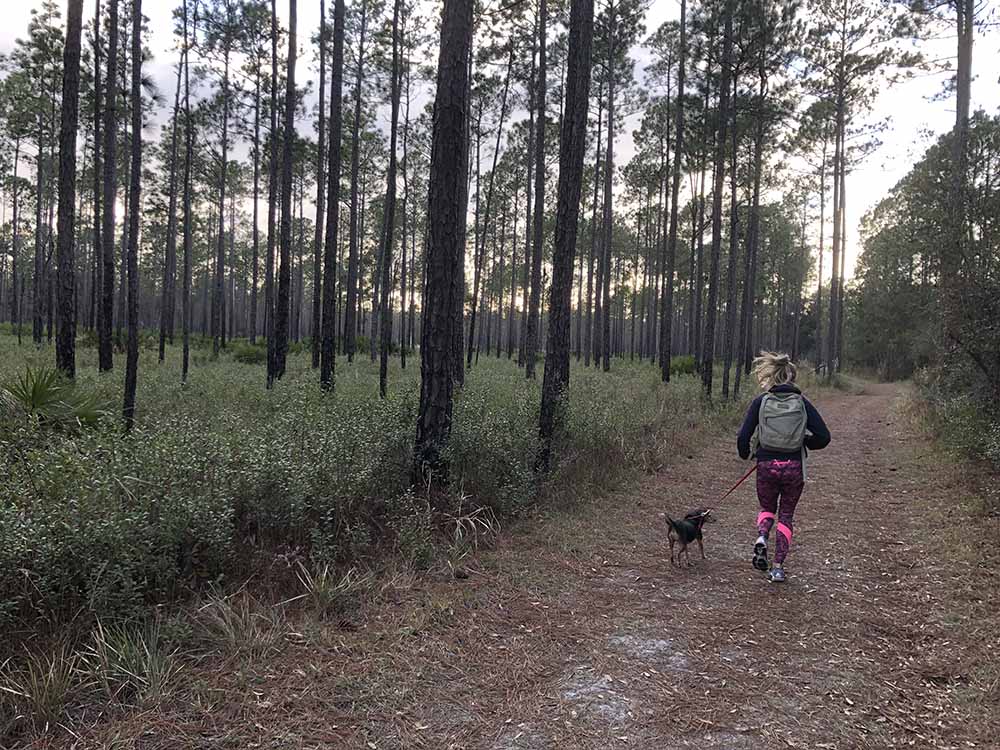 Rucking has introduced another side to my workout life. To me, running is individualistic and competitive. Rucking has brought teamwork and community into my training. Kit is a crazy CrossFit guy and I'm a long-distance runner – neither of us is remotely interested in doing the other's workout – but we love to go on rucks together. Sometimes we ruck when taking our dogs for a walk, sometimes we ruck with our 4 year old, other times it's just us.
I've run the local races where I live in Jacksonville, mostly because they are there. I've run the DONNA Marathon several times, 3 times to be exact and to be perfectly honest, it was just another flat, fast marathon race to me until 2017. That is the year that my mom was diagnosed with breast cancer. At first, I didn't know what to do with this terrible news. Nothing made sense. Then, while working out, I realized how I would get through this and help my mom. I would participate in the national marathon to finish breast cancer. My sister and I raised over $4,000 that went directly to helping our mom pay some of her medical bills. The fact that we could make her life a little easier during this stressful time was an incredible and overwhelmingly positive experience for all of us.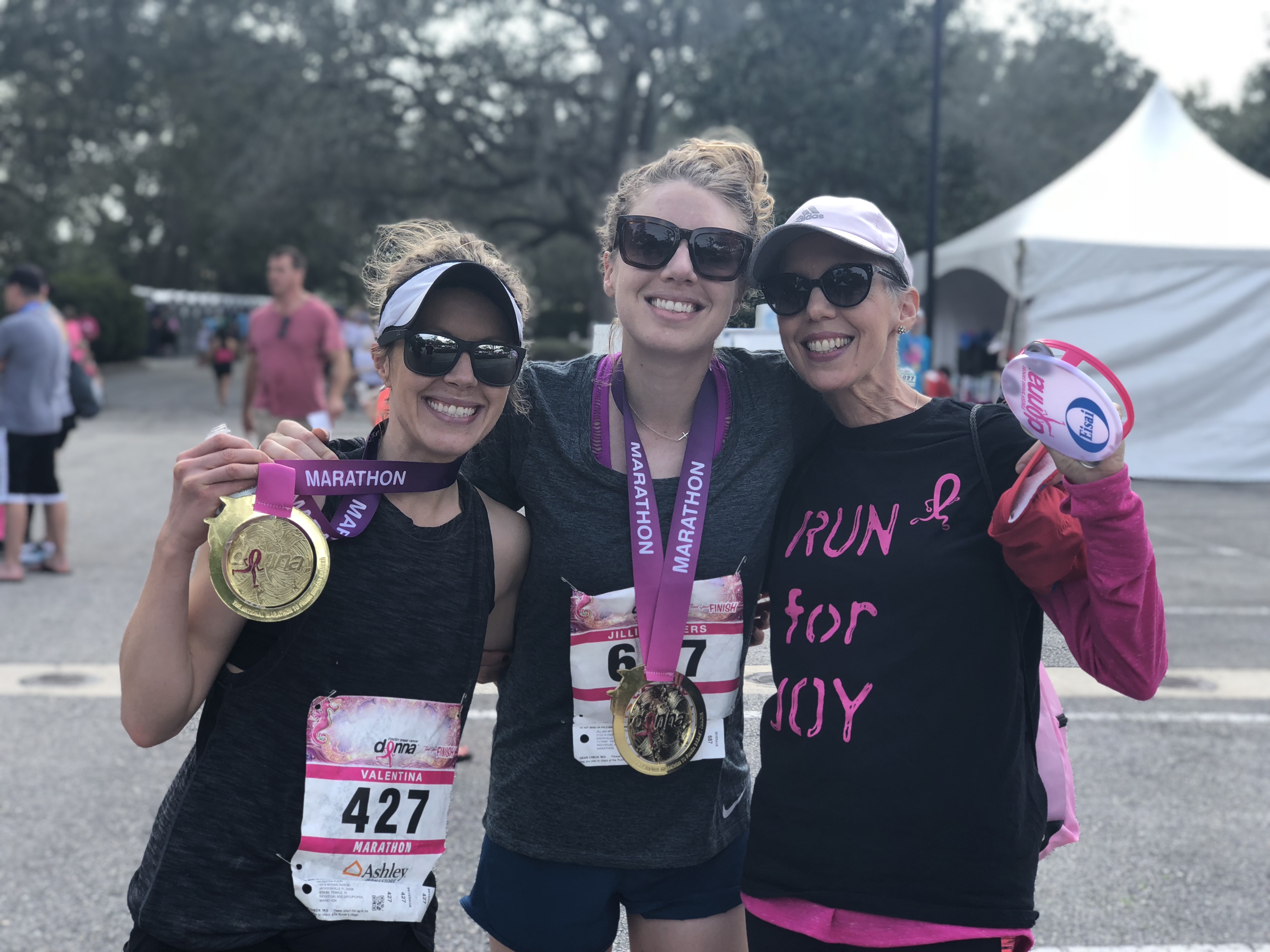 This year I decided to take it up a notch and ruck the DONNA. I first thought, I don't know if I can do that…so that presented a whole new type of challenge. There was no course record for rucking this marathon and I started to think that I could set a really awesome record for ruckers and win a pink ruck for my mom.
In order to train, I started to augment my base of running mileage by rucking twice a week in the morning with one of my dogs. I made sure to not overcommit to the weight out of the gates but build up over time. I used my GORUCK Sandbags and Ruck Plates to build strength in between running intervals. I also had to teach myself to not judge the miles, 3 miles rucking will take me longer and be harder than running because I'm carrying more weight. But that was the point. I wanted to train my body to perform on tired legs. I worked up to integrating longer rucks over the weekends. If I could work out 3 hours a day, I would. It's just impossible to do now with a kid and a job. So I was looking to incorporate ruck strength training into my usual workout routine.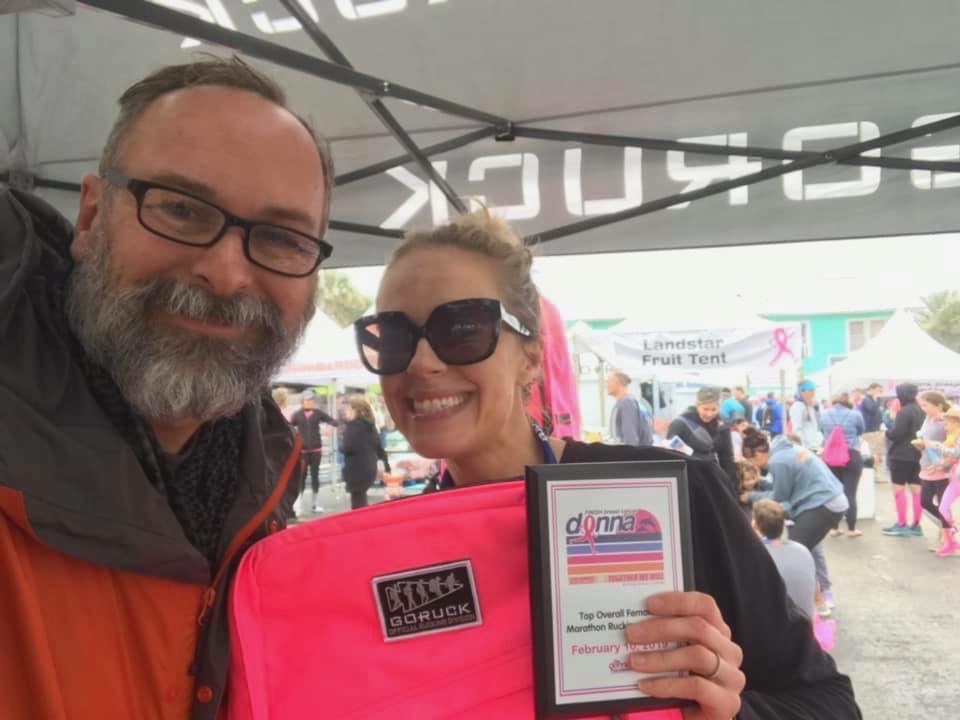 This past Sunday, I rucked 26.2 miles with a 10 lb weight plate in 4 hours and 42 minutes. As the winner of the Female Rucking Division, I won an awesome custom pink GR1 made by the GORUCK Scars team for my momma. I hit the wall at mile 10 but just embraced the suck and kept going, thinking of my mom and all she has been through. Running 26.2 miles with a weighted ruck made it the slowest and most painful marathon of my life but the most rewarding.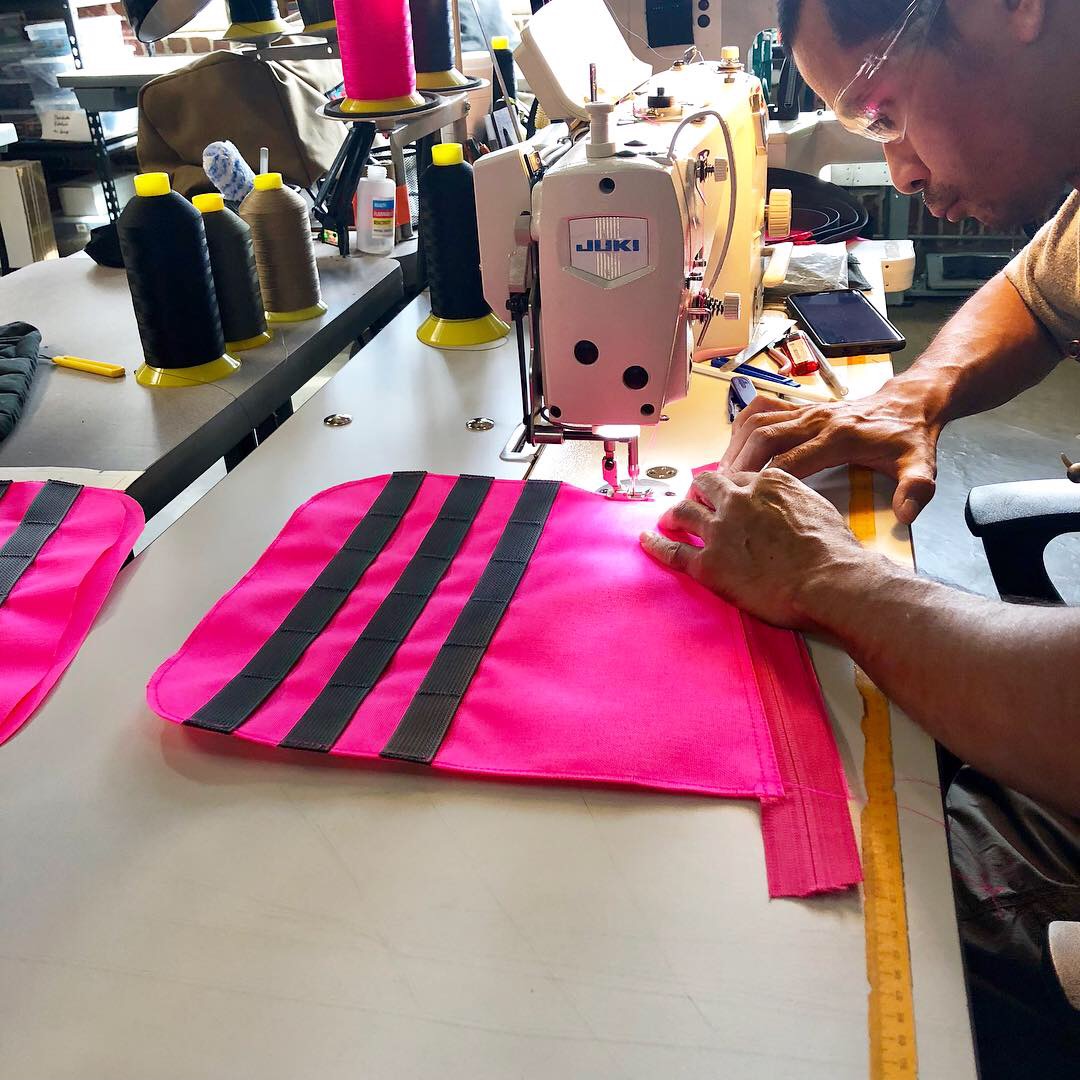 And best of all, my mom remains disease-free and is working hard to stay healthy. She recently was offered a new position and will be relocating from Pennsylvania to St. Augustine, the town next door to Jacksonville. I'm grateful for all this good news and I can't wait to get her out rucking with her new pink ruck soon.
– Val Klein
---
Check out the First Coast News segment featuring Val: