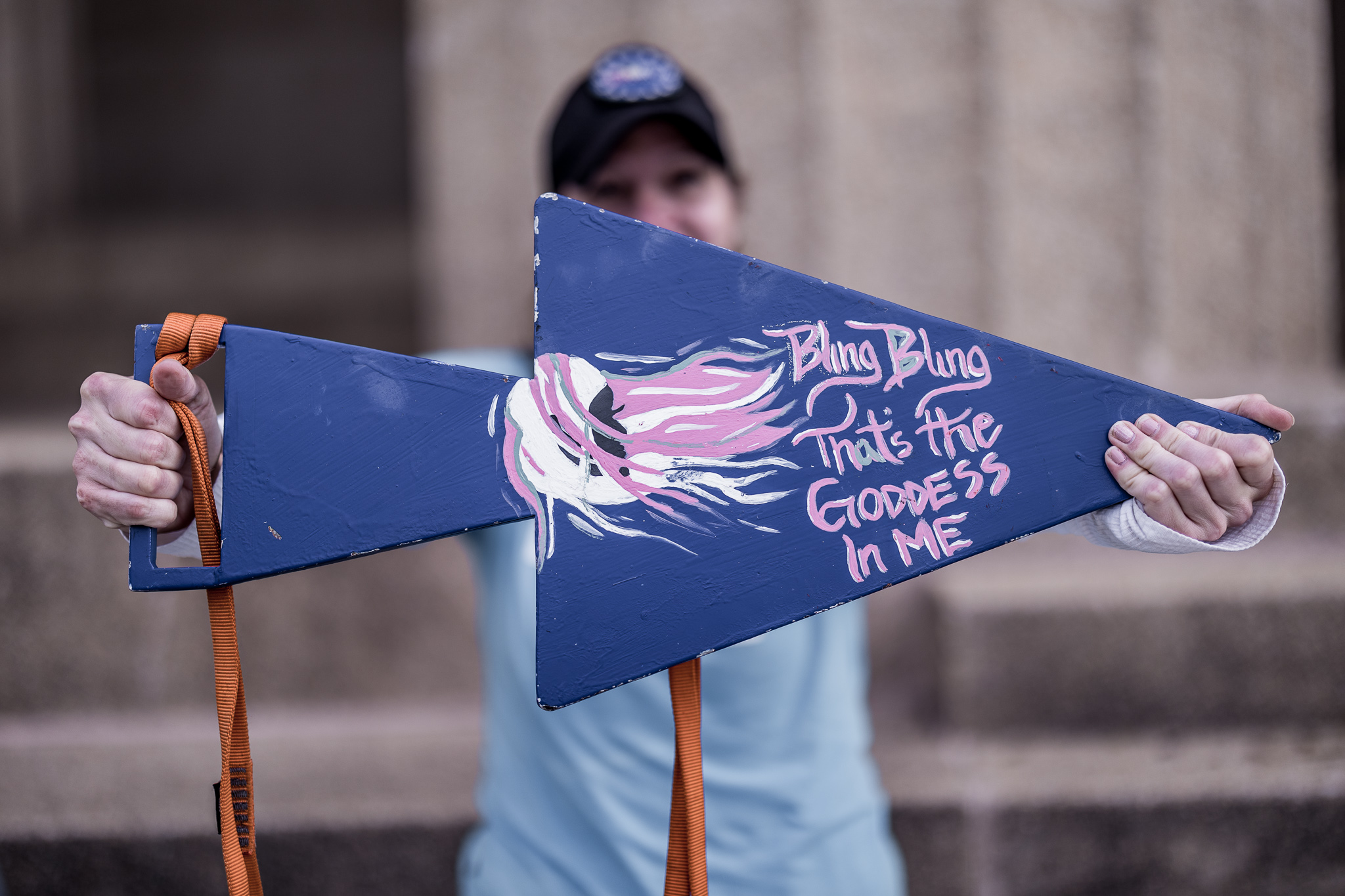 Women have been a vital link of GORUCK Events since forever. The tough, strong women who come to these events define the word "badass". Not only that, but they never fail to follow the number 1 rule of looking cool, all while doing the work. What better way to bring our badass gals together than a GORUCK Event just for these ladies: Welcome to Badass Babes.

This year, 2021, the babes are back to take on a Tough, Basic, and Scavenger in the one and only Music City: Nashville, TN. The traveling roadshow has a new destination every year, and will be on the west coast in 2022. The event is designed as a getaway weekend in vacation settings that allow tough women the opportunity to pamper themselves with Good Livin', laughter, and meeting other like-minded gals in the world! For some of our female GRT's, this is a must-go-to event every year, but for some, this is their first introduction to the world that is GORUCK and rucking.

For Chelsea Castle, this will be her first ever GORUCK Tough. A wife, mom, women's wellness advocate, and of course, rucker, Chelsea joined the babes to earn her first Tough patch in Nashville. If you're reading this, and have ever considered signing up for one of our events, this is your sign. Here is what it's like to go through your first Tough, become part of the babes, and earn that patch.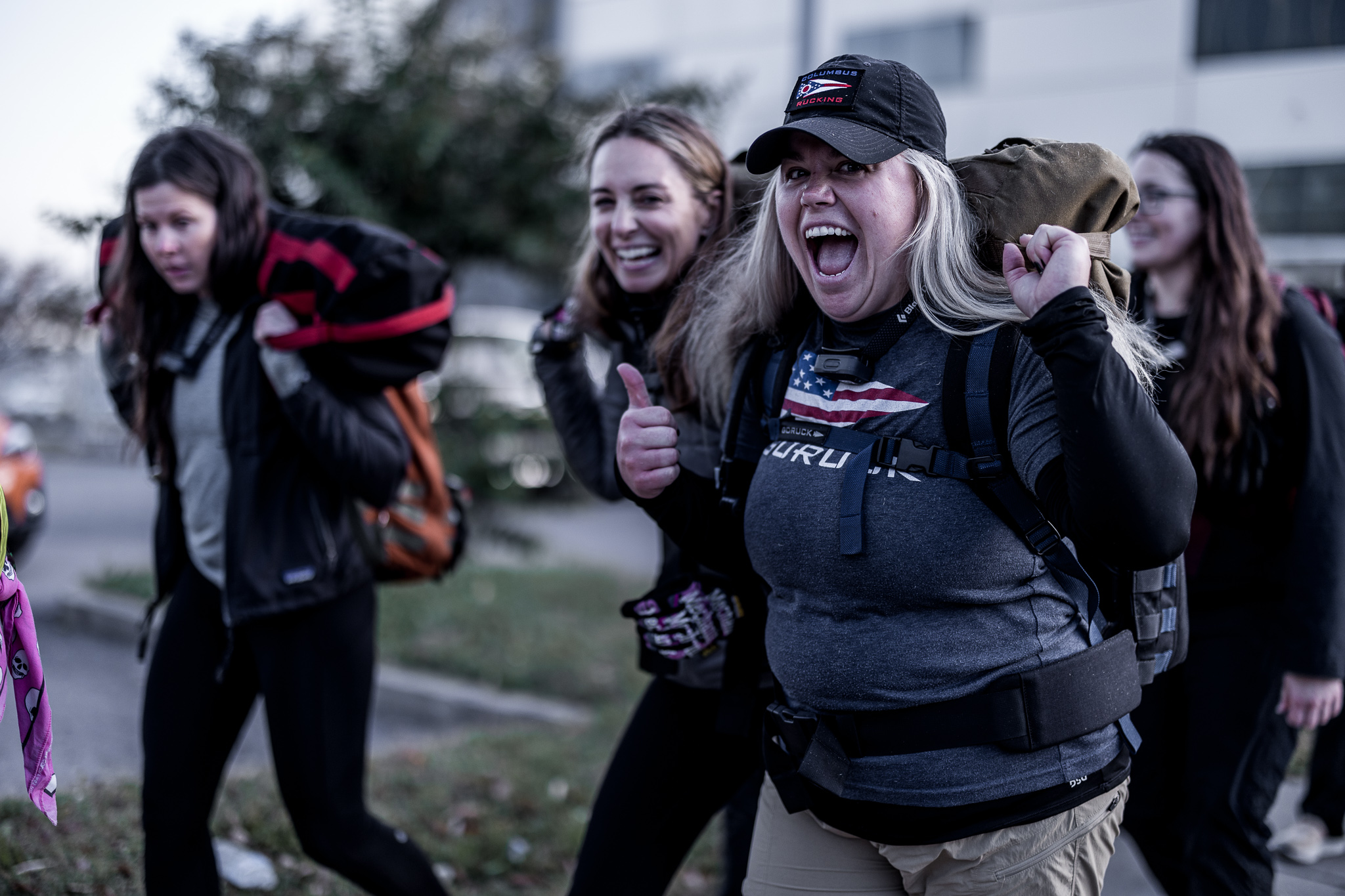 I started rucking in July 2019, almost one year to the day after having my son. While adjusting to life with two kids, I put my physical fitness on the backburner. My husband had been doing ruck training and completed a few challenges. I had been watching him and the thought was in my head that I should try too. When GORUCK put out the Christmas in July sale that year, I just had to have the gray and purple Rucker (my favorite colors). Yea I know, clearly a female considering that's what finally got me in the game :). Once I purchased that Rucker, I had to put it to good use. I've been rucking the past two years and have completed a couple Basics, a Clover Leaf, a few Star Courses, and other miscellaneous call outs. 
I decided earlier this year that it was time to challenge myself more and that meant doing a Tough. I was very methodical in the event I chose. Up until the BAB Tough, every event and challenge I completed was with my husband. This one's for me.
I am a women's wellness advocate and spend a lot of time preaching to women that it's okay to put yourself first, that sometimes you MUST put yourself first, that you must be a priority in your life. For me doing the BAB Tough is the perfect example of putting myself first. In a way, it's showing I practice what I preach. For me, doing the BAB event is a way to prove that we women can do anything we put our minds to. Don't get me wrong, I absolutely love doing events with my husband and it feels a little weird doing one without him, but I wanted this one to be for me. I wanted this one to show that I am a Badass and that all women are badasses. There's just something really cool and kind of emotional about doing an event with (and only with) a bunch of badass females. 
Going into the Badass Babes weekend I am all over the place with emotions. Excited to meet some babes I've only known over the internet. Excited and confident to see my hard work and months of training pay off. But also scared: what if I fail? What if I didn't train hard enough? What if I'm just too tired to make it through the night? (I like sleep!) What if my nutrition hasn't been perfect and it puts a spiral on things for me? Self doubt is scary and you can let it get the best of you or you can overcome it. I keep reminding myself that I have worked with my personal trainer and I have trained for this. I am reminding myself that I can do this and there is absolutely no logical reason why I cannot! But also, I'm just really freaking excited to take over Nashville with some of the baddest babes in this country! To ruck alongside some of these women is a true honor and I cannot wait! 
Putting in the work before the event
Once I knew I wanted to do a Tough, I hired a personal trainer. I train with Matt Hicks of Hicks Fitness. He is very involved in the GORUCK community and has completed numerous events himself. With his experience and drive to help others, I knew he was a great fit to help me with my training. In summary my training involved 3-5 workouts a week. Each week included some rucks, sandbag work, WODs, AMRAPS, and I also worked in some weight lifting as well. 
The day before the event I focused on keeping my muscles loose, and hydration. My goal was to get at least 100 ounces of water in the few days leading up to the event, 130 preferred. I also drank one drip drop a day the day before the event and the day of the event.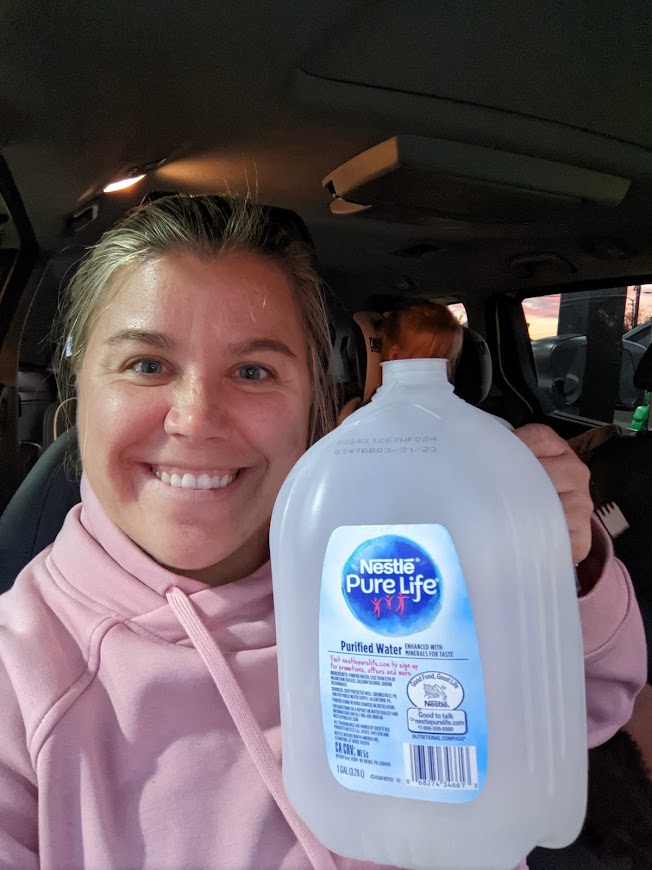 The day of the event I woke up around normal time for me and had a big breakfast full of carbs. Me and my friends then went and walked around downtown for a couple of hours. This helped get me out and get my body moving. I took my nalgene bottle with me so I could continue drinking water and ensure I was well hydrated. 
After a couple hours of roaming around Broadway, I went back and took a nice nap!! When I woke up, I got dressed for the event and triple checked the packing list to make sure I had everything I needed for the event. I reminded myself that I had trained for this event and I had nothing to worry about. Knowing I had trained helped ease my nerves some.
MID- EVENT Q&A WITH CHELSEA
Alright, it's 2am. We're currently at the bottom of a huge hill at the State Capitol, and I'm betting we're going to do some sort of PT with that thing and Sandbags. How are we feeling? How was the Welcome Party?
Welcome Party was good. Definitely challenging, but it was good to be broken up into groups. We got to know different girls in the group, and really work together as a team as we moved around to do different parts of the the SRT WOD. (thanks to the SRT God himself — Cadre DS — for the WOD).
On a scale of 1-10, how are you feeling right now?
Honestly, I'd give it a 9, a little tired, but good (damn, and for someone who loves sleep saying this at 2am, we're impressed).
What do you want to challenge yourself to do for the next couple of hours?
Continue to carry heavy stuff. I was under the 80LB Sandbag and that was definitely new for me. Just want to keep helping out the team.
After this, we were right in our guess. Let's hope that Chelsea feeling a 9/10 didn't go down too much after carrying 120, 80, and 60LB Sandbags up and down a huge hill more than once. Oh, and did we mention the ladies had to bear crawl in between? The hair ties would've been helpful for sight on the way up, but they still got it done.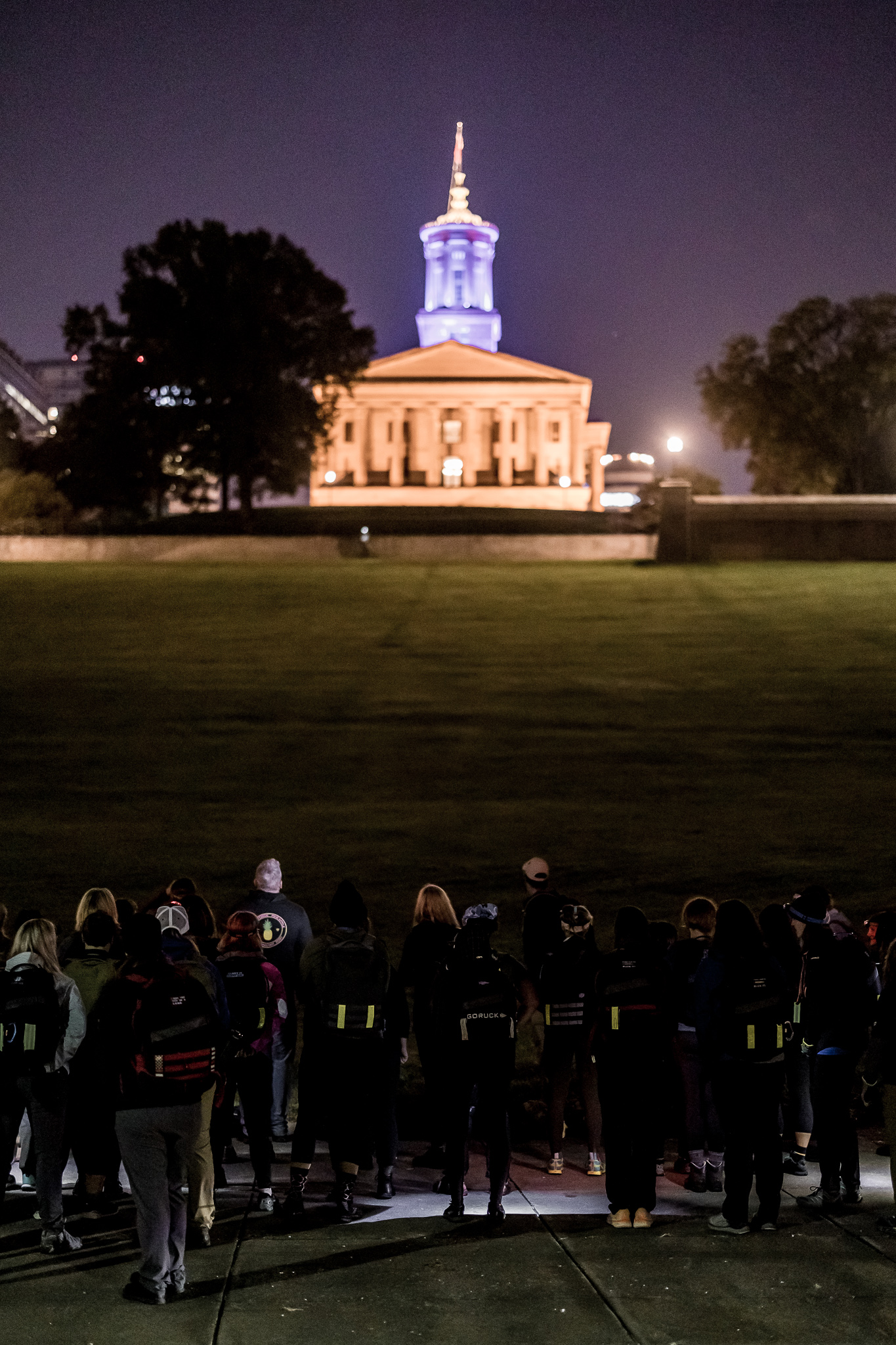 Alright, we're on our last movement. Finally headed back to the start point, and the sun has finally risen. What the heck did we just do?
We just did the pain train. Cadre linked all of our Sandbags together and we had to carry them all the way across the pedestrian bridge. It was pretty awesome, we were all chanting, and camaraderie was at an all time high.
What so far has been the most challenging for you?
Probably the races up the hill at the Capitol (yep, could've seen that one coming).
Ugh, almost forgot that we did that. So then, what has been your favorite part so far?
Being with all of the ladies and the overall positivity. We linked like 22 sandbags together and we were able to actually get the job done.
Okay, so for the last time: on a scale of 1-10, how are you feeling?
We're staying consistent at a 9. I've got a blister on my foot but mentally, definitely a 10.
Endex
WOW! What an amazing event! I had nothing to worry about. I was so concerned that I would just be absolutely exhausted because I am so used to sleeping during the hours that the event took place. It wasn't even an issue. The event was upbeat and full of positivity. Whether it was counting step ups in unison, chanting while we carried 1500+ pounds across the Nashville pedestrian bridge, or taking bio breaks together in the most public of places: the camaraderie and positivity was like nothing else I've ever experienced. It was such an honor to walk alongside some of the most Badass women I know and I cannot wait for the dates to drop for the Badass Babes events happening in Tahoe in 2022. I will be there for sure. 
I've been a part of the GORUCK community for a couple of years now. The support here is something special. Everyone is always happy to celebrate your accomplishments, motivate you through your hardships, and help carry your load (figuratively and literally). The Badass Babes GORUCK events are no different. Many of the women at the event I was meeting for the first time and I left feeling like we had been friends forever. If you are looking for a group of people that will support you, push you, and make you realize you are capable of so much more than you think then GORUCK is the community for you!
PS: Chelsea is the ultimate badass for not only completing her first Tough, but then doing the Basic right after. And of course, she still made it to the afterparty for her celebratory beers.
Packing List:
First Aid Kit (some bandaids, ruck tape, and blister kit)
Snacks — 2 Stinger Waffles, 2 Cliff bars, 2 Cliff Blocks, and Drip Drop
Nighttime — of course I packed a cute outfit for the post event festivities 
– Chelsea Castle