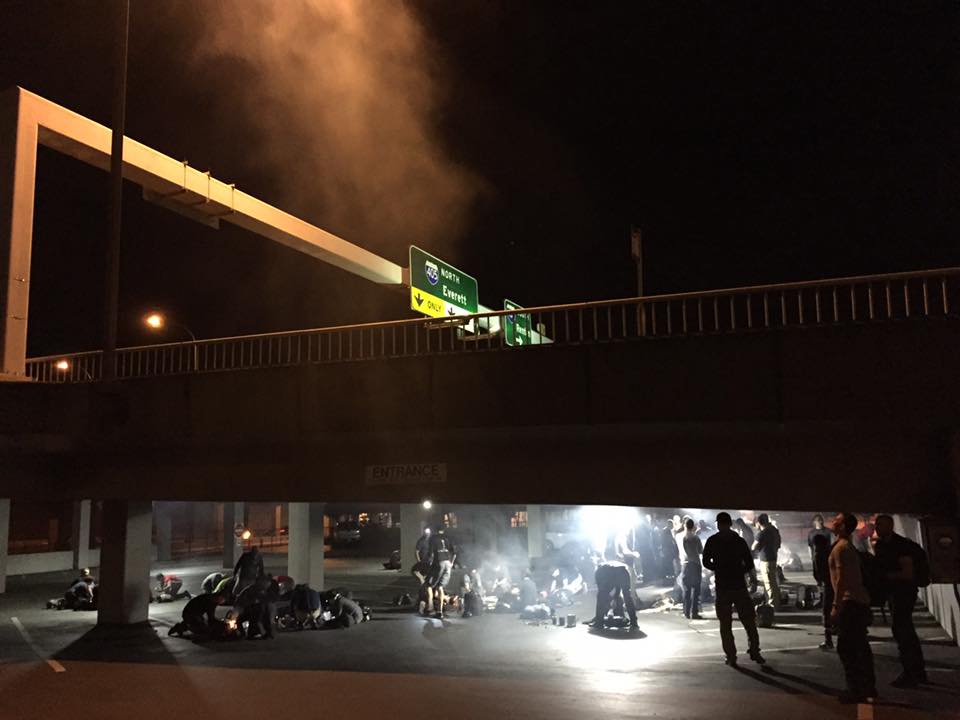 Matt "Ant" Brooks shared his Seattle Constellation AAR from his blog on Reddit. We all thought it was pretty cool so we decided to share it with y'all.
Ok, here we go.
The title pretty much says it all. For most of my youth and continuing on into my adult life, whenever life presented me with physical challenges, I've thrown in the towel, waved the white flat, and surrendered. Signed up to play soccer when I was 13 and quit after one practice – because fuck that; signed up to play football in my 7th and 10th grade years and quit before the seasons ever started – because fuck that.
I quit because the activities were hard and demanded work and I, not being blessed with much athletic ability, found it easier to retreat into eating and reading than to stick it out. It became a habit that replicated itself over and over and over again well into adulthood. Two years ago I tried Crossfit – and yep, you guessed it, I quit. There were dozens of other ventures that I started and quit along the way but it was always easier to quit than it was to persevere.
When I stumbled upon this crazy GORUCK thing on the interwebs I was intrigued – here was something that both appealed to me and was doable at home at my own pace. It didn't require sprinting or some weird insane device to work out with – it just took a backpack and bricks; both of which I already had at home.
So I started walking a little bit here and little bit there. Working 12 hour graveyard shifts at a desk I would find myself walking in the middle of the night during my breaks. Not fast, not far, but a little bit here and there – I was working out and actually having fun doing it.
I watched lots of videos, read lots of after action reviews, tried to learn as much as I could from websites like ruck.beer and alldayruckoff as well as lurking around the subreddit /r/goruck. Eventually I signed up for a GORUCK Light.
And promptly didn't show up.
It was so easy to find reasons and excuses to not go, but stuck in the habit I was it was nearly impossible to find a way to compel myself to go.
I have no idea why I did it, but after the failure to show at the Light I apparently was in the mood to waste more money because I signed up for an event called Constellation.
Something was different this time but I never knew why. I simply showed up. Scared to death about what was going to happen to me, but fully confident in my ability to quit anything because it's one of my best attributes: I am really, really good at quitting. I could just walk away if and when I wanted to.
Arriving at Crossfit Amped in 'Bellville' (actually Bellevue and yeah, I'm looking at you, Cadre Will) I was terrified. I was surrounded by human machines who apparently had all gotten the memo about what to wear. I felt out of place in my neon shoes and button down shirt. But for some weird reason I stayed. I wandered through the parking lot frightened by all that surrounded me, bewildered by the assortment of gear people were wearing, and completely baffled by the lack of of body fat anywhere.
Cadre Mike climbed up into the bed of a pickup in the lot and started giving some instructions and people immediately started falling in. I found myself in a group of eight and were given a name: we were team Hotel.
Onward the night went, the sun had fully set before we went out on our first mission. As soon as we started going up those hills in Bellville my mind was screaming at me to quit. Not wanting to be completely embarrassed and be 'that guy' who quits in the first thirty minutes, I kept going. I was surrounded by a couple of guys who were just freaks of nature – guys who had all been through numerous GORUCK events and were loving every minute of the game. While they were laughing and having a good time, my internal voice was screaming at me to get out. Leave. Quit. Escape. Uber the fuck out.
We completed the first mission and were sent out on another. 80-plus people running through the streets of Bellville looking ridiculous to any sane person who happened to see us and looking scary as hell to the couple of security guards we stumbled into while wearing our homemade gasmasks. Yeah, I actually just typed that: Homemade. Motherfucking. Gasmasks.
The night went on: we built fires in coffee cans, crawled under patios, climbed into dumpsters, jumped fences, ran up stairs, ran down stairs, applied tourniquets after wind sprints, tried to save our hemorrhaging bottles of club soda, pointed sticks to the North, snapped awkward selfies, built litters out of pallets and mini-blind accessories, escaped from duct tape arm bindings, earned bruises, scrapes, cuts, and scratches and finally, finally, finally figured out that I should wear some freakin' gloves.
At some point, perhaps around 0400 as the sky was beginning to lighten, I realized that while each individual task made me more miserable and physically uncomfortable than I had ever been before, I was not going to quit. Somehow, someway, I was going to make it. Not for me, but for my team. My body was going to have to die before I quit. No, I hadn't found some new level of fitness or ability to keep myself going for my own purposes, I was now being driven by something larger than me – it was the team.
My team had become superheroes who just kept on keeping on despite having to pick up my slack. Despite this, not one fucking time did any of those 7 guys on Hotel complain. Every single one of them were there for me and encouraged my every step along the way. They knew I was hurting but they stuck by me and dammit I was literally going to die before I stopped.
As the night gave way to full daylight I was more tired than I had ever been before in my life. I felt battered, broken, beaten, and bruised but was still going. As we came into the culminating exercise the "I can't" monster slowly began chattering in my mind again. Half the group had been taken away to participate in the final evolution while the second half, including team Hotel, was waiting inside the building, unable to see the end game. My mind was wandering while we stood together, it kept telling me that I couldn't complete what was rapidly approaching. But standing there next to guys who I was genuinely in awe of, I was going to fucking try.
The door slid open and it was our turn. Outside we went, into the daylight and learned what the final evolution would consist of. With full rucks we would begin with burpees as a team, then a long sprint to the far end of the lot where we would apply tourniquets to one another, then another sprint back, more tourniquet play, some pepper spray (remember those gas masks? yeah, you get to use them), and more burpees. The kicker was that the burpees all had to be done in unison, as a team.  Again, Hotel got me through it.  They slowed down the pace and stuck with me.  Levi, you are the man.
I was done – my muscles were on fire and my face was burning. But, more importantly, we had finished. I'm not going to lie and pretend that it wasn't a big deal to me – it was a huge deal. For the first time in my life I had completed a physically grueling event and hadn't stopped before the going got tough. As Cadre Will came down the line and handed me that black and silver GORUCK CONSTELLATION patch, I had tears in my eyes. It was not only a physical journey, it was an emotional one as well. There is simply no way in hell that I could or would have even approached finishing such an undertaking without being a member of team.
To my teammates from team Hotel, I want to thank you. Thank you for standing with me and encouraging me through that night. I'm a stronger person for having been through that with each of you and cannot wait to go to my next GORUCK event. I hope to see you again and look forward to rucking alongside you.
GORUCK is literally what they say they are: they are making better Americans, better Brits, better Canadians and better citizens by teaching teamwork and reliance on one another when the going gets tough. Good living can be miserable in the moment but when I think about it in its totality, it makes living feel so much better.
Cadre Mike, Cadre Will, and Cadre Brad, thank you all for you service. Thank you for taking the time to teach us the things you know are important: it's not just the individual or his or her skills that count, it's the team that counts.
Can't wait to get out there again and go ugly early.
Thank you Matt for sharing your AAR we appreciate you!
If you have a cool story to share hit me up here bomber@goruck.com
Christopher Goad
AKA Bomber