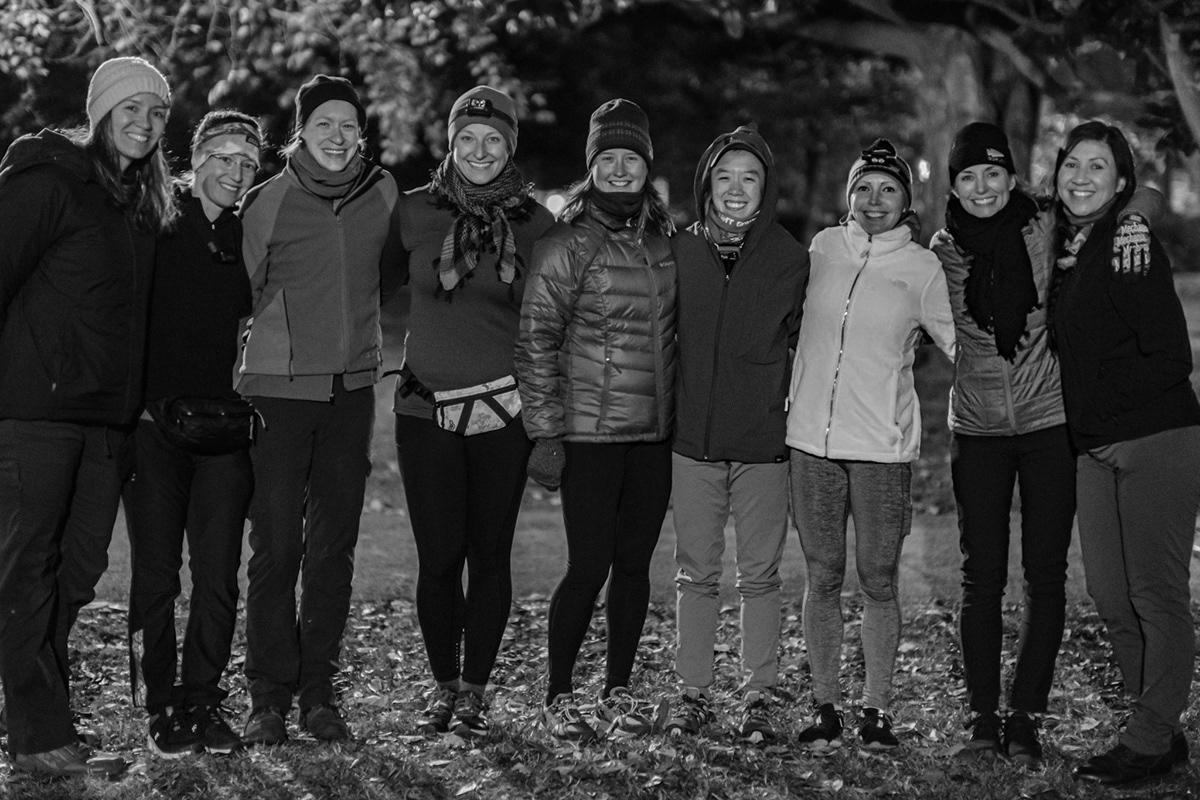 Written by Shannon McFall, republished from the SCMcBass Blog.
I signed up for Rucking World Championships in August 2020, and the event was originally scheduled for November 2020. Like most of 2020, RWC was postponed, and honestly the event slipped from my mind for most of 2021. Looking back, it was ridiculous I even signed up. I would not have been able to finish this event on the original date, since I was still very much recovering from finishing Team Assessment in September of 2020. A 50 mile event is hard even if you are well rested and walk it without a ruck, it gets harder with regular Star Course weight, and it's definitely more challenging when the weight goes up by 10 additional pounds for RWC. In the big picture, the November 2021 date ended up working really well for me.
While I had signed up in the individual female category, Jennifer and I always planned to do the event together. The benefit of signing up as individuals was if one of us got hurt or one was feeling really strong, we were able to separate as needed. We had no intention to place, but did want to see what kind of pace we could hold. The real goal was just to finish.
As I prepped for the event, I relied a lot on years of consistent training. I did not do much Star Course specific work, and had to take some time off due to minor injuries. I did a round of Ruck Strong in the late summer, and kept up with PATHFINDER training programs. I did buy a new ruck for the event, the Rucker 3.0 Small Frame. I love my Rucker 2.0, but recently have been dealing with some hip pain and the hip belt on the 2.0 exacerbates that pain. In the month prior to RWC I stopped using the hip belt for rucks, to get my shoulders used to carrying the full load. The Small Frame Rucker also helped as it does not extend as far down my back, so even when I use the hip belt it falls in a different place. Since we were planning to pack VERY light for RWC, the new ruck was perfect.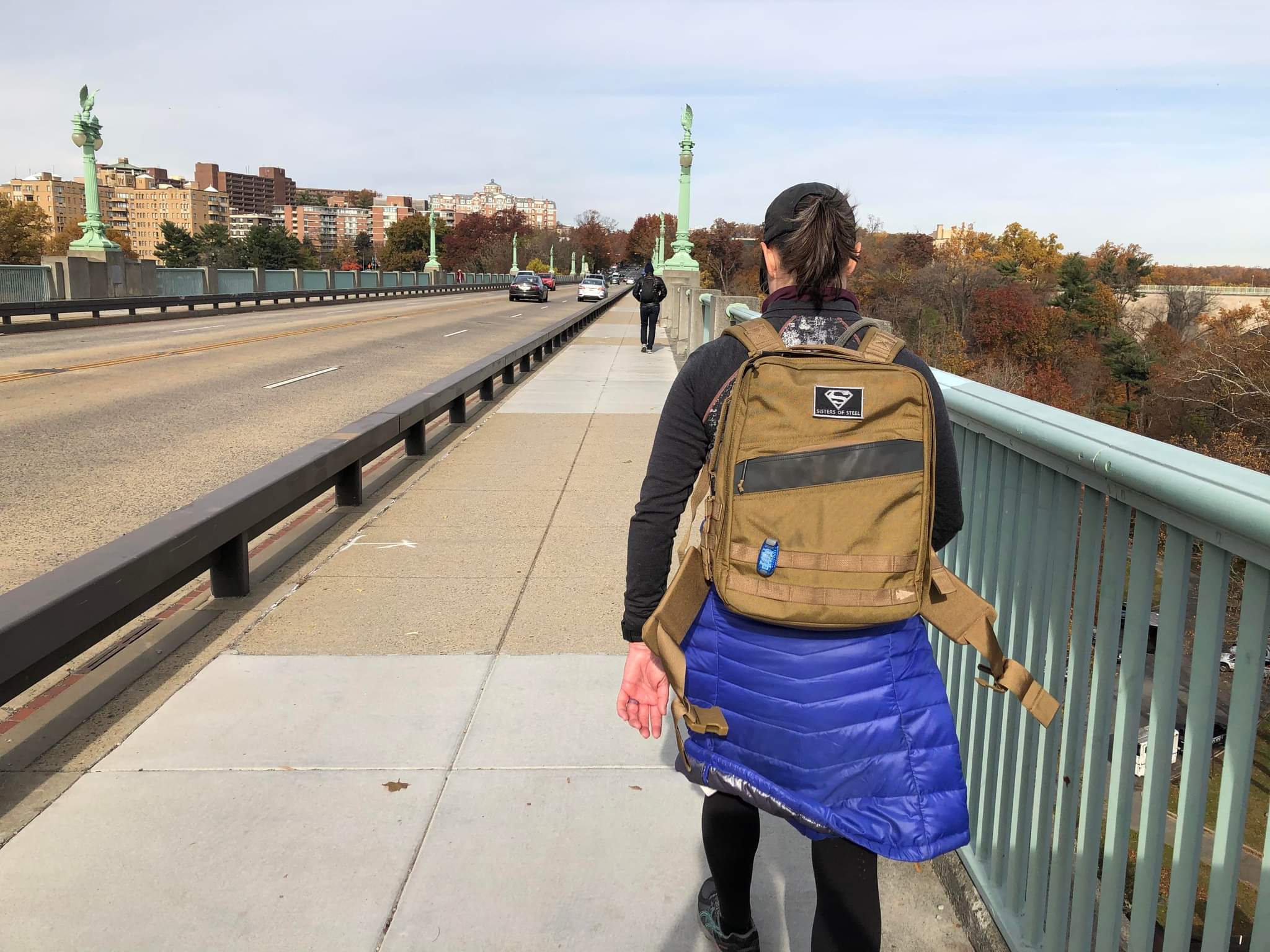 With the increase in required weight, I packed less in my ruck than ever before. Once we realized they would have water for us at every waypoint, I never carried more than one liter of water. I made sure to drink a lot at each waypoint, and tried to finish the liter in my ruck on the 7-10 mile legs between waypoints. I carried a peanut butter and honey sandwich and a granola bar, no other food. We had a support person who brought us breakfast. I also had Tailwind in my water bladder to start, and then I added more to my water bladder at about the mid-point. I had bag balm for my feet, a baggie of first aid stuff, hand warmers, cell phone charger/cord, watch charging cord, credit card/ID/$20, one extra pair of socks, a pen, and chapstick. I also started with an empty disposable water bottle in my ruck. My intention was to use this as something in my hands, and maybe carry a small amount of water, but primarily it prevents finger swelling by just holding something. It ended up being the bottle I used to chug Gatorade at each waypoint.
Jennifer did an amazing job of finding us a hotel one block from the start point. It was great to have an easy walk to the start, and a slower walk back after we finished. It was a room with a full kitchen, so when we got dinner on Friday night, we each bought a second meal to eat on Saturday night. After the event, it was good to go back to the room and heat up food that was already there.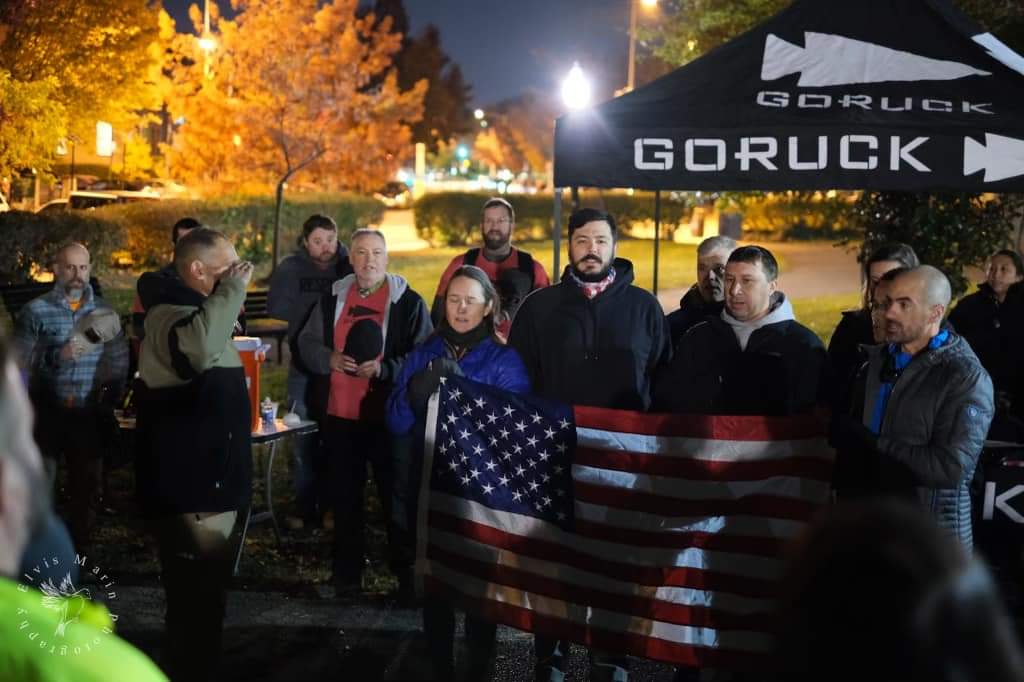 The weather was forecast to be quite cold, with a low of 31 degrees around 5am, but thankfully dry. It was in the 40s at the start, so we all had on multiple layers as we stood together and sang the national anthem. I wore two wool quarter zip shirts, and my Columbia omni-heat puffy jacket. I planned to just wear GORUCK leggings, but then got concerned about the temps and ended up wearing a thin legging underneath the GORUCK ones for two layers on the bottom. I had on wool socks, an omni-heat warm hat, a wool neck gaiter, and fingerless wool gloves with a mitten top that could fold on and off. These gloves were perfect as I could easily remove the mitten top to use my phone for navigation, but then quickly pull the mitten back on and keep my fingers warm. As we moved, I would get warm and briefly take off the hat, gaiter, and gloves. These ended up being the things I held to prevent finger swelling.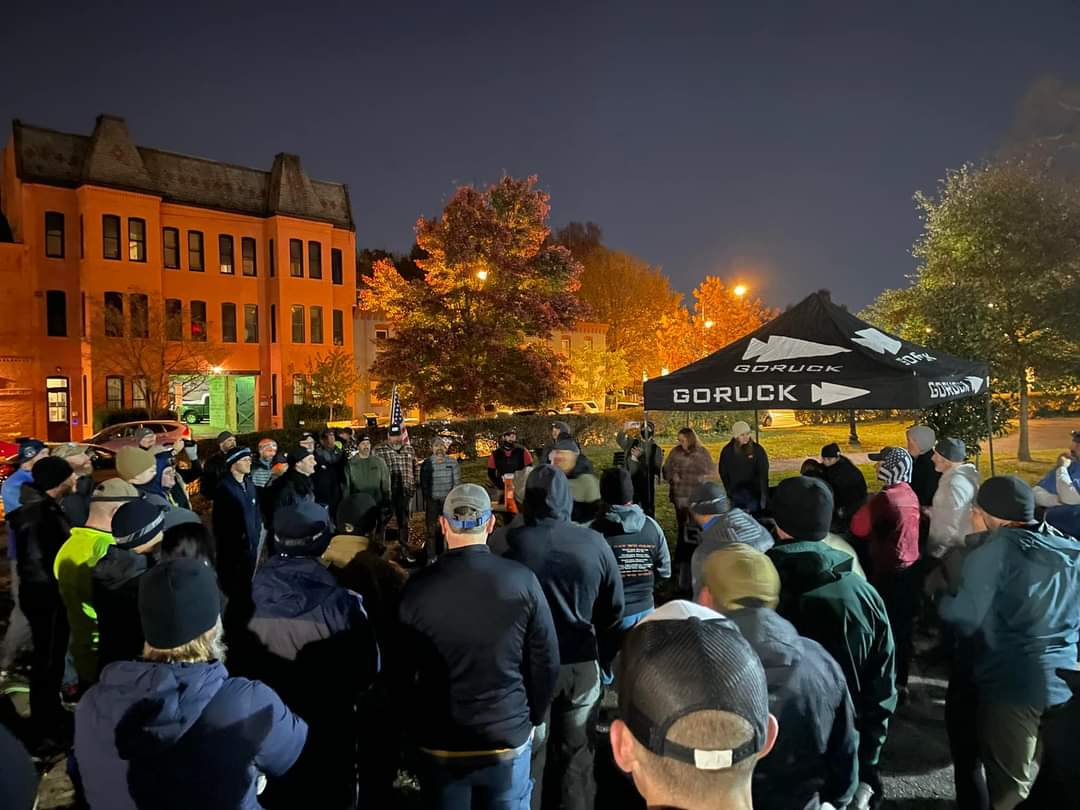 After a quick safety brief, Cadre Mocha Mike and Cadre Igor released participants in three waves. We were given a paper with latitude and longitude coordinates, and plugged those into Google Maps. We used our phones to navigate from point to point. The first stop was Barcroft Park, and we were required to verify our intended destination with Cadre or a volunteer before we left. One of the main goals of this verification was to standardize the route, trying to have it be really close to 50 miles for everyone. While people made some different route choices, the legs were only 7-10 miles each, so there was not much room for significant variation.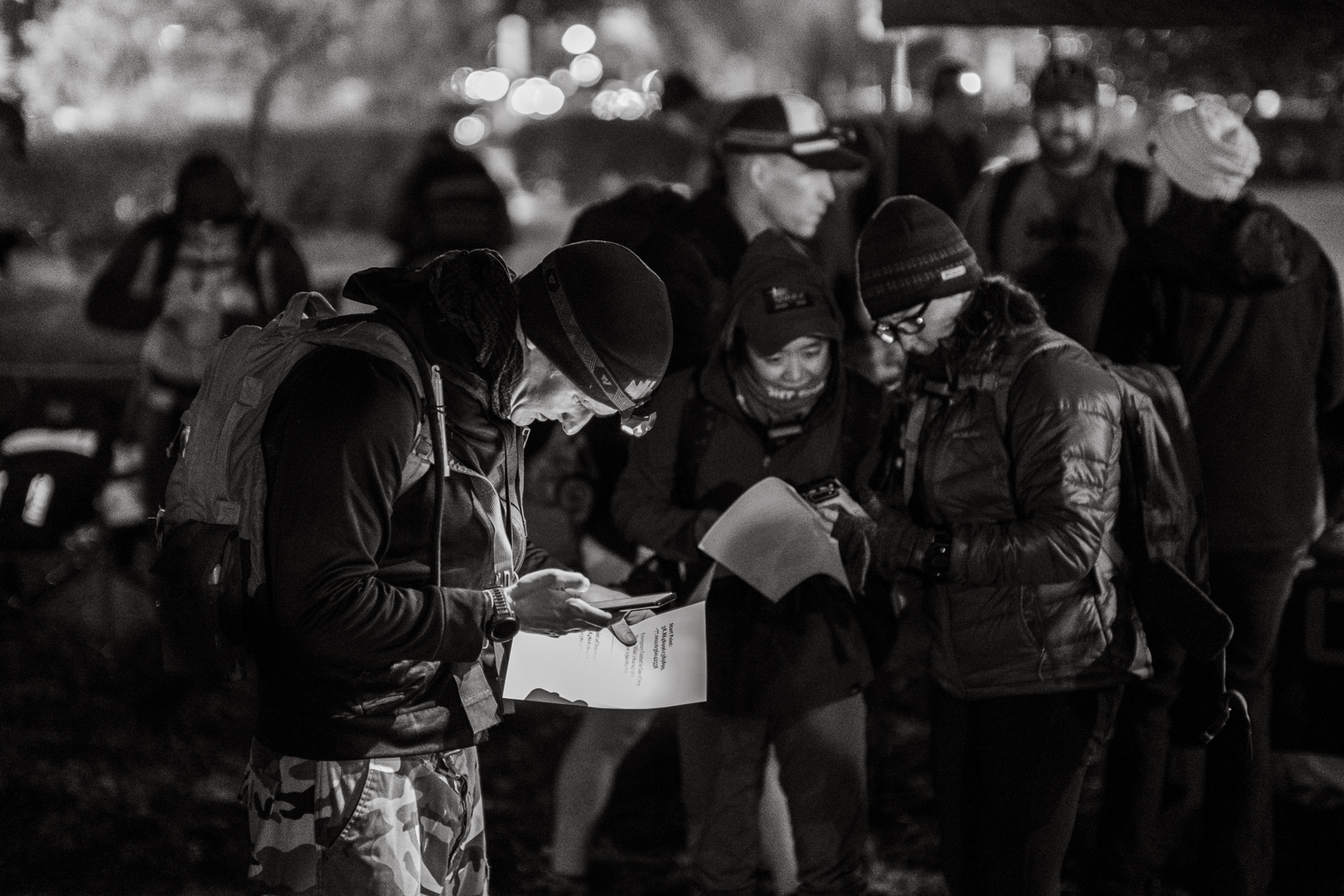 We started out a bit fast for us, with a 15:40 initial mile. We tried to intentionally slow down a bit, but excitement and cold kept us between 17 and 18 minute miles for the first leg, which was around eight miles. During this first leg, the eight female participants (all registered as individuals) sorted themselves out. Two women pulled ahead right away and would finish with impressively fast times. When we saw them later on the course, hours ahead of us, we were truly in awe. The remaining six of us were moving at a similar pace, and stayed together.
As we made our first of many bridge crossings, there was a guy walking maybe a hundred yards in front of us. He kept glancing back at our group of six people, obviously not really able to see us well in the dark. It was amusing to think our group of six women in their 30s and 40s might be intimidating. We rucked past National Airport, where Jennifer and I had just landed that afternoon, and laughed as we definitely never considered rucking to or from the airport. National was still busy in the late evening, so aircraft engine noise was the prominent sound as we looked for shortcuts to try and take the least number of steps possible. The first waypoint at Barcroft Park was a GORUCK tent with water, Gatorade, and oranges. The stop was brief, as they all would be, mostly because we quickly got cold. I grabbed two oranges to eat while we walked.
The second leg was 8ish miles to Meridian Hill Park. We maintained the 17-18 minute mile pace, with some long legs through neighborhoods, where we caused a decent number of dogs to start barking. On this leg, one of our group started to experience some blisters that were very uncharacteristic for her. When we arrived at the park, it was surrounded by stone walls and we had to walk around to find an entrance that was up a bunch of unwelcome steps. The GORUCK tent was a happy sight, with more water, Gatorade, and oranges. We did some stretching and foot care on this short break, and then kept moving.
The third leg was a 10 mile distance almost straight south to Alexandria, at the Jones Point Recycling Center. We made many, many jokes about what idiots we were to be walking miles and miles through the night to visit a recycling center. We separated from our sixth person on this leg, as her blisters were really slowing her pace. This was very hard for me, as she's a good friend and we are all more accustomed to the team environment where we stay together. However, this event was different and none of us had signed up as a team. There was an understanding that we would likely separate as the event continued, but leaving her was still difficult. We stayed in touch via text, and saw her again a few hours later.
This route had us repeat part of the path we had covered on the first leg, again passing National Airport on a footpath. This time, the planes were still and the airport was sleeping. Repeating the route was slightly negative mentally, as you didn't feel like you were "getting" anywhere. However, it's good from a navigation standpoint as you know the way. We quickly learned this leg would be an out and back, as we started seeing teams returning on the route. Some of the first few participants we saw would go on to be the winners, and it was inspiring to see how fast they were going. I ate most of my PB&H sandwich on this leg.
During the last couple of miles before we arrived at the recycling center, we were walking through Old Town Alexandria in the hours before dawn. Somehow, we ended up walking five abreast down the middle of the street, mostly quiet, just making steady progress. I wish we had a picture of this: five women, all wearing rucks, taking up the whole road as we silently walked down the street like we owned it.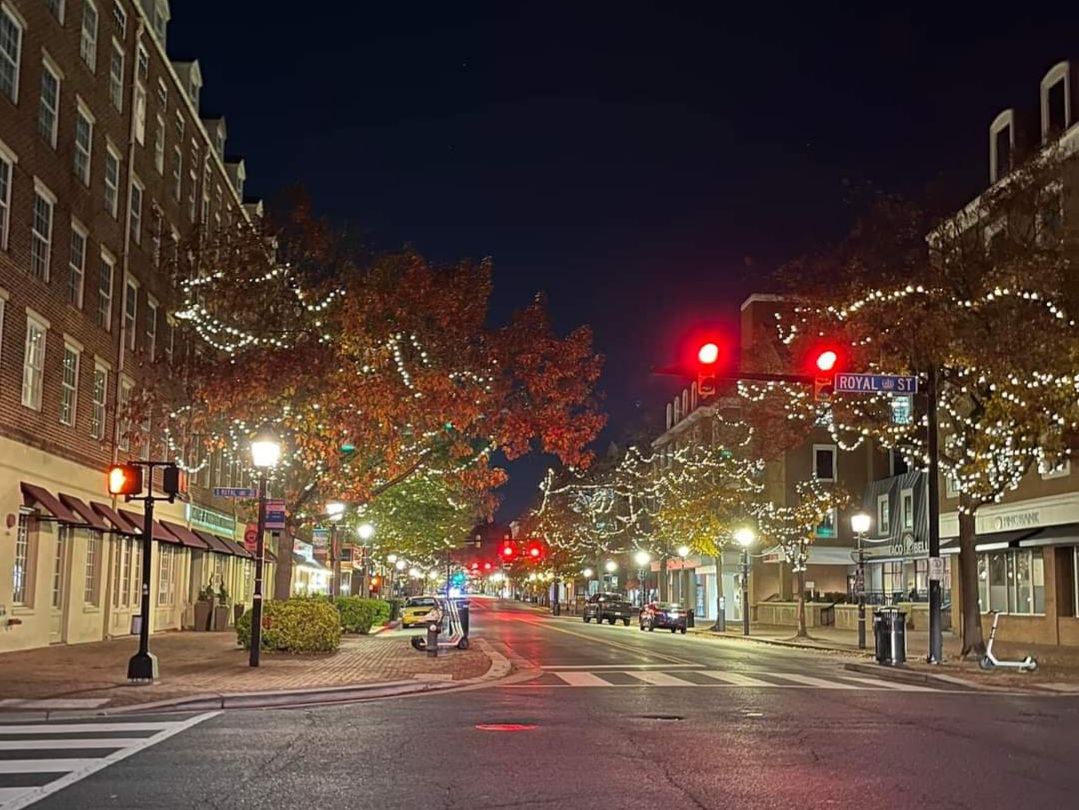 When we arrived at the not-picturesque waypoint, we took a longer break. What I mean by this is I was happily lying on the grimy road next to a recycling center. At just over 26 miles, the event was now getting started. When people ask me about a 50 miler, I tell them it really starts at 30 miles. Everything before 30 is not a big deal. From 30 to 40 miles things get interesting. From 40 to 50 miles it's all mental. I chugged a decent amount of Gatorade here, refilled my water bladder with one liter of water and added more Tailwind. I ate a powdered mini-donut from the GORUCK tent offerings. One of the funniest things that happened here was watching Jennifer wriggle under a fence to get to a porta-potty, just to have one of the workers then walk over and open the gate! It was again the cold that really got us up and moving, as we headed into the dark, back the way we came.
The fourth movement was 9 miles to the start point at Folger Park, retracing our steps the entire way. We passed people setting up a farmers market in Alexandria as the first signs of the city coming to life. The sun broke as we made our way north and while it didn't actually get any warmer, dawn always lifts the spirits. Emily got very energized by the sun, and played Lorde's Solar Power, inspiring a bit of dancing in the street!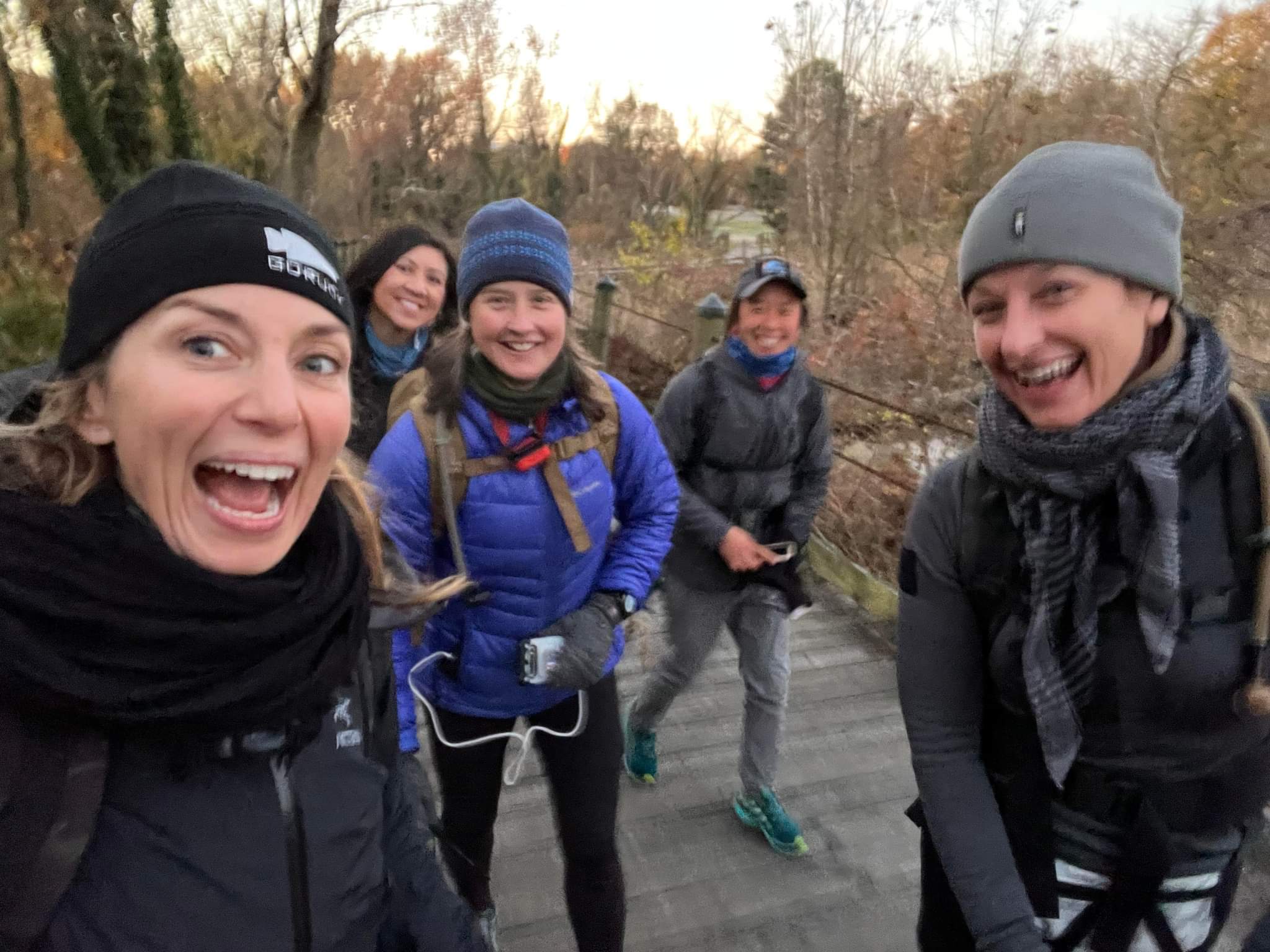 As we walked on the path next to the Potomac River, Emily lamented that the only wildlife we had seen was a very cute bunny. Right at that moment, she looked up and saw a bald eagle in a tree. All our attention caused him to fly further down the river, where we were able to briefly see him again a few minutes later. Sadly, no eagle pictures, but he provided several minutes of discussion and distraction.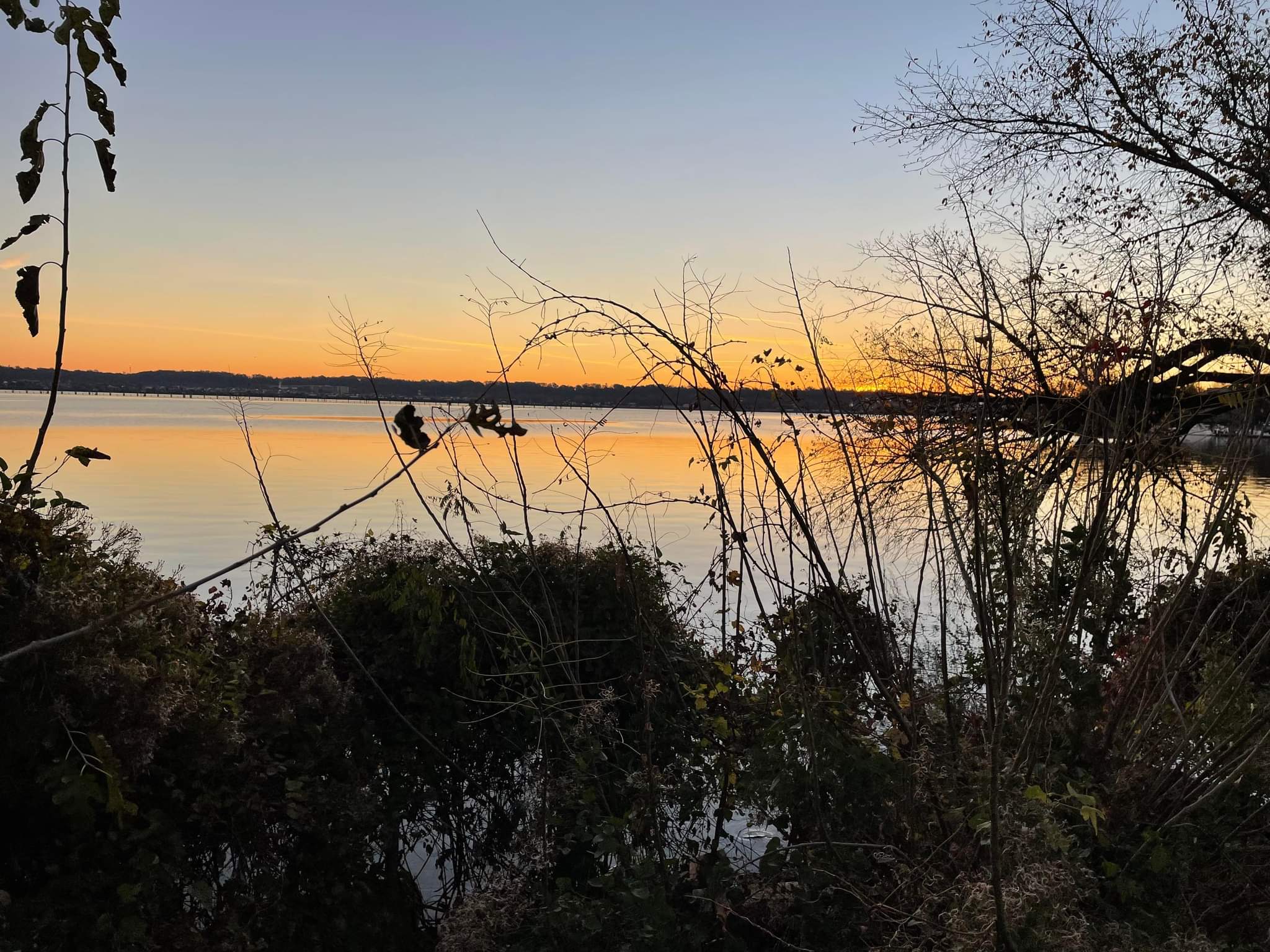 As we passed the airport for the third time, the planes were again moving, the parking lots filling up, and workers arriving for their shifts. Jennifer had previously noticed a row of porta-potties in a parking lot and we took a quick break here since daylight was about to limit our bathroom options.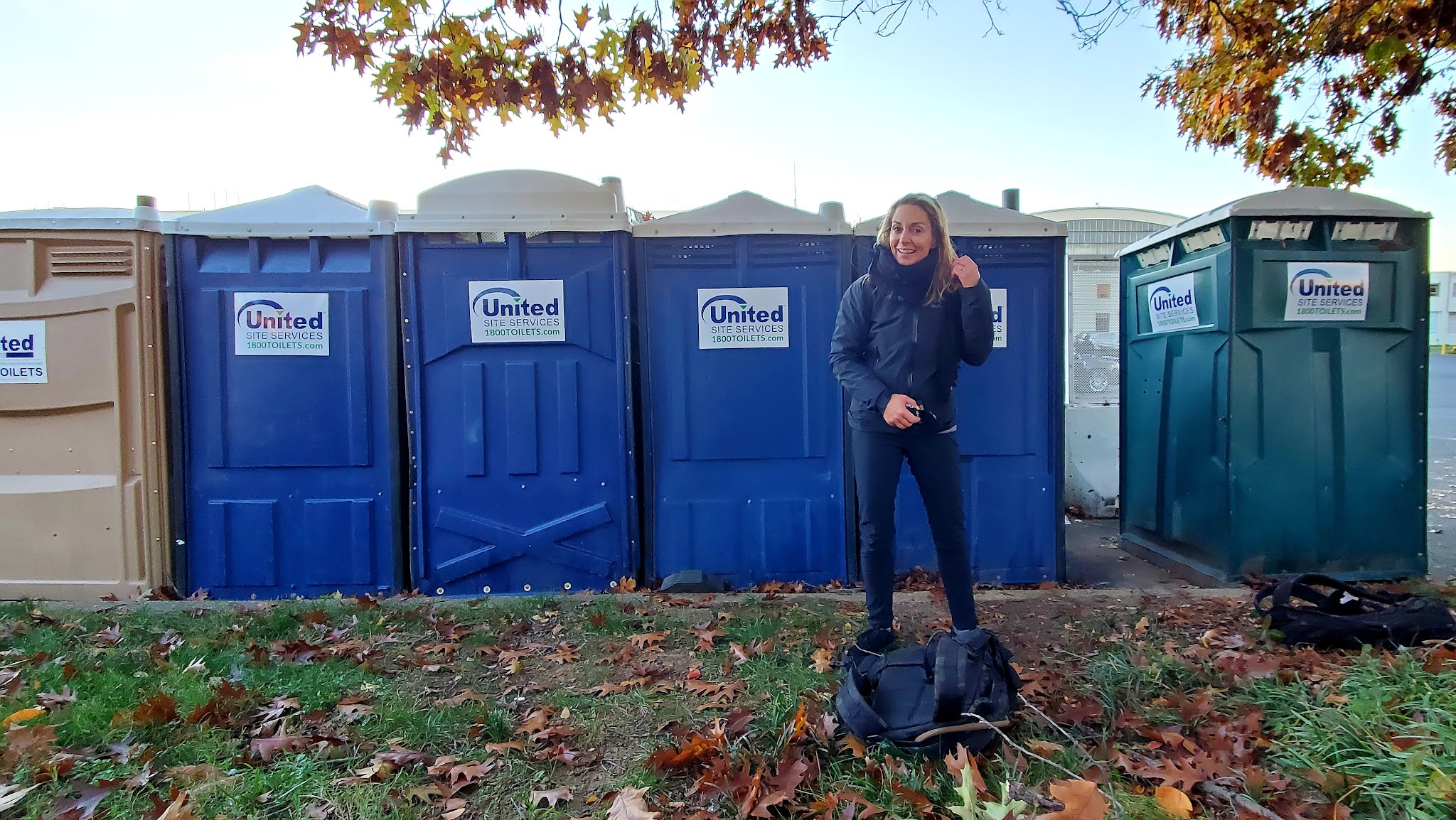 As we got close to the start point, I intentionally guarded against any feeling of relief. I knew there were more waypoints to go, and the return to the start was intended to be mentally challenging, so I tried to avoid the trap. The start point was a busy place that did provide some energy. We saw our 6th person who had dropped due to her feet, and it was good to know she was ok. We saw the women's winner, Kassandra, come in to finish. After chugging Gatorade and refilling one liter of water, I harnessed some of Kassandra's energy and called out "ruck up, let's go finish this thing".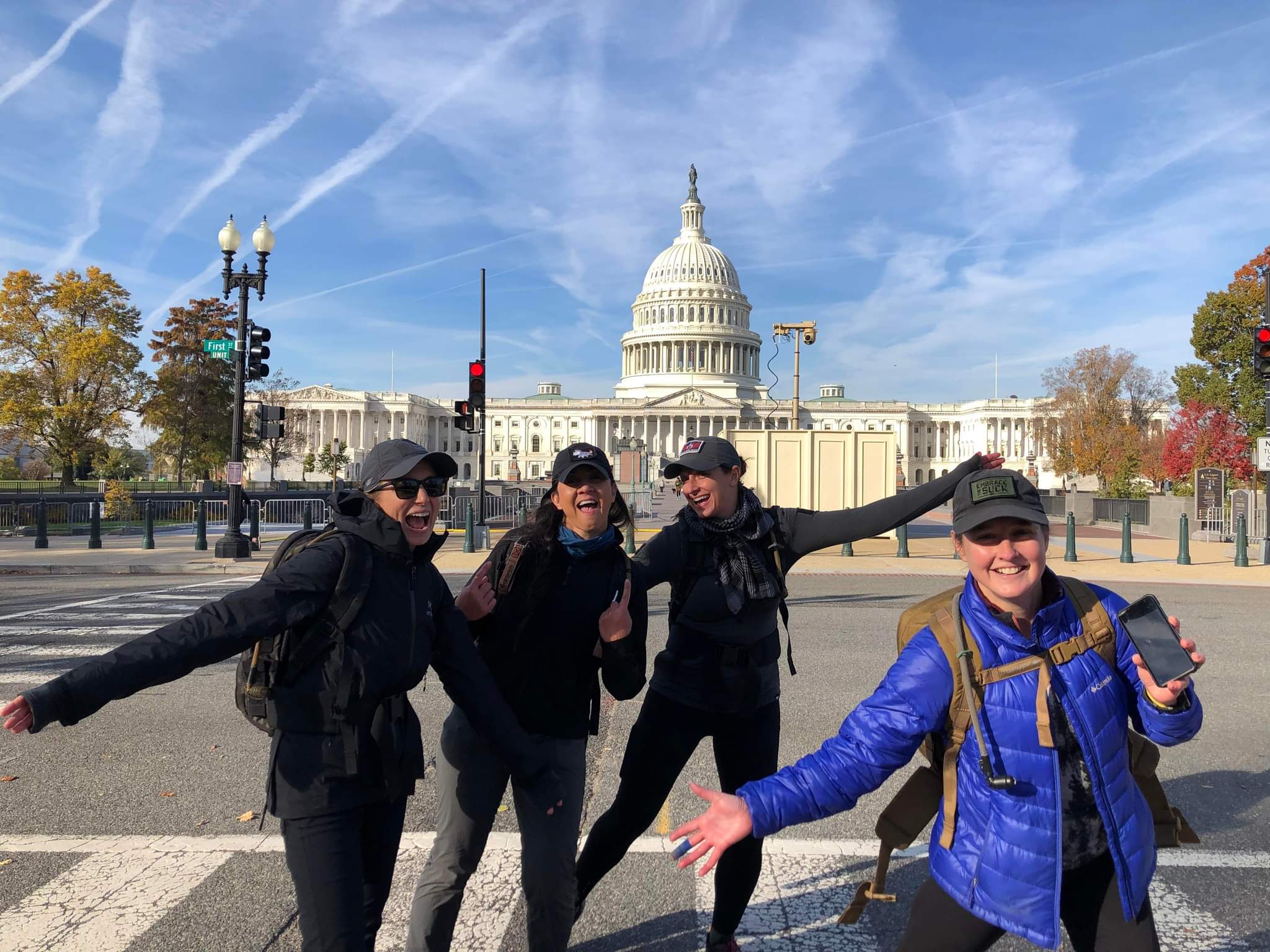 The fifth movement was 7 miles north to Fort Reno Park. It's a frustrating route as the first part is along Massachusetts Avenue which has a ton of weird street crossings and roundabouts that do not feel efficient at all. Our support person had delivered chicken sandwiches, and I ate mine as we left the start point. We found a porta-potty in Dupont Circle that is pretty much exactly as gross as you would expect it to be, so we nicknamed it the Cesspool. We then headed uphill, really uphill, along Connecticut Ave. A highlight here was some sidewalk yoga, and stopping to take a "growling" picture in front of the National Zoo!
We were now in the last 10 miles, and rucking uphill was definitely not what we wanted to do. There was terrific complaining. I did stop at a farmer's market street vendor to buy a cup of coffee, which was magical and totally worth the shuffling I had to do to catch back up to the group. The final approach to the park was steep and we were slow. Thankfully, a team we saw headed back on Connecticut had told us not to enter the park, as the volunteer was parked on the sidewalk next to the park. When we got there he had a US flag flying so was easy to find. We had been talking about this break for a while, and had planned to immediately throw ourselves on the ground and cuss. This is pretty much what happened, to the amusement of Bianca and the volunteer. He was so happy and positive, and made my day when he carried the water jug over to me to refill my bladder with a liter of water. Anna brought me half of a peeled orange, which was a very thoughtful gift at 43 miles.
We knew we had plenty of time to finish, and we were all hurting quite a bit, so this was our longest stop and included lots of stretching. Once we finally got up and moving, we did take a few extra steps for this gem of a picture that expresses our feelings about this waypoint!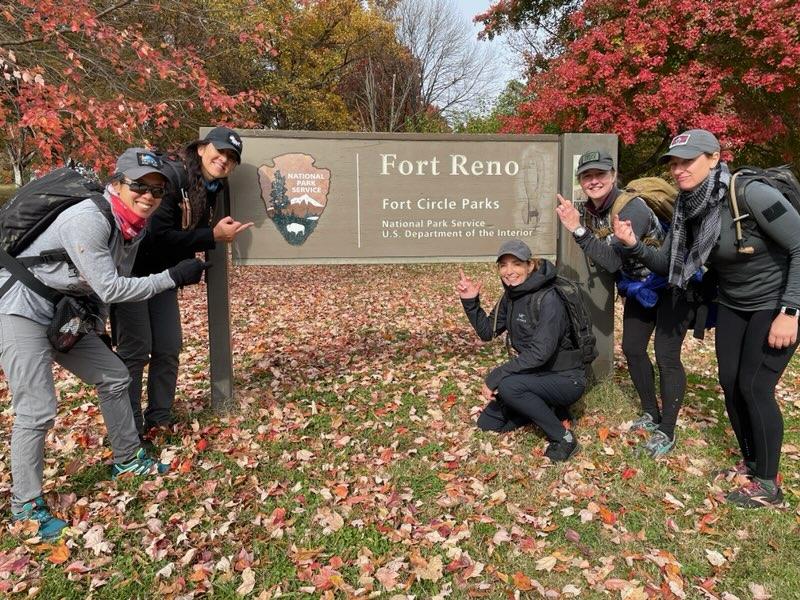 The biggest positive about going south on Connecticut Ave is it's downhill. For most of the course, we had done a great job of shuffling the downhills. However, in these last miles, we just enjoyed walking downhill, no shuffling. We had an accumulated list of aches and pains from feet, to ankles, to hips, to nonspecific "my entire legs". I kept pointing out alternative methods of transportation all around us and asked if using them was against the rules: shopping cart, moving dolly, helicopter. These were all shot down by the group, so we kept rucking.
As we got close to Dupont Circle, I was really excited about the existence of the gross porta-potty, as public bathrooms are scarce. In our delirium we made up a song, to the tune of "Oh Christmas Tree".
Oh Cesspool Toilet
Oh Cesspool Toilet
How lovely are your commodes
(There's more, I'll stop though.)
If we thought Massachusetts Ave was frustrating the first time, it was way worse the second time. More people were out, more cars were about, and we were very tired. After a couple of sketchy crossings where we were not paying attention, I stayed at the front and really focused on traffic and crossing safely but efficiently. My left ankle really started bothering me in the last three miles and I remembered turning it very early in the event. It had not hurt when I twisted it on a root, and had not been a significant issue, but was really getting my attention in the last stretch.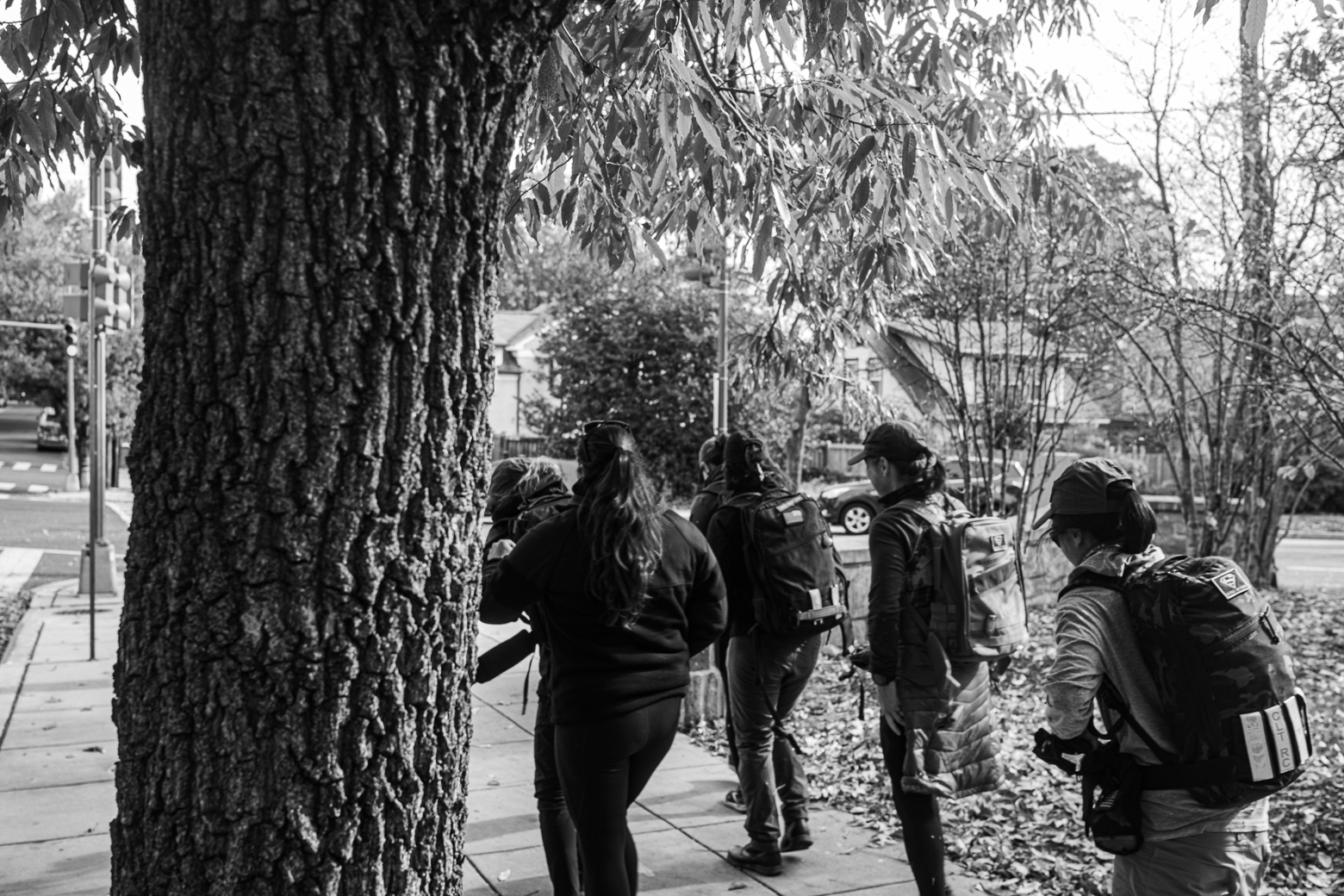 When we turned off Mass Ave at Union Station, we started to feel the finish. The Capitol, the Supreme Court, and the Neptune Fountain in front of the Library of Congress were like breadcrumbs. A left on D Street and we could see Folger Park. Since only eight females had started, and we knew two had finished and one had dropped, we were aware third place was up for grabs. Although we had expected natural separation during the event, the five of us had stayed together. We all knew each other from previous events, and our skills and strengths had complimented each other for the last 50 miles, over 17 hours and 12 minutes. It was a quick discussion and an easy decision to all finish together, tied for third.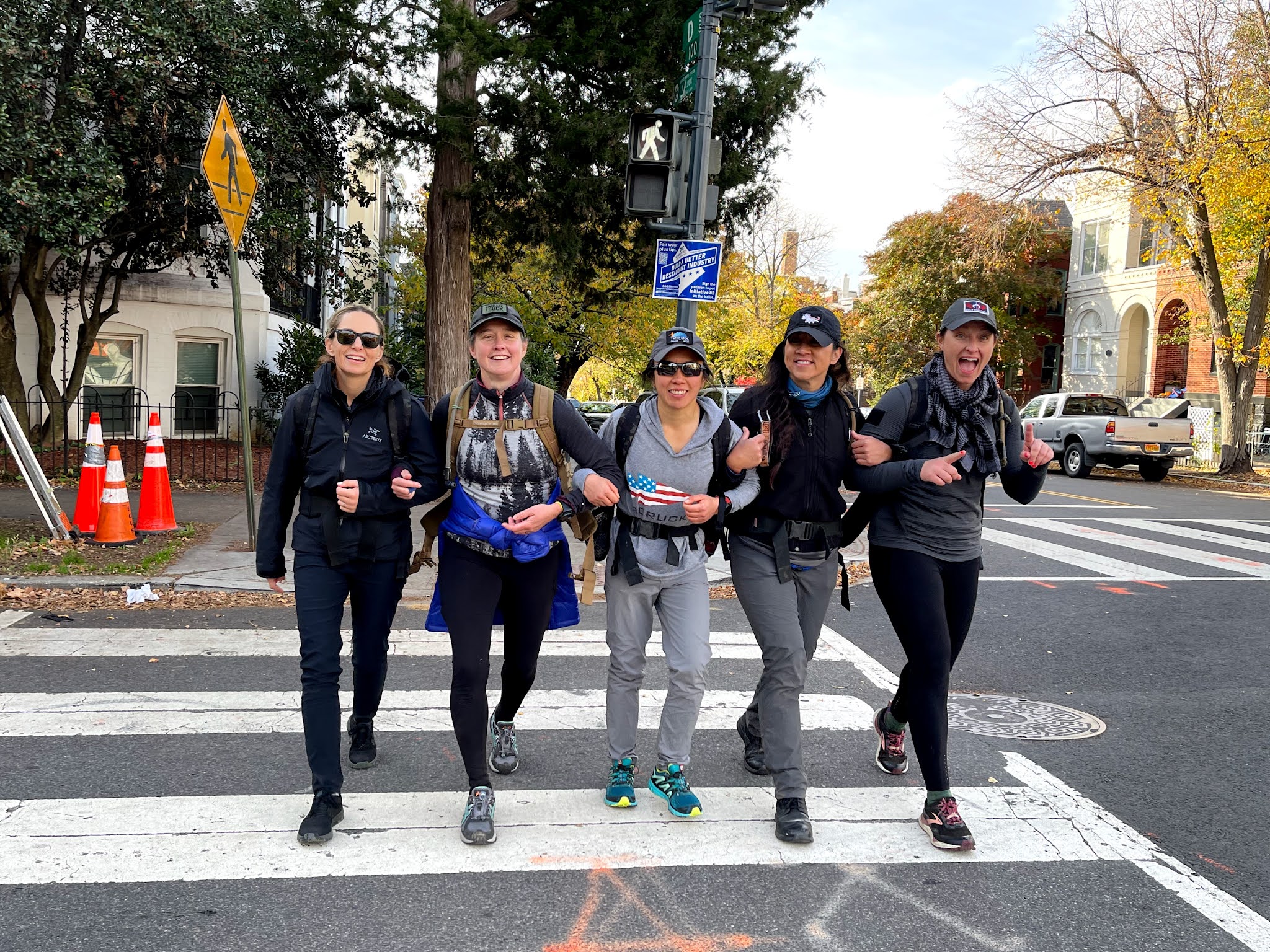 We had also decided to do a silly finish, as if we were all trying to be the first one to break a finisher's tape and fall to the ground.
As we stood back up, shoulder to shoulder, Cadre Mocha Mike said "I need a third place finisher". I honestly can't remember if we said anything, or just stood there grinning at him. Without hesitation he pulled a multi-tool from his pocket and cut the bronze trimmed patch into five strips. Perfect.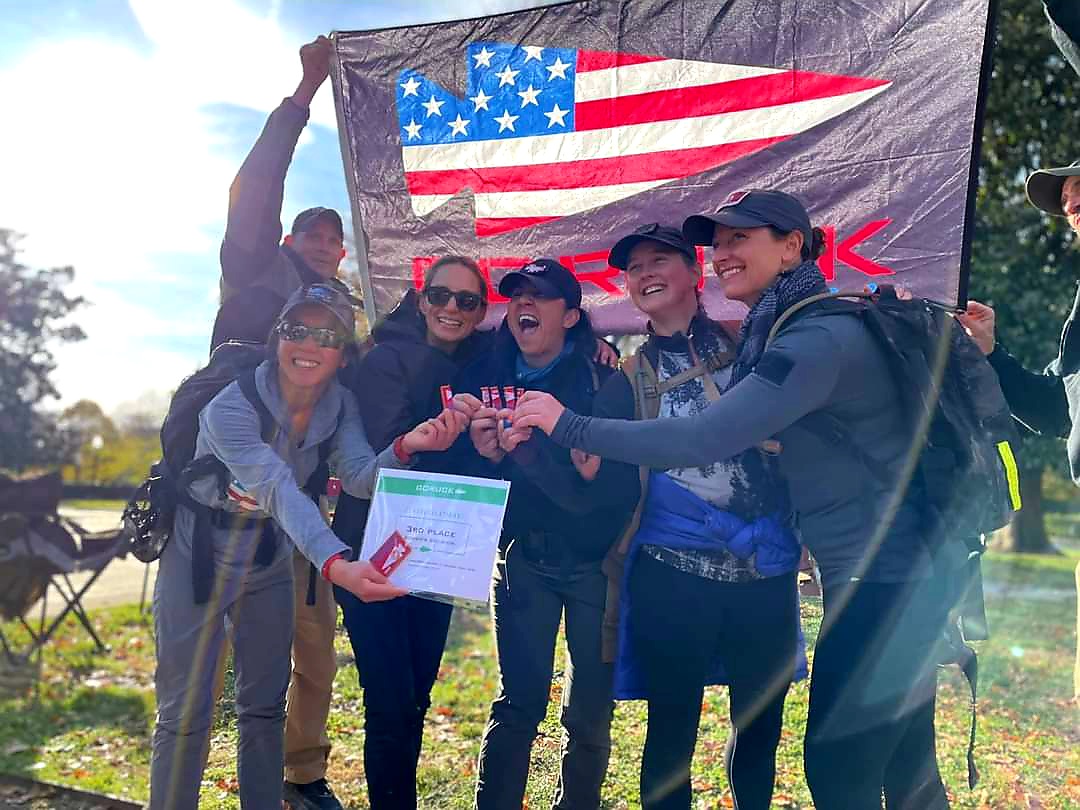 We were then completely taken care of by volunteers. Someone took my ruck off my back, Carmela gave us jello shots, Patrick brought me a beer, Mark carried pizza over, Valerie and Jenny took pics. Having recently been a volunteer at a couple of events, I was even more appreciative of their time and their efforts, as it made a huge difference!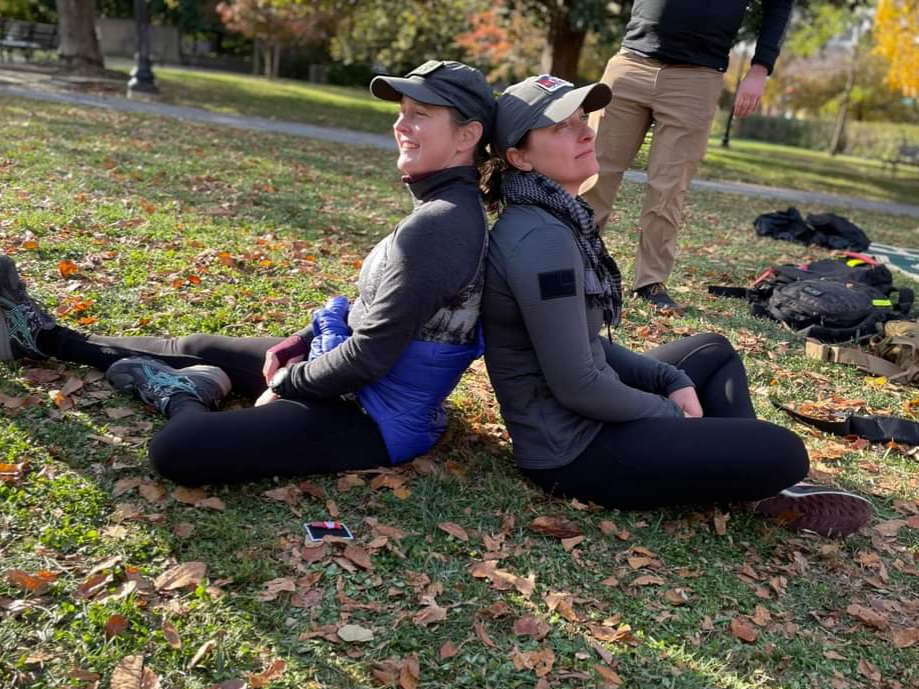 It felt great to be done, to eat pizza and drink a beer, to celebrate with a few teams who came in after us, and use Molly as a back rest. But we quickly started to get cold and Jennifer and I took our leave, carrying some oranges, pizza, and beer with us. Having the hotel just a block away was appreciated, having dinner already there was excellent. After more food and a shower, I fell asleep for a four hour nap. During this rest I dreamed that I could not walk in the airport and Jennifer had to push me in a wheelchair. In the dream I had my ruck in my lap, was pulling a rolling bag in each hand, as Jennifer wore her ruck and pushed me. When I woke up and was able to walk, I was super relieved!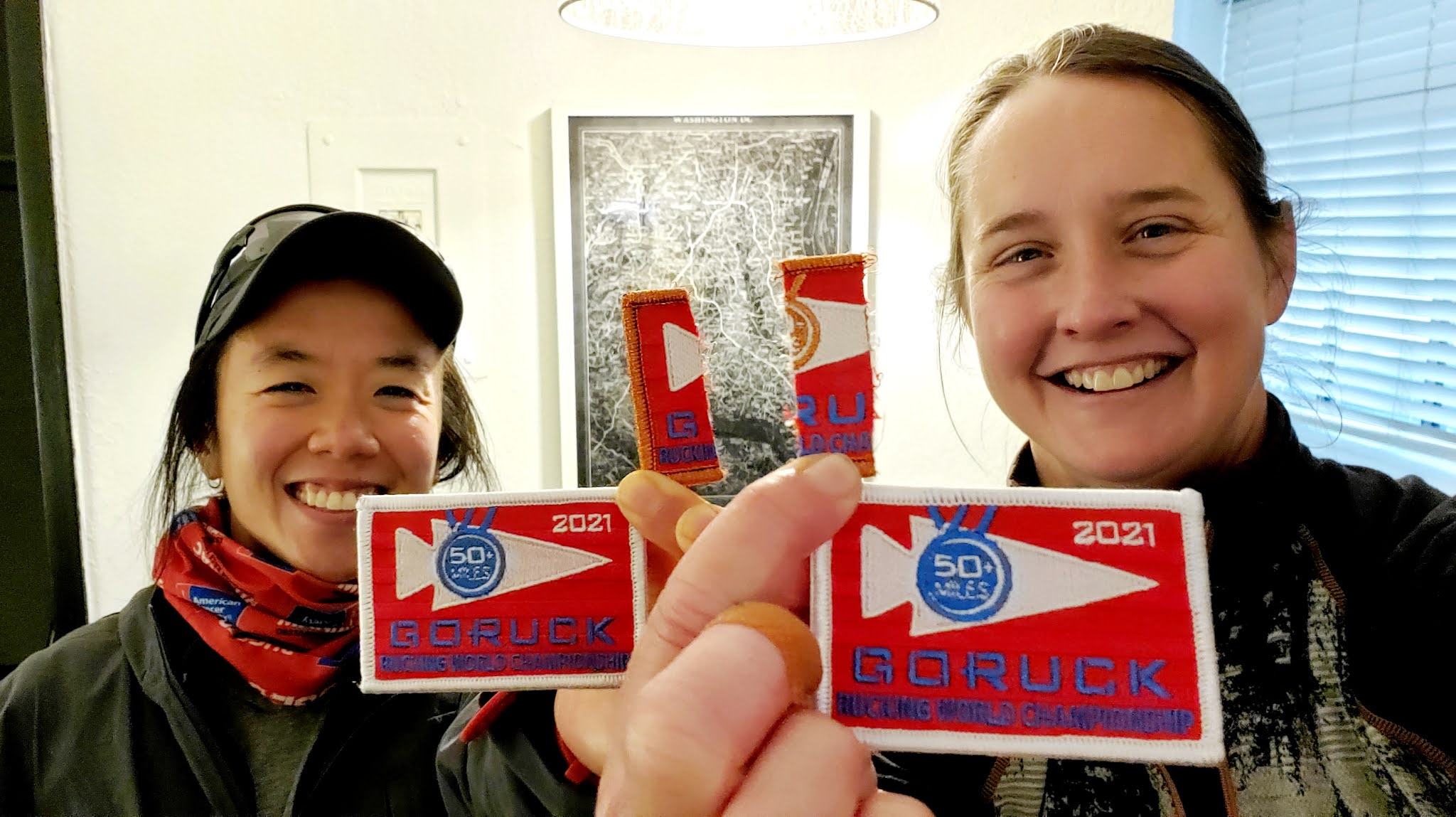 Jennifer and I both felt pretty good on Sunday. My hip that has been bothering me was the same, nothing worse. My left ankle was sprained, but nothing that won't get better with time. I'm giving my body plenty of time to recover. I see my brain (which cooks up these plans) and my body (which has to execute the plans) as separate beings. These two entities had some aggressive conversations during and after the 50 miles in DC. Currently, they have reached a truce of rest and recovery.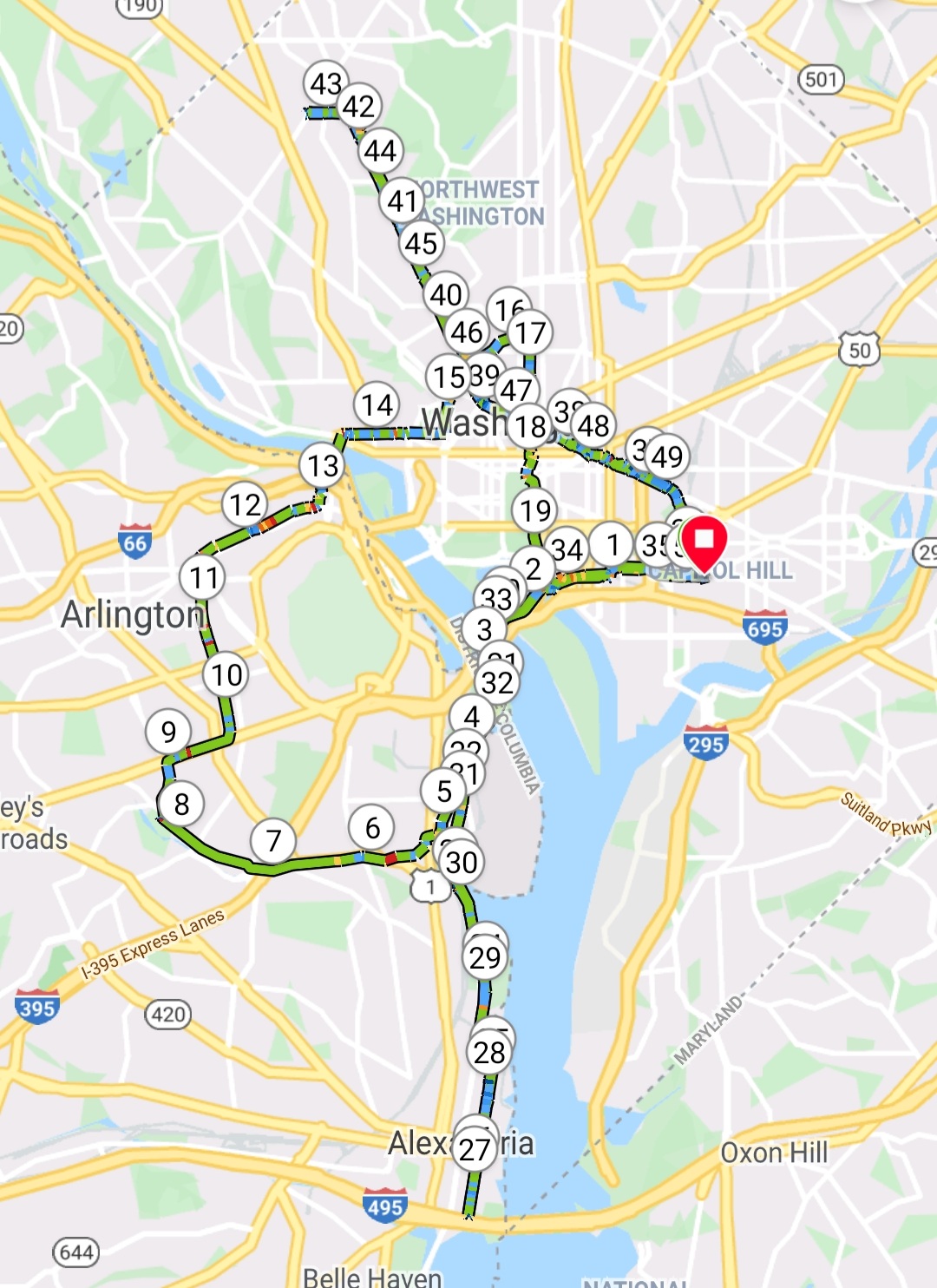 During an event like this, time slows down and experiences compress into the present moment. I feel alive and aware. I learn to catalogue discomfort and pain, then keep going. I find joy in my friends, even in difficult circumstances. Where is the sweetest spot at RWC? Tied for third with Anna, Emily, Jennifer, and Molly!
– Shannon McFall Bass