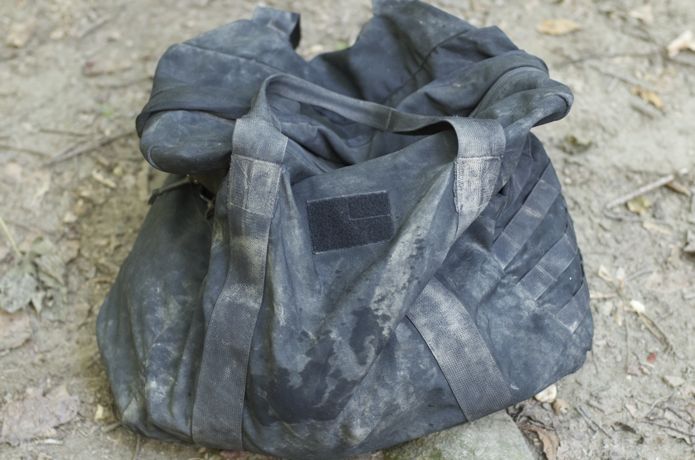 The aviator's kit bag was one of my favorite pieces of gear, and everyone on my Special Forces team used them to transport a small army's worth of gear, per person. The wide opening makes them far superior to green Army duffel bags, which nobody uses anymore because nobody likes soup sandwiches at the bottom of a long, narrow bag. But because the aviator's kit bag was designed for one purpose and one purpose only (airborne operations), it falls a little short when used elsewhere. So we at GORUCK decided to modernize it and do it in two sizes, mil to indicate a larger military sizing, and civvy to indicate smaller civilian sizing. We added all the functionality the guys and I always wished they had – not for jumping, but for daily use, travel, and storage. And in that process we abused kit bags like it was going out of style.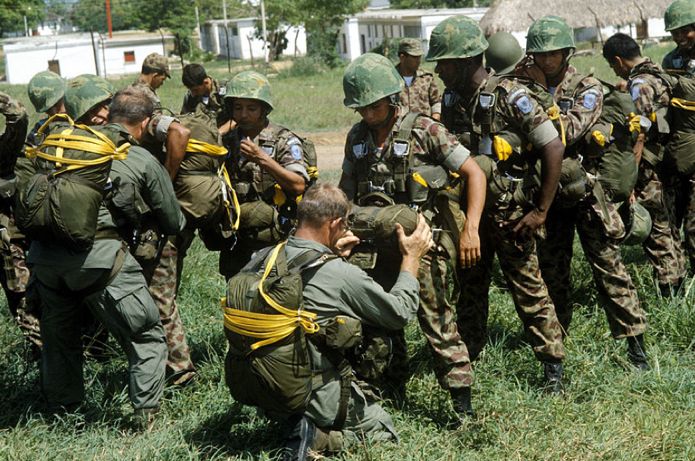 The kit bag's original usage dates back to paratroopers performing airborne operations, aka jumping out of planes. Above, Green Berets are inspecting their Colombian partners prior to a jump. When you jump, your parachute harness is on your back. In this picture it's the green backpack with the yellow ripcord on it. The Green Beret in the foreground is inspecting a reserve parachute on the Colombian paratrooper's front. And underneath that reserve rests an aviator's kit bag. When a jumper lands, assuming bullets are not flying, the jumper's first task is to disengage the parachute harness and begin to roll the parachute toward him or her. Then the jumper stuffs the parachute into the aviator's kit bag and exits the drop zone. See an illustration below as well as the official drop zone procedure as taught in Airborne School.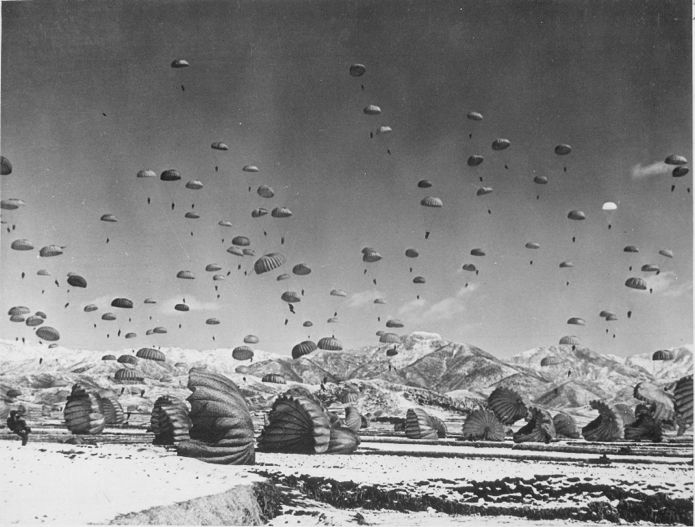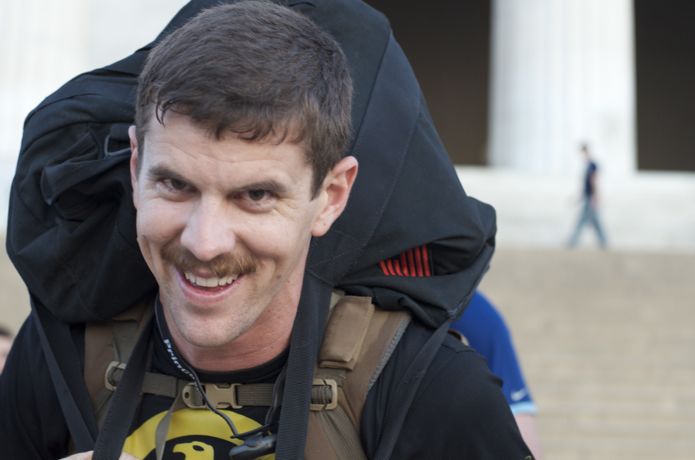 You always get off the drop zone quickly to reconsolidate elsewhere. You grab the straps and rest your stuffed kit bag on your shoulders. It's pretty awkward, but you do not carry it for any great distances, which meant that in the design (as with most Army things), comfort was not a factor. Suck it up type stuff. In the picture above, it's a different kind of suck it up because it's from a GORUCK Challenge where I used the class to field test what we thought (and hoped) was the final prototype.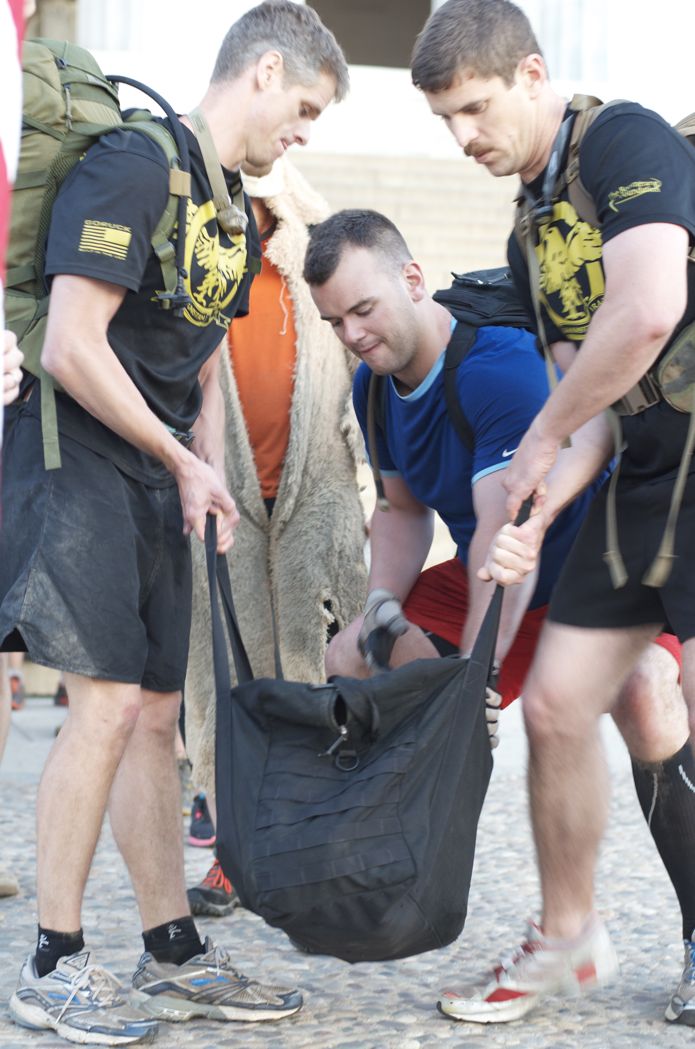 The GORUCK Challenge was a vital part of our process to make the kit bag better and more functional. At the start of this Challenge, I told them to fill it up. With what? someone said. (Stupid question). Stones, rocks, dirt, sand, whatever. It better be heavy, and you can never, ever let it touch the ground. Besides being a great way to force teamwork, this allowed me to make sure that stress points were properly reinforced, and to test out the length and configuration of the straps. Making the straps longer was a no-brainer, it was just a question of how much longer. Too long is sloppy, but you still want to be able to carry the bag over one shoulder, which is impossible to do with the old kit bags. The old aviator's kit bag was supposed to be as simple as possible in an attempt to decrease its bulk. After all, you have to jump with it under your reserve parachute, so in that case less bulk is a better thing. In terms of function, though, it's not as good because it meant really short straps, no pockets, stuff like that.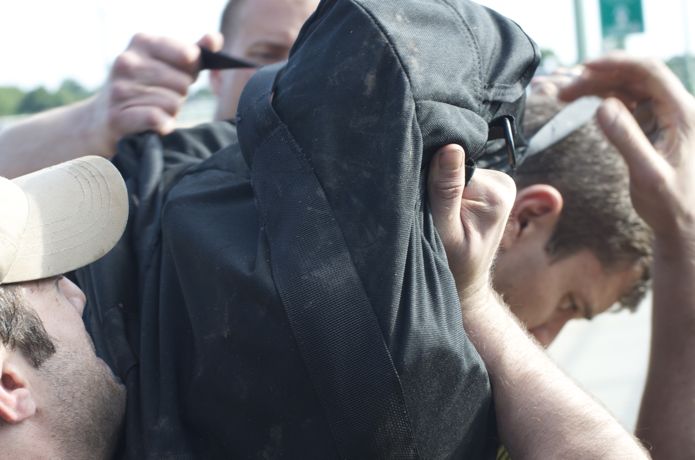 The black civvy kit bag they filled up ended up weighing about 100 lbs. The only restriction I gave them was to never let it touch the ground. I saw how awkward and heavy it was, and I knew they would have to rotate it often. Which pretty much meant that they would grab every spot on the bag every which way. And in situations like this, people always do what's most comfortable for them, which is always what's worse for the bag. But that was the point. If you want to find out what someone's made of, see how they handle stress. Same with gear.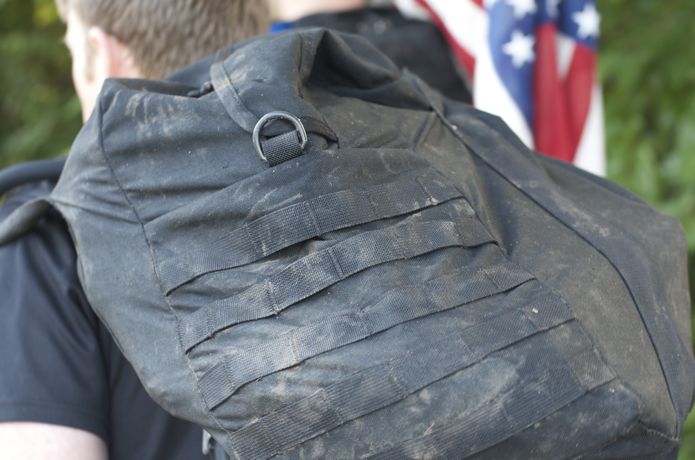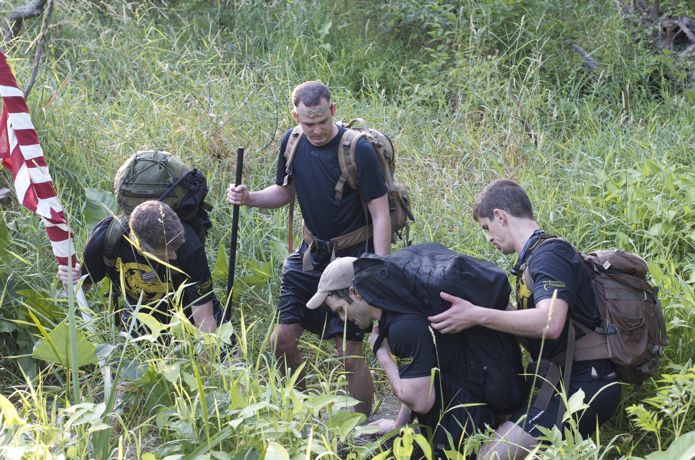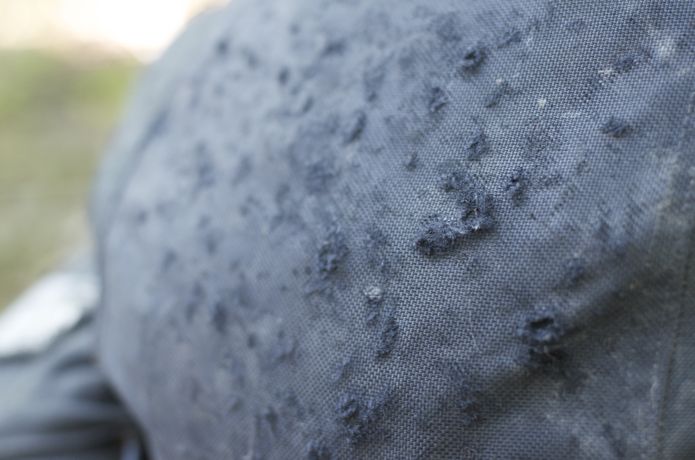 Jagged concrete, stones, and rocks punctured the kit bag in multiple locations, primarily through the bottom where all the weight rested when carrying. Our kit bag is made out of 1000 Denier Cordura, the same material as our rucksacks. We reinforced the bottom, which suffers the most abrasion. But the picture above is proof and a disclaimer that if you fill it with 100 lbs of what this class carried around for 13 hours, the fabric will show signs of wear. And below another disclaimer: if you do this, your face probably will, too. God bless the Challenge takers.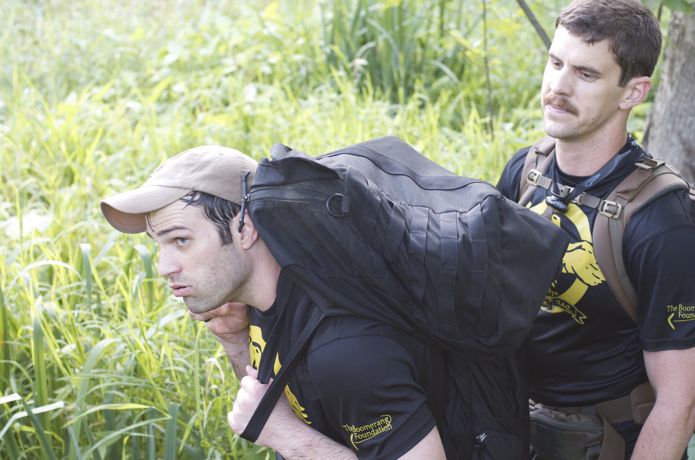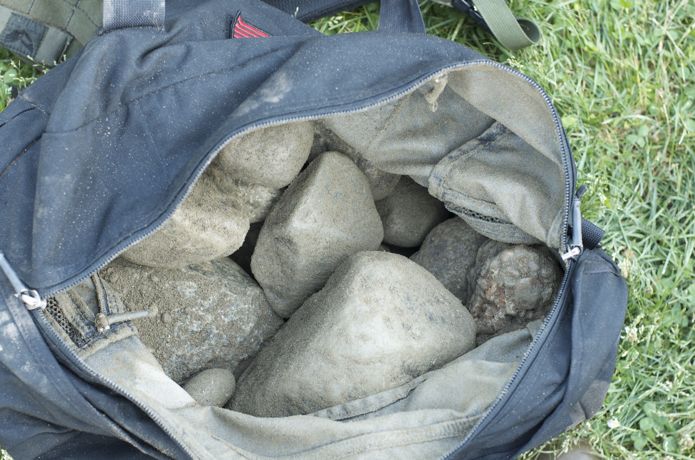 This was the final Challenge for kit bag prototypes. At the end I opened it up to show them all what they carried for the last little slice of forever. Then I got their feedback — after all they were the ones who lugged it around. Interior pockets did not really factor into it, but the guys in this class who have used the old kit bags loved that ours has three internal pockets, one external and some MOLLE webbing on the exterior as well. All three interior zipper pulls are red, a feature found in Special Forces medical packs, which makes the pulls easier to find when it matters. Here they're completely caked in mud, go figure. The pockets are not ideal for organizing rocks and stones, but they're great for other stuff. The old aviator's kit bags do not have any pockets at all. But the main thing the class talked about with our kit bag was the straps. Specifically their length and the stitching that created the handles. More on that later, up close.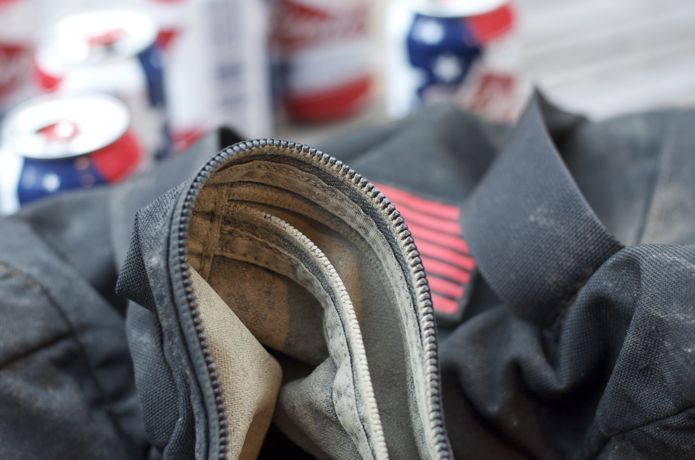 After everyone in the class was sick of talking gear (and probably me in general), I took the bag back home and examined it up close. A few energy drinks aka Bud heavies later and I was confident it was ready to go, meaning move to production. Which, incidentally, was a surprise to me. Again, it goes back to the stitching on the handles. Chris (don't call him Donnie he hates that) was in this class before he became Cadre. It's part of the Cadre hiring process to do a Challenge, then shadow, then lead. If your stand-up act is funny and builds teams, you're good to go. Eventually, with the Challenge behind us I grabbed him and Java so we could illustrate some of the main takeaways. Which meant he was carrying, I was documenting.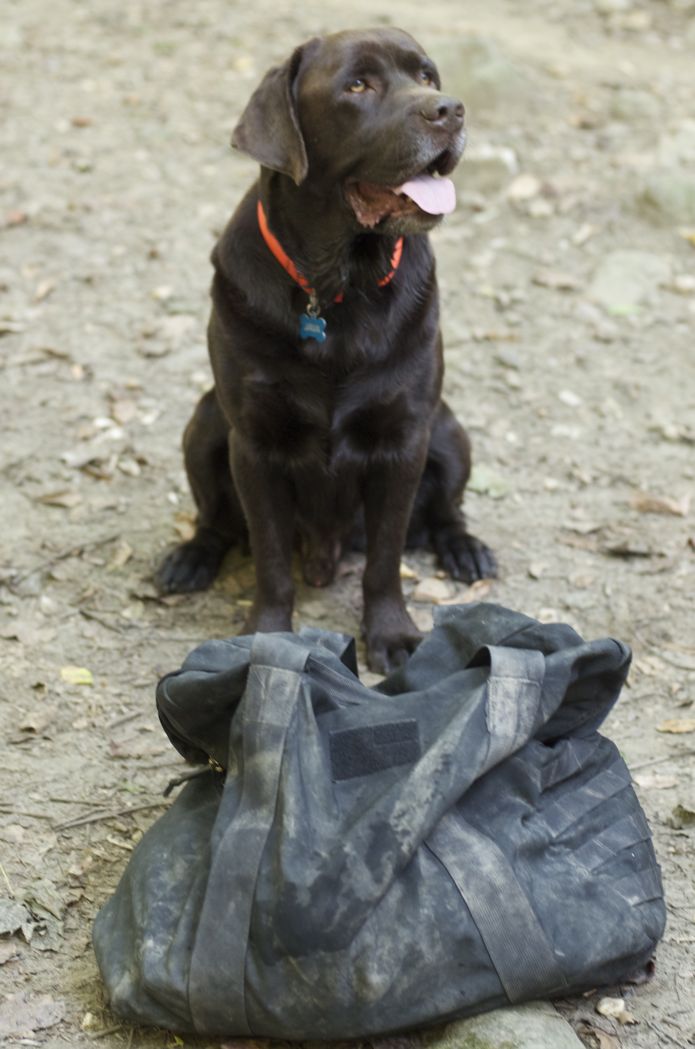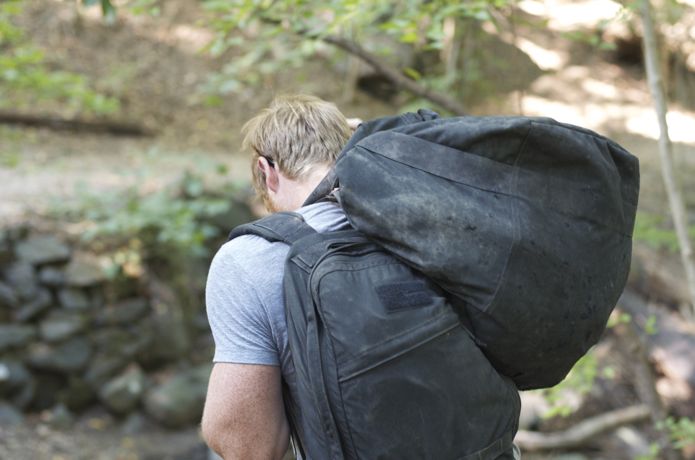 Chris don't call him Donnie he hates that's first reaction when he picked it back up came in the form of a giant boo-boo lip. He said it was so horrible it's like a flashback to the RTL (Resistance Training Lab) where you're beaten and treated as a POW in SERE School. Then he took it further, as he usually does, and said with a smile of disgust that it was the worst thing he ever had to carry, or do, counting all of our training (he's also a Green Beret). I said you gotta be kidding me, and he said that because of how heavy and awkward it was, it was horrible. Chris don't call him Donnie he hates that loves the word horrible and uses it every time the word awesome just won't do. I said it was probably just fresher in his mind, but then he remembered tank treads (treading water with fins and two air tanks on your back) from Combat Divers School, and admitted that was worse. The kit bag = awesome, tank treads = horrible. It's all relative.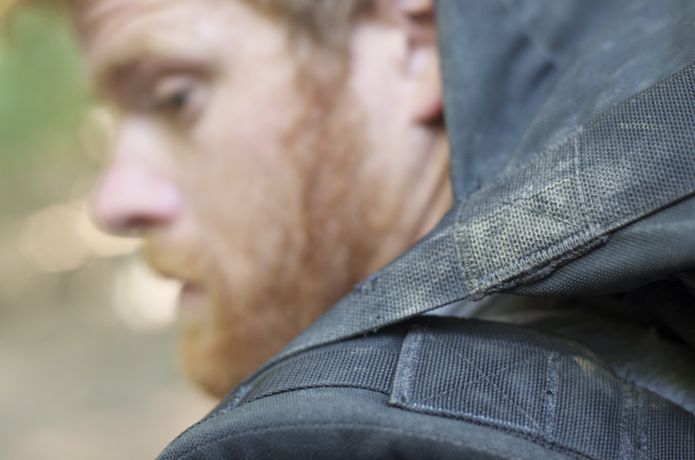 The ziz-zag stitches on the kit bags and all the rest of our gear are called bartacks. We only use these on the high stress points, and they require a special, industrial grade machine called, you guessed it, a bartacker. For instance, the point where the webbing straps connect to the body of the kit bag itself – full of bartacks because people end up pulling on them every which way. In an ideal world for most manufacturers, people are gentle on bags and don't use them the 'wrong' way. Unless their plan is that you break them and buy more, I don't know. The point is that we assume (and hope) people are too busy living their lives to want to worry all the time about whether their gear will fall apart. We want you to take our gear for granted. The reason we're confident about our gear is we spend 95% of our time on the last 5% of the development process, then we see how it holds up in the Challenge. We examine stress points, where we may have to adjust strap placement, where we have to bartack extra. Stuff like that. It's a constant process that reduces problems later on down the line. And because we care deeply about making the best (and doing it in the good ol' US of A) and we offer a lifetime guarantee, we cannot afford to make stuff that fails. All that said, because humans build all of our gear, there will be a small percentage of errors. Humans work that way. But we'll always make it right, and if we don't or you're not satisfied with anything at anytime, never hesitate to let me know in the comments section.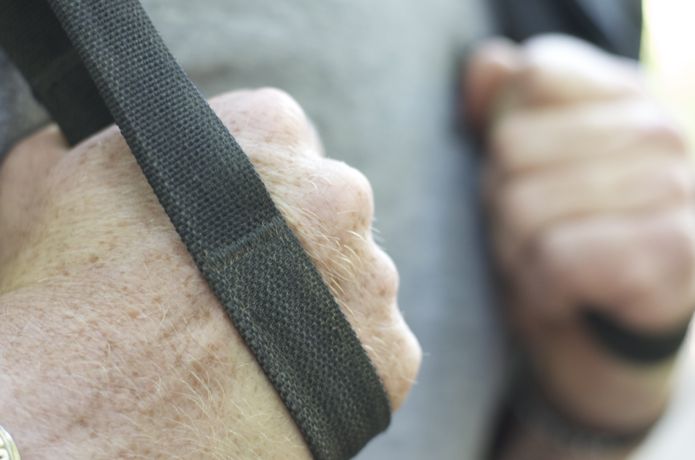 The carrying straps. This was one of the features we wanted to improve. The webbing we use is as durable as it gets. But after a lot of use, if left to its own devices it will bunch up in the area where you grab it. Thus becoming a sloppy gypsy camp in its own right. To counter this, our thought was to create a crease that defined the area you would grab to carry it. In essence, a handle. And then bartack that area down at its ends (pictured above). I was very skeptical that this would function properly, but in the end, the guys in the Challenge loved it. They said it made the entire bag easier to grab, and that having an area lie flat in their hands instead of bunching up made all the difference. My thought coming into the Challenge was that the class would confirm my assumption that these were irritating. But I was wrong and Jack was right and we kept the handles exactly as they were.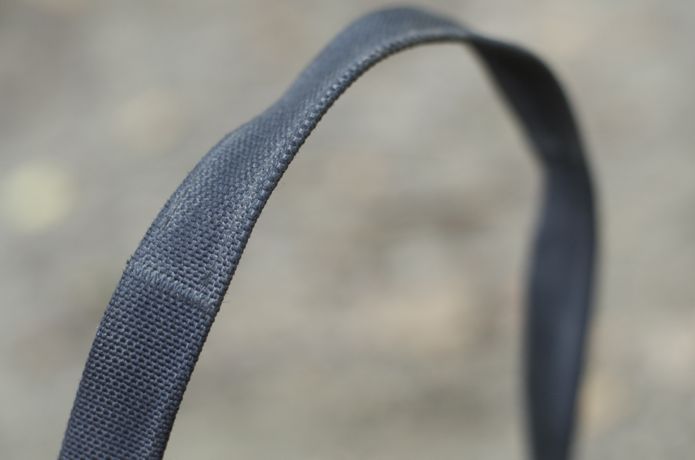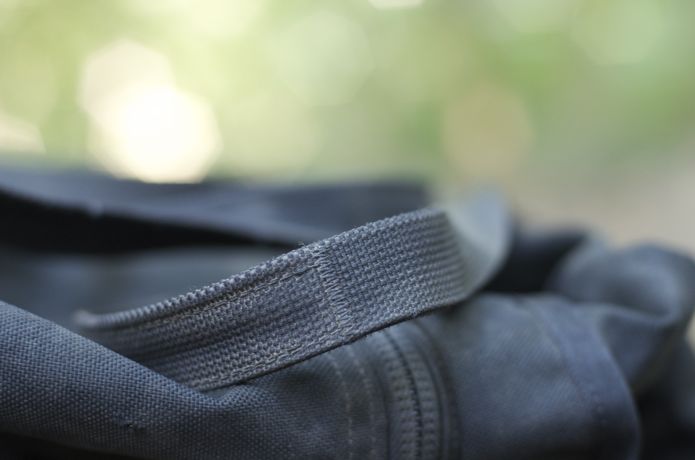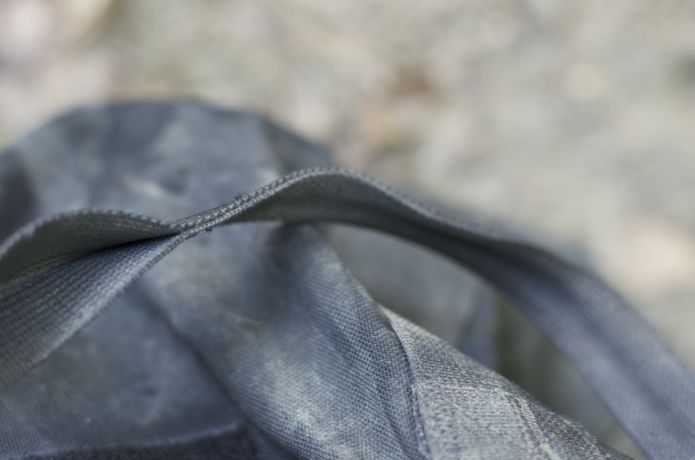 One of my worries, above, was that dirt and mud would find its way into the area right before the handle started. But after all this bag went through, the Challenge proved my fear unfounded.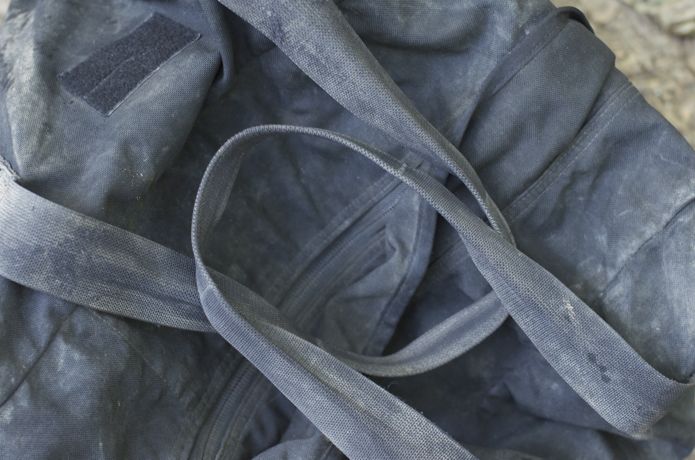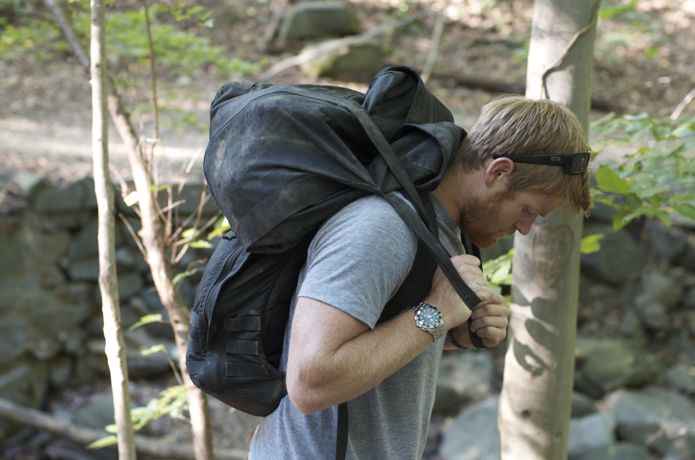 The configuration above takes me back to Camp Mackall. When you show up for every phase in the Q-Course (there were 6 when I went through), you have a ruck and a kit bag. You do a layout of all your stuff, and then they give you a tour. You already know where everything is, and you don't need a tour, but the point is that you're lugging all your gear around for a couple hours, for a couple miles, and it sucks. I always had one of the old kit bags – and because the carrying straps were too short, circulation would stop at the elbows and my hands would go numb. I constantly had to shift the positioning of my bag, and my ruck, while they were showing me where the chow hall was even though I'd eaten there a hundred times. As Chris don't call him Donnie he hates that would say, it was horrible. So no matter how you carry our kit bag, no matter where you are or what the tour is, longer straps help.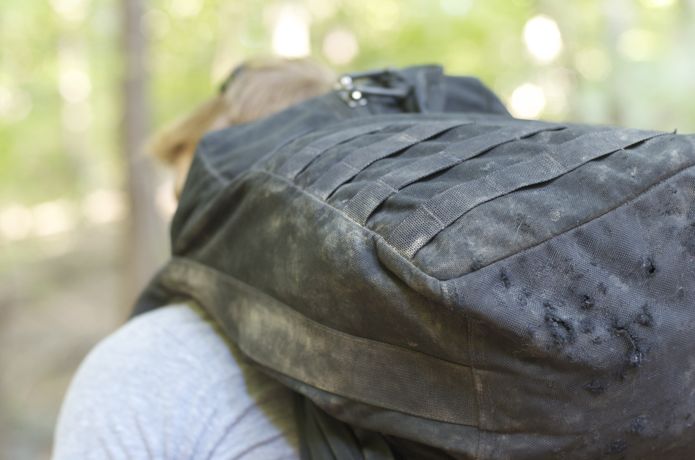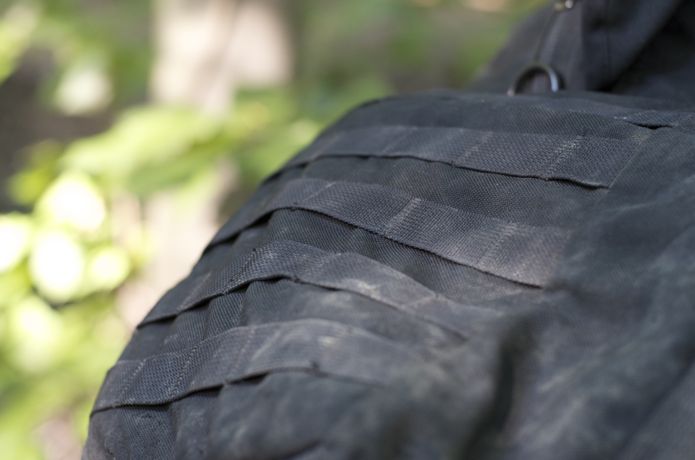 The old kit bags have no exterior pockets. We added one external pocket and, pictured above and below, one section of MOLLE webbing to the side. The day will come when we have a lot of accessory pockets that will integrate with this. For now, though, it's just a foundation. You can build on top of it or just leave it. Your call, as always.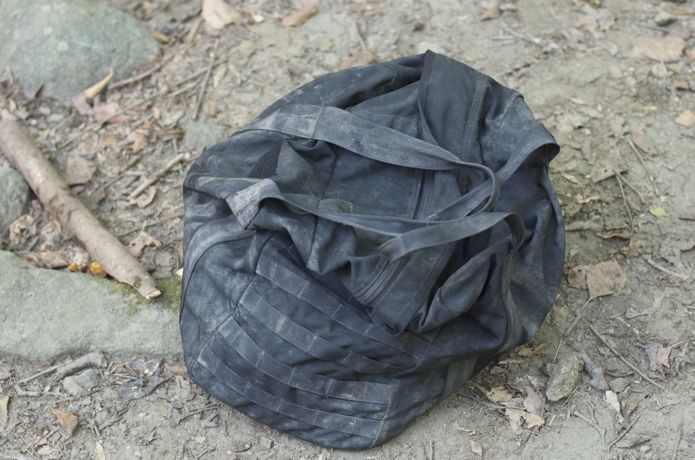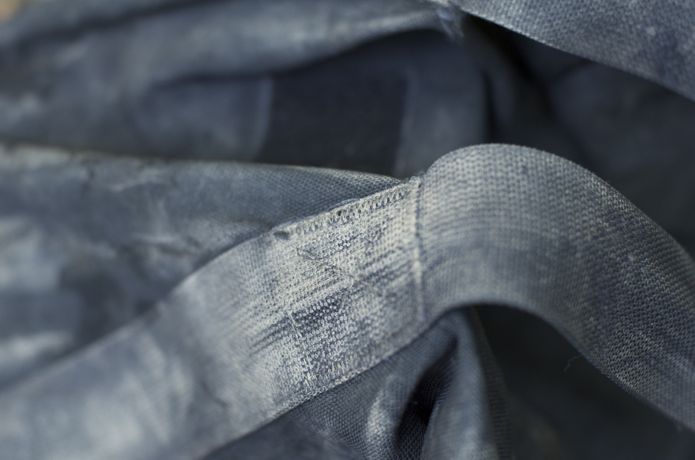 It's a dirty world and our gear thrives in that, but if you want anything in life to last, every once in a while you gotta clean it off. Check out Cleaning Rucksacks Explained. Basically, over a long time dirt will attach to fibers and threads and weaken both. If you hose down the kit bag's exterior, then flip flip it inside out and do the same thing, that's about right. Zipper chains (below) are made up of metal pieces held in place with a series of threads, and are always the weakest parts of any bag. The threads specifically, and removing any dirt or mud helps prolong their lifespan. If you're feeling extra motivated, use soap while you're at it. I talked about gear maintenance in Wrapping Bricks Explained, but the summary is that no gear is invincible and it's up to you to take care of yours.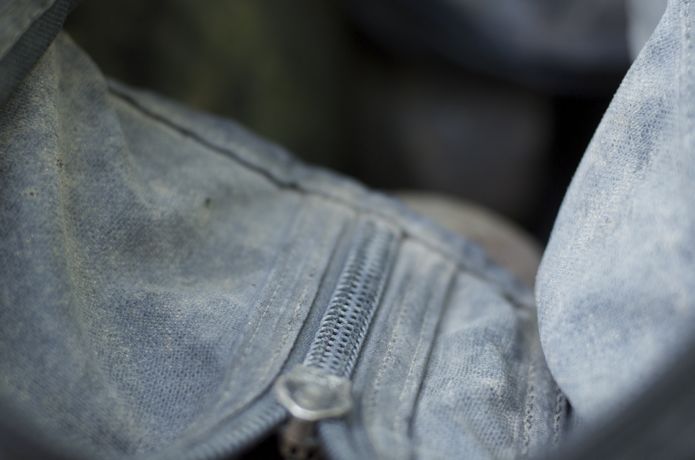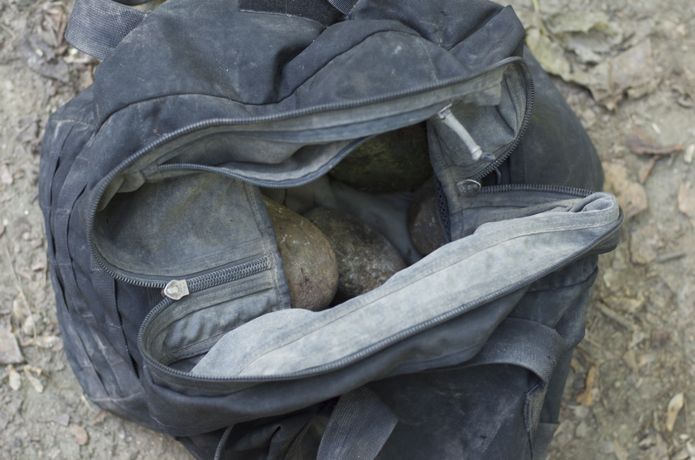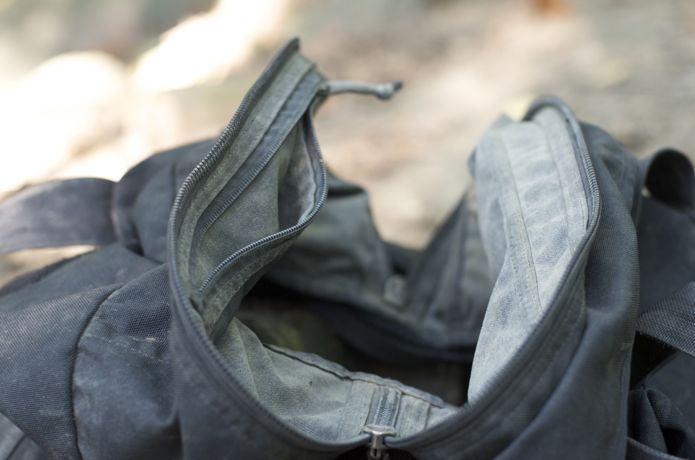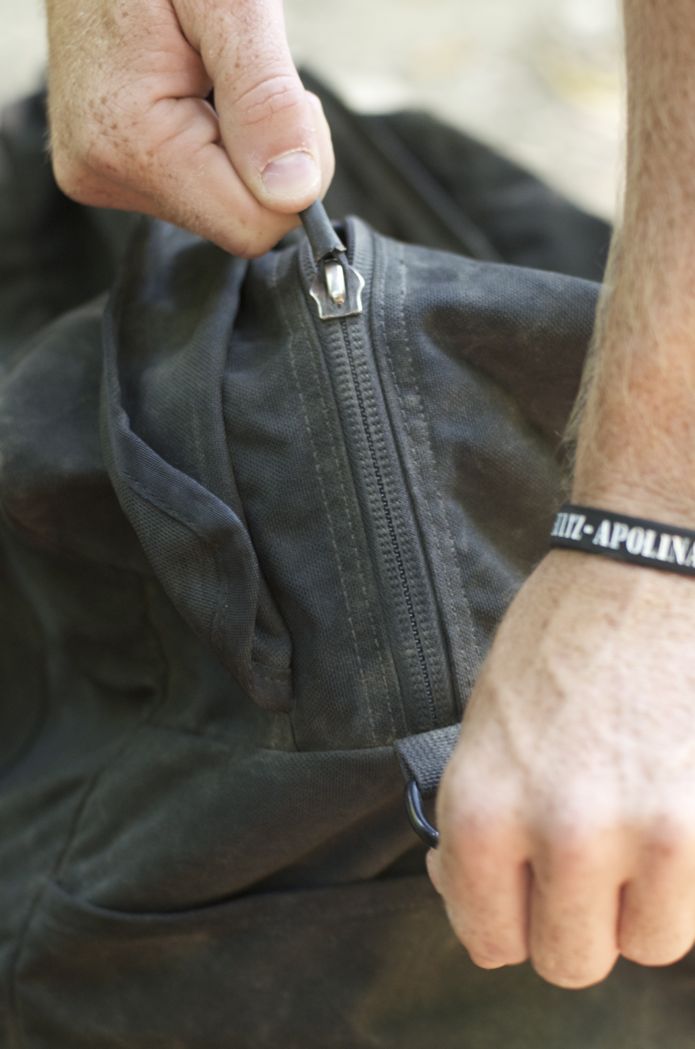 The small metal D-rings at both ends of the zipper (above and below). We fought about this for a couple prototypes – I kept championing the movement to get rid of them, which is usually my M.O. The idea that someone would see these and want to attach a sling drove my thought process. Please never do that. The bag is too big and too heavy (no matter what you're carrying), and a kit bag is not meant to be a messenger bag. But the functionality I eventually saw in the D-rings was that they really help when you're opening and closing the bag.  So we kept them.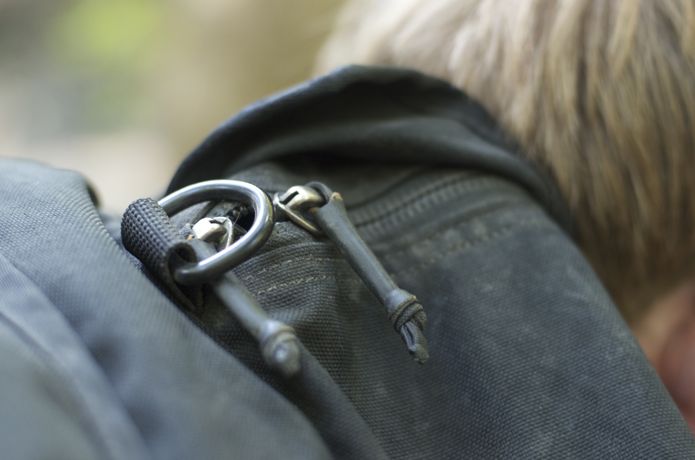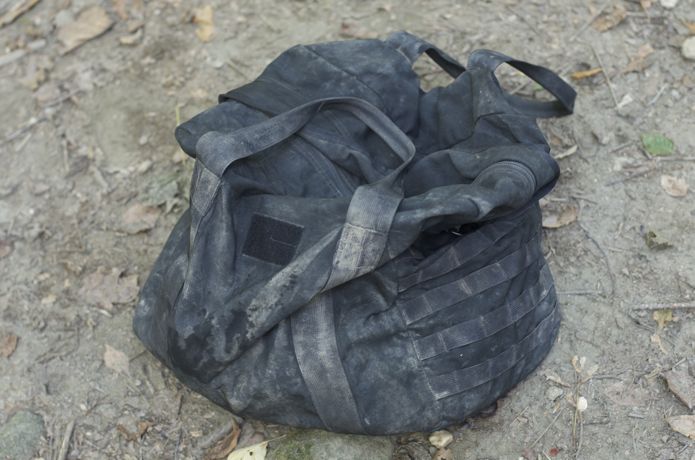 Thanks to Chris don't call him Donnie he hates that for being a good sport. Now, would you mind setting that kit bag down one more time. Now pick it up one more time. Thanks again. And I could have had fun doing this all day just to hear about the horrible and the awesome, which is a form of entertainment much like beer in that it makes the world go round with smiles. But then Java got tired of not being the center of attention (he's complicated like that), so things happened involving long distance movements and squirrels and we called it a shoot. Click to check out pictures of cleaner Civvy Kit Bags and Mil Kit Bags, and of course you'll find Java in there a bunch of times, too.