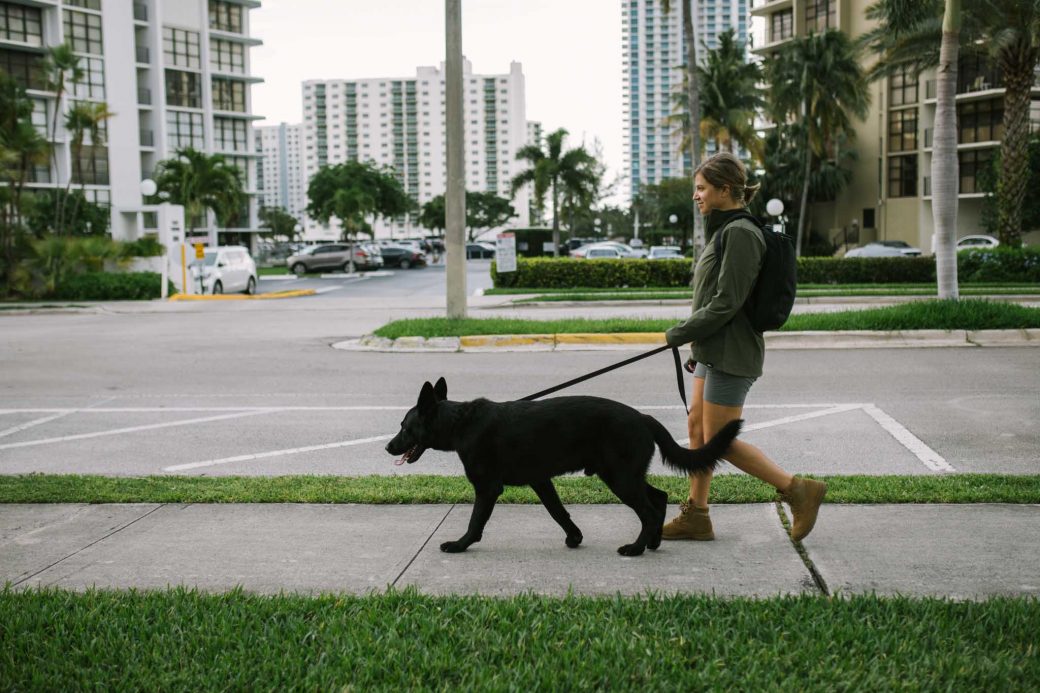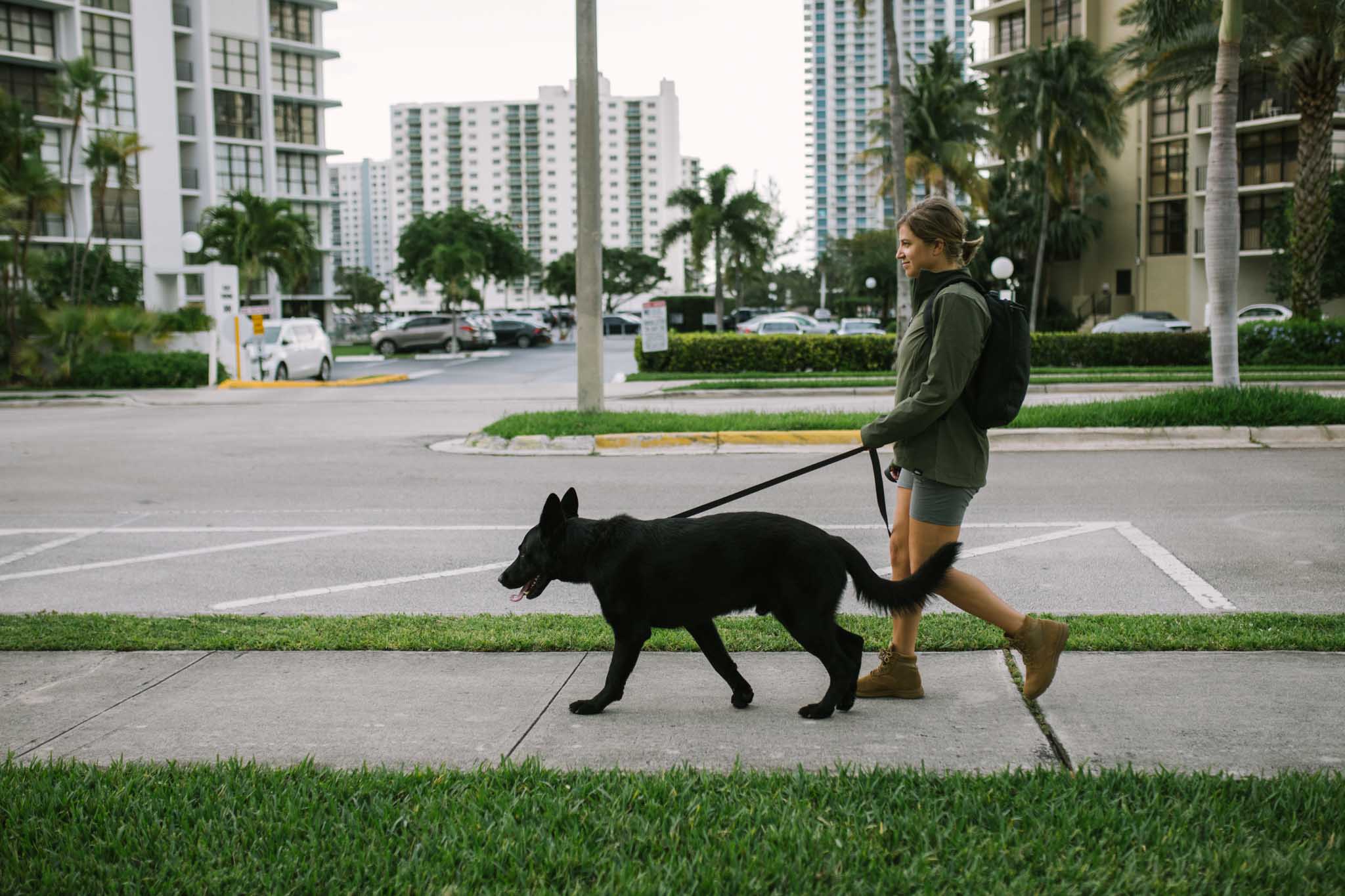 During these uncertain times we're excited to announce the return of something wonderful and familiar: our virtual Ruck Your Dog event with our friends at Pets for Patriots.  Pets for Patriots helps veterans adopt pets and shelter animals find loving homes. It starts April 1 and runs through April 30. Pledge your miles and get your best buddy ready to ruck!
A message from Pets for Patriots Founder and Executive Director – Beth Zimmerman:
GORUCK Family,
We realize that you might not feel like doing something like this right now. And we understand.
But at the same time, the best way to stay healthy is to be healthy. And Ruck Your Dog is the perfect opportunity to stretch your legs and get a little fresh air with your four-legged best friend.
Every single one of us has been impacted by the current pandemic. Maybe you're self-isolating. Or you live in hard-hit community where strict orders are in place that limit your activities. Perhaps you're getting a little lonely, anxious, or depressed. Or you're not able to take good care of your health because your gym or other favorite exercise spots are closed.
One of the few still permissible outdoor activities is walking your dog, so it's the perfect time to do good for others while doing good for yourself. And you can participate in Ruck Your Dog with just your pet while making sure to practice social distancing (six feet of separation) and good hygiene (frequent hand washing and no touching your face).
This year my dog Benny and I are more grateful than ever for the opportunity to ruck for our cause. Our walks have become welcome stress relief, and he's met a lot of neighborhood dogs who are enjoying more "me time" with their humans.
So let's all rally together. Lace up your sneaks. Put a little pep in your step. Ruck Your Dog with us; we'll "see" you on the trail!
Read this great resource from Pets for Patriots on what you need to know about the COVID-19 pandemic and your pets.
Backstory on the History of Pets for Patriots
Ten years ago I founded Pets for Patriots with a simple goal in mind: to help veterans in need of a new pet friend while giving the most overlooked shelter animals a loving home. During that launch year, 2010, we had five veteran-pet adoptions. As of this writing we celebrate 2,856 matches – and counting.
To date we have distributed nearly $602.5k through our adoption and hardship programs that help veterans provide for their new best friends. And the nearly $62k disbursed through our hero fund for veterinary care has saved dozens of animals with lifesaving and palliative medical treatment.
Companion Pets 
Many people confuse companion pets and service animals, and believe that every veteran who wants a service animal should have one. The demonstrable success of our program is but one reason why that is a mistaken notion.
First, most veterans neither need nor qualify for a service animal, even if they are coping with physical or emotional disabilities. And consider that a fully-trained service animal from a legitimate organization takes 18 months to acquire, on average. They are typically bred for service and a fairly high percentage of them fail to meet the exceptional standards that must be in place for the work they will be trained to do.
With extremely rare exceptions, shelter pets are not suited for service. And when you consider that nearly all entered shelters due to some kind of hardship – abandonment, neglect, abuse, or given up by the only family they ever knew – it becomes abundantly clear that these precious animals want and need nothing more than to love and be loved.
But numbers don't really tell our whole story. Rather, our mission comes to life every day through the lives of person and pet saved through our work. Here are four amazing stories, including my own, straight from the Pets for Patriots community: 
---
From the Pets for Patriots Community
Special needs dog saves a veteran from suicide
Veterans like BJ, who served in the Air Force. For more than 20 years she worked in casualty assistance, helping surviving family members receive benefits when a service member was killed in action.
In 2017 and after enduring family tragedies of her own, BJ adopted Peanut, a pint-sized pup who was paralyzed in his hind legs. This adoption lifted BJ's spirits immensely and no doubt saved Peanut's life. Yet it was not long after their adoption that BJ's mother was diagnosed with cancer and subsequently passed away.
Once again, the Air Force veteran was pushed to the brink. So on a summer's day in 2017 BJ walked into the shelter where she had volunteered for years. It was the same place where she met Peanut just a few months earlier.
"My intention when I went into the humane society that day was to get everything caught up because I was planning on killing myself." 
As if by fate, a woman came into the shelter to surrender Thunder, a small dog with deformed front legs. BJ was immediately overcome with compassion for the little dog and vowed to foster him until he was adopted. But that very day she brought him home, she cried to him that everything would be okay – not realizing that she was telling herself those very same words.
BJ did not take her life. She continues to be a loving dog mom to Peanut and Thunder, and still volunteers at the shelter where she met these lifesaving pups.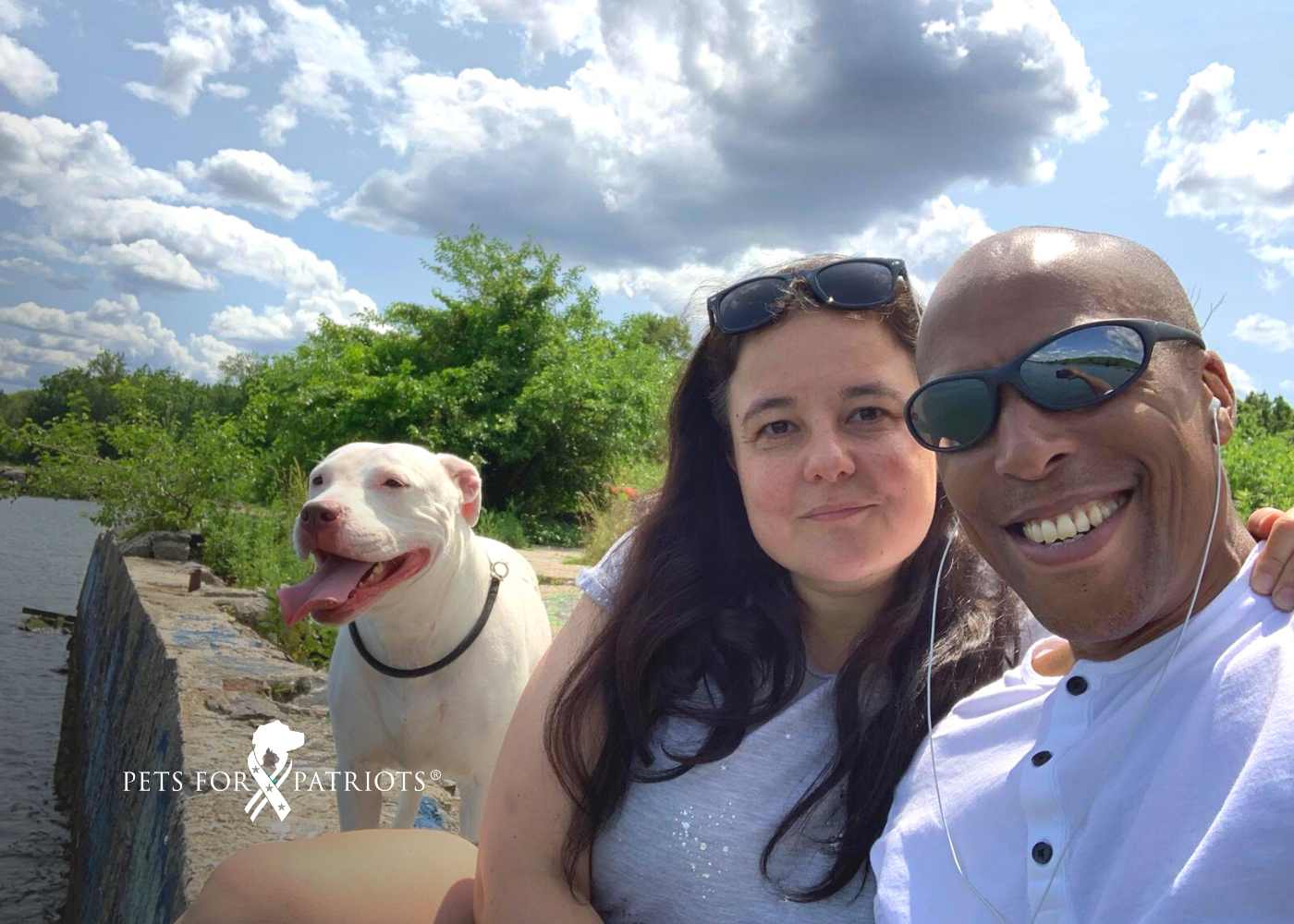 Pit Bull helps veteran cope with PTSD and the loss of his young son
Our work is equally lifesaving to person and pet. Just ask Christian, a canon crew member who served in support of Operations Desert Shield and Desert Storm.
In 1994 Christian returned to civilian life. And while the man left the war, the war did not leave the man.
The Army veteran was diagnosed with Post Traumatic Stress Disorder (PTSD), which he continues to cope with to this day. He suffers crushing headaches, anxiety, and nightmares that not only rob him of sleep, but of peace of mind.
It was not long after Christian separated from service that his life began to unravel. He became a divorced father of two little girls. He remarried and with his second wife had a son, Gavin. But the couple's joy did not last. When he was just a toddler Gavin was diagnosed with cancer and died in 2013 at the too young age of five.
Christian eventually met the woman who would be his third wife; the couple moved to New York when Christian landed a job there. He sought therapy at the local Veterans Administration, which referred him to Pets for Patriots to adopt a companion dog for emotional support.
At the time, Bella was a four year-old Pit Bull mix – one of many such dogs in shelters across the country. Luckily for her Christian wanted the kind of dog "no one else wants." The Army veteran adopted Bella and she quickly became his comforter-in-chief. She's always present when Christian has a bout of anxiety or depression, and rests her head on his chest when he has nightmares.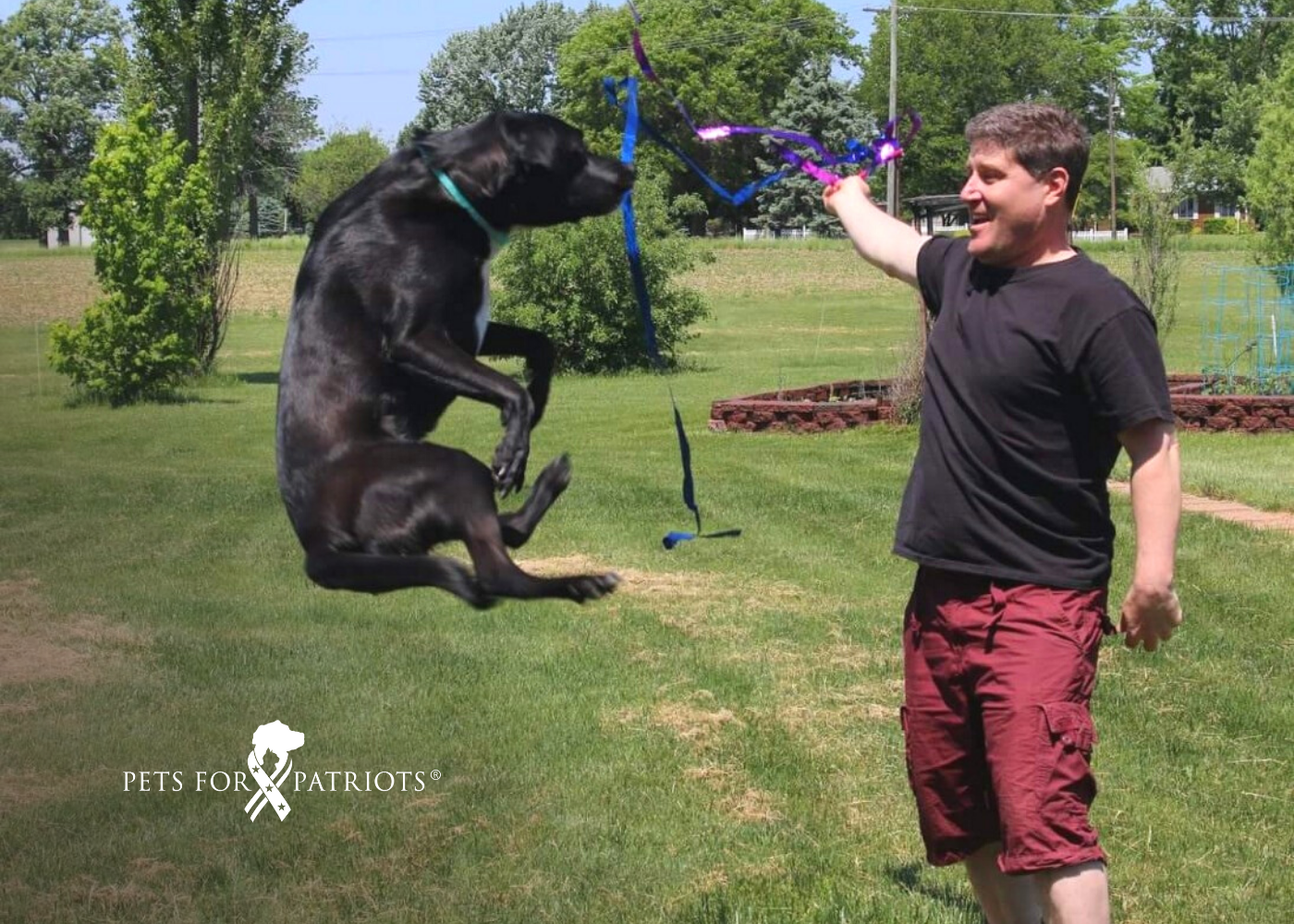 Opel lives her best life
The mutual healing power of companion pet adoption cannot be overstated. It's one of the reasons why everything we do is designed to support permanent adoptions. We provide support to prevent economic euthanasia and animal surrender. And since we follow up with every single adoption for at least one year we're acutely aware of the intense connections that bond our veterans and their adopted pets.
Take Opel, a black Lab mix who in 2014 found her hero through our program. Craig is retired from the Army after more than 20 years of service. During his long military career he served in Korea and Iraq, and was the recipient of multiple awards, including the Bronze Star.
Almost two years ago Craig told with us that Opel was diagnosed with aggressive melanoma and was given just months to live.
Pets for Patriots stepped in to cover the costs of Opel's monthly cancer medication so that Craig could focus on helping Opel live her best life. He created a bucket list for her to include everything a dog could possibly want. Picking her own bones from the butcher. Going to the dog park. Hosting a toy de-stuffing party. Running on the beach.
Opel continues to defy the odds. Support from our hero fund has helped her outlive her prognosis by almost two years – or 14 in 'dog years' – and has given Craig and his family precious time with their beloved pup.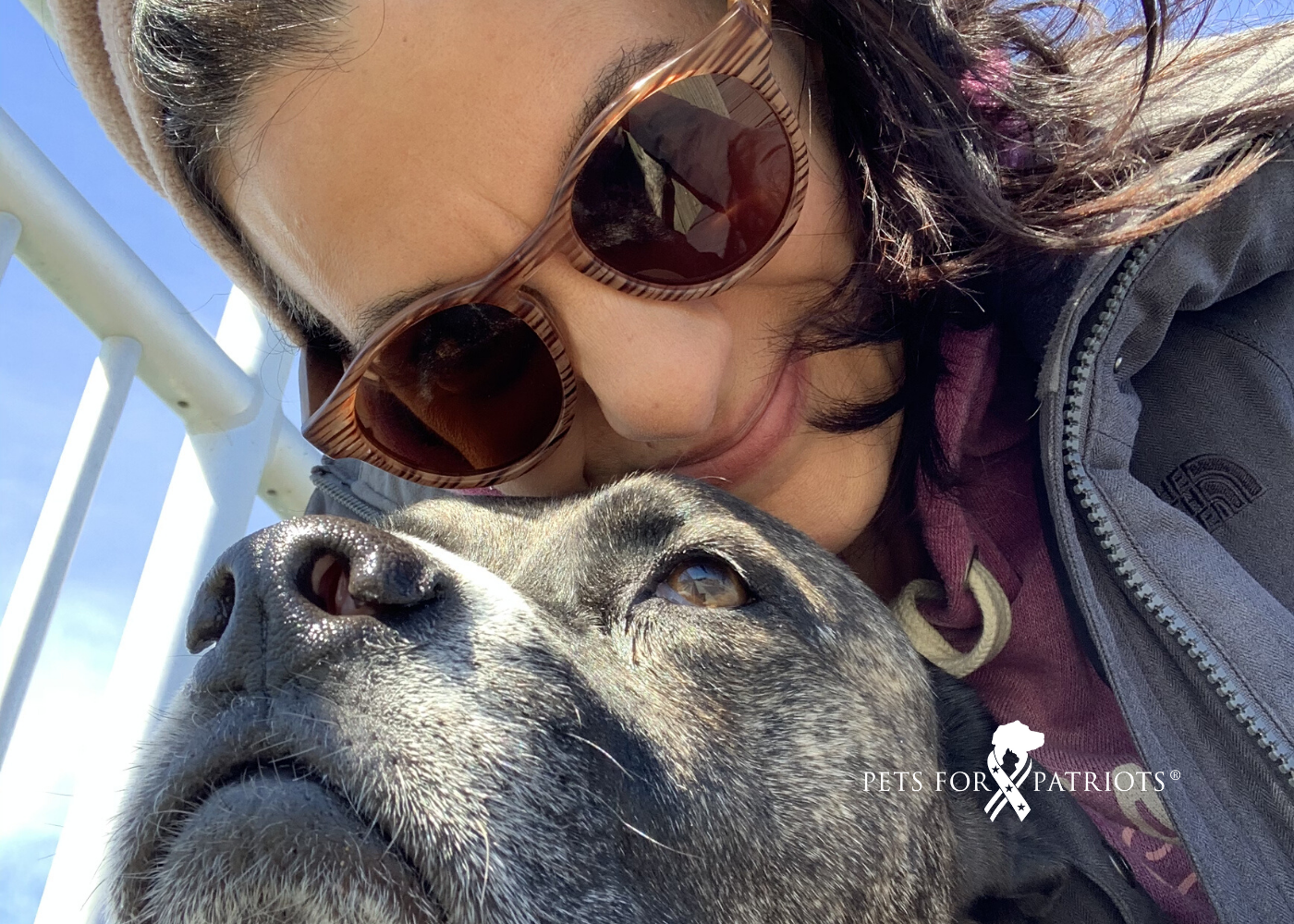 A personal journey to help others
Pets for Patriots is on the front lines of advocating not just for shelter pet adoption, but for the adoption of the most overlooked, undervalued animals. Dogs and cats who are adult, have special needs, or are chronically homeless, and large breed dogs. Collectively, these are the animals who are most at risk of death or permanent homelessness if they are not adopted.
Our mission is personal for me, and I live what we preach.
In 2012 my mother and I co-adopted a then nine year-old Beagle mix named Bunny; it was obvious she had been mistreated. She was scared and broken, and her health had been neglected for a very long time. Although Bunny lived with my mother, I was her guardian, especially as my mother's health declined.
Sadly, Bunny passed away in April 2016 only six days after we learned that she had an extremely aggressive form of cancer.
It was months til I was able to volunteer at our local municipal animal shelter. For the next year-and-a-half I visited the shelter nearly every day to walk dogs. On weekends I would often spend three or four hours there, and on Friday afternoons in the summer I would bathe dogs who were scheduled to meet prospective adopters.
During what would be the last six months of my volunteerism I started walking an older Pit Bull mix named Benny. He had scars on his head and staples in his ears following an attack by other dogs in a short-lived foster home.
Benny had been adopted out as a pup by the rescue that now manages our city shelter. More than eight years later he was found in the woods in upstate New York. The local SPCA took him in and arranged transport back to our city shelter.
If you have ever been in an animal shelter you know that they are very stressful environments. Even the best-run facilities are poor substitutes for a loving home.
Benny was deteriorating in the shelter. After six months of getting to know him I put in what would be the only application he ever received. Our adoption was approved the night before my birthday. Best present ever!
Benny is a senior and a bundle of energy. It was not long that I had to stop volunteering at the shelter because he and I were walking six to seven miles a day in addition to my full-time job managing Pets for Patriots and my responsibilities to my aging mother.
---
In 2018 Benny and I rucked 200 miles in our second annual GORUCK Ruck Your Dog. We pledged 100 miles of our own and the other 100 in honor of all of the dogs and cats in shelters who were waiting for their heroes. And in 2019 we did 200 miles once again.
Benny is now a very healthy and spirited 12 years of age, but admittedly has a bit less stamina. For this year's Ruck Your Dog we'll pledge 100 miles in honor of my mother Naomi – who Benny knew as 'grandma' and who died in June 2019.
As we say every year this event comes along, it doesn't matter if you ruck, walk, run, bike, blade, or roll. Not only is Ruck Your Dog good for your well-being and the health of your dog, but it supports our lifesaving work for shelter pets and the heroes who adopt them.
Thank you in advance for supporting our lifesaving work. Benny and I look forward to seeing you on the trail!
– Beth Zimmerman, Founder and Executive Director of Pets for Patriots