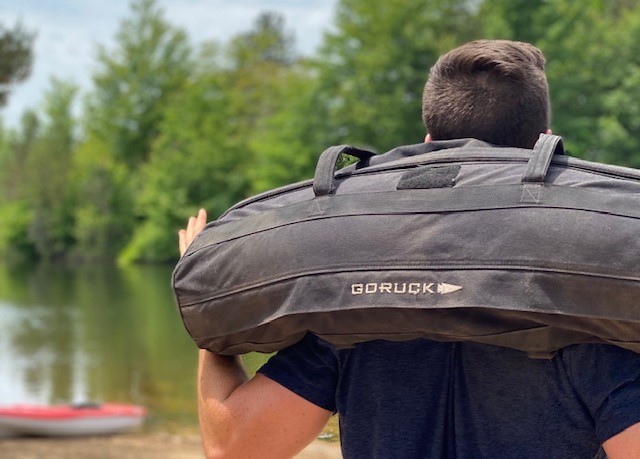 When my gym closed indefinitely in March of this year, I was unsure of what to do. I had no idea when I could go back, and my interim at-home workouts were not getting the job done. I was desperate for something a little tougher than body weight and resistance band lifts and I didn't have the indoor space for large equipment or weights. A friend and I were talking when I brought up my problem, and that's when I was introduced to GORUCK. 
After hearing him talk about the company and his experience with the products (he's been a GORUCK supporter for years), I scanned the company's website and found the sandbags. It took me almost no time at all to pull the trigger on the 80lb sandbag – I did some quick online searches to get an idea of weights people were using, and settled on 80 pounds as a midpoint towards the heavier end. 
A few minutes into my first workout, I knew this was going to be the focal point of my new workout routine. It was one of the most difficult workouts I had done in months, if not years, and I loved every second of it. I throw the bag on my shoulder every morning and walk to the park nearby, which is a workout in itself. Once I get there, the real fun begins. 
As I prepared for delivery of my sandbag, I scoured the web for different workouts, found plenty of videos and demonstrations, and started planning my routines. I was surprised that I could do just about everything I was doing at the gym and more – the versatility of the sandbag is vast. The sandbag is a killer workout, and if you're not into pushing your body to the limit, this product might not be the one for you. The bag allows me to combine exercises and coordinate movements that I'd never be able to replicate with traditional gym equipment.
After a week of using my sandbag, another friend asked how I was doing without the gym, so I invited him to workout with me. Within minutes, after catching his breath, he was hooked and admitted this thing was the real deal. He bought his own sandbag the next day. One friend slowly transitioned into a few and now we've got a group of five that meets at 5 AM, five days a week. We're all embracing the new normal and could not be happier with our bags. GORUCK has not only given us an opportunity to get together and catch up while in social isolation, but it has allowed us to compete and push one another, much more than any experience we'd have in a typical gym environment.
So why should you own a sandbag? The 1000D CORDURA shell is tough and holds up on asphalt, turf, mud, and sand. It's great on a beach, a grassy backyard, a driveway, and even an indoor gym, if available. The handles are comfortable and strategically placed to allow for multiple grips which allows me to perform a variety of movements to increase tension and resistance. The ability to split my sandbag into two 40lb bags is the perfect way to cool down at the end of my workouts after working the full 80 lbs. The bag is built perfectly – its tough enough to toss and slam on the ground, yet still comfortable enough to throw on my back and walk around. 
A couple of months in, I signed up for GORUCK's Sandbag & Ruck Training program, which provides daily curated workouts and WOD challenges – saving me time as well as providing the opportunity to compete against other users in the program. The workouts are tough and the program forces you to push yourself. I took advantage of the free two-week trial, after which it costs only $22/month – significantly cheaper than my previous gym membership. 
This is an absolute beast of a product and it won't be the last purchase I make from GORUCK – I may never go back to a gym again. 
About the Author: Kevin and his fiancé run a travel blog. They are taking a pause right now on travel content and diving into training.
---
Featured Gear: