The idea behind GORUCK America is for GRHQ to send a member of our team to visit various Ruck Clubs around the country and build community in the real world. When DFW Rucking Crew planned a custom event, it seemed like a no-brainer to have our Ruck Club Community Manager cover the event since he lives in Dallas. What follows is Doug's AAR.
Howdy, GORUCK Nation! My name is Doug Stryker and I'm the founder of DFW Rucking Crew. I started our club in 2018 because I was astonished that there were no Ruck Clubs in the Dallas area despite the fact that we had hundreds of GRTs who had completed GORUCK events. We now have over 1,000 members in the Dallas and Fort Worth area and we host numerous events around the metroplex each week, facilitated by a leadership team of six. This allows us to offer a wide variety of training opportunities and chances to make new friends throughout the metroplex area.
Some of our events are just miles and smiles, a time to socialize while getting a little exercise. Others are more of a workout with a few miles at the end. We also do the monthly GORUCK Tribe workouts as a team. And we host quarterly events that are a little more spicy to qualify as challenges for PATHFINDER Ruck Training, such as the 20 Mile Overnight Ruck and the 10 Mile Coupon Ruck. We also do service projects like annual wreath-laying for Wreaths Across America and trail clean-ups for Equest, a nonprofit that provides therapeutic horsemanship services to veterans. And of course, there are plenty of fun events like Taco Rucks, Brew Rucks, Donut Rucks, and Ice Cream Rucks. There's a little something for everyone!
In 2019, GORUCK asked Ruck Club Leaders to submit ideas for new events that our club would like to do. We wanted to try something different than what we usually get in Dallas, to capitalize on something unique to the Dallas area. 
Since Bonnie & Clyde began their infamous crime spree in the Dallas area, we submitted that as the theme for a Tough but as luck would have it, the event didn't materialize. So when there was a decrease in GORUCK events this year, my co-leaders and I decided this was the perfect time for our ruck club to put on our own custom GORUCK event! And the more we talked about what a Bonnie & Clyde event might be like, it seemed like a great fit to make it a double Basic (the infamous couple, the two Texas Rangers who hunted them down, the whole outlaws vs law enforcement duality, etc). We added the Scavenger for some extra fun and to make it worth the drive for those who would travel to attend these events.
Cadre Mocha and Bianca Navarrete made the planning process easy, and we were excited to hear that Cadre Norwich had been assigned to lead our custom event. He's a former Green Beret who's also known for being quite the history buff. Cadre Norwich clearly did his homework, evidenced by not just the history lessons he imparted throughout the event, but each of the evolutions themselves were inspired by aspects of these historical events.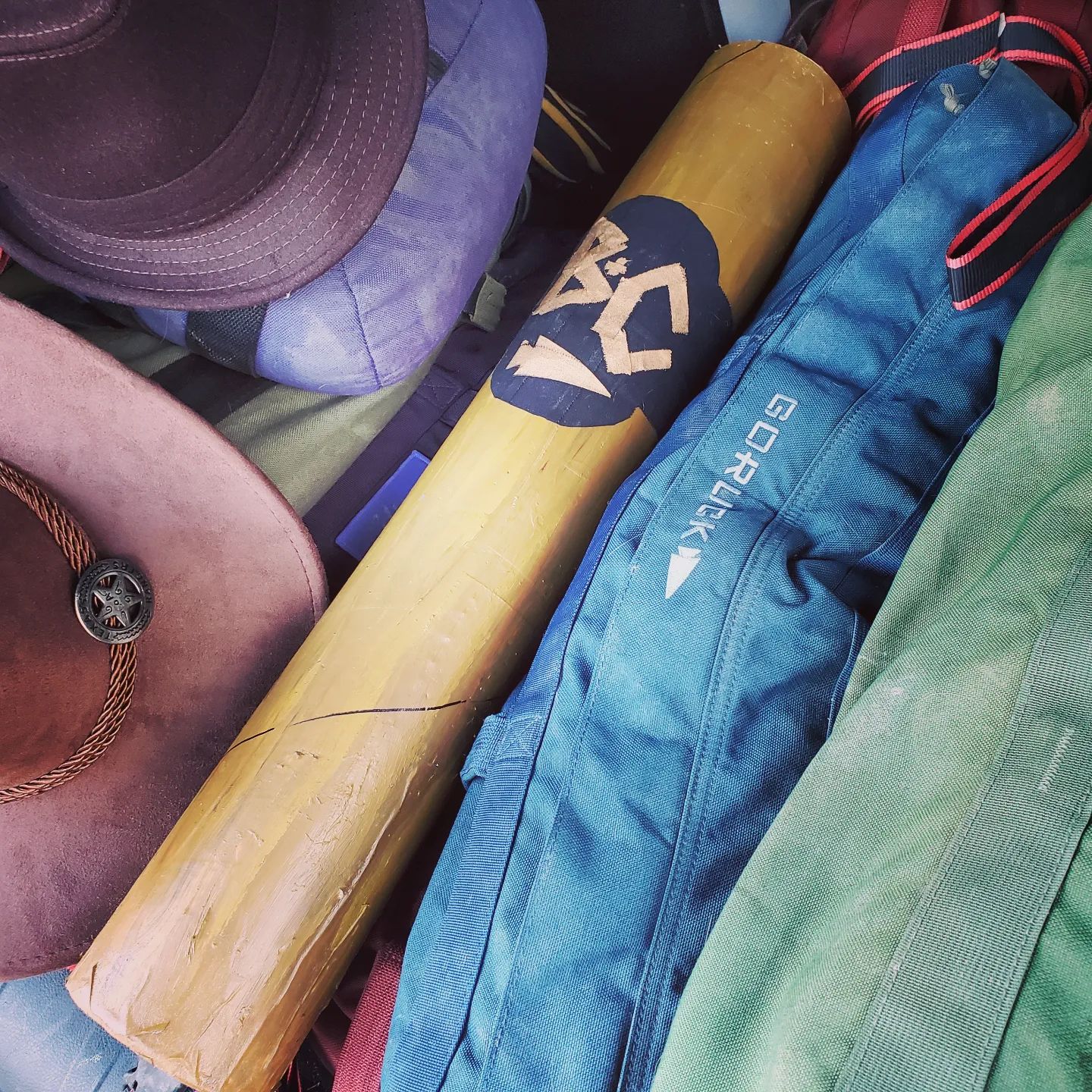 The Depression-era theme was evident in a few ways: Team Leader and Assistant Team Leader were both given fedoras to wear, and there were three different team weights including a 25 lb "stogie" (Bonnie Parker was famously photographed brandishing a pistol with a cigar in her mouth). 
Basic #1: Bonnie Parker and Clyde Barrow
Our first Basic was focused on the iconic criminal duo as well as the members of the Barrow Gang. After the admin phase, there was a short ruck to a park where the Welcome Party took place. There was a modified version of the Bonnie & Clyde WOD and a number of bear crawls up and down the hill as well as duck walks through the fountain (If you don't get wet during an event, did you even do a GORUCK event?)
After that, the first movement out to ​​Western Heights Cemetery, which is where Clyde Barrow is buried. Along the 3 mile route, Cadre continued the lessons including how military and law enforcement squads advance and retreat under fire. 
Once we arrived at the cemetery, Cadre told us a couple stories about the Barrow gang's misadventures and some resulting injuries that they sustained due to various engagements with law enforcement. Afterward, the class was divided into groups of four that were to move as a single unit down to a landmark and back without being caught by the "law enforcement" team who had to perform a number of squats for every few steps. For each "outlaw" team, one person had to walk with a limp, another needed to be carried, and a third had to keep their eyes closed (this matched the Barrow gang's injuries). 
When this exercise was complete, the team posed for a photo at Clyde Barrow's grave. Then it was time for another 3 mile ruck back to the downtown area.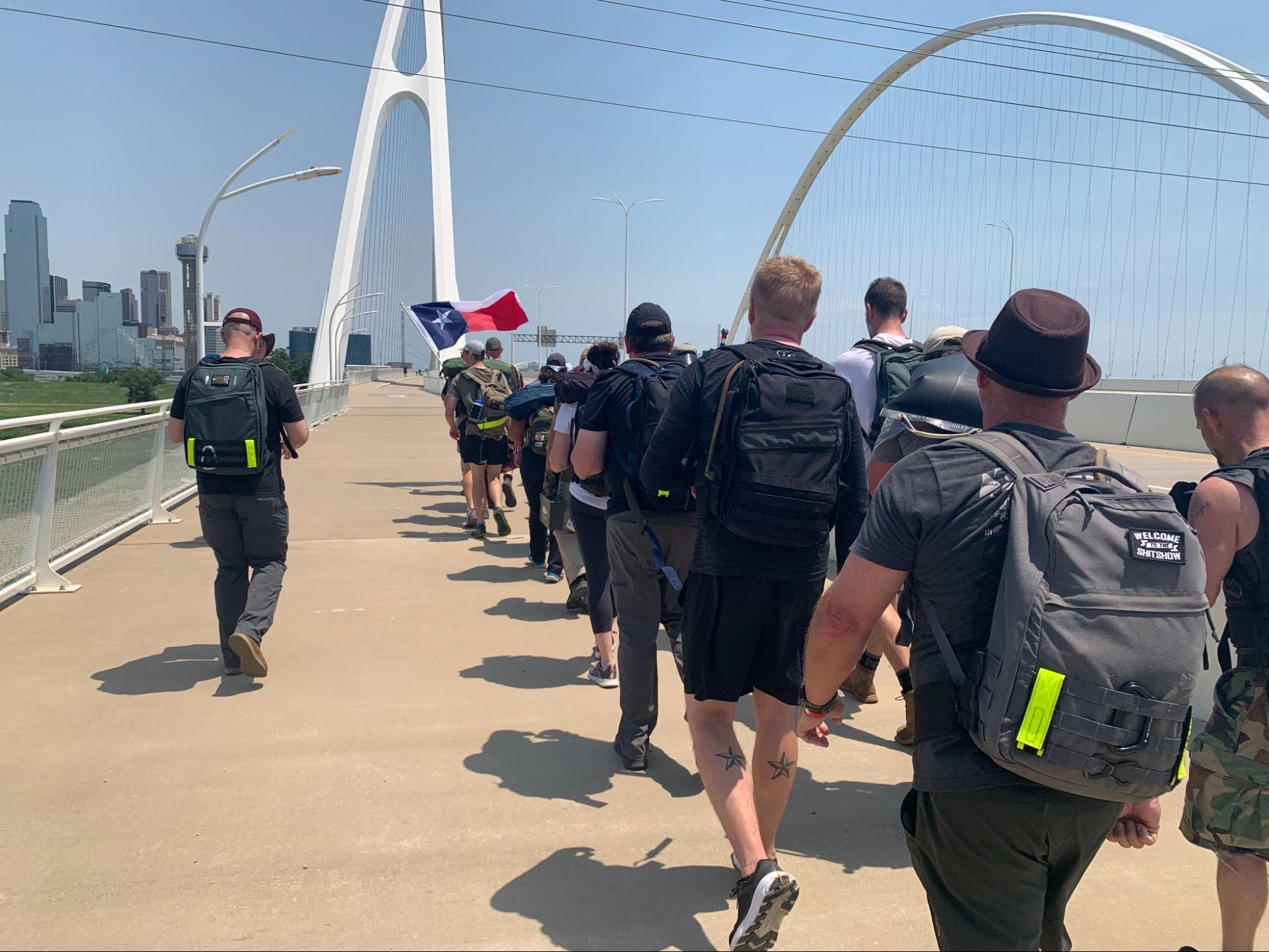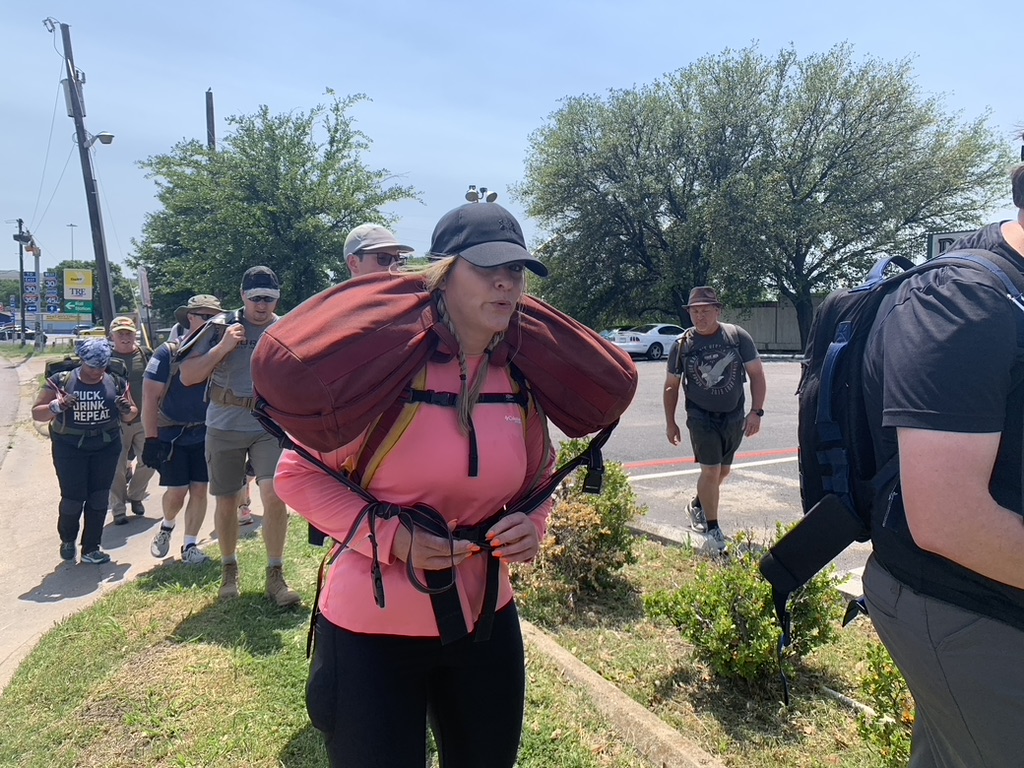 No GORUCK event in the Dallas area is complete without a stop at Dealey Plaza. Cadre educated us on the history of the Dallas County Criminal Court and Jail Building and how it factored into the planning and missions to stop Bonnie and Clyde's crime spree. Various members of the Barrow Gang were also incarcerated there at one time or another.
Once the ruck movement was completed, it was time for a second Welcome Party at the park before it was time for everyone to be patched. Basic #1 wound up lasting about five and a half hours and came in at just under 10 miles.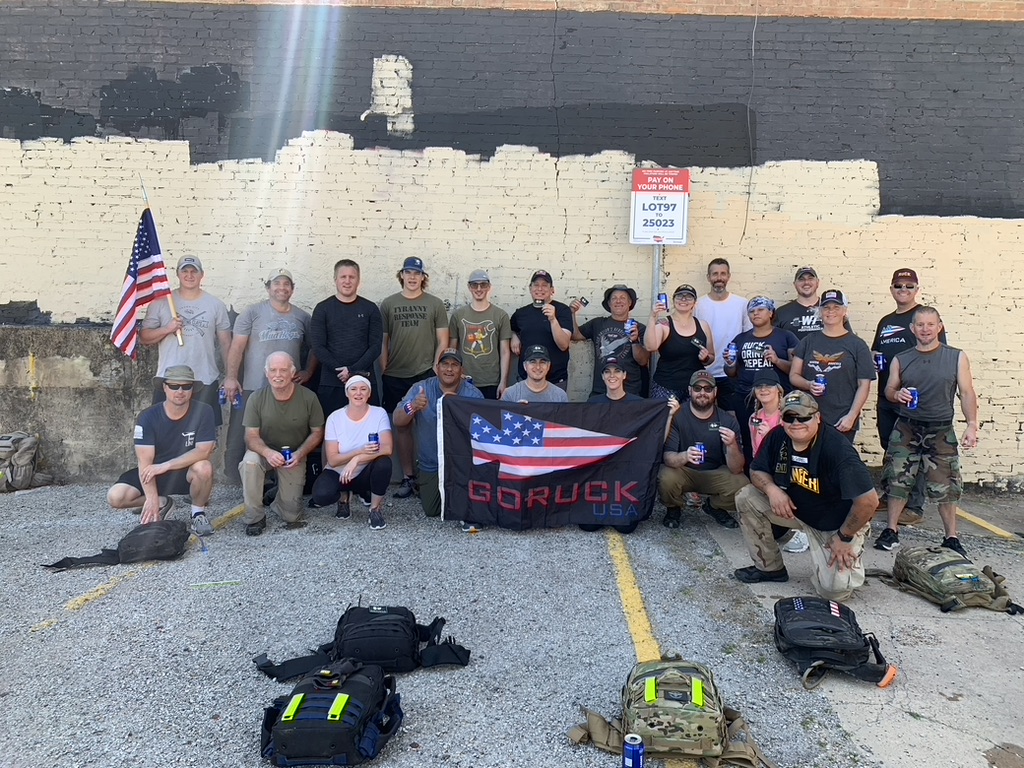 Basic #2: Texas Manhunt
Our second event focused on the law enforcement group who brought down the Barrow Gang, especially Texas Rangers Frank Hamer and Maney Gault. Our team had many participants from the first Basic, but since the second one was designed to be a little more approachable for newbies. There were several fresh faces in the group as a result.
The Welcome Party took place at the park again but with low crawls instead of bear crawls, harkening to the stealthy ambush skills of Hamer and his men.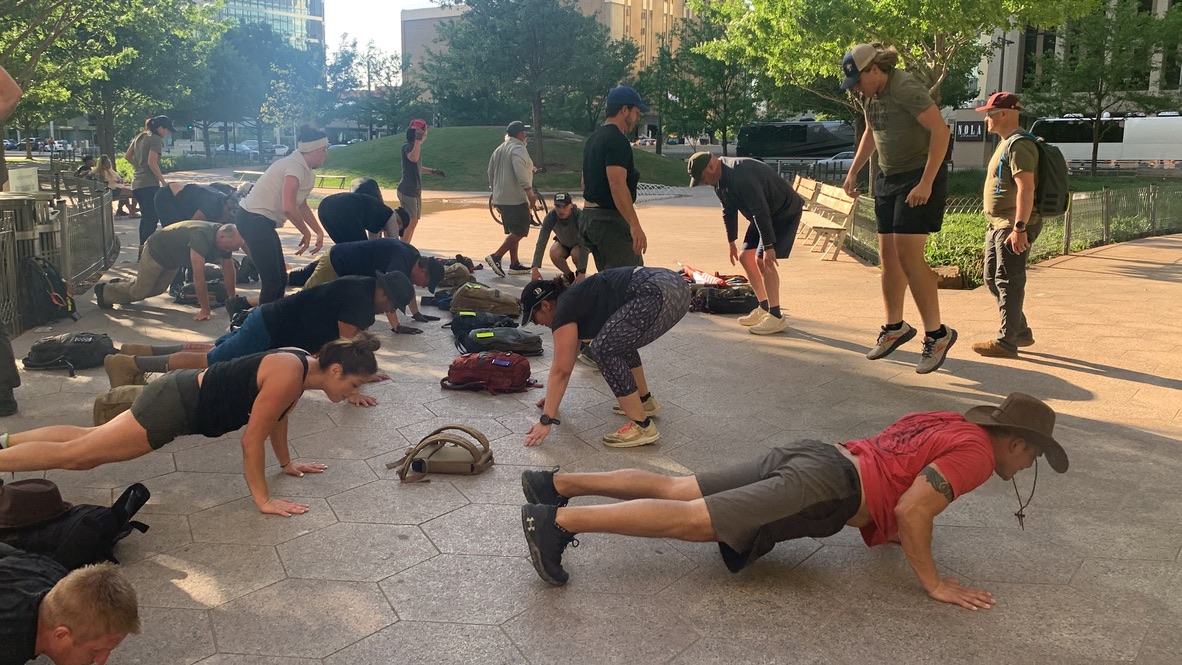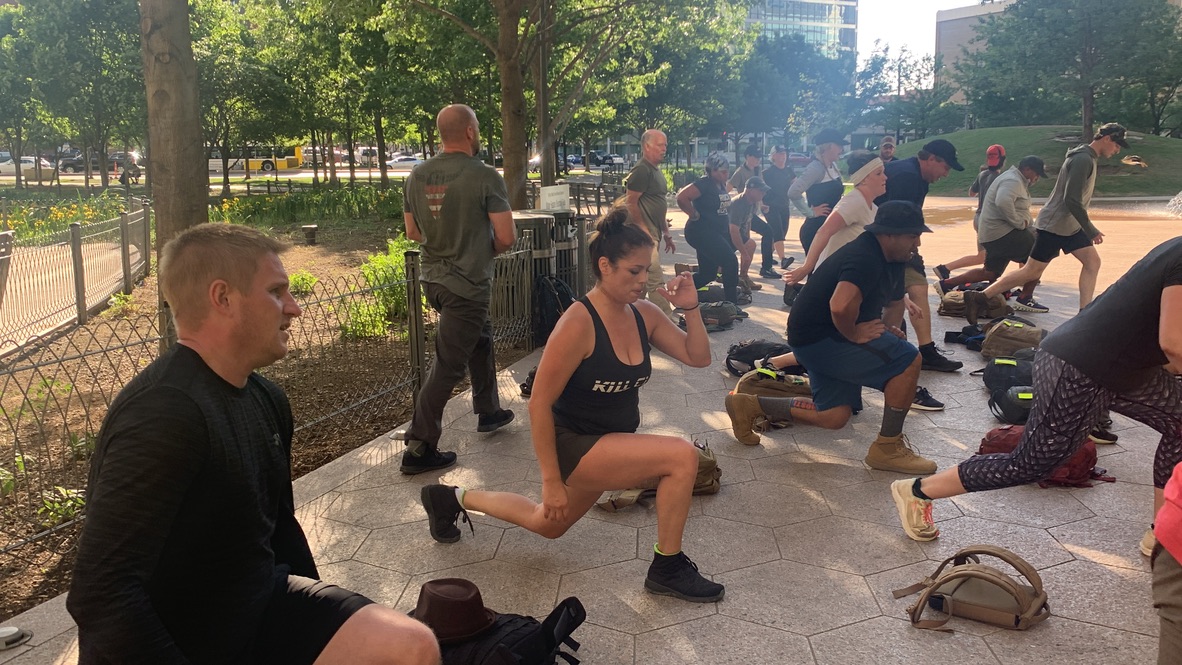 The second Basic was shorter in miles, but wound up having more PT. To wit, we stopped near the Dallas Police Memorial to perform a specific workout session honoring by name each of the nine police officers who were killed by the Barrow Gang.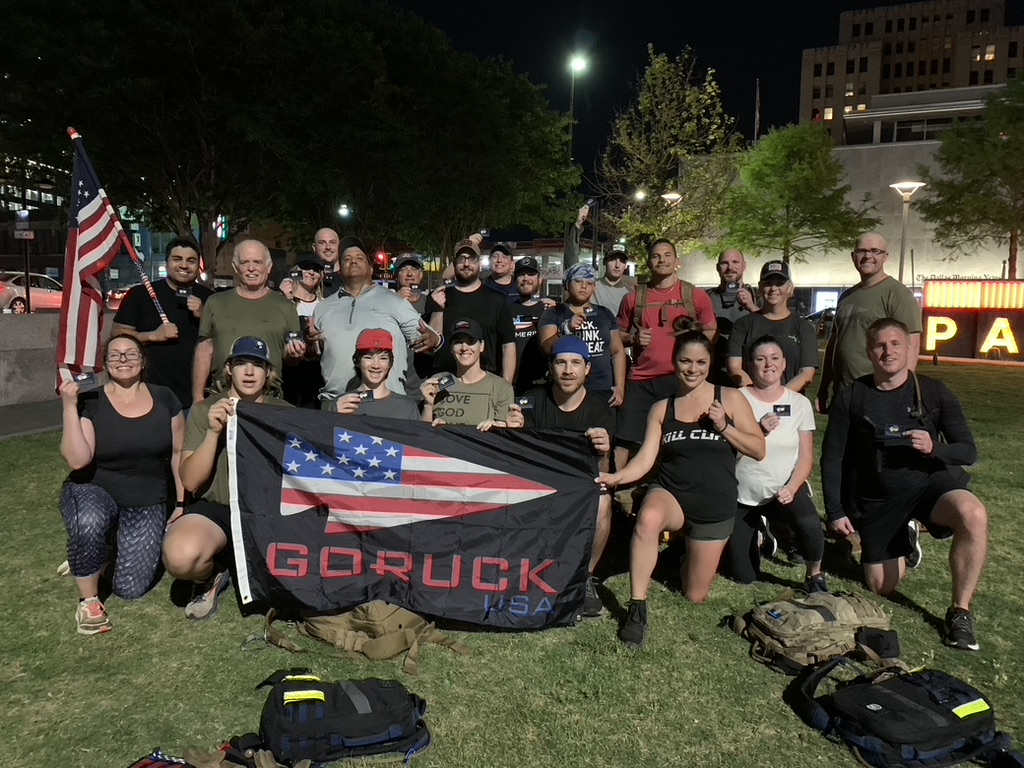 Bonnie & Clyde Scavenger
Both our Basics took place on Saturday, so our Scavenger was Sunday morning. This one was all fun, and each of our waypoints were chosen for their correlation to the lessons we learned at both Basic events. 
It was a great weekend of teamwork and learning, and those patches were just TOO cool!
Now that we know what's involved with hosting a custom event, DFW Rucking Crew is already looking forward to our second custom event in August: a Cowboy-themed Tough!
– Doug Stryker