It's not easy being a parent. Most would agree that we learn as we go, no matter how "prepared" we think we are. But when my youngest boy was two years old, our parenting skills were put to the test. In 2015, my wife and I were informed our youngest son, Devan, had Autism. He is seven now. Boy has he come a long way. 
Prior to being a year old, Devan was pointing, saying Mama, Dada and other words. But something happened after he was a year old. He stopped doing those things and instead, started peripherally stimming, running back and forth past his crib. He would cover his ears from certain sounds, he didn't respond when you'd call him, he had poor eye contact, and he didn't play with toys. He also didn't engage with his older brother Nate. He stopped talking and he started being unsafe because he didn't understand the concept of danger. My wife started crying when we got the news. In many ways, we quietly knew. My wife and I have a background working with Special Needs kids and adults. I think she cried because it's one thing to work with them, but another to have one as your own. I didn't cry. I wanted to appear strong, for the family. But inside, I was grieving. I still think I am to this day, five years later, but it's not as painful. I'd be lying to you if I told you I don't have tears in my eyes as I am writing this because it's bringing me back to those dark days. Dark days of uncertainty and fear.
You see, I didn't grieve because I thought I lost an "ideal son." I will always love my children no matter the shape or form. I grieved for the opportunities he won't have. Because realistically I knew what the Special Needs lifestyle was like because I worked with them hands on. I saw the struggle; not being included, the destructive and self-inflicting behaviors, the inability to speak their mind, share their feelings, and the inability to connect with others. And I saw the way "normal" people negatively looked and treated them, as if they were not human beings and like they don't count. It worried me and it scared me. I knew Devan would eventually head down that path. 
Shortly after he was diagnosed, ABA therapy, OT and Speech Therapy started. All kinds of therapists came to our home almost every day. We had very little privacy. It was like that for a few years. We did the best we could to live "normally," but short of typical family experiences, I gained weight. Bettering our son was our focus.
Soon enough I was fed up with being out of shape and being easily tired. I didn't feel like I was giving my best to Devan and Nate. One day, I had an enlightening thought: "I have to take care of him for the rest of my life. So how can I be of service to Devan, when I can't even take care of myself? What if Devan really needed me physically, and mentally, but I wasn't ready? What if he gets in an unsafe situation and I can't help or save him? How can I give the best life to Devan?" 
I said to myself, sure, he may be heading down the Special Needs path, but who says it has to be the most difficult? WHAT IF I can help him be the best and most independent kid ever, that does awesome things? 
I knew then, I had to start bettering myself first before I could better help him. Enter GORUCK and rucking. I got my first rucksack (a Black GR1) in 2014, but I didn't fully commit to rucking until 2016. I had my eyes set on my first GORUCK event in Sept 2017 – the 9/11 Tough in San Diego with Cadre Dustin and Cadre Dirty Mike. Sure, I trained, but I was new to rucking. No one physically around me rucked. I relied on some info from social media and All Day Ruckoff for rucking information, but that was it. Somehow I managed to finish. But after completing that event, I knew – I freaking knew – this was the tool, the compass that was going to lead me to the path of being a better human being, for Devan. This was my way of honoring Devan.  
Children on the spectrum thrive in predictability, structure, and routine. Place them out of it and you'll have yourself a day. In December 2019, Mom and big brother Nate decided to go to Disneyland for Nate's birthday. Devan couldn't come because he couldn't tolerate Disneyland. The rides (most are indoor in the dark) and the Disney characters freak him out. To him, it's torture. So, him and I stayed back and did a hike to pass the time. I was angry at Autism for taking an experience away from Devan. I felt a little defeated. It somewhat brought me back to the early days of struggle when I initially feared he wouldn't be included.
Devan cannot fully tolerate hiking, so I have to alternate carrying him on my shoulders and walking. Believe me, there's a method to it all as far as getting him through hikes sometimes. But hiking does many things for him; It gives him the opportunity to release energy, meet his sensory seeking needs, and it gives him an opportunity to tolerate his unusual surroundings. 
Soon after, I realized that the hike we just completed was part of the Mission Trails 5 Peak Challenge. Do the five peaks, take a picture at each summit, and get a certificate and pin for completing. WHAT IF? What if we can pull this off? What if I can stick it to Autism because I was still mad about it at the time. F it. Let's go. The rest is history. 
I'm smiling as I type this, as it's bringing me back to those summits where I felt bringing Devan up there was a symbol of hope, that even though Autism can take an experience away, it doesn't mean we can't find another (even better) experience such as this. He fell, he cried, but he triumphed. We bonded. I was so proud. I just wanted him to be included. 
It didn't stop there. We summited other mountains in the following weeks (and to this day). The cherry on top was summiting El Cajon mountain. It was arguably one of (if not) the hardest hikes in San Diego. WHAT IF? What if we can pull this off? What if Devan is one of the few kids his age to summit this beast? Heck, let alone one of the fewest kids on the spectrum to summit this mountain? Two false peaks, 11.3 miles, 4,000k climb (Garmin) and a righteous view. Crushed. 
To this day, summiting El Cajon with Devan, I feel is one of my biggest accomplishments in my life. It was special. The bond we made, seeing him run up inclines, witnessing him tolerate his surroundings, seeing him happy made me happy. We continue to summit mountains as a family to this day because that's what we do. 
I've learned so many lessons from doing GORUCK events. But there's only one I'd like to share, because it's something that I remind myself everyday: HONOR THEM. We did not get to where we are without other's sacrifices. From a macro and micro level. From our country that gives us freedom to live the way we see fit, our parents who raised us and kept us safe, teachers who educated us, and friends (including GRT's and Pathfinder rosters who I consider family) who encouraged us. All this so that in turn, so we can sacrifice and pass on those values and skills we learned to our children. What a waste of their time if we didn't take advantage of what was given to us. We live a privileged life with the freedom that is paid in blood. Why wouldn't I give my best for Devan? 
Four years have passed since I started rucking. A Constellation, five Toughs, an HTL, a TL, two Star Course 50 milers, and seven Pathfinder classes later, with thousands of miles under the weight, here I am, 40lbs lighter too. Devan is doing better. He has achieved a lot in his short life, and he has conquered a lot of fears along the way. But there is always challenges that he faces every day. But I know for damn sure, I will be right there with him to face it, because if it wasn't for Devan, I wouldn't be where I am today. That, I must HONOR.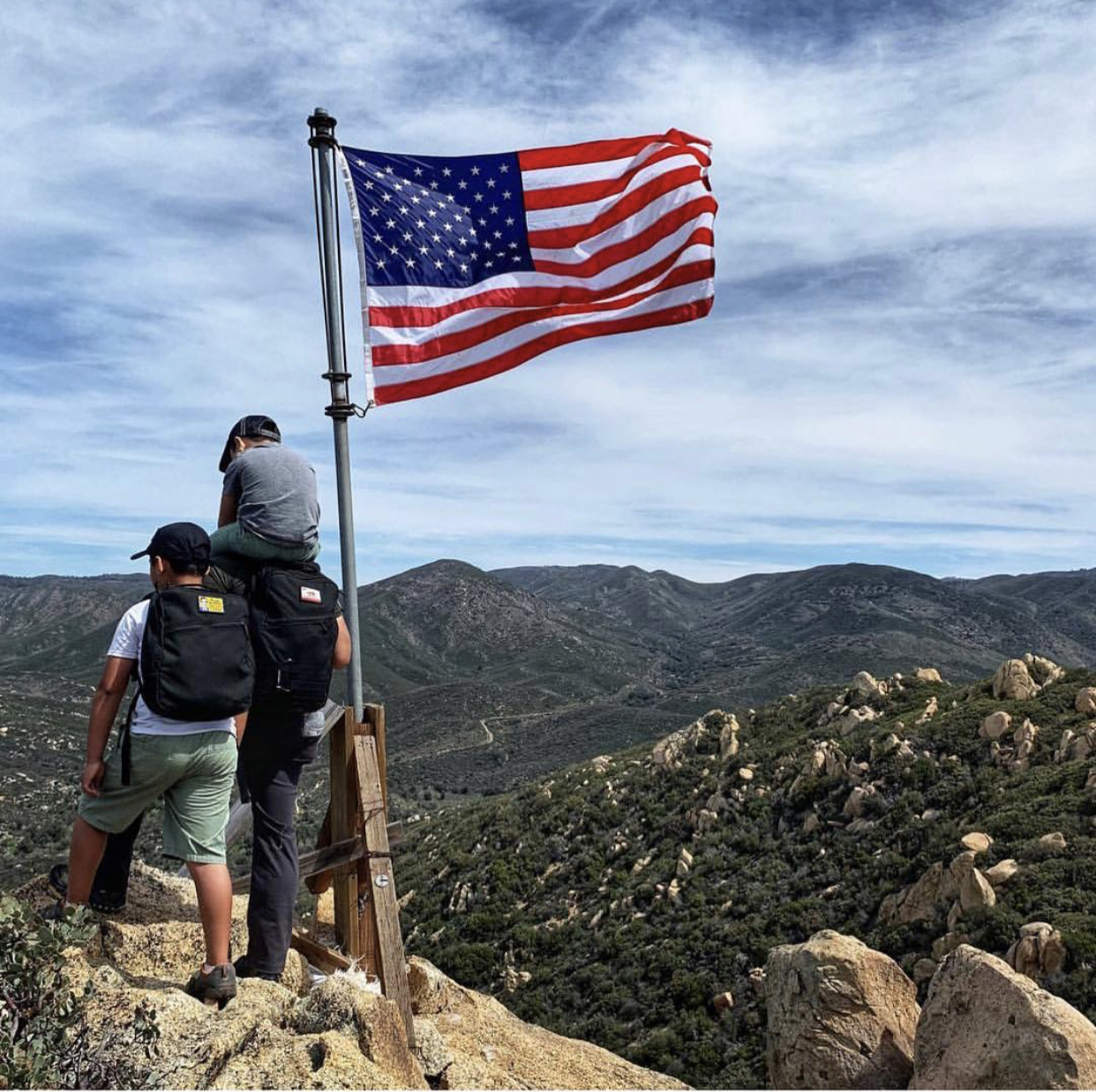 ---
About the Author
Carl Antonio is a dedicated family man, social worker, and rucker. Follow him and his rucks to beautiful places on @grt.dad.