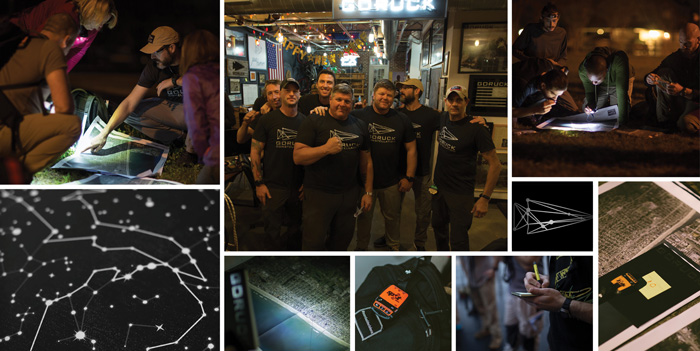 CONSTELLATION 001 – BETA
Special Forces Lessons Learned has always been the foundation for GORUCK Events, starting with the Challenge. One Special Forces guy (and someday girl, we hope) and a class of the willing. And we have a lot to teach, it's what we do. So let's get to it.
As we've grown, the GORUCK Challenge has needed an urban survival counterpart to grow along side it for some time, and 6+ years later, it does: GORUCK Constellation.
Where the Challenge is about overcoming physical adversity to understand that you can push yourself further than you ever knew, Constellation is about giving you the skills, and the mindset, to survive in a time of crisis. The Challenge is overtly physical. Constellation is where you learn, without logs or Ruck Plates, that the stars in the urban terrain form a constellation, if you know how to look at them.
We teach you how, starting with the fundamentals of navigation, water, shelter building, medical, and safe house operations.
In every way, this is back to the very earliest roots of GORUCK, when I was building Emily a "go-bag" that became a "go-ruck" (that became GORUCK) in West Africa in 2007. You have what you have on your back, and those dearest to you by your side. Are you ready or not?
So we also teach you what to pack and how to use it.
We ran Constellation 001 – BETA this past weekend. It wasn't perfect, nor was it supposed to be. After all, if you're trying something new and it goes perfect the first time, you didn't try hard enough.
We're grateful to the 71 participants who showed up not knowing what to expect, and all who rooted them on. We'll be holding approximately 10 secret BETA's between now and the 2017 national tour of ~20 cities (launching soon) so we can perfect the classes, timelines, and techniques. But before we launch nationally, we'll have one final BETA open for registration, with an after party at our HQ.
Enjoy the photos from Constellation 001 – BETA so you can know what to expect. Until it evolves.
Be the first to know when GORUCK Constellation launches in a major city near you.